Asian Noodle Salad
A Far-From-Wimpy Winter Salad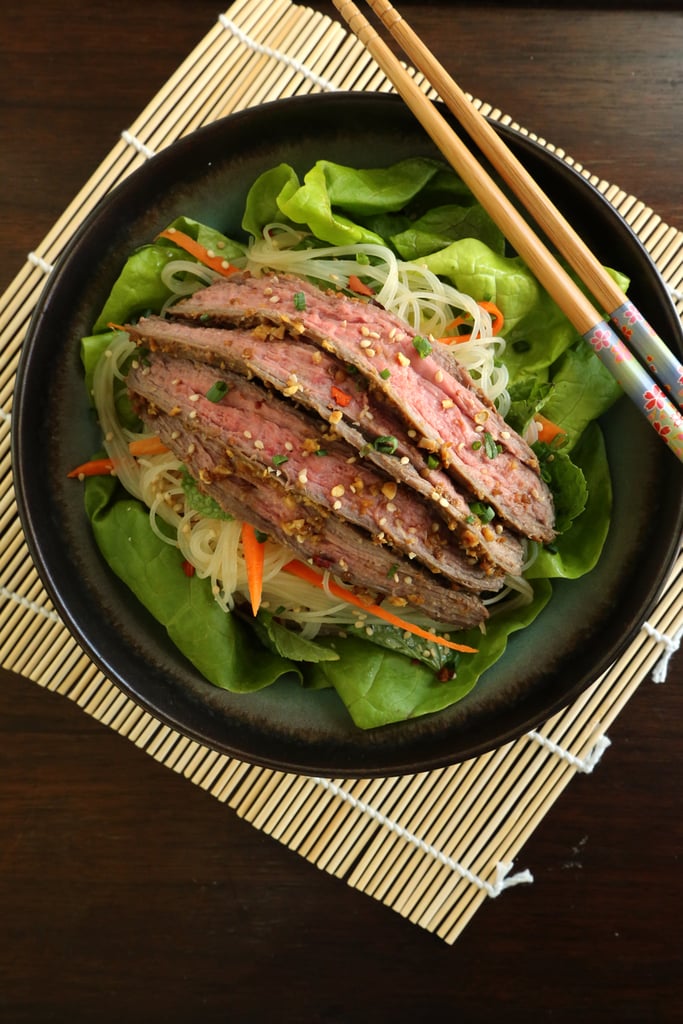 During Winter months, I feel particularly uninspired by salads. I need my starch — and my steak, too. That's what led me to create this Asian noodle salad with flank steak: it's hearty enough to keep you satisfied, even on the coldest of nights, but it's a nice departure from a warming but heavy meat-and-potatoes meal.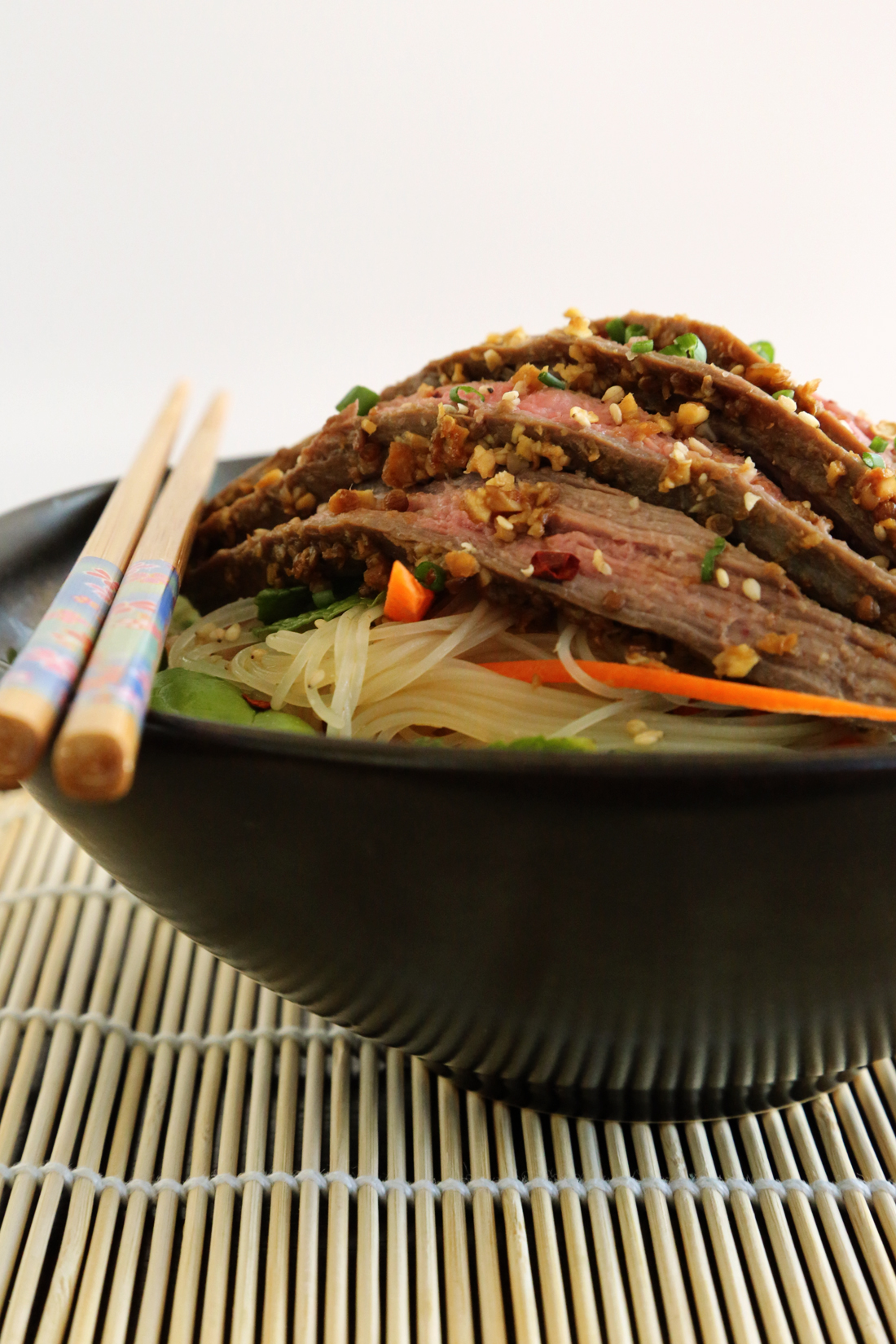 The star of the show is the flank steak, which can be substituted with ahi tuna or tofu if you want to avoid red meat. The key to making fantastic, umami-rich steak is to give it enough time to marinate: the beef soaks up the salty, gingery flavors, plus fibers in the meat make room for ginger, garlic, and coriander. Pair the beef with al dente rice noodles and fresh lettuce and herbs, and there's no chance of walking away from this salad hungry.
Asian Noodle Salad With Flank Steak
From Anna Monette Roberts, POPSUGAR Food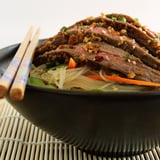 Ingredients
For steak:
1 tablespoon ginger, minced
1 tablespoon garlic, minced
1/4 cup soy sauce
1 teaspoon sugar
1/2 lime, juiced
1 pound flank steak
2 tablespoons coriander, crushed
Salt to taste
For dressing:
1/4 cup toasted sesame oil
Zest and juice of 2 large limes
1 teaspoon fish sauce
2 tablespoons sugar
1 tablespoon soy sauce
1 teaspoon red chili flakes
Salt to taste
For noodles:
1 package of cellophane or rice noodles
1 large carrot, julienned
1/3 package (1/2 ounce) cilantro, leaves only
1/3 package (1/2 ounce) Thai basil, leaves only
1/3 package (1/2 ounce) mint, leaves only
1 head butter lettuce, washed and leaves removed from stem
For garnish:
Red chili flakes, to taste
Toasted sesame seeds, to taste
1 bunch chives, thinly sliced
Directions
To marinate the steak: In a small bowl, combine the ginger, garlic, soy sauce, sugar, and lime, and stir until the sugar dissolves. Place the steak in a resealable plastic bag, and pour the marinade over it. Seal the bag, and refrigerate for several hours. Preheat the oven to the broil setting.
To make the dressing: In the same marinade bowl, combine the sesame oil, lime zest and juice, fish sauce, sugar, soy sauce, and red chili flakes, and stir until the sugar dissolves. Salt to taste.
In a large bowl, cook the rice noodles according to the manufacturer's instructions. Drain the noodles, and immediately toss the noodles in the dressing. Add the carrots, then cover and refrigerate until serving.
To cook the steak: Remove the steak from marinade, and place in a broiler pan. Coat both sides of the steak with crushed coriander and salt. Cook in the oven on the broil setting for 5 minutes on each side for medium-rare steak. Let the steak sit for 10 minutes before cutting it diagonally, against the grain, in 1/8-inch slices.
To serve: Toss the cilantro, basil, and mint into noodles. On each plate or bowl, place a few leaves of butter lettuce, followed by about 1/2 cup of noodles and several slices of steak. Garnish with the red chili flakes, sesame seeds, and chives.
Information
Category

Meats, Salads, Main Dishes

Cuisine

Chinese

Yield

4-6 servings
Image Source: POPSUGAR Photography / Anna Monette Roberts