Ayesha Curry's Thanksgiving Cooking Tips
The 1 Edible Gift Ayesha Curry Plans on Making All Season Long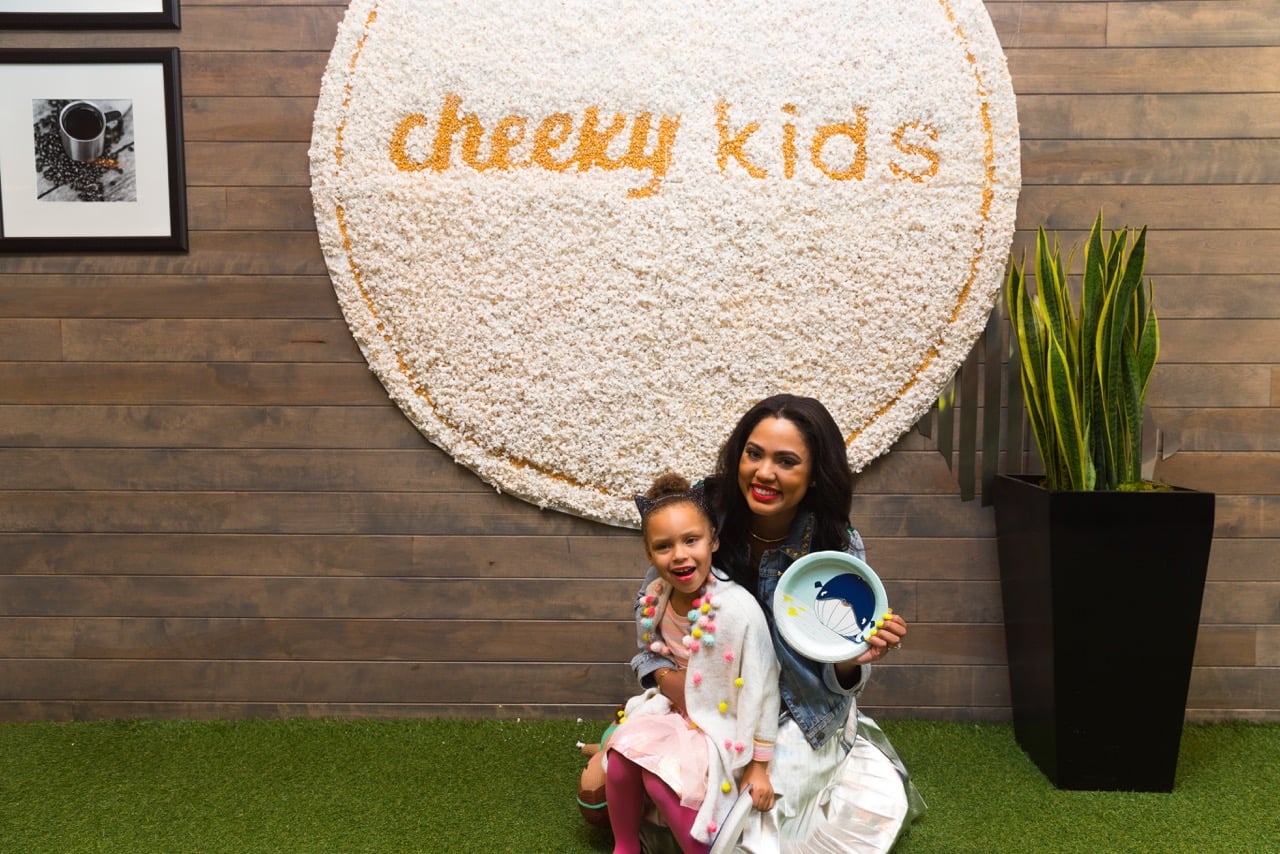 I caught up with Ayesha Curry at the Cheeky Kids Launch Party in Los Angeles this month after Ayesha teamed up with Cheeky and No Kid Hungry to bring her mission to help end childhood hunger to life. We chatted about her new cookbook, The Seasoned Life, her favorite holiday shortcuts, family memories, and the one dessert she always bakes for her husband Steph Curry and the rest of the Golden State Warriors team. It comes as no surprise that Ayesha has practical tips for saving time in the kitchen, cooking with Thanksgiving leftovers, and keeping unexpected traditions alive. Ahead, read our full interview with Ayesha, and then check out her must-have recipe for spiced butternut squash mash for Thanksgiving.
POPSUGAR: What's your go-to recipe for Thanksgiving leftovers?
Ayesha Curry: In my book I have my mom's leftover chicken soup. All you do is substitute the chicken for turkey. It's a great multipurpose recipe. You can take butternut squash, chop it up, and put it in the soup. Take turkey remnants, put it in the soup. I love to add leeks since it's Fall. It's an easy 10-minute soup.
PS: What kind of foods did you eat when you were little during the holidays?
AC: My family background is Jamaican so we would have everything from curry goat to ox tails and dumplings, rice and beans, and plantains.
PS: What are your five must-have dishes for the holiday season?
AC: They're all from my book: The Best Mac & Cheese, White Chocolate Bread Pudding topped with my Bananas Foster and vanilla ice cream — you can't go wrong — My Mom's Leftover Chicken Soup (but just sub out the chicken for turkey), and a cocktail — my Harvest Sangria. It's very Fall, with red wine and a cinnamon-sugar rim!
PS: What's the most nontraditional or random dish on your holiday dinner table?
AC: It's always my mom . . . so my grandma is Jamaican and my mom's father was Chinese and for some reason we'll have this whole spread and then there's a bowl of chow mein noodles. It just doesn't make sense. It tastes delicious, but it will be one of those things that many, many years from now I'll remember.
PS: What kind of edible gifts do you like to make and give?
AC: A big thing for me while filming the show, I learned how to make toffee nib. I'm planning on making that, bagging them up, and handing them out. But usually during the holidays, for one of my husband's road games out of the whole year, I'll make a pan of pumpkin squares and bring it to the game warm and then put in a cooler bag a pint of vanilla ice cream and send them off on the plane.
PS: Wife of the year!
AC: But they never eat the ice cream and they never cut the pumpkin squares. They just rip it off and take a spoon — it's so annoying! They waste the ice cream! I need to just stop putting ice cream in there but I just know, I know the one time I don't include the ice cream, they're going to be like, "Where's the ice cream?" And it's almost that time of year again!
PS: Are these the pumpkins squares in your new book?
AC: I do have a recipe for pumpkin squares in the book, but the ones I make for my husband and the team are Williams-Sonoma Ooey Gooey Pumpkin Bars With Muirhead Pecan Pumpkin Butter. When I went to my husband's parents' house for the first time ever as his girlfriend, we went over for dinner and the dessert his mom served were those pumpkin bars. So I make them for him out of nostalgia. I have my take on them in the book, but I still like to make the classic ones that she makes. It tastes like a giant Brown Sugar Cinnamon Pop-Tart but more gooey and yummy.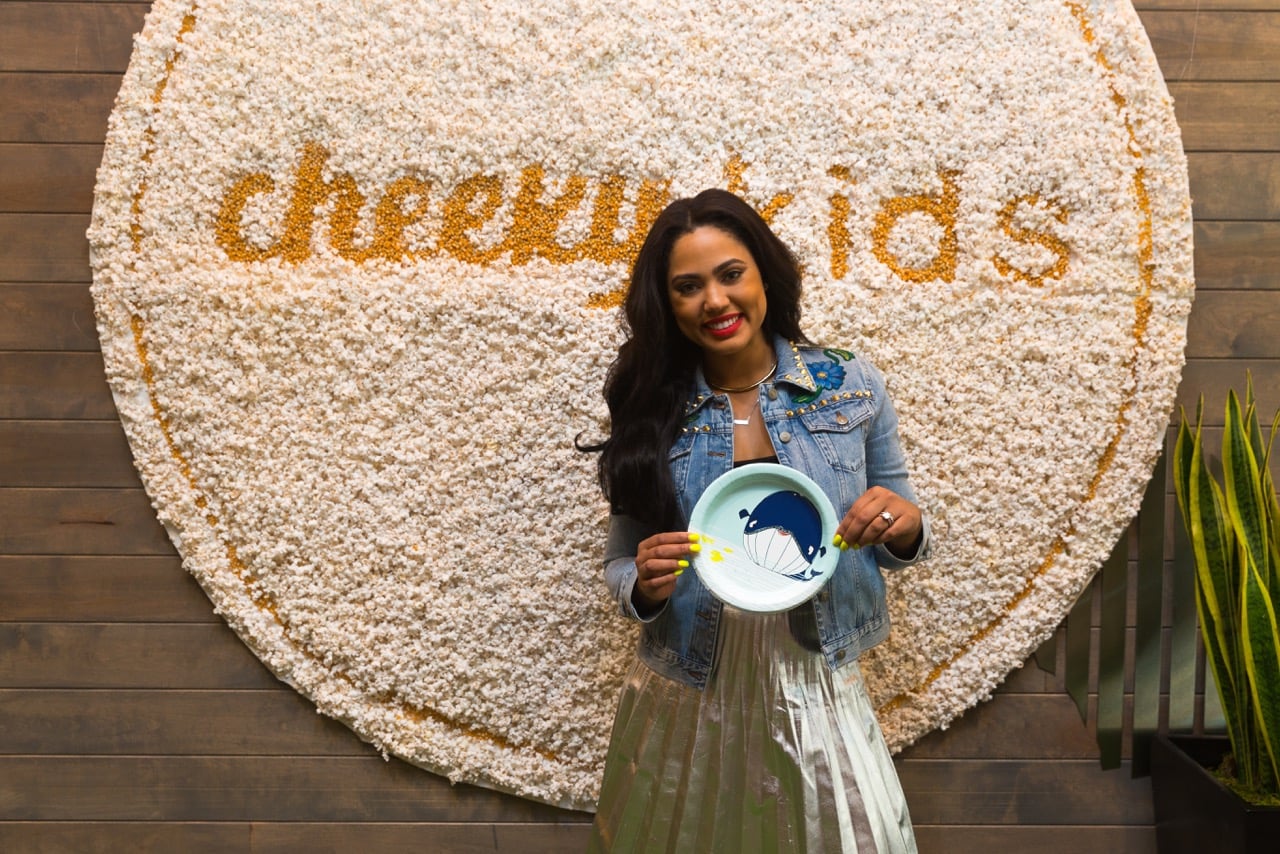 PS: What are some holiday shortcuts or tips for saving time during the holidays?
AC: Tip No. 1: I am not ashamed to use disposables, especially with the kids, and that's why for me, partnering with Cheeky Kids was a no-brainer. For our dinner table, I will be using our dinnerware, but that's only because we are having our smallest dinner we've ever had (nine people). Usually it's at least 16 people and we always host, and when that happens we obviously use Cheeky disposable plates and stemware. Tip No. 2: I love to make ahead. I love anything in a casserole dish. So whether it's the mac and cheese, sweet potatoes, or whatever it is. Just make it ahead and warm it up the day of, because the great thing about it is flavors meld in the fridge and it's even better. And then you're not in the kitchen all day. Tip No. 3: I love to make spatchcock turkey. Have your butcher remove the backbone of your turkey. Lay it flat on the baking sheet and then your turkey's done in an hour, hour and 45.
PS: Who carves the turkey in your house?
AC: My husband does and he butchers it. He completely butchers it! Every year — every single year! When we first started dating, it was either my dad or his dad, so of course when we got married he was like, "I'm carving the turkey!" But he's not a handyman. He's just now gaining knife skills but he completely butchers it. So every year he's like, "This is great!" but everything is falling all over the place. But it's OK, it's him, and at the end of the day, it will be a memory and I'm used to it at this point. But most of the time, I do want to take over and carve it, but then I feel like I can't do that. I can't take it from him — the one thing!
PS: Does he ever cook in the kitchen?
AC: He has one thing and it's in the book. It's his Five-Ingredient Pasta. So I know if I can't cook, that's what I'm getting. But he does it well and he's perfected it. And then he can also scramble eggs. He's come a long way since college, that's for sure.
PS: Has Riley shown interest in the kitchen?
AC: Yes, she absolutely loves it. It's great! I did it with my mom when I was growing up and it was my mission to pass it on to her. I'm a big advocate for letting my kids sit on the counter; they can see what's going on and at the end of the day, we're building memories. I'll give her a job and my sister gave her these kid-friendly knives so she's able to chop or I'll let her put the cup of flour in or a cup of milk, whatever it is. It's nice because she feels accomplished and she gains that kitchen confidence. And usually she will try whatever we made together because she had a hand in making it and there's been so many studies that show that they are more apt to try.
PS: I'm sure she eats everything!
AC: Chocolate is the only thing. But for me as a mom and a woman . . .
PS: Wait. She doesn't eat chocolate?!
AC: She doesn't eat chocolate! Yes, it's devastating, but I'm hoping she'll grow out of it. She eats white chocolate but that's no chocolate!
PS: Favorite holiday memory?
AC: I judged an episode of Chopped Jr. and I only did it because [Riley] loves it and I was so excited for her to see it. And she watched it with me and her face and smile the whole time was ear to ear — a closed-mouth smile! She looked and me and said, "I wanna be a cooker too!" That was the cutest thing I've ever heard. And I said, "Chef or cook, but that works!" That made it all worth it. It was such a long day and to see she was inspired by it made it all worth it. She loved watching those kids. She was so inspired!