Bacon Crack Recipe
Prepare to Get Hooked on Bacon Crack
We were a little skeptical of the idea of bacon crack when we started this recipe — sure, we love our candied bacon, but putting it on a puff pastry with more melted sugar? Now that we've tried it, though, we can't get enough of it, and we bet you'll feel the same way, too! Keep watching to learn how to make our spiced version of this addictive treat.

Spiced Bacon Crack
Adapted from Oh Bite It! by Nicole Iizuka, POPSUGAR Food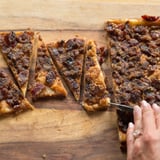 Ingredients
For spiced candied bacon:
1/4 cup brown sugar
1/4 teaspoon black pepper
1/4 teaspoon red chili flakes
1/4 teaspoon espresso powder
1/4 teaspoon nutmeg
1/8 teaspoon cayenne pepper
1 pound thick-cut bacon
For bacon crack:
1 sheet frozen puff pastry, thawed
1 pound spiced candied bacon
1 cup brown sugar
Directions
Preheat oven to 350ºF.
To make candied bacon: In a bowl, mix together brown sugar with all of the spices. Dip each slice of bacon into the brown sugar mixture, being sure to coat both sides well. Lay bacon on a foil wrapped sheet tray in a single layer. Bake for 20 to 30 minutes, or until the bacon is crisp and cooked through. Remove from the oven and let cool.
To make bacon crack: Line another baking sheet with foil and spray with nonstick cooking spray. Unroll puff pastry onto the baking sheet and prick all over with a fork.
Crumble candied bacon on top of the puff pastry evenly and then cover liberally with brown sugar. Bake for 25 to 30 minutes or until puff pastry is cooked through and sugar has caramelized. Remove from the oven and let cool.
Cut into wedges and enjoy!
Information
Category

Appetizers, Crostini

Cuisine

North American

Yield

Serves 6 to 8

Total Time

1 hour, 15 minutes