Bacon and Tomato Pasta Recipe
Bacon and Tomato Pasta: Sauté It, Don't Delay It!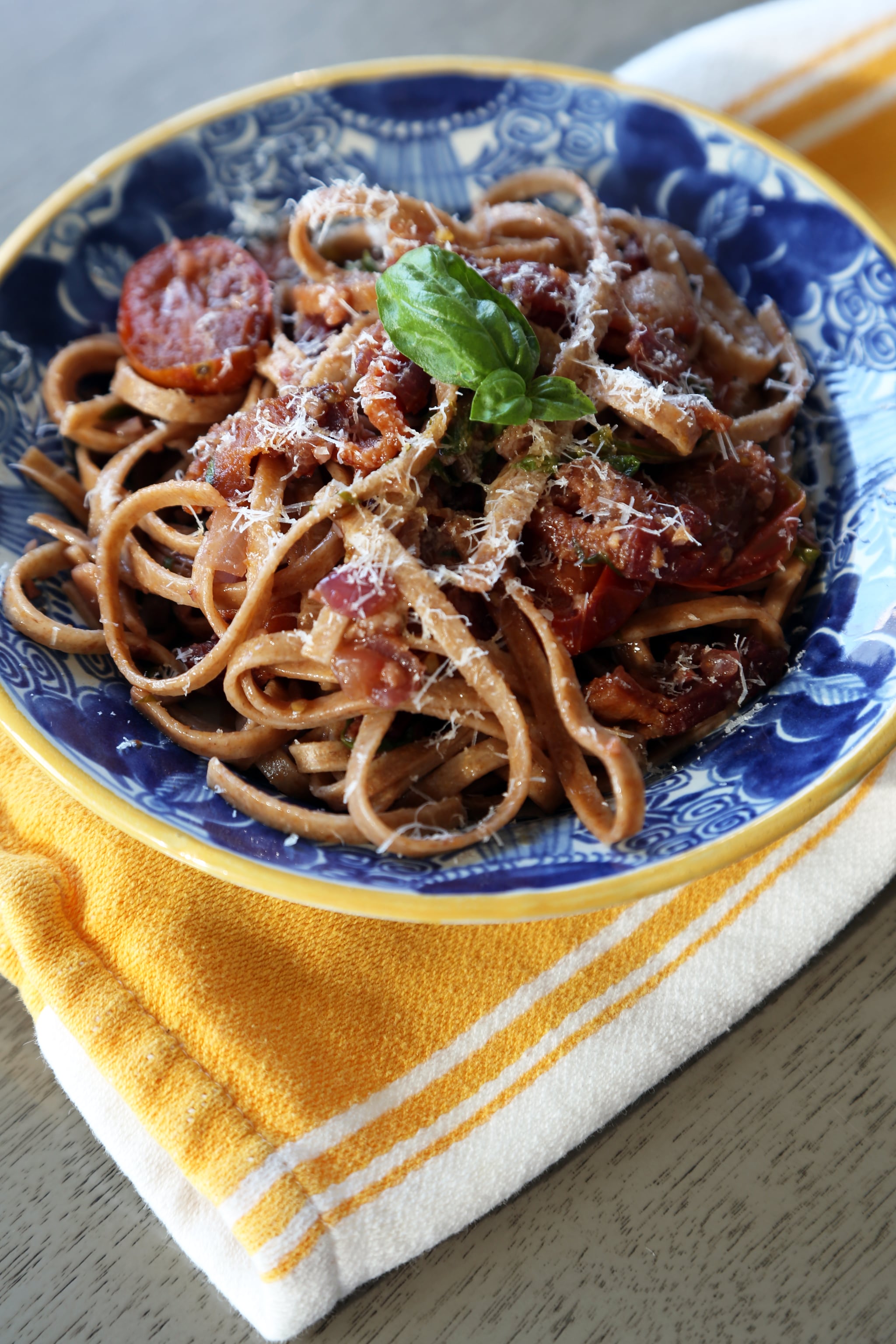 I'm going to let you in on a little secret: Guy Fieri never fails to impress me. Whether it's a meal I've eaten prepared by the chef himself, a recipe from his latest cookbook, or an old dish I want to make, his food is yummers-wowsy. Err, OK, I'll leave Guy Fieri to Fieri-fy ridiculous descriptions of delicious food. In the meantime, I'll be making this fantastic pasta dish every week. Guy's recipe for bacon and tomato pasta is inspired by amatriciana, a classic Italian pasta sauce made of guanciale, tomatoes, and pecorino cheese. His version calls for bacon to replace the guanciale, ripe Summer tomatoes, and parmesan instead of pecorino. This dish comes together in a little over 30 minutes yet tastes like it took you all day. Even though I just made it, I'm already craving it again!
Bacon and Tomato Pasta
Slightly adapted from Guy Fieri, Food Network
Notes
Any spaghetti or fettuccini pasta will do. I currently can't get enough of rustic-tasting, whole grain pasta, but satisfy your craving by choosing your favorite type!
To make the prep of this recipe go faster, I opted for halving cherry tomatoes, but the original recipe calls for dicing roma tomatoes.
Ingredients
2 tablespoons kosher salt
16 ounces pasta, like Community Grains fettuccini, as pictured
1 pound thick-cut bacon or pancetta, chopped
3 tablespoons extra-virgin olive oil
1 cup red onion, diced
1 teaspoon red chili flakes
3 tablespoons garlic, minced
2 cups roma tomatoes, diced, or cherry tomatoes, halved
1/4 cup red wine
4 tablespoons basil, chiffonade
1/4 cup parmesan, freshly grated
Salt
Black pepper, freshly ground
Directions
In a large stock pot, boil 3 quarts of water, then add 2 tablespoons kosher salt and the pasta, and cook according to package directions, or until the pasta is al dente.
Meanwhile, in a large sauté pan over medium heat, sauté bacon until crispy. Remove bacon and transfer to a paper towel-lined plate.
Drain 3/4 of the bacon fat from the pan. Add extra-virgin olive oil. Once oil is heated through, add onions and red chili flakes, and cook until onions are translucent. Add garlic, and cook for 2 minutes, then add tomatoes. Sauté for 5 minutes, then deglaze with wine.
Drain pasta and add to the sauté pan. Toss in basil, bacon, and parmesan. Salt and pepper, to taste.
Information
Category

Pasta, Main Dishes

Cuisine

Italian

Yield

4-6 servings

Total Time

34 minutes, 59 seconds