Chocolate Fried Chicken Recipe
Trust Us: Chocolate Fried Chicken Is the Ultimate Food Hybrid
When Adam Fleischman, the guy behind Umami's Monte Cristo Burger and 800 Degrees Pizzeria, announced that he was making chocolate fried chicken, we knew we had to try it. While you'll still have to buy a ticket to LA to try his original ChocoChicken, our test kitchen whipped up a recipe that is lip-smacking good and a testament to chocolate's versatility (it's not just for sweets!).

Chocolate Fried Chicken
From Nicole Iizuka, POPSUGAR Food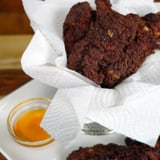 Ingredients
For chocolate buttermilk brine:
1 quart buttermilk
2 tablespoons cocoa powder
1 teaspoon salt
1 teaspoon pepper
1 teaspoon cayenne pepper
1 teaspoon garlic, minced
12 to 15 chicken tenders
For dry batter:
1 cup all-purpose flour
1/2 cup cornstarch
1/2 cup cocoa powder
1/2 teaspoon salt
1/2 teaspoon pepper
1/4 teaspoon cinnamon
1/4 teaspoon nutmeg
1/4 teaspoon cayenne pepper
Neutral oil, such as canola or peanut, for frying
For Tabasco honey:
1/4 cup honey
1 teaspoon tabasco sauce
Directions
Make the brine: In a large bowl or heavy-duty resealable plastic bag, mix together the buttermilk, cocoa powder, salt, pepper, cayenne pepper, and garlic.
Add chicken tenders, and make sure they are submerged. Cover and refrigerate for at least 12 hours, up to 48 hours.
Make the dry batter: In another large bowl, mix together the flour, cornstarch, cocoa powder, salt, pepper, cinnamon, nutmeg, and cayenne pepper.
Fry the chicken: Remove the chicken from the brine, and dredge the chicken in the flour mixture. Shake off any excess.
Heat the oil in a heavy-bottomed dutch oven or electric deep fryer to 350°F. Add chicken to the oil in batches, and cook for 6 to 7 minutes, turning occasionally, until the tenders are cooked through. Drain off excess oil by laying chocolate fried chicken on a paper-towel-lined plate.
Make the Tabasco honey: Mix together honey and tabasco, until combined. Serve with warm chocolate fried chicken.
Information
Category

Main Dishes

Cuisine

North American

Yield

4 to 5 servings