Dominique Ansel's Ice Cream Sundae in a Can
Do You Want to Try Dominique Ansel's $15 Canned Sundae?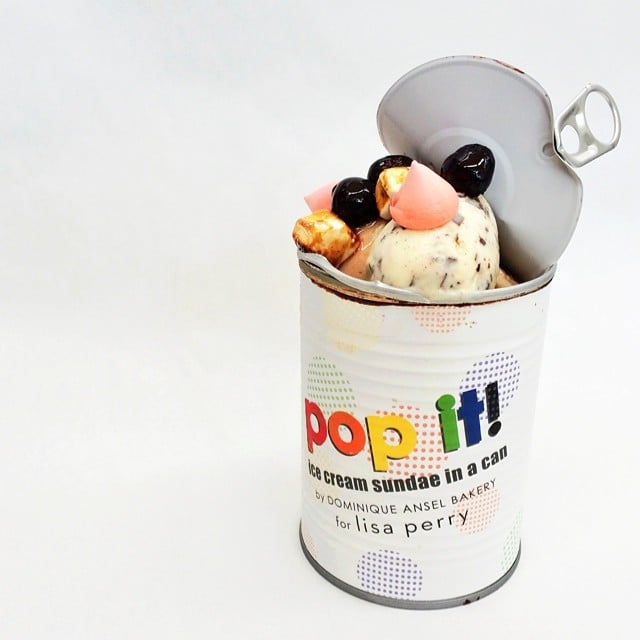 It's been a few months since the release of Dominique Ansel's Cookie Shot, so it's about time the French pastry chef wowed us once again with his sugary delights. Collaborating with designer Lisa Perry, Dominique plans to serve up "ice cream sundae in a can" at the Pop It! ice cream truck in East Hampton this Saturday, Aug. 2. The chocolate-lined cans are filled with root beer and stracciatella (vanilla and chocolate chip) ice creams, mascarpone semifreddo, toasted honey marshmallows, mini cherry meringue stars, and macerated cherries. Essentially, it's an ice cream sundae/root beer float hybrid, gone French.
Dominique explained the sundae's construction: "A regular sundae has a mix of textures because you're assembling it to order, so some elements are frozen and some are not. But when you build a sundae in a can, the trick is to think of things that, when frozen, maintain a distinctly different texture. The root beer ice cream, for example, is a little firmer and creamier than the mascarpone semifreddo, which is airy like whipped cream. And I wanted to add in chewy toasted marshmallows and also some crunch from meringues to really liven up the texture. We also lined the inside of the can with chocolate just to keep everything from touching the can itself."
The $15 sundae feeds two and will be available one day only. And if that price tag seems too big to swallow, consider this: Dominique will donate 20 percent of the proceeds to City Harvest, a nonprofit dedicated to ending hunger in New York City.
Source: Instagram user dominiqueansel