Guinness Beef Pot Pies
The Star of Your St. Patrick's Day Spread: Guinness Beef Pot Pies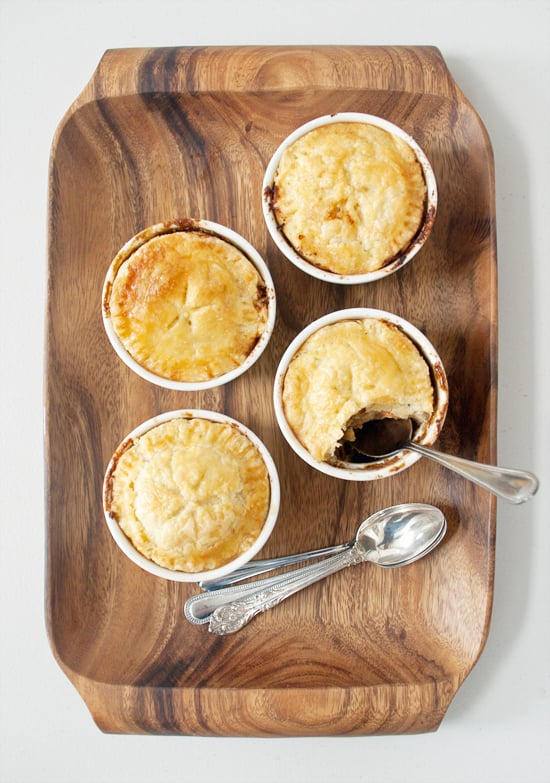 Looking for a less traditional — that is, compared to corned beef and cabbage — way to celebrate St. Patrick's Day this year? These hearty but daintily portioned Guinness-braised beef stew pot pies are just the ticket. Paired with an Irish brew or whiskey (or both) and a side of roasted vegetables, these pies make for an appropriately celebratory meal perfect for a casual dinner party.
Admittedly, they're a bit of work, but they're hardly challenging to prepare, just slightly time-consuming as braised dishes are by nature. Just plan ahead so that you and yours can dig into a meal to remember. Come evening's end, I can near guarantee that you will leave the table satiated, satisfied, all-around jolly, and in the Irish spirit.
Notes
For a family-style pot pie, pour the stew into a deep 8-by-8-inch square pan, cover with pie dough, and bake slightly longer, about 45 minutes. Alternatively, this stew can be served without a pastry lid alongside a starchy dish like a potato gratin; just make certain to braise the stew for an extra 30 minutes (since it would cook longer while the pie crust browns).
Ingredients
3 pounds brisket or stew meat, chopped into bite-size pieces
Kosher salt
Black pepper, freshly ground
4 tablespoons unsalted butter
2 large red onions, chopped
4 cloves garlic, minced
2 carrots, peeled and chopped
2 ribs celery, chopped
10 mushrooms, stems removed and sliced
2 tablespoons all-purpose flour
1 sprig rosemary
About 4 cups (2 cans) Guinness or other stout
8 ounces sharp cheddar, grated
Sherry vinegar, to taste
1 recipe (2 discs) pie dough
1 large egg
Directions
Preheat the oven to 375°F.
Season the beef generously with salt and pepper; set aside.
Melt the butter in a dutch oven set over medium heat. Add the onions, garlic, and a pinch of salt, and cook, stirring occasionally, until softened and lightly browned, about 10 minutes.
Add the carrots, celery, mushrooms, flour, and another pinch of salt. Cook, stirring occasionally, until softened and the mushrooms have begun to brown and have shrunk considerably, about 10 to 15 minutes. Transfer the vegetables to a mixing bowl.
Brown the beef in 2 batches, transferring the first batch of browned beef to the bowl of vegetables to make space for the second round.
Pour about half of the beer into the dutch oven and scrape up any browned bits with a flat-sided wooden spatula.
Transfer the vegetables and beef back into the dutch oven, and add the rosemary and enough beer to just cover the beef and vegetables. Put in the oven and cook, covered, for 1 1/2 hours.
Remove from the oven and stir. Return to the oven and cook for another hour.
If the stew remains thin, set the pan over medium-low heat, and cook uncovered until the liquid has reduced to a sauce-like consistency. Fold in half of the cheddar, and season to taste with salt and sherry vinegar.
Ladle the stew into 8 8-ounce ramekins, dividing evenly. Sprinkle each stew with the remaining cheddar.
Roll out pie dough rounds until 1/8-inch thick, divide each round into quarters, and top each ramekin with a piece of pie dough. Trim excess dough leaving an inch border around the rim, tuck the excess underneath itself, crimp with a fork, and make a few slits in the center with a sharp knife to allow steam to escape when cooking.
Whisk the egg and a tablespoon of water together in a small mixing bowl. Brush the tops of the pie dough with the egg wash. Set the ramekins on a rimmed baking sheet, and bake for about 30 minutes, or until the dough has crisped up and browned.
Serve hot, or reheat in a 350°F oven until warm.
Information
Category

Main Dishes, Beef

Cuisine

North American

Yield

8 servings
Image Source: POPSUGAR Photography / Nicole Perry