Guy's Big Project
Turns Out, Guy Fieri IRL Is the Life Coach You've Always Wanted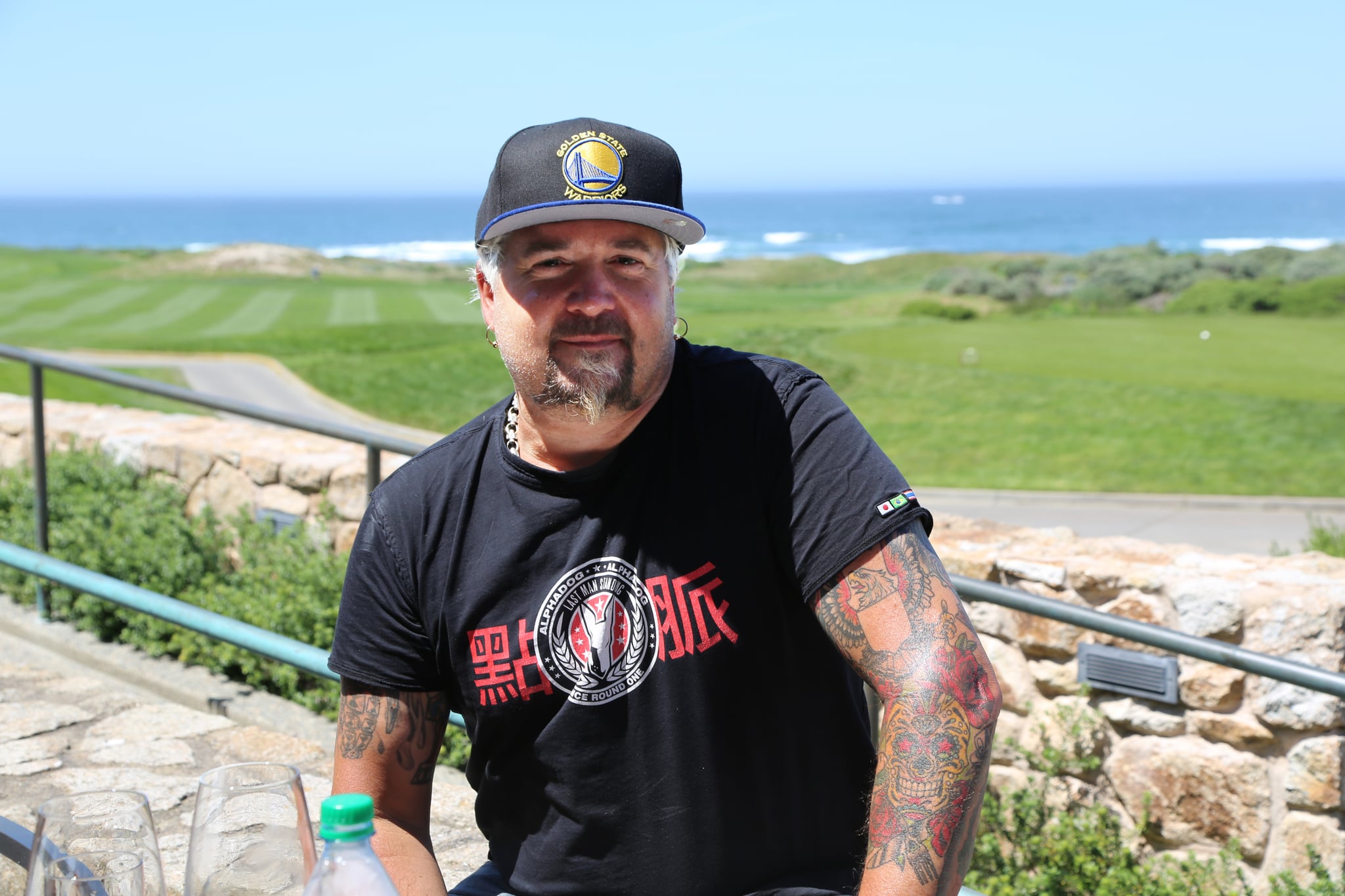 I'm sitting next to Guy Fieri, outside overlooking the ocean, drinking a glass of sauvignon blanc. Food really isn't the subject of our conversation; we're talking about pursuing dreams and life coaching. It's the most unexpected turn of events I've ever experienced at the Pebble Beach Food & Wine festival — or any food festival for that matter. We're seated with two other chefs and his assistant. They have a similar rock star demeanor — tan and tattooed. Guy invites me to sit down and talk but he says, "The catch is . . . you have to have a glass of wine."
They are hours from a big taco party that evening and yet there's not a hint of stress in the air. How can there be when it's sunny and 65? The atmosphere is casual and relaxed. A second bottle of wine is brought to the table along with long plates of nachos. Guy pats sunscreen on his arm and squirts a big globe of it on the top of one chef's bald head. The team cackles at his antic. These people seem happy. What's the secret?
I start by asking Guy what he plans to serve up at his taco party. "A goooood time," he says in Guy Fieri fashion. "You can't say, 'taco party' and not smile. Try and say it without a smile." He waits for me to say "taco party," and I break out into a grin. "You say 'taco party,' and you're like taco party!" Back in March, Guy Fieri announced a new Food Network show Guy's Big Project but with little details. So I have to ask him, what's it about?
Guy's Big Project is about coaching others.
"Most producers aren't chefs, and most chefs aren't producers. I happen to have been trained and educated these last 11-12 years in all facets in how this goes. Food Network casts me every year to come and do The Next Food Network Star, and to educate and support the finalists in their pilots and their final show. It's one of my favorite things in the world to do. I think when you get done being the player, you want to become a coach. I've been doing this for so long now. I get more enjoyment and more fun taking my kids on their adventures than I do having my own adventures. It's kind of that new era of my life.
So I came up with this idea. It's me bringing on eight contestants and helping them achieve their dream. There will be eliminations. It's gotta be who really learns the fastest. We're going to take them, and put them through a variety of challenges for their education. So if they do have the opportunity to get a show, they're going to have their bags packed. They're going to know what they are doing. It's going to be shot real — not staged.
"Everybody knows me as guy, the Triple D Guy, and everyone on the other side of the world knows me as Guy the chef, but you haven't seen Guy the producer. I'm creating, developing, mentoring. It's the same thing we do in the restaurants. But, I have a very direct style. I'm comforting and nurturing. This is life dream sh*t. This is major opportunity in life. When you can be the person that's helping someone achieve a life goal, it's big and deep. It's meaningful.
"Everyone wants to see the bleached hair and the tattoos, and the hot rods, and sex, drugs, and rock and roll. I'm a real simple dude. I'm easy going. I'm sitting on a brick wall in a t-shirt. To give somebody back what I was given — My path was a little harder, in educating and learning. There wasn't someone there doing that for me. So that's what I'm trying to do for someone else. Help them find some of the opportunity paths a little easier."
What makes a great coach?
"To answer the question simply, you have to have the experience. One of the things I have always expected of my managers and chefs, is that they start from the ground. William Morris does that [in his] agency. To be an agent, you have to start in the mailroom. It's the smartest thing in the world. My agent is a guy named Jason Hodes. Jason got his law degree. He started in the mailroom. He worked his way up through the ranks, and now he's a huge agent.
"I think that same thing goes. To do it, to teach, it you have to have done it. Mark Dissin, who is my exec producer on Guy's Big Bite, went to culinary school. He's 40 years old. He left HBO, went to culinary school, cooked in NYC, and then went to the Food Network and became an exec producer. That's how you do it. That's a guy that was able to talk to me in chef language and in producer language."
The trick to success is good people and being prepared.
"I attribute a tremendous amount of my success to the people I surround myself with. I'm fortunate to have a great wife. My mom and dad are super smart and supportive. I've got great friends. I've got all these different components. I'll say it in Jay's language, 'Catching the ball is half of the play. Now you gotta run with it.' The truth is, once you get [the ball], [it] doesn't mean you're going to do good with it. If you don't know how to market it, or behave yourself, or grow, or develop, or improve. There's more facets to it than just catching the ball.
"Most people have good raw talent that should be on TV. Sometimes people get to the point and [choke]. Then what do you do? My goal is to help educate them on all the facts that involve being a chef on TV or being a presenter on TV. Some of the folks we have applying aren't chefs, but they have great food energy. But they gotta know their sh*t. They've gotta be in the game. All of those components have to be ingrained. This isn't a drive by. You really gotta have it."
What separates GBP from The Next Food Network Star?
"One of the first things that I'm going to put them through as a talent is you have to think as a producer. A producer has to think as talent. To play good offense you have to know what good defense is. It's the truth. It's not just as simple to say, 'I want to do a show about pizza in the US.' You have to know [the] what, why , when, where — all of that has to come through. You have to deliver it in a way people want to hear about it. We are starving for food knowledge. When someone says, 'The key is that the tomato comes from Gilroy. The guy's using reclaimed water from the local dairy.' That tomato just changed. You get the depth of it. That's one of the styles of development I want to give them.
Even Guy has a life coach.
"My dad is my life coach. My mom and dad live right next door to me. He's a life coach to probably every one of my friends. We call him Jams. He was supposed to be called Gramps, but my oldest son couldn't [pronounce it]. Everyone knows him as Jams. I can say everybody at this table has gone to Jams for one thing or another. He's not shoving info down your throat. He's listening to what you've got. He's my hero. He inspires me. Both my parents are just phenomenal people. It's funny, because the life skills he has taught me, I use in my business. I hope one day to become the Jams.
"I am the one that my friends call for taxes to cars to relationships, because I've been through so many things. To be a great coach you have to be a great listener. You have to be able to know what's going on. A lot of times people come to me with things aren't even about what they think they are about. Something hurts, but it's really a byproduct of a thing. When you can help people find those outcomes, it's awesome.
"I love to see the success of people. That's why we do Triple D. It's not about me. I'm just the messenger. These great people are out there. Can you believe all these phenomenal places I've been to were already there? How many more? You think about passing someone in a hallway and you just wonder, 'Should I stop and introduce myself to this person? Should I know who you are?' How many times did we miss the person of a lifetime situation? These realities and these ideas are the unanswered questions you don't ask."
I already knew Guy is a great chef and endless source of entertainment (did you check out his cocktail demo with Snoop Dogg?), but behind that demeanor is a person who roots for others to go for their passions and to succeed. I get it now. He and his team are happy, because they are constantly giving back whether through an insane taco, a photo opp, a spotlight on Diners, Drive-Ins, and Dives, or a chance to be coached by Guy himself.
Image Source: POPSUGAR Photography / Anna Monette Roberts