Herb-Butter Roast Turkey Recipe
The Basics: Herb-Butter Roasted Turkey With Pan Gravy
Serious Thanksgiving cooks swear by brining, and while the process contributes to succulent, seasoned meat, there are work-arounds for the person who frankly isn't going to babysit a brining bird for up to three days. Enter this herb-butter roasted turkey. It's a prep-and-roast-the-day-of kind of recipe, but 'tis no matter, because the flavor payoff is major. This turkey is all buttery, herby, lemony goodness.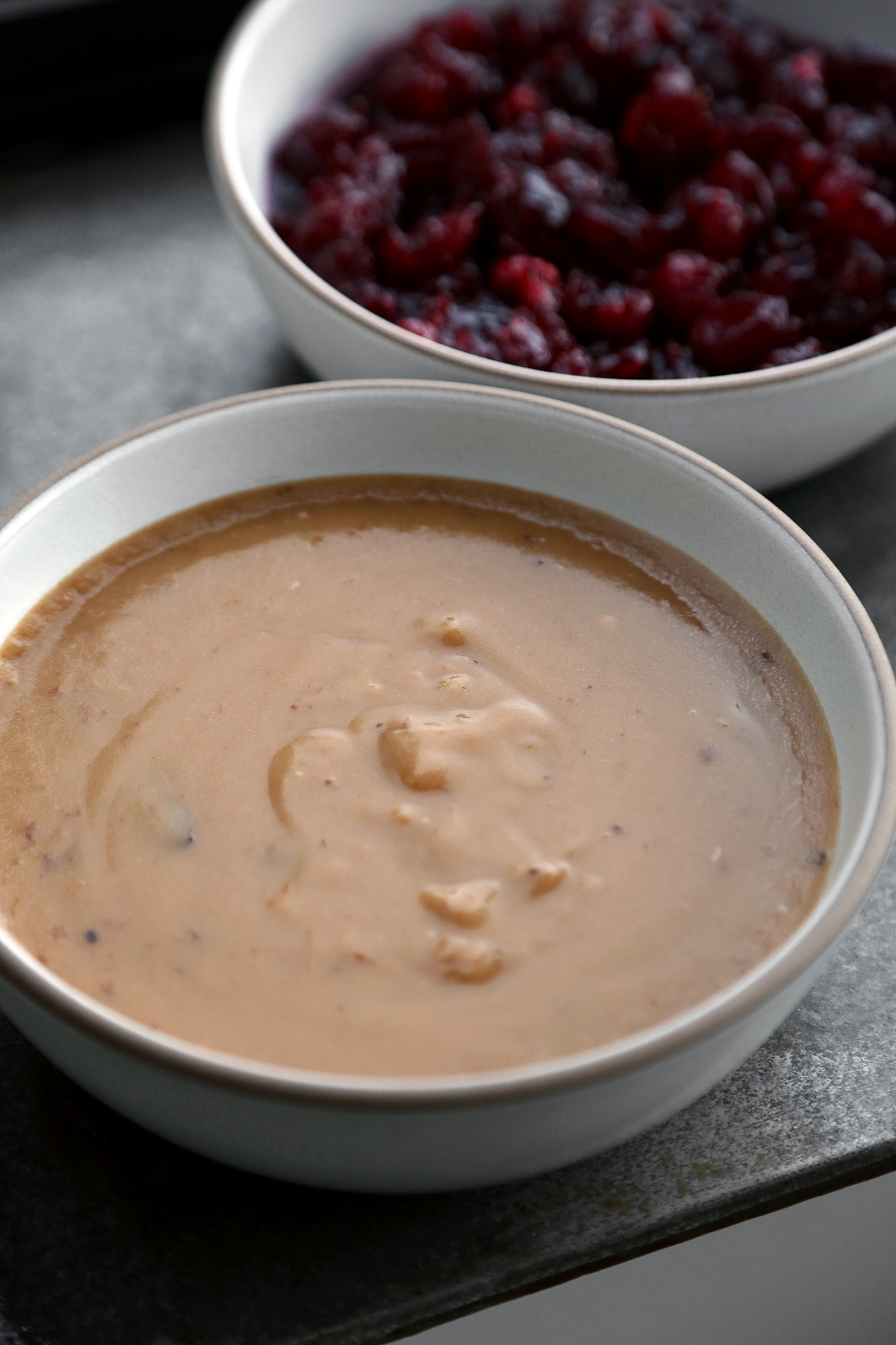 And just when you think things couldn't get any better, take a look at the pan gravy. There's no need for the instant stuff when the turkey drippings, some stock, and flour come together for a slatherable sauce that you may (OK will) eat several tablespoons of before the Thanksgiving supper actually begins. Seriously, gravy (along with a splash of wine) will help you power through the final stages of your Thanksgiving prep, so do not feel guilty for diving in your tasting spoon a couple extra times "to make sure the flavor's right." It's the lushest pick-me-up.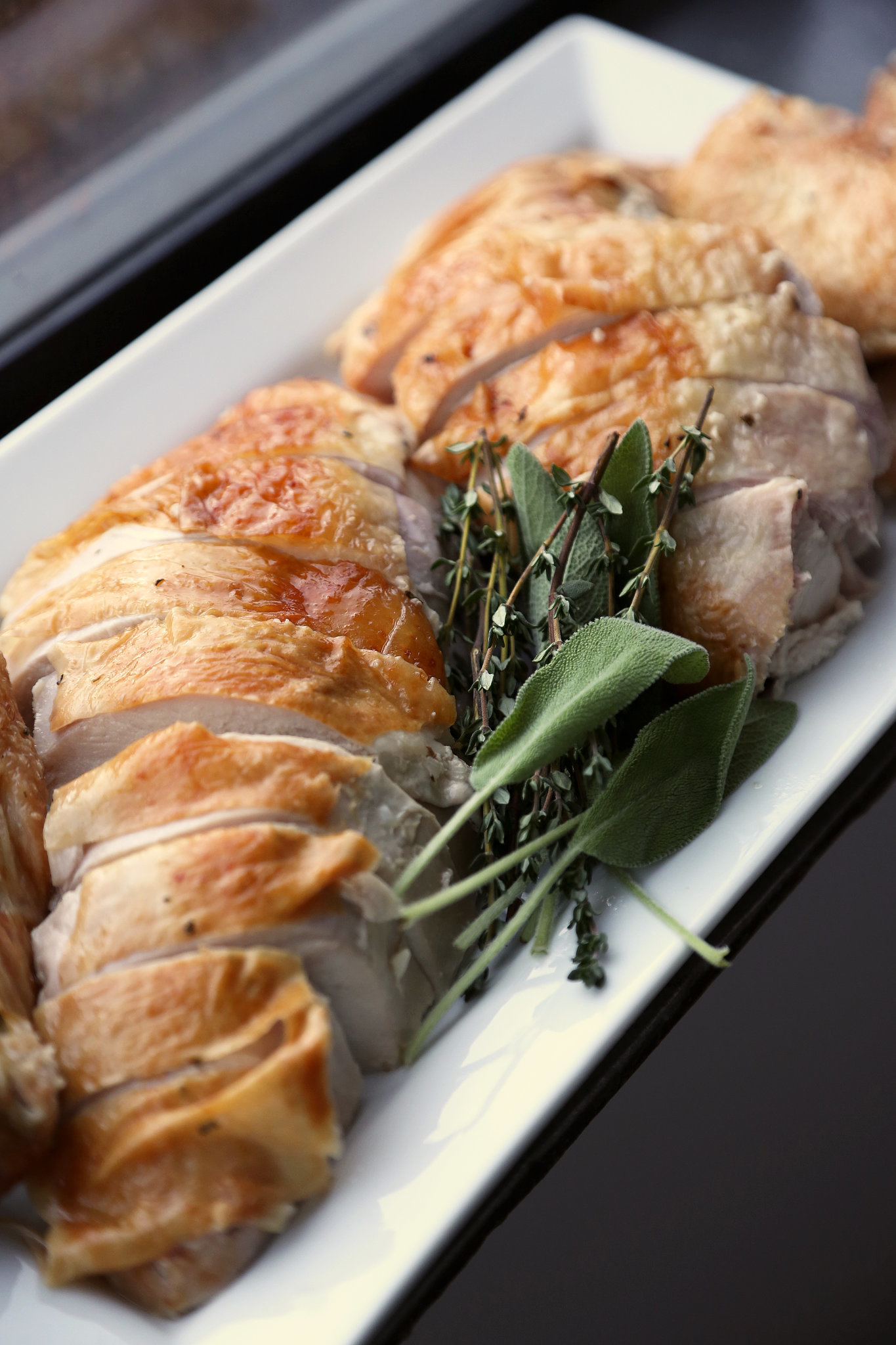 Now that your crispy, golden bird has rested, it's time to carve it. Don't panic! We have a whole step-by-step guide to breaking down a turkey, photos included. It's time Grandpa handed over the carving tools. You've got this!
Notes
Allow the turkey to come up to room temperature for an hour before rubbing with butter.
Ingredients
1 12- to 14-pound turkey, rinsed and patted dry, neck and giblets removed
1/4 cup (1/2 stick) sage, rosemary, and thyme compound butter
1 1/2 tablespoons kosher salt
1 lemon, quartered
Head of garlic cut in half
A few sprigs of thyme, sage, and rosemary
Directions
Preheat the oven to 400°F. Line the v-rack of a roasting pan with heavy-duty tinfoil, and use a paring knife to poke holes in it every inch or so (this will protect the turkey from sticking to the rack, while allowing the drippings to accumulate on the bottom of the pan).
Remove any remaining feathers from the turkey with tweezers. Spread butter over the entire outside and inner cavity of the turkey. Sprinkle with salt both on its entire outside and inner cavity.
Place turkey breast-side down on the prepped v-rack and add 1 1/2 cups water to the bottom of the pan (this will prevent the drippings from burning). Stuff with the quartered lemon, the head of garlic, and the herb sprigs.
Roast for 45 minutes, then using clean oven mitts or a wad of paper towels, flip the turkey so that the breast side is facing up, and return to the oven.
Roast for an additional 50 to 60 minutes, or until the thickest part of the thigh registers 170-175°, and the thickest part of the breast is 160°.
Remove the turkey to a carving board, and let rest 30 minutes before carving.
Information
Category

Poultry, Main Dishes, Game

Cuisine

North American

Yield

10-12 servings
Notes
If you have stuffed the turkey with lemon, use the lemon from the bird's cavity to season the gravy.
Ingredients
Roasting pan with turkey drippings
1/2 cup all-purpose flour
2 1/2 cups mushroom stock
Juice from 1/4 to 1/2 lemon, to taste
Directions
While turkey rests on cutting board, place roasting pan on stove top across 2 burners. Bring pan juices to a simmer over medium-high heat while scraping up the browned bits with a wooden spoon. Cook until liquid thickens and holds a trail, 8 to 10 minutes.
Whisk in flour and cook until blended, about 1 minute. Gradually whisk in stock, then 1 cup water. Bring to a simmer and cook, stirring occasionally, until gravy thickens and no longer tastes floury, about 5 minutes (reduce heat if bottom of pan begins to scorch).
Season with lemon, salt, and pepper. Keep warm until serving. Whisk before serving (thin with water if necessary).
Information
Category

Condiments/Sauces

Cuisine

North American

Yield

3 cups

Total Time

19 minutes, 59 seconds
Image Source: POPSUGAR Photography / Anna Monette Roberts