How Chefs Make Pulled Pork
This Is How All Your Favorite Chefs Make Pulled Pork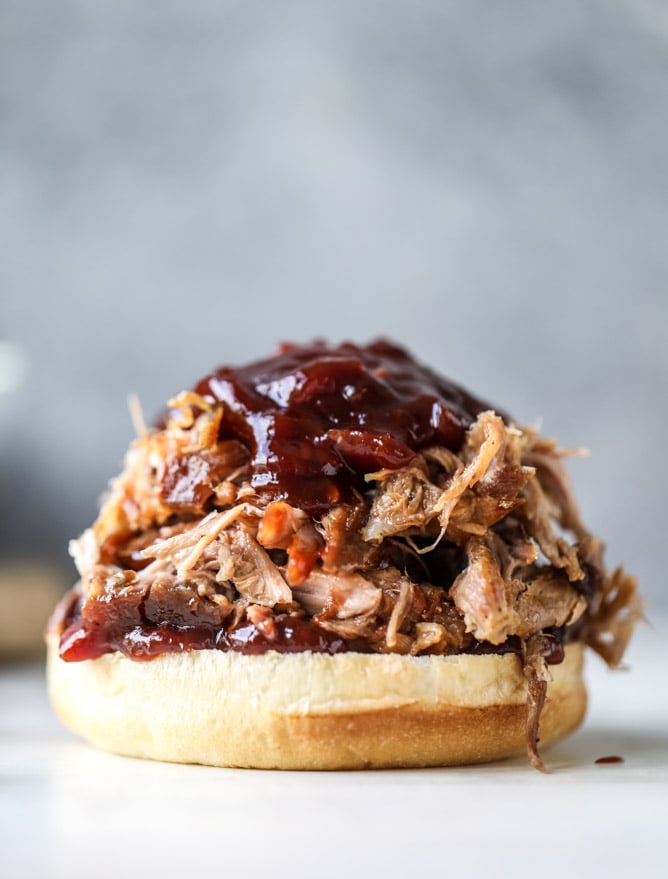 Pork chops can get a little boring; pulled pork, on the other hand, is anything but. We've tapped some of the best celebrity chefs and Food Network hosts to get inspiration for making our own pulled pork, aka fall-off-the-bone pork shoulder, for a guaranteed upgrade to weeknight dinner and outdoor barbecues. Prepare to reach into your spice cabinet and pick your new favorite recipe for pulled pork (like the pulled pork with cherry chipotle barbecue sauce, pictured above) based on the following experts' recommendations.
Alton Brown: 12-Hour Brine
You know Alton Brown doesn't take shortcuts, so his pulled pork recipe naturally calls for a time commitment. A three-ingredient brine of molasses, pickling salt, and bottled water tenderizes and infuses the meat with flavor for a minimum of eight hours, but Alton recommends a total of 12. The next component that takes the pork to the next level is the rub of freshly ground cumin seed, fennel seed, and coriander. Finish the marinated meat in a smoker for the best possible flavor.
Ree Drummond: Slow Roasted
Ree Drummond chooses to save time on her slow-roasted pulled pork recipe by using bottled BBQ sauce but doesn't rush the cooking time of the meat. There's no need to use a smoker or other fancy equipment: The Pioneer Woman's recipe calls for roasting the pork low and slow in the oven at 300°F until fork-tender, about seven hours. The most important part is scraping the brown bits and juices from the pan to make a quick stovetop sauce that adds tons of flavor to the store-bought sauce.
Tyler Florence: Slathered in Homemade BBQ Sauce
For Tyler Florence's pulled pork sandwiches recipe, it's all about the scratch-made sauce. His cider vinegar barbecue sauce is tangy, sweet, and savory, thanks to the expert combination of vinegar, mustard, ketchup, brown sugar, garlic, cayenne, salt, and pepper. Tyler serves up the oven-roasted pork shoulder on hamburger buns with plenty of the homemade sauce, coleslaw, and pickles.
Giada De Laurentiis: Turned Into Tacos
Pulled pork might not be an Italian dish, but that doesn't mean Giada doesn't know how to cook it well. Giada's pulled pork tacos are stuffed with a slow-cooked, juicy pork roast that simmers in an aromatic combination of chipotle adobo sauce, beer, olive oil, orange zest, garlic, and onion. Instead of going in the sandwich-and-slaw direction, Giada serves the meat in flour tortillas with taco toppings like cilantro, sour cream, feta cheese, avocado, tomatoes, and lime.
Bobby Flay

: With Black Pepper Vinaigrette

Grill master that he is, Bobby Flay makes pulled pork on the grill for about four hours until it's tender. The star of his recipe is a homemade black pepper vinaigrette that's drizzled on top of the pork after it's already cooked in the barbecue sauce for an extra punch of acidity and tang.