How to Compost
5 Tips For Smarter Composting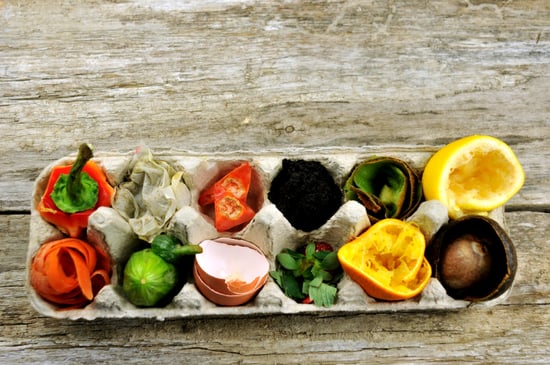 Who says you can't start resolutions before the year is over? We've compiled a list of 51 foodie resolutions to check off, including this helpful tip.
What's keeping you from composting? Is it too stinky? Does it attract fruit flies in your kitchen? Or does it just seem too difficult to bother with? Whatever your excuse is, these tips will help dispel your fears or bad experiences with composting so you can feel good about filling the green bin.
Get rid of the stink and flies: While there are some airtight compost bins with charcoal lids that help prevent smells from getting out, here's a guaranteed stink-proof method. Place all the food scraps in a compostable green bag and store it in the freezer until the bag is full.
Stop trashing your food: The compost bin can be the new home of all of your food scraps including vegetables, eggshells, coffee grinds, meat, bones, and leftover cooked food. Just remember to remove any stickers, plastic, or foil from the food.
Toss the packaging: If it's made of wood, paper, or compostable plastic, then it belongs in the compost bin. If it came from the ground, it's compostable, so even greasy pizza boxes can go in there. (Plastics labeled "biodegradable" are not compostable.)
Research where you can compost: If you have access to a backyard, set up your own composter or reach out to the city for a green compost collection bin. If you live in a large city, see if your apartment building has a green bin or ask your landlord to request one. Otherwise, most farmers markets will have a compost drop-off for you to contribute to each week.
See the amazing results: If you compost and recycle regularly, you'll soon notice that you barely have any trash — I toss one bag of trash a week, if not once a month. Thanks to composting, the days of stinky trash are gone, as my trash bin only holds nonrecyclable packaging, plastic wrappers, and bags.