Iced Animal Cookie Cheesecake
This No-Bake Oreo-Animal Cookie Cheesecake Tastes Like the '90s in a Springform Pan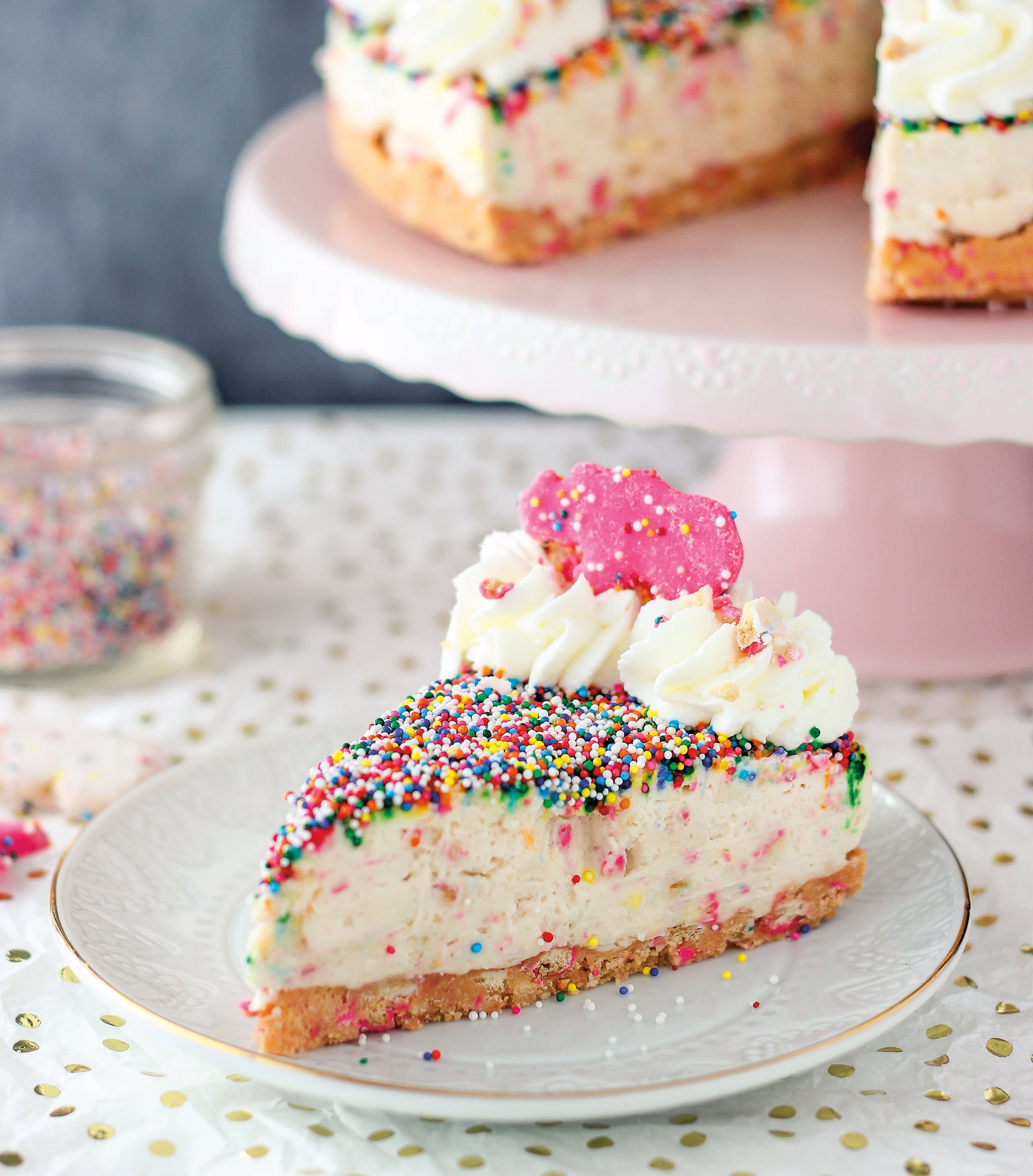 This iced animal cookie no-bake cheesecake starts with a crust made from crumbled iced animal cookies and Golden Oreos. The filling contains cake mix and more crushed iced animal cookies to take that vanilla flavor up a notch. And finally, it's coated in freshly whipped cream and a bucketload of sprinkles. We have Julianne Bayer and her No-Bake Treats cookbook to thank for this creation. The '90s live on!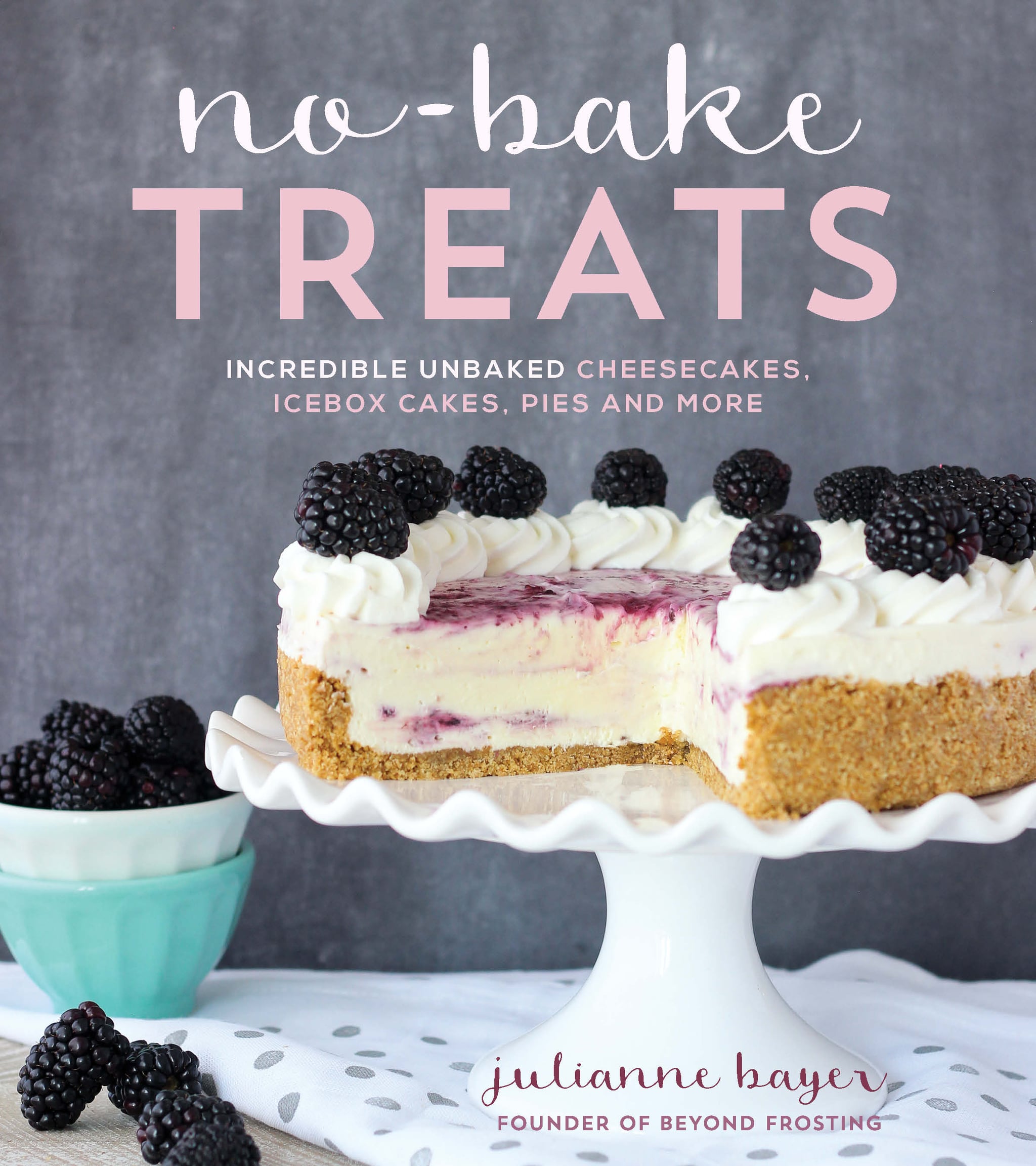 Notes
There is so much to love with this iced animal cookie cheesecake. Not only it is loaded with sprinkles, but there are plenty of iced animal cookies both in the crust and the cheesecake filling. Let's be honest, it's hard to resist breaking into a bag of iced animal cookies. They're coated in pink or white chocolate and garnished with sprinkles. To make this cheesecake a little extra special, I've added a bit of dry vanilla cake mix which adds some cake batter flavor.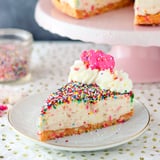 Ingredients
For the crust:
1 cup (90 grams) iced animal cookie crumbs
1 1/2 cups (135 grams) vanilla sandwich cookie crumbs (I use Golden Oreos)
4 tablespoons (57 grams) unsalted butter
For the filling:
1 cup plus 2 tablespoons (267 milliliters) heavy whipping cream, divided
1/2 cup (65 grams) powdered sugar
16 ounces (454 grams) cream cheese, softened
2 teaspoons (10 milliliters) vanilla extract
1/4 cup (48 grams) granulated sugar
1/2 cup (65 grams) dry vanilla cake mix
2 cups (180 grams) crushed iced animal cookies
For the topping:
3/4 cup (177 milliliters) heavy whipping cream
1/2 cup (65 grams) powdered sugar
1/4 cup (57 grams) sprinkles
Directions
For the crust: Prepare a 9-inch (23-centimeter) springform pan by lightly greasing the edges of the pan with cooking spray, and then wiping gently with a paper towel. Before measuring, grind the iced animal cookies into fine crumbs using a food processor or blender. Repeat this step with the vanilla sandwich cookies and then mix the crumbs together. In a microwave-safe bowl, microwave the butter for 45-60 seconds until the butter is melted. In a separate medium-size bowl, pour the melted butter into the crumbs and stir until there are no dry crumbs left. Pour the crumbs into your springform pan and press firmly into the bottom of the pan to form the crust.
For the filling: Prepare the whipped cream first by placing the mixing bowl and whisk attachment in the freezer for 5-10 minutes to chill. Pour 1 cup (237 milliliters) of heavy whipping cream into the chilled bowl and use an electric mixer to beat the heavy cream on medium-high speed until the cream gets bubbly. Slowly add the powdered sugar and continue beating on high speed until stiff peaks form. Set aside.
In a separate bowl, beat the cream cheese on medium-high speed for 2-3 minutes until it's light and fluffy. Add the vanilla extract and remaining 2 tablespoons (30 milliliters) of heavy whipping cream and beat until incorporated. Next, add the granulated sugar and dry vanilla cake mix, and beat until well incorporated, scraping down the bowl as needed.
Place the iced animal cookies in a large plastic bag, such as a Ziploc bag, and smash them into pieces with a heavy kitchen tool such as a rolling pin. You want a good mix of crumbs and small chunks. Add 2 cups (180 grams) of the crushed cookies to the cream cheese mixture and mix until combined. Then add the prepared whipped cream to the cream cheese mixture and mix until all of the ingredients are well combined to form your cheesecake filling. Pour the filling into the prepared crust. Cover and refrigerate for 4-6 hours.
For the topping: Prepare a second batch of whipped cream for piping as described above using heavy whipping cream and powdered sugar. Before removing from the springform pan, pour the sprinkles over the top of the cheesecake and gently shake the pan back and forth to evenly coat the top, gently pressing into the cheesecake if needed. Remove the springform pan edge and pipe the whipped cream along the border of the cheesecake.
Reprinted with permission from No-Bake Treats, written and photographed by Julianne Bayer, Page Street Publishing Co. 2016.
Information
Category

Desserts, Cheesecake

Cuisine

North American

Yield

10 to 12 slices