Japanese Sliced Chocolate Recipe
Get Japan's Sliced Chocolate Trend at Home
By now a lot of you have seen the latest delicious invention to come out of Japan, sliced chocolate! It's a malleable, individually wrapped slice of rich chocolate ganache that's perfect for layering on a sweet sandwich, melting into a crepe, or for cutting out decorations for, well, anything that could use a little bit of chocolate. But stay tuned, because we've cracked the code to making it homemade. Now that you know, the possibilities are literally endless!

Chocolate Slices
From Brett Long, POPSUGAR Food (Inspired by Bourbon)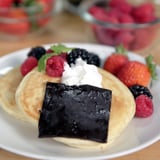 Ingredients
2 cups semi-sweet chocolate chips
2 sheets silver grade gelatin
1 cup heavy whipping cream
Directions
Place chocolate into a medium sized bowl and set aside.
Bloom gelatin in ice water for 10 minutes or until softened.
In a small sauce pot over medium heat, bring cream to a simmer. Remove gelatin from ice water and squeeze to remove excess water. Remove the cream from the heat, add the gelatin, and whisk to dissolve.
Pour hot cream over the chocolate, whisking to emulsify.
Line two sheet trays with parchment paper. Pour half of the chocolate mixture onto each tray and use a rubber spatula to spread the chocolate into a 1/4" thick layer.
Place sheet tray in freezer for 5 to 8 minutes, or until thick enough to slice. Remove from freezer and carefully slice through the chocolate to create squares.
Return the sheet tray to the freezer and chill for at least 8 hours or overnight.
When ready to use, peel parchment paper off the back and enjoy.
Information
Category

Desserts, Chocolate

Yield

6 servings