Jardin Brunch in Las Vegas
Cure Any Las Vegas Hangover With the Ultimate Fried Chicken 'n' French Toast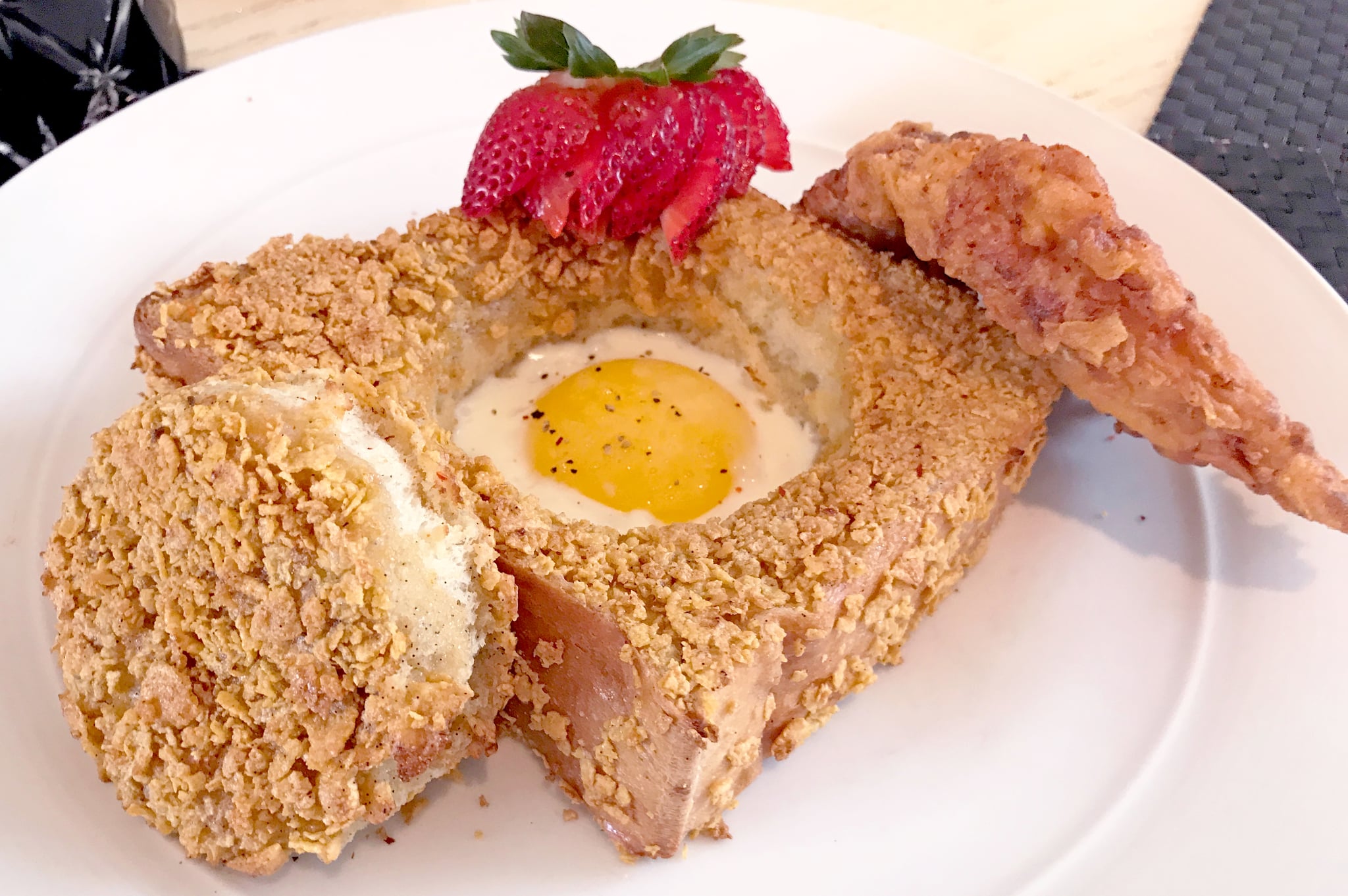 Sure, we all know that Las Vegas is a party town, and the result of a hard night of partying is being rewarded with a hangover-curing, life-saving breakfast that can be ordered at any time of the day, right? Isn't that why it's the city that never sleeps?
On my last trip to Sin City, I was let in on a little secret. There's a breakfast dish to beat all breakfast dishes, and if you ask nicely the restaurant will whip it up for you and serve it with a giant Bloody Mary. You just have to be "in the know." At the Wynn hotel on the north end of the strip, there's a poolside brunch spot called Jardin, which has an always-rotating seasonal menu of decadent french toasts. And earlier this year, the restaurant tested a chicken 'n' "waffles" dish that looked mind-bogglingly good. It's a thick-cut slice of brioche breaded in sweetened cornflakes (it's a french toast dish, despite the name) stuffed in the center with a toad-in-the-hole-style fried egg and served with a crispy piece of fried chicken. It's a unique take on the chicken 'n' waffles craze, and the french toast is the perfect match.
When I first saw it on Instagram, I knew I had to have it. So after a night of hard partying, my friends and I headed over to brunch and I asked our waiter if they still served it. Imagine my gasp of disappointment when he said that it was a seasonal item. But, being Vegas, he told me that the kitchen pretty much keeps everything on hand to whip up whatever the customer's fancy (within reason) at a few minutes' notice. So if I wanted it, I could have it!
And it was everything I'd hoped for and more. I found out the bread is made fresh daily by Bon Breads, a local bakery. The crispy texture from the cornflakes with the rich, buttery brioche and the fried egg created a soppy situation (in a good way) that soaked up any bits of booze still in my system. The fried chicken with a touch of hot sauce was more than enough to knock me back into action, and I felt ready for another full day of revelry. If you have the chance to try this dish the next time you're in town, do it. You and your hangover will be so thankful you did!