Disneyland's Macaroni and Cheese Cones Recipe
Re-Create Disneyland's Magical Mac and Cheese Cones at Home With This Easy Recipe
The best part part about Disneyland (other than the rides, of course) has to be the food! These magical finds can be spotted at all the parks and can induce drooling in no time. One specific Disney snack that we can't get enough of are the mac-and-cheese-stuffed cones. Only Disney could replace ice cream and get away with it tasting this good!
For those looking for their mac 'n' cheese fix, these cheesy cones can be made right at home with no magic needed. Imagine: warm noodles, gooey cheese, and cones practically bursting with flavor — aka the best thing ever. And if you really want to take things up a notch, try making the cones with a Flamin' Hot Cheetos topping, truffle-infused flavors, or Disneyland's second most popular flavor: chile con queso. Get the Disney-park-inspired recipe, and bring the flavors of the park right to your home now.
— Additional reporting by Lauren Harano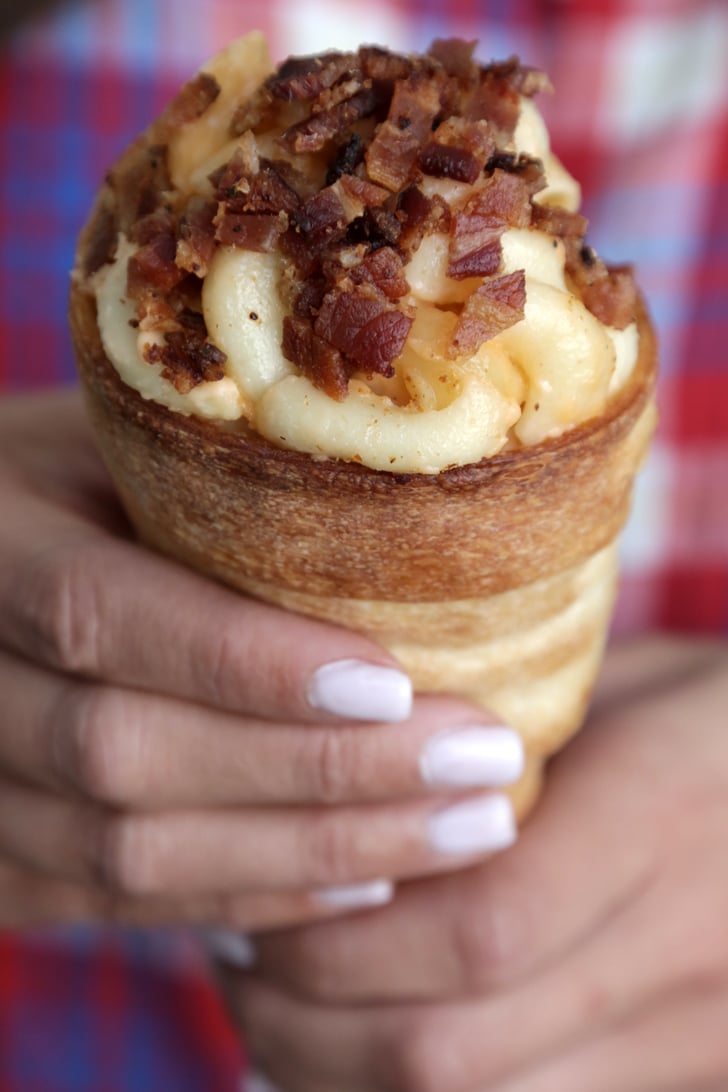 Mac 'n' Cheese Cones
From Alyssa Noui, POPSUGAR Food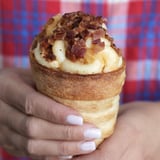 Ingredients
Special equipment:
6 Manila folders
Tape or staples
6 10-inch-long foil sheets
For pizza cones:
Cooking spray
1 tablespoon flour
1 tube Pillsbury Thin crust pizza dough
For mac 'n' cheese:
1 pound elbow macaroni
Salt, to taste
1/4 cup butter
1/4 cup flour
1 cup milk
2 cups shredded cheddar cheese
1/2 cup cream cheese
Pepper, to taste
6 strips bacon, cooked and crumbled
Directions
To make the cones: Preheat oven the 425ºF.
Take a Manila folder and roll into a tight cone, securing the end with a staple or tape. This will be covered with foil and protected from the heat so it won't burn in the oven. Wrap cone tightly with foil, covering the paper completely. Lightly grease the outside of the cone with cooking spray and set aside.
Roll out pizza dough on a lightly floured surface, to keep it from sticking. With the long side facing you, cut 12 1-inch strips with a sharp knife or pizza slicer. Starting at the tip of the cone, wrap one strip around the bottom and continue working your way up, spiraling as you go. Make sure that the dough touches the row below it. Continue with a second strip.
Repeat 5 more times to make 6 cones.
Place cones on a greased baking sheet and bake for 10 minutes, rotating once, until dough is golden brown.
Remove cones from the oven, let cool slightly, and then gently twist the foil cone to remove from the dough. Let cool.
To make mac 'n' cheese: Heat water in a stock pot and salt heavily. Once it starts boiling, cook macaroni for about 8 to 10 minutes, or until al dente. Drain and set aside.
In a large stock pot over medium heat, melt butter and add flour. Cook, stirring occasionally, until the flour is toasted. Add milk, whisking vigorously to eliminate lumps. Add cheese, cream cheese, and salt and pepper to taste. Add pasta and stir to combine. Let mac 'n' cheese sit for 10 minutes.
Fill each cone with mac 'n' cheese and garnish with a big scoop of crumbled bacon.
Information
Category

Pasta, Main Dishes

Cuisine

North American

Yield

Serving Size: 6

Total Time

44 minutes, 59 seconds