Mario Batali Interview
Mario Batali's Favorite Chicken Dish Is Simply Beautiful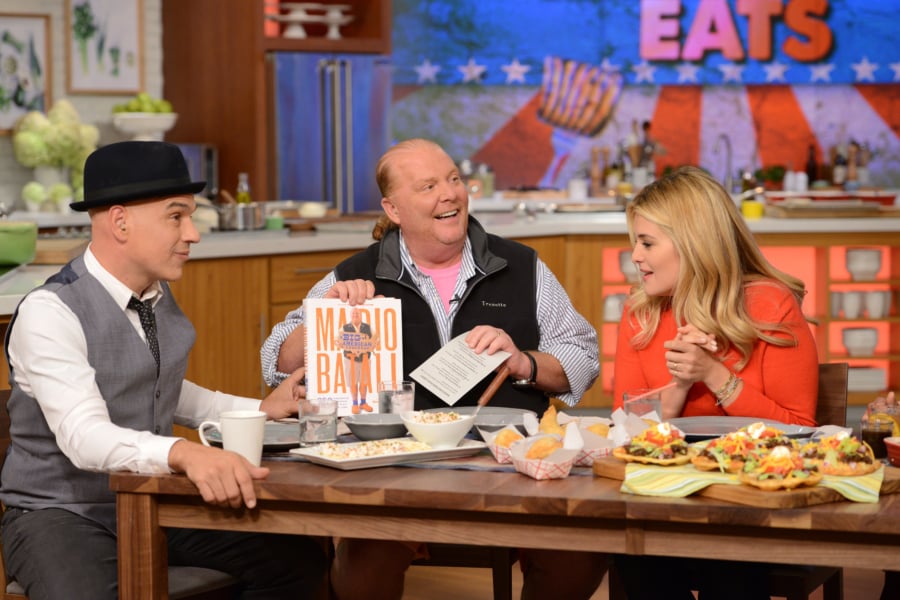 Image Source: ABC / Lorenzo Bevilaqua
Mario Batali recently released a new cookbook, Big American Cookbook: 250 Favorite Recipes From Across the USA, and a cooking show, Moltissimo (on Munchies, Vice's food vertical), and that's just a fraction of his week! The Italian chef is a cohost of ABC's The Chew, restaurateur, owner of Eataly, and, also worth mentioning, a frequent guest on The Tonight Show Starring Jimmy Fallon. The man is the epitome of busy, which is why our interview happened over email. However, Mario happens to be an exceptional writer, and his responses will inspire you to start cooking more Italian ASAP.
POPSUGAR: Of all the recipes you've developed, which do you want to be known for?
Mario Batali: Starting out with a toughie! I've always said, "Food, like most things, is best when left to its own simple beauty." With that said, any simple but delicious dish that celebrates the season and locality is what I want to be known for. Right now, that'd have to be lasagne bolognese.
PS: Tell us your go-to method to prepare chicken.
MB: I love to prep chicken alla saltimbocca. Take a piece of chicken thigh and pound it thinly. Add prosciutto and some arugula or sage, dip it in seasoned flour, and saute it till it's nice and crispy and cooked through.
#TheChew crew reveals their spooky and amazing costumes!https://t.co/Sd3zKYXBx7

— The Chew (@thechew) October 30, 2015
PS: Share the most memorable moment you've had on The Chew.
MB: I was Donald Trump for Halloween last year. I think I did a pretty good imitation, thanks to my vocal coach, Jimmy Fallon.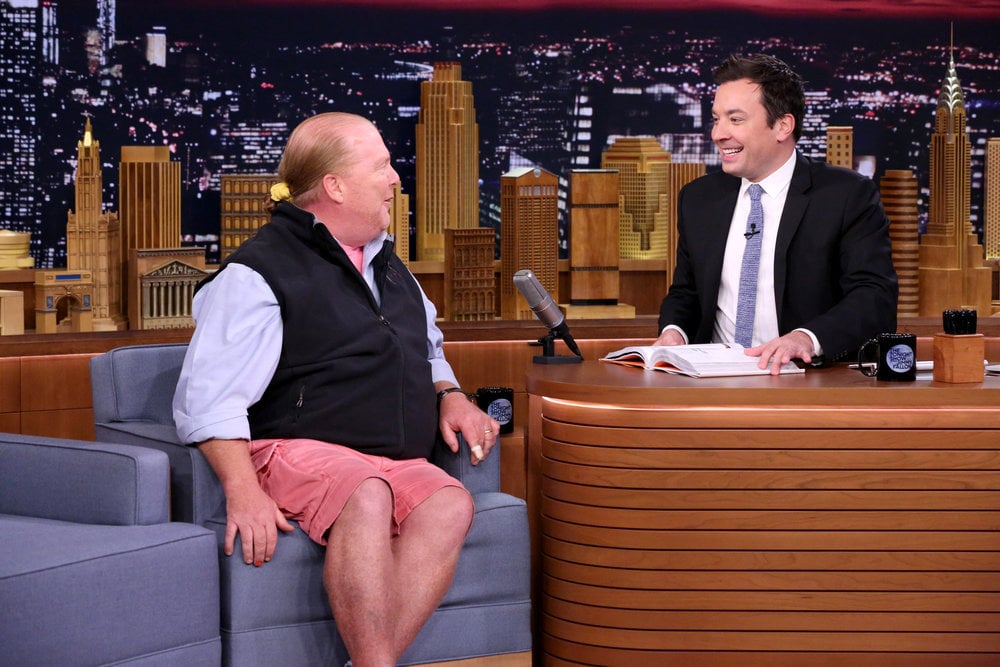 Image Source: NBC / Andrew Lipovsky
PS: And as for recipes on the show?
MB: Michael's spicy sausage sliders are killer! Carla's butterscotch truffles are delightfully sweet.
PS: What are your favorite products at Eataly?
MB: Eataly does every product right. They make fresh mozzarella in-house that's incredible delicious. Pair that with some house-made pane mediterraneo and extra virgin olive oil and that's all I need.
PS: Which pasta sauce is on constant rotation at your house?
MB: My own!
POPSUGAR side-note, perhaps Mario is referring to his basic tomato sauce recipe?
PS: How do you take your eggs?
MB: Fried perfectly with the yolk still loose, preferably sitting on a top of asparagus.
PS: Do you ever use a slow cooker? If yes, how do you use it?
MB: All the time. It's great for chili in the Winter, especially when I'm tailgating at football games. I use it for soups and slow braises as well.