Microwaveable Hot Chocolate Mug Cake
This 2-Minute Hot Chocolate Mug Cake Will Nourish Your Soul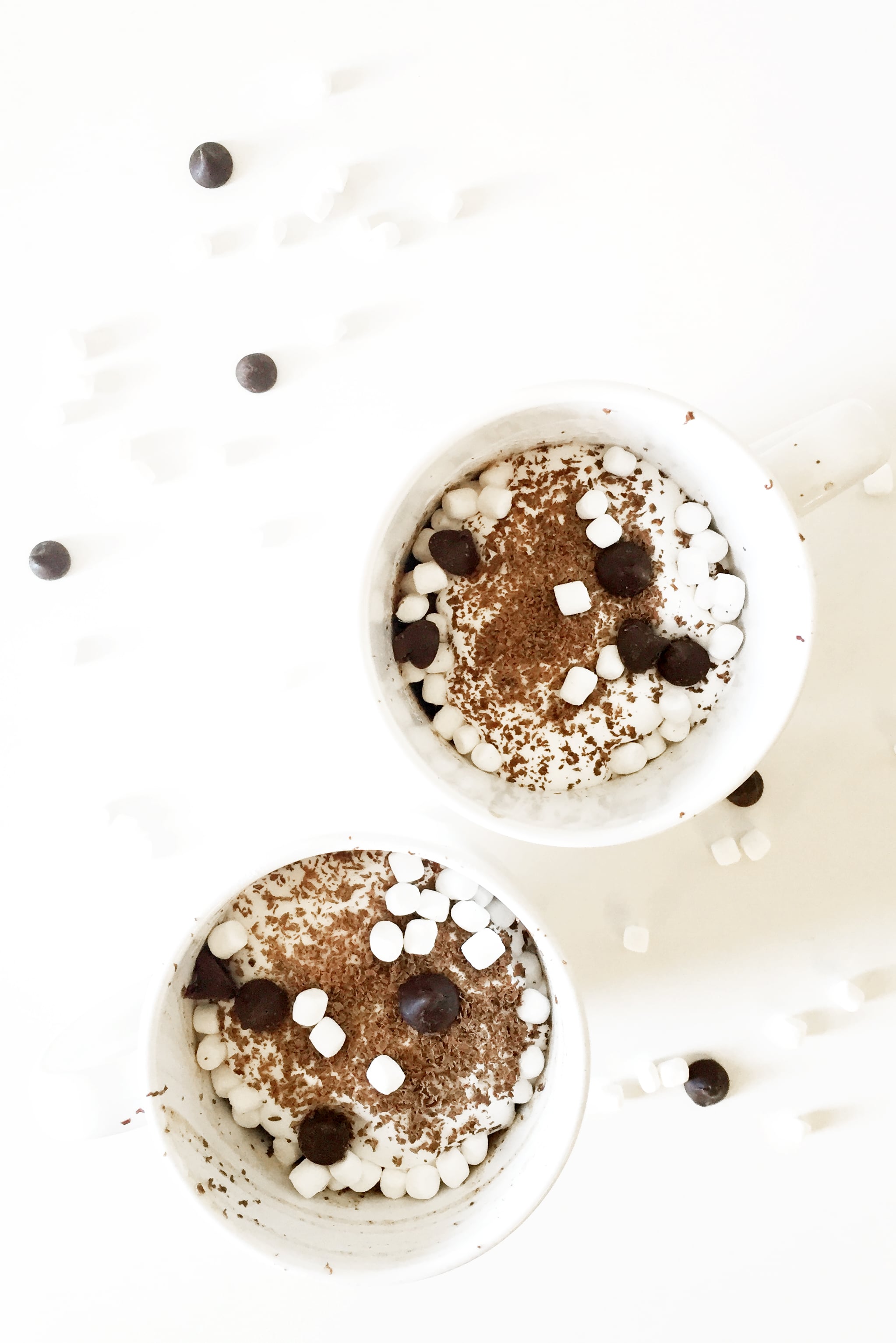 One dreary, drizzly afternoon, my co-worker Erin turned her computer screen toward me to show this page of hot chocolate cupcakes. "Have you ever heard of this?!" she marveled. Ooing at all the whipped frostings and chocolaty cakes, I finally responded, "Let's make a mug cake." After all, it makes perfect sense to serve a hot chocolate cake in a mug.
This particular recipe does not skimp on your favorite aspects of hot chocolate. First off, there is a difference between hot cocoa and hot chocolate. Be sure to pick up a hot chocolate mix, as it contains real bits of chocolate which melt into the cake, whereas hot cocoa only contains cocoa powder. The batter contains half and half to make it all the more indulgent . . . and then there's the toppings!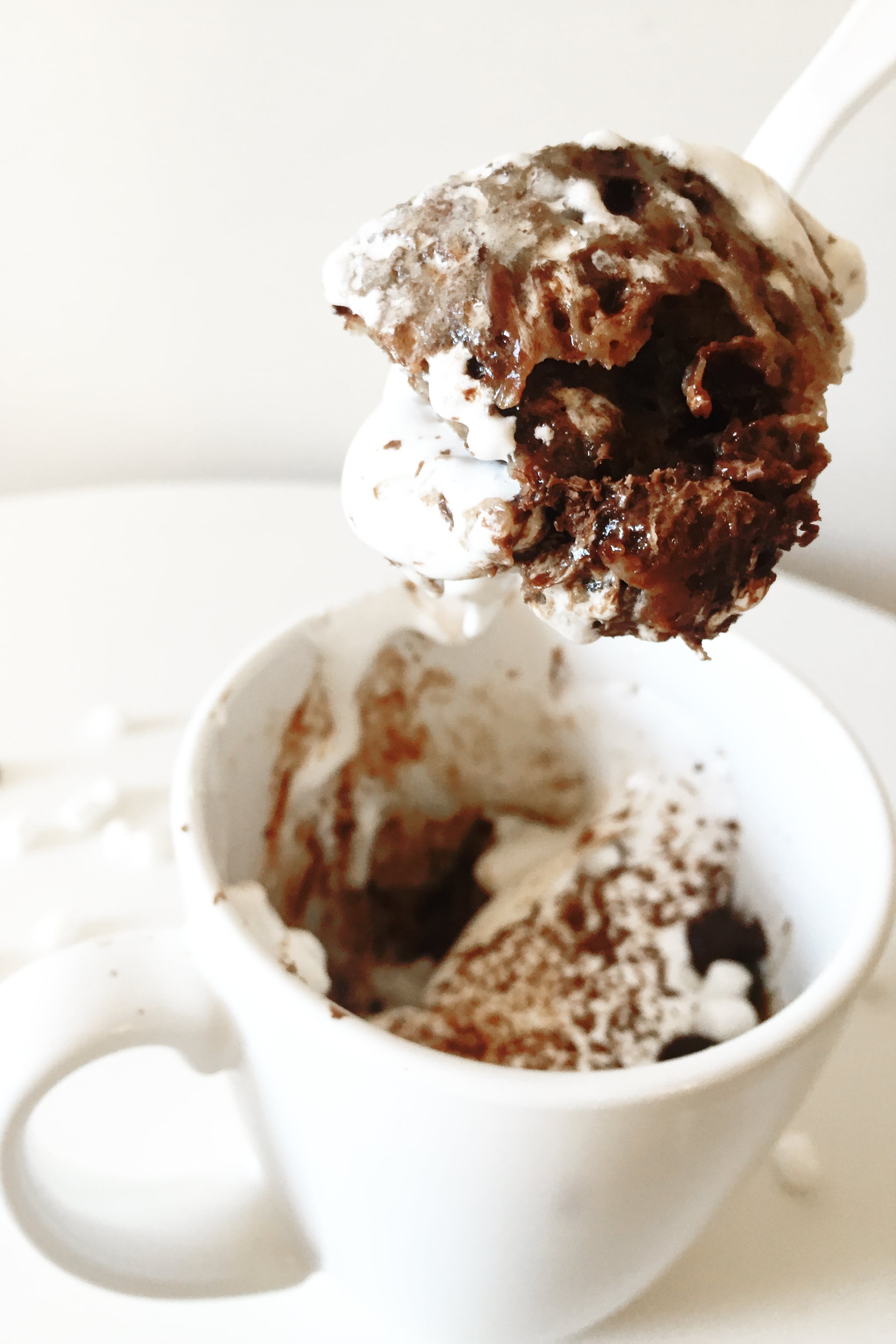 Once the cake is "baked," it's topped with a hearty tablespoon of Marshmallow Fluff — or three, if you're like us — along with some chocolate shavings, chocolate chips, and Marshmallow Bits (similar to the crunchy Lucky Charms marshmallows). The chocolate and Fluff melt into the hot cake, and you may be convinced the mugs are actually filled with hot chocolate.
Now, all you need is to wrap yourself up like a burrito in a throw blanket and head straight for the couch before diving into the mug. You'll find the cake itself is not overtly sweet, so you'll appreciate the addition of the marshmallows to act as icing. The little Marshmallow Bites add just the touch of crunchy contrast the cake needs. This recipe sets you right up for living the hygge life.
Hot Chocolate Mug Cake
From Anna Monette Roberts, POPSUGAR Food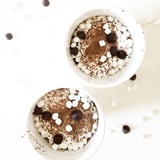 Ingredients
2 tablespoons salted butter
1 large egg
2 tablespoons half and half
1/4 cup hot chocolate mix (we used Chuao Deluxcious Dark)
4 tablespoons flour
A pinch baking powder
A pinch of salt
Marshmallow Fluff or marshmallow creme, for topping
Marshmallow Bits, for topping
Chocolate chips, for topping
Directions
In a large mug, microwave butter in 10-20 second increments, until melted. Beat in egg and half and half. Stir in hot cocoa mix, flour, baking powder, and salt. Pour half of the batter in a separate mug.
Microwave for 1 1/2 minutes (for gooey cake) or 2 minutes (for spongy cake), or until the cake has risen and is firm and springy to the touch.
Top with Marshmallow Fluff, Marshmallow Bits, chocolate chips, and chocolate shavings (by microplaning chocolate chips).
Information
Category

Desserts, Cake

Cuisine

North American

Yield

2 mug cakes
Image Source: POPSUGAR Photography / Erin Cullum