Milka Oreo Chocolate Candy Bar Review
Oreo Releases Its Greatest Candy Collaboration Yet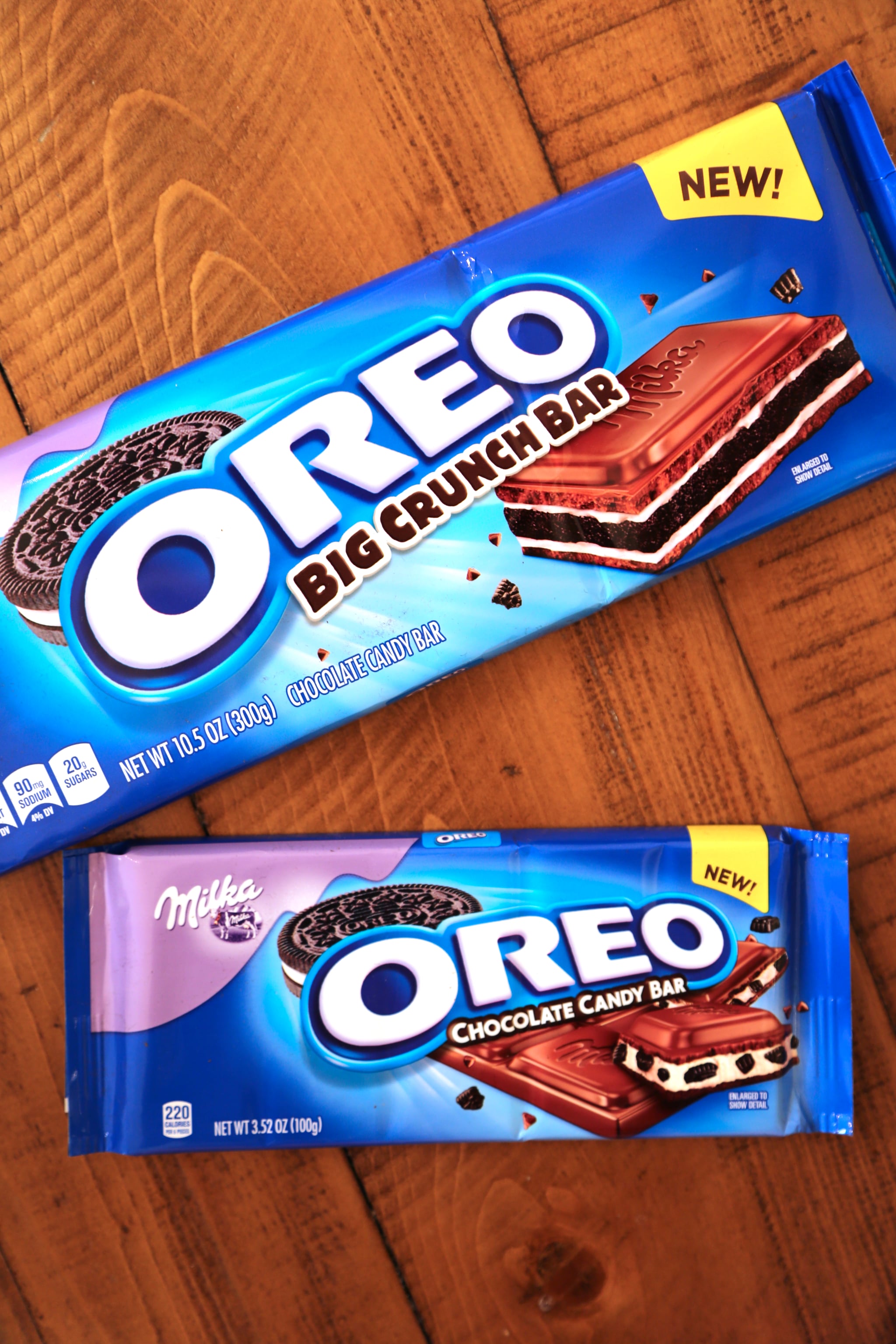 This Fall, Oreo blessed/cursed us with its Dunkin' Donuts Oreo Hot Chocolate and Swedish Fish Oreos, and the cookie company announced a new collaboration today to intrigue our taste buds: Milka Oreo chocolate candy bars — essentially Oreo-stuffed milk chocolate bars.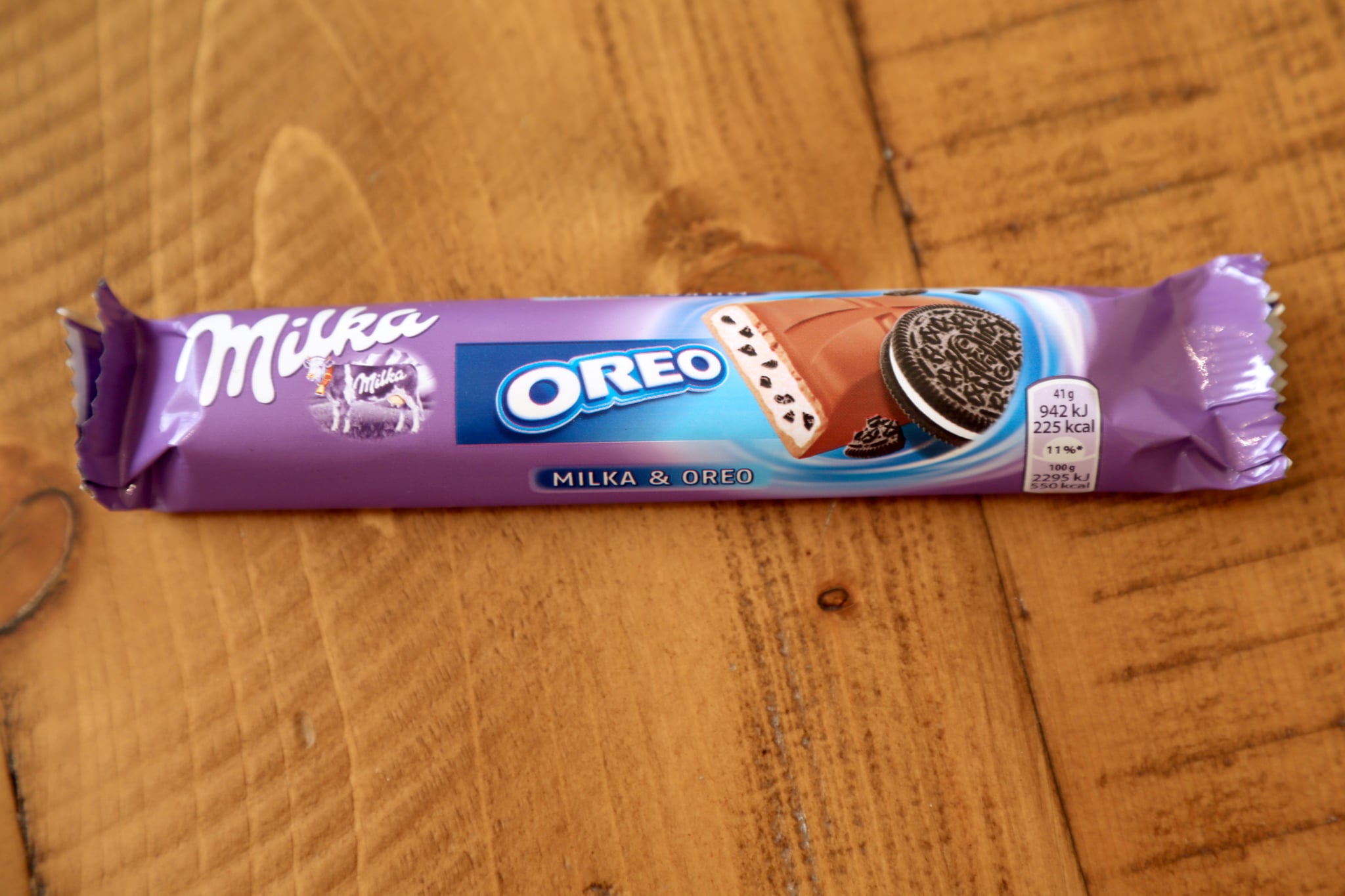 While it's easy to think this could be in response to Hershey's new Cookie Layer Crunch, a milk chocolate bar with chocolate cookie bits and vanilla créme, this Oreo chocolate bar isn't exactly new. A Milka-Oreo candy bar has been around in Europe, at least since this Summer. My cousin brought me back a bar from Germany in August. So, I tried the European version next to the American candy bars to determine if they taste the same, if they are worth buying, and if they are tastier than Hershey's comparable concept.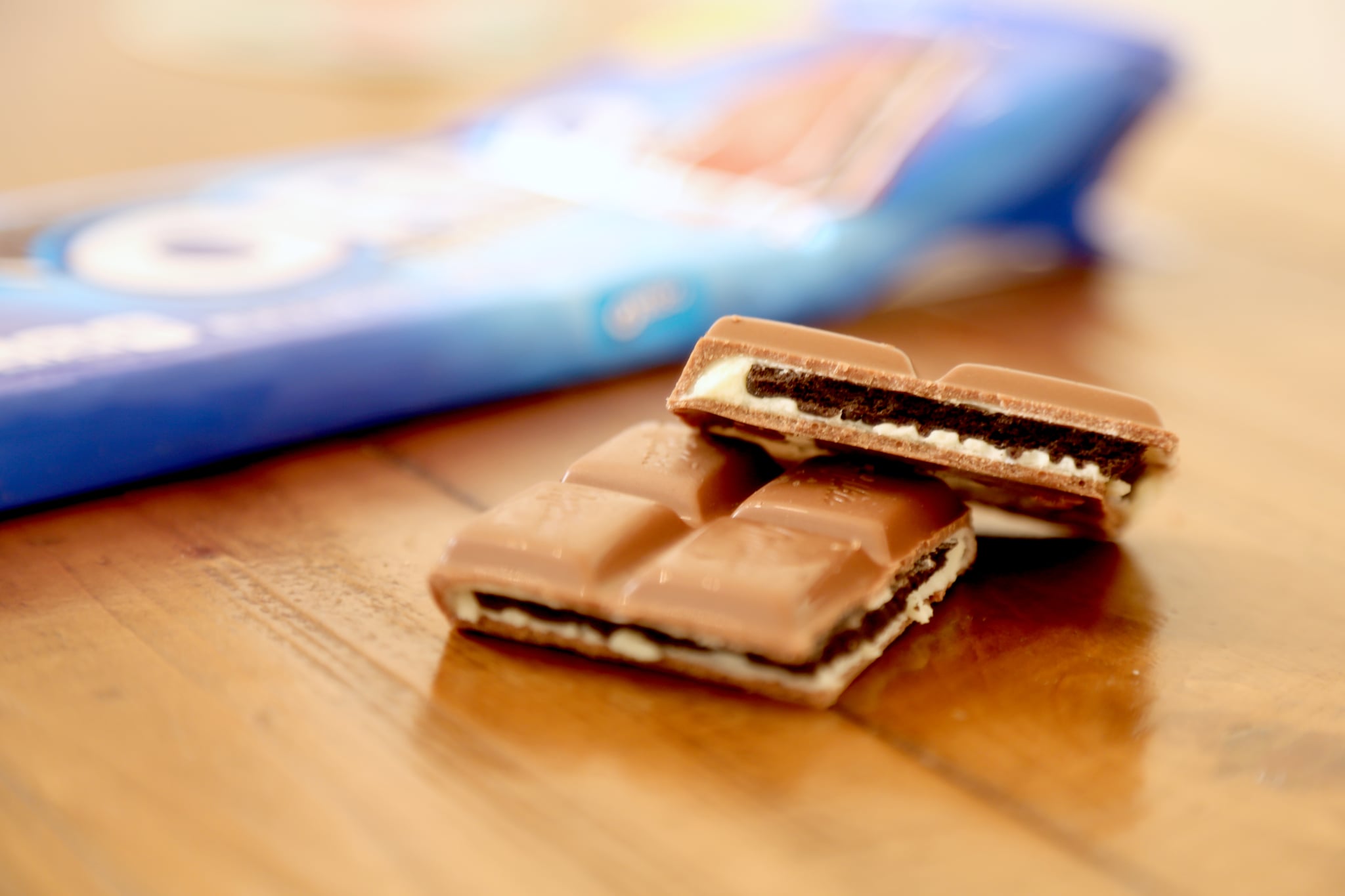 The Milka Oreo Big Crunch Chocolate Candy Bar ($5) is described in a press release as "a layer of crunchy Oreo cookies between two layers of rich vanilla creme filling, coated in European Milka chocolate candy." This bar will be available starting this week, rolling out to stores nationwide by January 2017. This is the type of bar to share with a group of friends or cut up and stash in the freezer for snacking in sessions. The milk chocolate is so milky it doesn't snap when broken apart, like Hershey's. Instead it sort of melts into submission. There's a significant layer of Oreo coated around what is reminiscent of the creme filling found in Oreos but is more white chocolaty than sugary.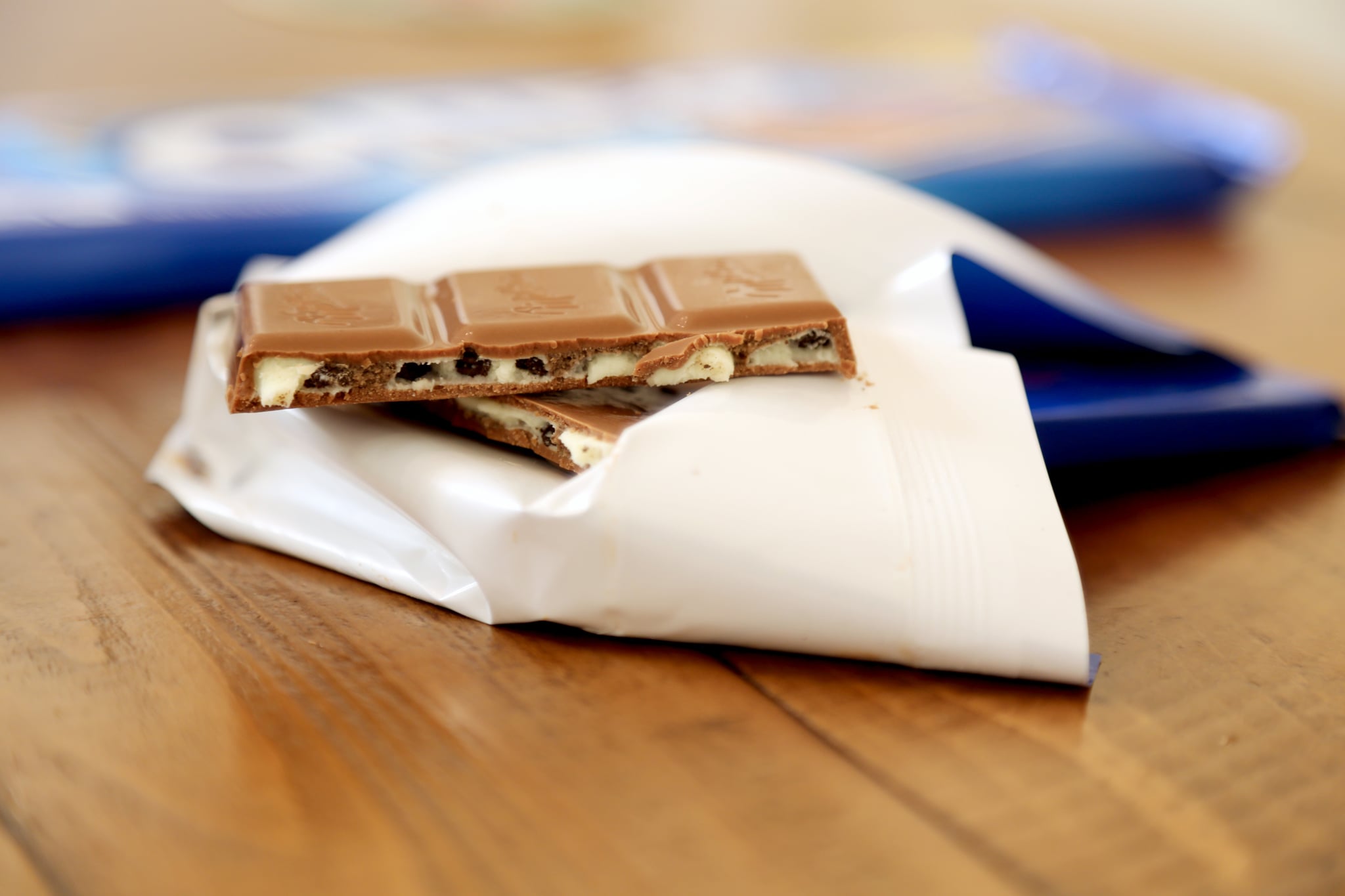 The Milka Oreo Chocolate Candy Bar is "composed of delicious bits of Oreo cookie mixed in rich vanilla creme filling coated in European Milka chocolate candy" ($2). This bar will be available in January 2017. The bar offers more chocolate and cream filling with less Oreo cookie. It's similar in concept to the European bar and only differs in the shape. The European candy bar comes in a Toblerone-type package, where thick pillows of chocolate are snapped off as opposed to a thin, rectangular American chocolate bar.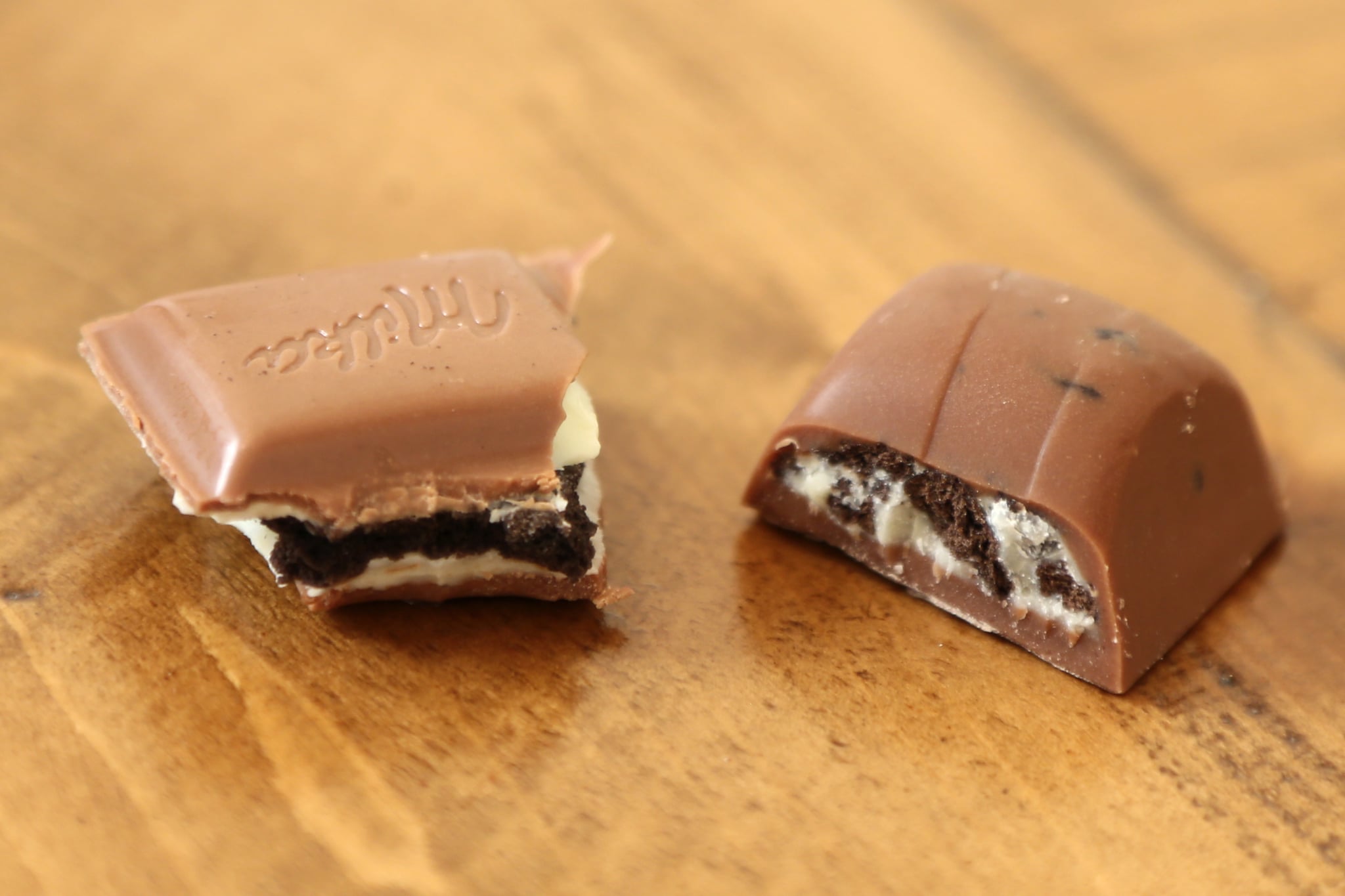 The ingredients for all three bars is the same. Despite this, the shape of the chocolate and the ratios of chocolate to cookies to creme make them all unique snacking experiences. Overall, my favorite of the three candy bars is the European version, pictured right, mostly because of the thick pillow shape that is heavy on the milk chocolate and Oreo crumbles. As for the American bars, I preferred the Big Crunch, pictured left, because I loved the generous layer of Oreo cookie. However, my boyfriend preferred the Chocolate Candy Bar, saying the Big Crunch had too dry of a texture due to the cookies. I do recommend trying the bars, but freeze them first to subdue the sweetness of the chocolate, allow the milk-and-Oreo flavor to shine, slow down the meltability of the bar, and to create a satisfying snap.
Lastly, I love both the Milka Oreo Bars and the Hershey's Cookie Layer Crunch bars, therefore it's impossible for me to pick a favorite as they satisfy different cravings. Go for the Milka Oreo if you're in it for the Oreo cookies; and go for the Hershey's if you're in it for the Hershey's chocolate. It's as simple as that.
Image Source: POPSUGAR Photography / Anna Monette Roberts