Rainbow Bagel Recipe
You Don't Have to Travel to New York to Taste Rainbow Bagels Thanks to This Recipe
By this point you've all seen these unicorn rainbow bagels from The Bagel Store in Brooklyn, NY, fill your newsfeed, as they've quickly become a viral sensation. You've sat there at home, plotted your next trip to New York, wondered how long you'd have to wait in line for these beauties, and hoped that they taste as magical as they sound. Right? Well, just in case you're not ready to brave the hordes of customers knocking down their doors, we hacked the recipe and are here to show you how to make these at home!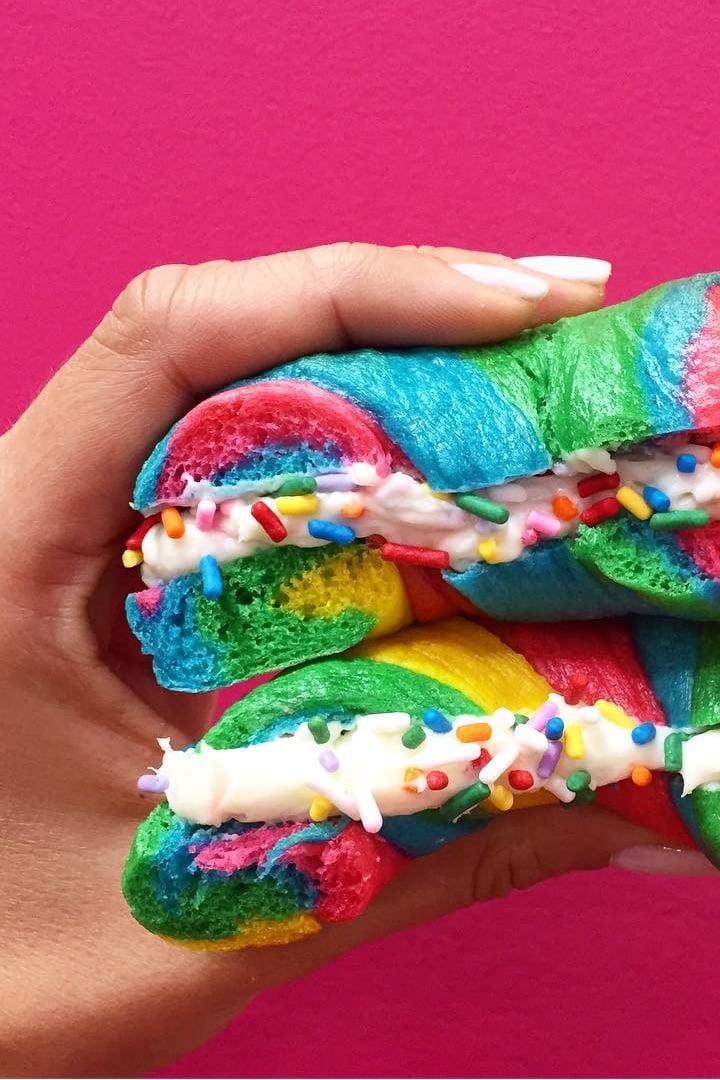 Notes
You can make between 4 and 6 different colors. Make the different-colored doughs lightest to darkest.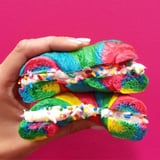 Ingredients
Per each color:
1 cup warm water, 110º F
1/4-ounce packet active dry yeast
1 1/2 tablespoons granulated sugar
2 1/2 cups all-purpose flour, plus more for dusting
1 teaspoon salt
1/2 teaspoon gel paste color
1 teaspoon vegetable oil
For bagels:
4 to 6 colored doughs
12 cups water
For confetti cream cheese:
1 cup cream cheese, softened
1 cup powdered sugar
1/2 teaspoon butter flavoring
2 tablespoons sprinkles, plus more for garnish
Special ingredients:
Gel paste food coloring
Directions
To make each color dough: Combine the water, 1 packet of yeast, and 1 1/2 tablespoons of the sugar in the bowl of a stand-up mixer fitted with a dough hook. Stir and let stand until foamy, about 5 minutes. Gradually add 2 cups of flour, salt, and gel paste color. Mix until the mixture comes together. Add the rest of the flour slowly until it forms a stiff dough.
Turn dough out onto a lightly floured surface and knead until the dough is no longer sticky, adding flour as needed.
Grease a large bowl with 1 teaspoon of vegetable oil and place the dough into the bowl, turning to coat. Cover and let slowly proof in the refrigerator as you continue to work on each batch.
Repeat with as many colors as you want to use. When done with the final color, bring the bowls of dough out of the refrigerator and let come to room temperature for approximately 30 minutes.
Punch down the dough and reroll into balls and then flatten into 1-inch-thick rectangles. Stack the colored dough on a lightly greased baking sheet. Let dough proof for another 30 minutes, until the layers meld together.
Flip the dough onto a cutting board and slice 1-inch-by-6-inch-thick strips. Twist dough to create a spiral and join the ends. Repeat with remaining dough. Place on a lightly greased surface, cover with a clean cloth, and let rise until almost doubled in a draft-free spot, approximately 20-30 minutes.
Preheat oven to 400ºF and grease a baking sheet with oil.
In a large pot, bring 12 cups of water to a boil. In batches, boil the bagels for 30 seconds to 1 minute, turning once. Place boiled bagels onto prepared sheet pan and bake for 5 minutes. Turn bagels over and bake for an additional 12-18 minutes. They will color slightly but not brown. Remove from oven and let cool on a wire rack.
To make funfetti cream cheese: With a hand mixer, whip together cream cheese and powdered sugar. Add butter flavoring and continue to mix. Gently fold in rainbow sprinkles
To serve: Allow bagels to come to room temperature before cutting in half width-wise with a serrated knife and serving with funfetti cream cheese.
Information
Category

Breakfast/Brunch

Yield

3 dozen bagels

Total Time

5 hours, 59 minutes, 59 seconds