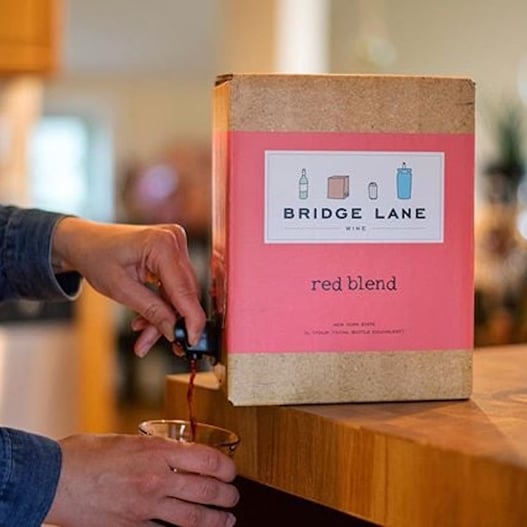 Enjoying a glass of wine goes perfectly with pretty much anything — while cooking dinner, reading a book, lounging in the backyard, or unwinding after a day of work. And while you can splurge on fancy bottles or brand names, boxed wine is kind of the unsung hero of the beloved beverage. It tends to get a bad rep for being a cheap alternative for parties and drinking games, but there are some boxed wines out there that are delicious hidden gems on the shelves of your grocery store. And the best part about boxed wines is they come in a variety of sizes and can last for up to 30 days in your refrigerator without going bad! If you're wondering where to start when it comes to which boxed wines you should try, we've rounded up 10 of the bestselling brands and ranked them all, so you don't have to taste test so many to find the perfect one for you. Cheers!
01
Bota Box Chardonnay
Bota Box chardonnay comes in three different box sizes, so it's perfect for any size kitchen. The wine itself is light and refreshing and perfect for sipping on the patio while reading a book or for a backyard barbecue.
★★★★★
02
Black Box Cabernet Sauvignon
For red-wine drinkers, the Black Box cabernet is a good option. It's full-bodied and has hints of vanilla and blackberry. Be sure to let this one sit out and breath after dispensing to get the best flavor!
★★★★
03
Bandit Wines Merlot
For a boxed wine that you don't even need a glass for, consider Bandit Wines merlot. The portable single serving is perfect for a picnic, beach day, or evening in the backyard. The merlot is not superoaky, which will appeal to a wide variety of wine drinkers.
★★★★☆
04
Vin Vault Cabernet Sauvignon
This dark wine has notes of cherry and dark chocolate, which can lead to a smooth ending. The Vin Vault cabernet sauvignon is a good choice for a steak dinner or a late-night drink.
★★★☆
05
From The Tank Rosé
The From The Tank Rosé is light and refreshing, making it a great wine for warm, sunny days. The wine can be a little tart for some people's taste, which is why it's our middle-of-the-road pick.
★★★☆☆
06
La Vieille Ferme Rosé
La Vieille Ferme Rosé is imported from France and is a great light wine to have with a summer salad. In fact, it's very light with just a hint of flavor and can be a tad acidic at the finish.
★★☆☆
07
La Petite Frog Picpoul De Penet
La Petite Frog is one of those wines that are just good to have around the house. It's average in taste, but easy to drink on its own or pairs well with seafood.
★★☆☆
08
Barefoot Wine Moscato
Moscato is always sweet, and this one from Barefoot Wines tastes almost like candy. Just be warned that after this is opened, it can turn syrupy if it gets too warm.
★★☆☆☆
09
Bridge Lane Red Blend
Bridge Lane's red blend is an average-tasting wine with notes of blackberry and vanilla. We do appreciate that this wine is made in New York, which has been a fantastic wine region in the United States for some time now.
★★☆☆☆
10
Beso Del Sol Red Sangria
Beso Del Sol red sangria is the least favorite boxed wine on our list but still good enough to make the top 10. It's overly sweet and doesn't have a real distinct taste, but it's enjoyable when you add your own fresh fruit to a glass.
★☆☆☆☆