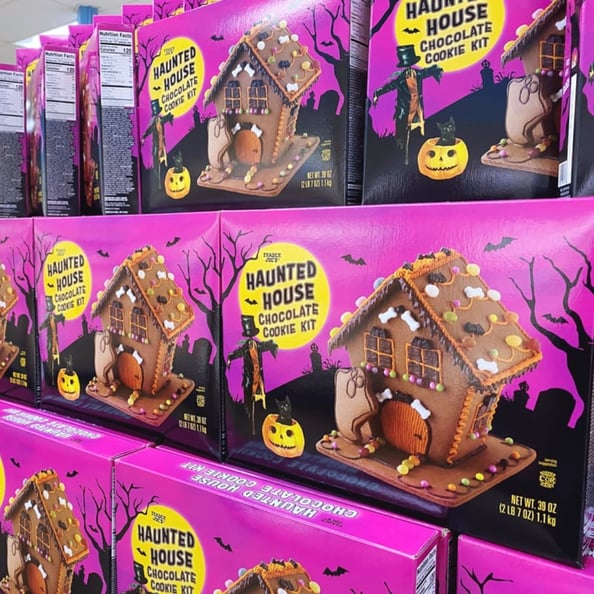 On a regular day, Trader Joe's is the happiest place on Earth, and during the lead-up to Halloween, it's even better (if that's possible). The affordable grocer is filled to the brim with delicious seasonal treats, and they're as spooktacular as they come. With all-time favorites like the Chocolate Mousse Pumpkins and the Ghosts & Bats Crispy Potato Snacks making their debut again this year, it's fair to get just as excited about the old products as you are about the new ones! Pumpkin cider and Pumpkin Spiced Teeny Tiny Pretzels have already been spotted by shoppers who are hungry for more seasonal goodies, and since it's not even October yet, we suspect TJ's will fill its aisles with even more scary-good Halloween treats before the holiday is here. Check out the old, new, and downright delicious Halloween products at Trader Joe's ahead, and get ready for a season that's filled with pumpkin spice and everything nice. Who's hungry?
01
Trader Joe's Chocolate Mousse Pumpkins
Take the dessert table to the next level when you add these chocolatey pumpkins to the mix. They're filled with a rich, almost cake-like inside and coated in a silky mousse.
02
Trader Joe's The Gourd Tree Pumpkin Cider
Cheers to Halloween with this mouthwatering cider. It's crisp, refreshing, and deliciously seasonal, so you'll want to crack open one of these every chance you get.
03
Trader Joe's Ghosts & Bats Crispy Potato Snacks
These Trader Joe's Ghosts & Bats Crispy Potato Snacks are delightfully light, crispy, and slightly salty. If you've ever munched on Veggie Straws, these taste similar, and they can be enjoyed alone or with dips.
04
Trader Joe's Pumpkin Trees
For those wondering, this cute product is not an actual tree that grows pumpkins, it's an ornamental eggplant! The instructions on the product at Trader Joe's suggest cutting the stems, placing the "tree" in water, and enjoying the sweet eye-catching display. Not only is this the perfect indoor seasonal decoration, but it's also incredibly chic and an ideal way to brighten up a room.
05
Trader Joe's Mini Pumpkins
Turn your home into a Halloween haven with the help of these affordable pumpkins. Cute, small, and perfect for any place, these seasonal favorites will add a festive touch no matter where you put them.
06
Trader Joe's Pumpkin Spiced Teeny Tiny Pretzels
Imagine the delicious taste of a classic mini pretzel. Yum. Now imagine that with a pumpkin-spice-infused yogurt coating. Yup. These little bites are as good as they get.
07
Trader Joe's Spooky Bats + Cats Sour Gummy Candies
Eek! These sour gummies are too good to be true! Made with natural flavors and plant-sourced colors, these treats also don't contain any gelatin. With the perfect ratio of sour to chewy, we suggest noshing on these all month long.
08
Trader Joe's Fall Fantasy Pumpkins
Who's ready to carve pumpkins? TJ's has big, beautiful, and affordable options, so get them while you can!
09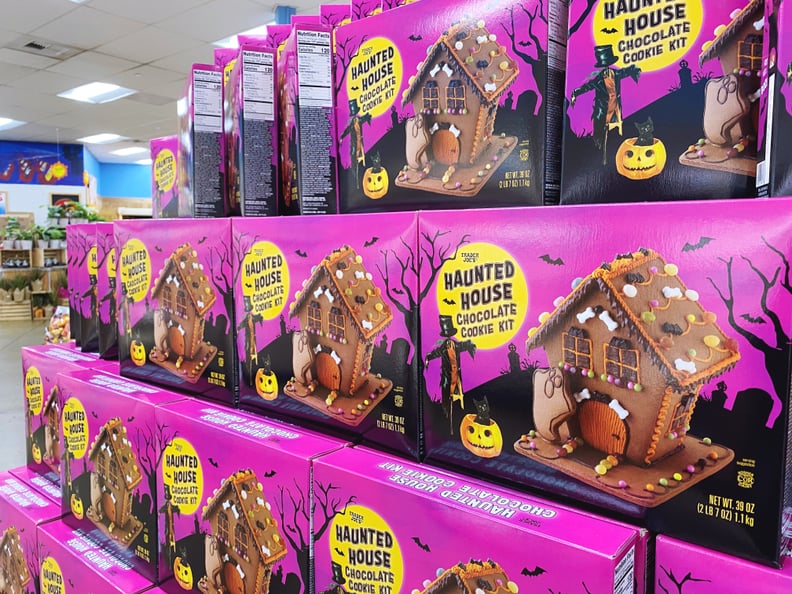 Trader Joe's Haunted House Chocolate Cookie Kit
For just $8, you can own your very own haunted house! Made with chocolate cookies, this wicked treat is not only fangtastic but also the perfect seasonal activity. Get creative, and enjoy!
11
Halloween Joe Joe's Cookies
Get your chocolate fix with Trader Joe's festive orange and black Halloween Joe Joe's Cookies!