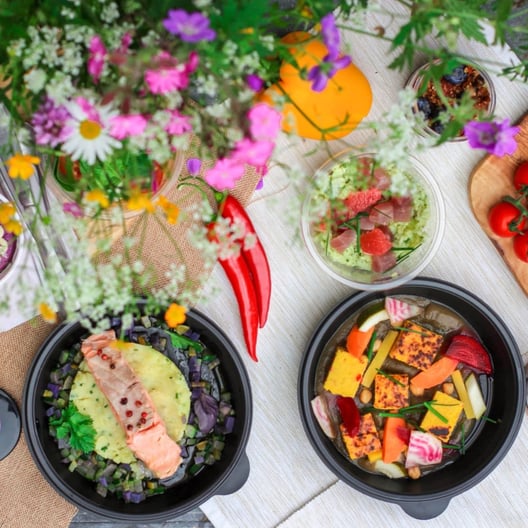 You've had the baked feta pasta, the breakfast crunchwrap, the spicy vodka penne, and even the cloud bread. Now, you're looking for something more — something, dare we say, better? The time has come to experiment with new TikTok recipes, but let us warn you, these will make all the other recipes pale in comparison. With inspiration from seasonal summer staples, these sunny-day specials were made for those who want to enjoy the finest flavors of the warmer months. Complete with watermelon steak, lemon-dusted chicken skewers, veggie-packed pasta salads, and so much more, these summertime recipes are all you need to make the most of the season.
Whether you're craving a sushi-roll-turned-bowl or you want to whip up the lightest (and spiciest!) spaghetti of all, these recipes are the perfect addition to any summer day. Just pair them with a peachy pink glass of rosé or an ice-cold beer, and enjoy a seasonal meal like no other. Summer, we're already hungry for more.
01
Colorful Summer Salad
Avocados, strawberries, cherry tomatoes, mozzarella, olive oil, basil, and balsamic glaze are here to present you with the best summer salad of all. Light, colorful, and filled with flavor, it doesn't get much better than this.
02
California Roll Sushi Bowl
Craving sushi? Us, too. This roll-turned-bowl is a dream come true, and it's a great summer meal staple. With fresh avocados, crab, cucumbers, and rice, every bite is better than the last. Top it off with spicy mayo for best results.
03
Lemon Garlic Chicken Pasta
Complete with fresh flavors, hearty protein, and delicious seasonings, this pasta will become your new favorite easy dinner idea. Pair it with a batch of summery bruschetta, and dinner is served!
04
Ceviche
Tomatoes, jalapeños, onions, and cilantro work together to make this summer dish all that and then some. The best part about this recipe is that it's super easy to make, so you can whip it up and enjoy it whenever you please.
05
Tropical Green Smoothie Bowl
Perfect for breakfast, lunch, or even as an after-dinner treat, this bright green bowl is a dream come true. We suggest topping it with honey, coconut flakes, chia seeds, and berries for best results.
06
Melon, Mozzarella, and Prosciutto Salad
Melon balls, prosciutto slices, and mozzarella mounds make this easy meal come to life in minutes. Just add olive oil and balsamic to dress it with, and complete it with a dash of basil.
07
Eggplant Sandwich
In need of a super easy meal idea? We've got you covered. This eggplant sandwich takes just minutes to make, but it'll keep you full for hours. The white bean spread pairs effortlessly with the roasted eggplant, and wow, is it good.
08
Summer Rolls
Made with cucumbers and mint, you already know these rolls are going to be good. Packed with avocado, cilantro, and more great goodies, you might not even want to dunk these into a sauce because they're that delicious.
09
Healthy Kaleslaw
Take coleslaw to a healthier level when you whip up this light kaleslaw. The secret to this recipe is the maple syrup, so be sure not to skimp on it!
10
Hot Girl Summer Salad
If you're craving cucumbers, this is the salad for you. It's light and refreshing, meaning it won't weigh you down. Bell peppers, eggs, sunflower seeds, and a variety of spices makes this dish one you won't forget.
11
Easy Italian Pasta Salad
Pasta salad is a summertime staple, and this recipe is easy and quick. You'll love the fresh veggies mixed in with the noodles, and the best part is that it tastes even better a day later. Now you have leftovers!
12
Pork Teriyaki
If you've been to one too many barbecues (you can only eat so many hot dogs), we're here to introduce you to another summer dish idea that you'll crave all year long: pork teriyaki. It has the perfect balance of flavors and pairs well with beer and a sunny day, so dig in!
13
Shrimp Scampi and Roasted Veggies
There's nothing better than a light dinner on a summer night. This shrimp scampi is bursting with flavor, and it has the perfect ratio of noodles to seafood. Pair it with a side salad, and you'll be good to go.
14
Peach & Goat Cheese Bruschetta
If you ask us, there aren't a lot of things that are better than bruschetta. This peach and goat cheese creation is almost too easy to make, meaning you'll want to eat it every day of the week. Us, too!
15
Seafood Deviled Eggs
If you've never had shrimp on top of deviled eggs before, we're here to help you change that. This recipe is the perfect summer side dish, and trust us, it's worth the effort.
16
Summer Chicken Salad
This salad is bright, beautiful, and big! After seasoning chicken breasts, just pop them in an air fryer, cut up an array of fruits and veggies, and start snackin'.
17
Seafood Boil
Got seafood? You're ready to make a fish-filled broil! Be sure to make a big batch so everyone can indulge.
18
Shrimp Mango Salad
Spicy, sweet, and simply mouthwatering, this shrimp mango salad will leave your taste buds in a tizzy. With seasonal veggies and grilled shrimp, you'll get to enjoy all the best flavors in every bite.
19
Spicy Pasta
Light and extra spicy, this mouthwatering meal is the dinner you need to make ASAP. The rich tomato sauce balances perfectly with the spicy chili peppers, giving it the ideal mix of sweet and hot. Add basil to garnish.
20
Crispy Chicken Lettuce Wrap
Crispy, crunchy, and crave-worthy, these lettuce wraps are all you need to enjoy a tasty summer lunch in minutes. With hearty chicken and light lettuce, this meal gives you the best of both worlds.
21
Soy Ginger Salmon
There's something special about fresh fish on a summer night. This soy ginger salmon is rich and flavorful, and pairs exceptionally well with veggies and rice.
22
Watermelon Ceviche
Tell us, is there anything better than watermelon? We think not. This summery recipe will make your taste buds swoon, so be sure to throw it together the next time you've craving a fresh and fruity snack.
23
Sundried Tomato Pesto Salad
It's a fact: pesto pasta is the best. This sundried tomato version mixes eloquent flavors that are craveworthy and delicious, meaning you might be making this every night of the week. (We will be, too!)
24
Kefta Skewers
OK, this recipe is so easy to make, even we are a little bit shocked! With a beautiful presentation and juicy flavors in every bite, whip these up the next time you want to impress your dinner guests.
25
Chickpea Quinoa Bowl
Craving veggies? We've got you covered. With Brussels sprouts, sweet potatoes, and seasoned chickpeas, this meal will keep you full for hours. Oh, and did we mention how good the sauce is?
26
Roasted Tomato, Basil, and Feta Orzo
Thyme, chili powder, and a dash of honey are the flavors you didn't know you needed together. Pair them with sundried tomatoes, basil, and prosciutto, and you'll be drooling before you even it toss it all together.
27
Grilled Corn
Looking for the best way to prepare corn this summer? We've got you covered. Doused in parmesan, butter, and parsley, it doesn't get much better than this.
28
Summer Rolls
Tofu, cucumbers, and avocados work together to make these rolls as good as they get. We suggest making the peanut sauce because when we say it's good, we mean it's good. You can also sub out the tofu for any other protein you want, so feel free to get creative.
29
Potato Hot Dog
Got ketchup? These hearty potato hot dogs are all you need to make a summer day even better. Cook these up at your next barbecue, and enjoy!
30
Lemon Chicken Skewers
Got a grill? You're ready to get cookin'! These drool-worthy skewers are basically bursting with flavor, and paired with the feta dip, they're a 10 outta 10.
31
Watermelon Steak
Summer means eating watermelon every chance you get, right? This steak-inspired version of everyone's favorite seasonal fruit is exciting, different, and delicious in its own way. Whip this up the next time you're making a meal for your vegetarian friends.
32
Summer Pasta
Want to nosh on a filling pasta that's perfect for any summer meal of the day? Here's what you need: pasta, cucumbers, tomatoes, sundried tomatoes, chickpeas, olives, feta, and basil. Coat it in the dressing of your choice, and your new favorite meal is served!
33
Healthy Chicken Salad
If you're not a fan of mayo, this is the recipe for you. Sub out mayo for Greek yogurt, and you'll get a healthier version of chicken salad that's perfect for an easy lunch. Put it on a slice of bread if you want to make this meal complete.
34
Shrimp and Grits
Summer is the time to eat all the seafood you can, and this delicious recipe really focuses on that. Made with fresh veggies, seasoned shrimp, and hearty gritz, nosh on this when you're in the mood for some comfort food.