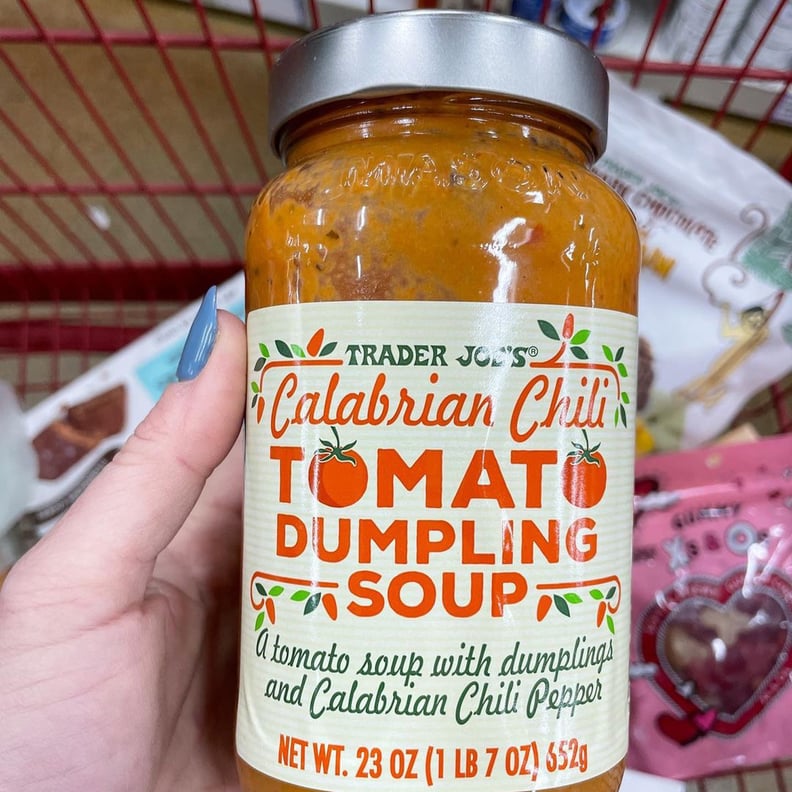 Soup is the ultimate comfort food. Whether it's a bowl of creamy tomato on a cold winter evening or a cup of clam chowder in the summer, there's nothing more satisfying than a warm cup of soup (especially paired with a sandwich) to get you through the day. And, as you might have guessed, Trader Joe's has a bunch! From its newest addition of Tomato Dumpling Soup (delicious, by the way) to some of its seasonal hits like Autumnal Harvest Soup, we've gathered the best Trader Joe's soups to crush your crackers and dunk your sandwiches in, no matter the season. Trust us when we say: you don't want to miss out!
Trader Joe's Garden Vegetable Soup
Packed with veggies, some would argue that this is more of a salad than a soup. Made with a vegetable broth base that's mixed with tomato juice, this soup is healthy and delicious — who doesn't want that?
Trader Joe's Tomato Dumpling Soup
If you're a tomato-soup-lover, Trader Joe's Tomato Dumpling Soup is calling your name. The dumplings mixed in are a pleasant surprise and the chili pepper gives it the perfect kick.
Trader Joe's Chicken Ginger Miso Soup
Savory over sweet, this Chicken Ginger Miso Soup is filled with chicken meat, bok choy, carrots, snow peas, mushrooms, ginger, miso, and lemongrass for a taste that's out of this world. (Fair warning: it's very salty, but if you like salt, you'll love this.)
Trader Joe's Unexpected Broccoli Cheddar Soup
Because who doesn't love a good broccoli cheddar soup? This soup dropped in the summertime and was sold out almost immediately. It's creamy and tastes delicious with a baguette dunked inside.
Trader Joe's Organic Thai-Style Carrot & Sweet Potato Soup
Trader Joe's Organic Thai-Style Carrot & Sweet Potato Soup is packed with flavor, and its smooth texture will go down like a dream. A quick heat in the microwave is all it takes to bring this soup to life, making it an ideal option for a quick lunch or dinner.
Trader Joe's Corn Chowder
Made with potatoes, onion, celery, carrots, and uncured bacon pieces, this chowder is both sweet and delicious. Serve it with a dollop of sour cream and a sprinkle of shredded cheese and you're good to go.
Trader Joe's Autumn Harvest Soup
A tomato-based soup filled with pumpkin and butternut squash? You really can't go wrong. If you've tried Trader Joe's Autumnal Harvest Creamy Pasta Sauce this soup is almost exactly like it, just with a splash of cream.
Trader Joe's Spicy Pozole Verde
This soup may be vegan, but it has enough heartiness for you to think otherwise. It's flavorful, spicy but not too spicy, and its beans give it a nice texture.
Trader Joe's Kettle Cooked Chicken Soup
Flavorful and packed with chicken and veggies, this soup can be doctored up or served plain. There are no noodles (gasp!), but there's always room to add them! You'll feel on top of the world slurping up this nutritious meal for lunch or dinner.
Trader Joe's New England Clam Chowder
If you're based in New England, you might think this clam chowder is total crap. (Heads up: I'm from New England.) But if you're not, in my opinion, it's a standard restaurant-grade clam chowder for a price that's much better than going out to eat. Therefore, it makes the best-of list.