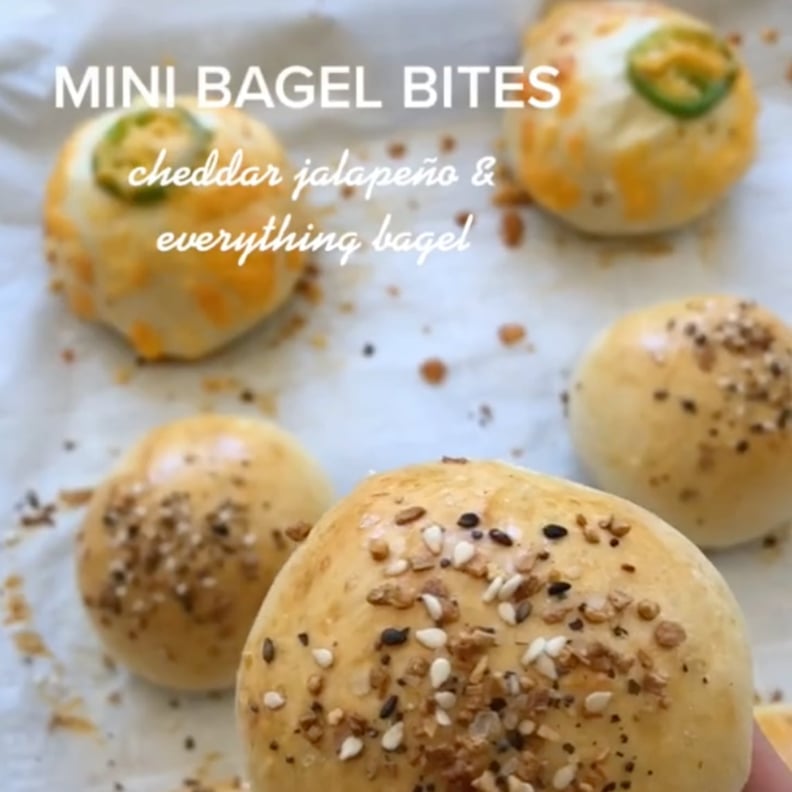 It's a fact — TikTokers know how to brunch, and they know how to brunch right. The social media platform is full of drool-inducing recipes, with an emphasis on must-try brunch ideas that are sure to beat the typical cold coffee and soggy toast. TikToker @brokefoodie_ shared her over-the-top delicious vanilla chai French toast recipe, while another user let viewers in on how she makes the perfect breakfast bruschetta. Complete with bold flavors, sweet twists, and egg-filled options, these brunch ideas are just what you need to pair with your Sunday morning mimosa and latte.
If you're looking for a hearty meal that's full of protein or your sweet tooth is begging for something sugary, these recipes are perfect for any kind of morning meal, no matter what time you decide to eat brunch. Trust us, you'll wake right up when you indulge in these recipes that are sure to make your morning a dream. Complete with everything from step-by-step instructions for how to make mini bagel bites to a full tutorial on how to perfect the iconic breakfast bake, these recipes will level up your brunch game like never before. Keep reading to see the best brunch recipes from TikTok, ahead.
01
Caramel Waffle French Toast
French toast is fabulous, but French toast with a caramel waffle twist is even better. You'll get hints of sweet caramel and rich syrup that'll make any morning a dream. For best results, enjoy it with a cup of whipped coffee or spiced chai.
02
Easy Brunch Bake
Who's hungry? This brunch bake is just what you need! Ham, eggs, and veggies team up to make this delicious meal seriously mouthwatering. Pair it with some toast and bacon for best results.
03
Vanilla Chai French Toast
Take French toast to a place it has never been before with this over-the-top amazing recipe. With every bite, you'll get rich flavors of vanilla, cinnamon, maple syrup, and even Frosted Flakes. Top it off with powdered sugar, berries, and syrup for best results.
04
Brown Sugar Buttermilk Biscuits
If you've always wanted to make fresh homemade biscuits, now is your chance. This delectable recipe serves you up with fluffy, puffy, and mouth-watering bites that pair exceptionally well with eggs, bacon, and fruit. Enjoy!
05
Mini Bagel Bites
Everyone knows that brunch isn't complete without a bagel. This recipe will blow you away with not only how easy it is to make, but also how tasty the results are. With cheddar cheese and jalapeño, these are filled with serious flavor.
06
Sausage and Egg-Stuff Flatbread
Egg, chives, and spices fill up a buttery crescent roll to give breakfast-lovers a true meal like no other. With sausage and a dash of maple syrup, this flatbread is just what you need to add to your brunch menu.
07
Nutella-Stuffed Coffee French Toast
It's a fact: Nutella makes everything better, from breakups to French toast. This divine recipe is a true treat, and it's not very hard to make! Load up as much Nutella as you want inside a piece of fluffy bread, cook it up, and add syrup. If you really want to take things to the next level, add chocolate chips and strawberries to your finished product.
08
Breakfast Potato Nachos
Nachos, but make them breakfast. This easy recipe calls for potatoes, cheese, beans, veggies, and eggs, and damn, is it delightful. Top it off with your favorite hot sauce if you want to add a burst of flavor.
09
Spinach, Mushroom, and Feta Crustless Quiche
Craving cheese? This hearty quiche recipe will wake up your taste buds in the best way. Spinach and mushrooms work together to bring out a bold flavor combo, while the feta and eggs pair effortlessly together to make every bite delicious. Dig in!
10
Açaí Bowls
The perfect breakfast for a hot day, it doesn't get much better than an ice-cold açaí bowl. Complete with fresh fruit (more strawberries, please!), coconut shavings, honey, and granola, this brekkie will transport you and your fellow brunchers to an island far, far away.
11
Strawberry Toaster Strudel
Puffy, light, and filled with drool-worthy jam, these copycat strawberry toaster strudel bites are as delicious as they sound. The best part is that they're easy to make, so you can whip them up any time your cravings come. Yes, please.
12
Breakfast Bruschetta
Turn bruschetta into a morning masterpiece when you copy this delicious recipe. Grab a thick slice of sourdough or French bread, and add tomatoes, spinach, cheese, and seasonings on top of it. You can also shake things up by adding scrambled or poached eggs to the mix.
13
Salmon Eggs Benedict
There's something special about getting a forkful of eggs Benedict that's topped with salmon, and we just can't deny it. This brunch recipe features salmon cakes on top of biscuits, and wow, is it good. Complete with a creamy hollandaise sauce, what more could one ask for?
14
Tropical Coconut Smoothie Bowl
Want to brunch but not super hungry? This is the recipe for you. It's light and refreshing, and has the best combination of flavors. With passion fruit, carrot juice, chia seeds, and more, this smoothie bowl will impress anyone who's looking for a light brekkie.
15
Baby Cinnamon Rolls With Cream Cheese Frosting
Small and sweet, these little cinnamon rolls are the perfect addition to any brunch menu. They're easy to make and even easier to eat, so feel free to make as many as you want. Just add coffee!
16
Potato Galette
Potatoes, cheese, and fresh herbs make this potato galette a mouthwatering treat. And did we mention how easy it is to make? Crispy, crunchy, and perfectly golden, we suggest cooking up more than one of these if you want to really enjoy your brunch.
17
Cinnamon French Toast Bake
Did someone say cream cheese frosting? This breakfast bake is a dream come true, and wow, is it sweet. With hints of maple syrup, cinnamon, and vanilla, all you have to do is pair this with a hot cup of coffee, and your morning will be complete. Pro tip: make extra cream cheese frosting so you can get enough in every bite.
18
Steak and Avocado Eggs Benedict
The best part about eggs Benedict has to be the hollandaise sauce, right? Well, this recipe proves that to be true, and this creamy sauce will make your mouth water before you're even done whisking it. Enjoy it with perfectly cooked steak, an english muffin, and eggs, and you're ready to munch.
19
Breakfast Crunchwrap
Stassie turned heads when she decided to make the breakfast of all breakfasts: an at-home version of a Crunchwrap. Her recipe requires hash browns, bacon, eggs, cheese, and a tortilla. Once all those ingredients are put together, just cook them on a pan with olive oil, and your work here is done.
20
Breakfast Lasagna
If you want a breakfast that will fill you up, this is it. With cheese, tomato sauce, and eggs, this rich lasagna is as good as it looks. Whip up a side of toast so you can scoop some of your lasagna onto it.
21
Shakshuka
You'll wake up on the right side of the bed when you know you get to enjoy shakshuka. With a rich tomato sauce and exciting spices, this morning meal will make your day complete.
22
Cream Cheese, Prosciutto, and Egg Toast
Sorry, avocado toast, but this recipe is so much better. With deliciously poached eggs, rich meat, and a light cream cheese spread, you know it's about to be good. Top of your creation with spinach, basil, or even a dash of parsley.
23
Turkish Eggs
Creamy, rich, and truly divine, these Turkish eggs will step up your traditional morning routine. Top 'em off with basil or spices, and dig in!
24
Banana Pancakes
Want to know the easiest, healthiest, and tastiest pancake recipe of them all? Here you go. All you need is a banana and two eggs, and your breakfast is almost complete. If you want to spice up your eggs a bit, just add a dash of vanilla extract. Your work here is done!
25
Hot Sauce Hollandaise Eggs Benedict
Shake up the traditional eggs benny with the help of this spicy recipe. The rich hollandaise sauce pairs effortlessly with the kick of spice, making your breakfast one to remember. Just add orange juice!
26
Gordon Ramsay's Scrambled Eggs
Re-create Gordon Ramsay's iconic scrambled eggs when you try this recipe. With a dollop of sour cream or crème fraîche, you already know these are about to be creamy. You can add a dash of basil or salt to make the flavors burst even more.
27
Copycat Starbucks Egg Bites
Fluffy, hot, and ready to be noshed on, these tasty egg bites can be customized to your liking. Just get a mini egg bite maker, and fill up the cups with eggs, cheese, bacon, and any other ingredients you want. No need to mobile order anymore — you've got your own bites to enjoy for brekkie!
28
Famous TikTok Egg Sandwich
If you haven't tried making this sandwich yet, where have you been?! It's easy, delicious, and famous for a reason. You can top it off with any cheese and meat you'd like, so feel free to get creative.
29
Breakfast Quesadilla
Quesadillas are all over TikTok, and it's thanks to this supercool hack. Cut a quesadilla into quarters and add fillings to each section. Then, fold it all up and you're left with a too-good-to-be-true breakfast masterpiece.
30
Peanut Butter and Jam Baked Oats
Versatile, easy, and absolutely mouthwatering, diving into gooey peanut butter and sweet jam makes this recipe a hit. Complete with protein-packed ingredients, this breakfast idea will make you drool before you even get out of bed.