Cinnamon Toast Crunch Peach Pie Dump Cake Recipe | TikTok
This Easy Cinnamon Toast Crunch Dump Cake Is Layered With a Gooey Peach Pie Filling
When I first learned that cake mix can be turned into cookies, my whole baking worldview expanded. Now, this Cinnamon Toast Crunch dump cake with peach pie filling on TikTok has me questioning why I haven't made more Frankenstein-esque cereal desserts, because it only takes five minutes to throw together. Sophia Wasu, aka @aquickspoonful, shared the five-ingredient recipe for the cake-pie combo in a video on her TikTok account, and you might have everything you need to recreate it in your pantry right now.
Like all dump cakes, the Cinnamon Toast crunch peach pie masterpiece requires no mixing, so it's super low effort with a high (read: delicious) reward. I haven't had the chance to try the dump cake for myself yet, but Sophia says it's "better than peach pie," so it sounds pretty dang promising to my taste buds. Read the full recipe ahead and don't forget to serve the cake hot with a big scoop of vanilla ice cream on top.
Cinnamon Toast Crunch Peach Pie Dump Cake
Sophia Wasu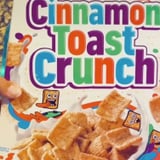 Ingredients
2-3 cups Cinnamon Toast Crunch cereal
2 8.5-ounce cans peach pie filling
1 1/2 sticks chilled butter, sliced
1/2 cup chopped pecans
1 box white cake mix
Directions
Preheat the oven to 350° Fahrenheit.
Layer the Cinnamon Toast Crunch in a 9 x 13-inch glass baking pan.
Spoon the peach pie filling in an even layer over the cereal.
Sprinkle the pecans across the peach pie filling until evenly distributed. Add more pecans if desired.
Next, spread the entire box of white cake mix evenly over the peaches and pecans. Do not mix the ingredients.
For the final layer, cut the sticks of butter into about 1/8-inch slices and evenly space them out on top of the unmixed cake.
Bake the cake for 45 minutes and cool before serving with a spoonful of vanilla ice cream. Enjoy!
Information
Category

Desserts, Pies/Tarts

Yield

Makes about 18 servings

Prep Time

5 minutes

Cook Time

45 minutes

Total Time

49 minutes, 59 seconds