Disney's Chocolate Peanut Butter Banana French Toast Recipe
Disney's Chocolate, Peanut Butter, Banana French Toast Might Be the Happiest Breakfast on Earth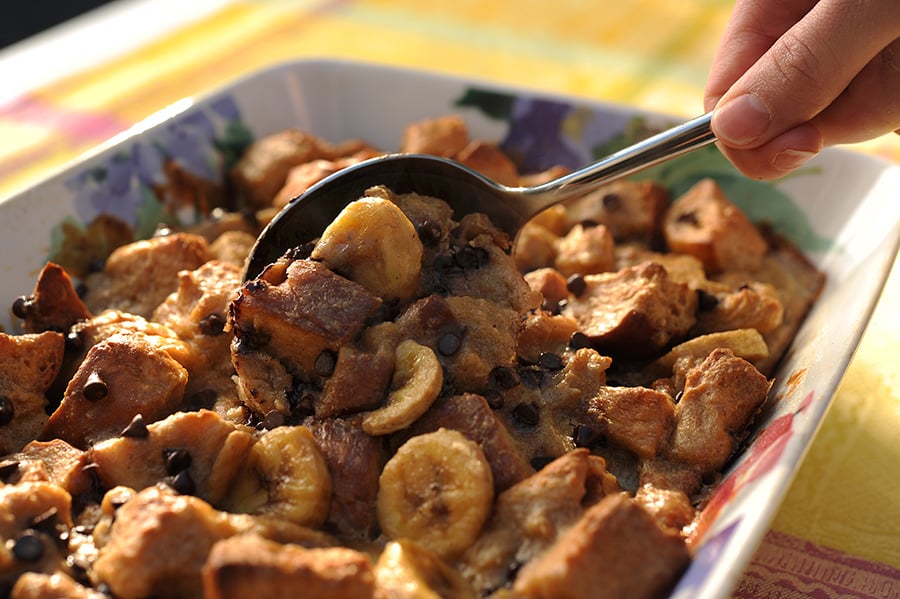 In yet another magical Disney miracle moment, Disney Parks blog has shared its official recipe for chocolate, peanut butter, and banana french toast, and I've never wanted to take a bite of my laptop screen so badly. Packed with cinnamon, chocolate chips, and creamy peanut butter, the french toast recipe doubles as a dessert and makes for a treat worthy of drowning in maple syrup or a generous drizzle of chocolate.
The recipe calls for some unexpected ingredients, including chocolate milk and a few day-old slices of challah, a traditional Jewish yeast bread that's rich with eggs and honey, to bring out even more delicious flavors in the french toast. The sweet breakfast treat can usually be ordered at PCH Grill in the Paradise Pier Hotel at Disneyland, but see the full recipe ahead to try out the extra-chocolatey snack for yourself!
Disneyland's Chocolate, Peanut Butter, and Banana French Toast
Disney Parks Blog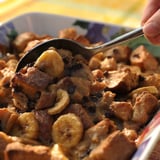 Ingredients
8 thick slices of day-old challah bread
2 ripe bananas
1/4 cup chocolate chips
1/2 cup creamy peanut butter
6 whole eggs, lightly beaten
3/4 cups low-fat chocolate milk
1 teaspoon ground cinnamon
1/4 teaspoon salt
Optional: Chocolate syrup and powdered sugar
Directions
Preheat the oven to 350 degrees Fahrenheit. While the oven is preheating, coat a 9x13x2-inch baking pan with nonstick baking spray and set it aside.
Cut the thick slices of challah bread into one-inch cubes and place them in a large bowl. Next, slice both bananas into 1/2-inch discs. Add the bananas and chocolate chips to the bowl.
In a blender, combine the peanut butter, eggs, chocolate milk, cinnamon, and salt until smooth. Pour the mixture from the blender over the dry ingredients. Stir both mixtures together gently (so you don't crumble the challah) until the bread cubes have evenly absorbed the peanut butter mixture.
Pour the finished mixture into the prepared baking pan from step one and bake for 35 to 40 minutes, or until the top of the bread is golden brown. Once the french toast is done baking, wait for it to cool and serve with a drizzle of chocolate syrup and a light dusting of powdered sugar, if desired.
Information
Category

Breakfast/Brunch, French Toast

Yield

Serves 4

Prep Time

10 minutes

Cook Time

40 minutes

Total Time

49 minutes, 59 seconds