How to Make Disney's Famous Mickey-Shaped Beignets
Disney Released Its Mickey Beignets Recipe, and Looks Like I Just Found My Weekend Plans
Disney is letting everyone in on a little magic. After previously sharing recipes for park staples like its churros and grilled cheese sandwich, the Disney Parks Blog has now offered up the culinary pièce de résistance: Mickey-shaped beignets.
The sweet treat can typically be found in the New Orleans Square at Disneyland, but it can now be replicated at home for those who choose to follow the five steps listed ahead. A brief disclaimer: the beignets do seem a bit more difficult than the aforementioned recipes, and the process involves some frying know-how, as well as a Mickey Mouse cookie cutter for the complete look. Then again, if you end up being left with doughy squares, we doubt anyone will complain. Check it all out below!
Disney Mickey Mouse-Shaped Beignets
Disney Parks Blog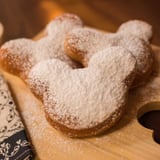 Ingredients
1/2 teaspoon of dry yeast
1/4 cup of warm water (around 105 degrees Fahrenheit)
1/4 cup of sugar
2 tablespoons of vegetable shortening
1/2 teaspoon of salt
1/2 cup of heavy cream
1 egg
4 cups of all-purpose flour
1/2 cup of boiling water
Vegetable oil for frying
Powdered sugar
Directions
Sprinkle yeast over warm water in a small bowl, stirring to dissolve. Let stand for 5 minutes.
Combine sugar, shortening, salt, heavy cream, egg, flour and boiling water in a large bowl. Stir in yeast mixture. With the dough hook attachment of an electric mixer on medium speed, mix dough just until combined and smooth. Let dough rest for 30 minutes.
Roll to 1/4-inch thickness and cut individual beignets with a Mickey Mouse-shaped cutter, or cut into 2 1/2 to 3-inch squares. Cover with a towel and let the dough rise until it's doubled in size in a warm, draft-free area for about 1 to 1 1/2 hours.
Using caution, heat 3 inches of vegetable oil to 350 degrees Fahrenheit in a deep, heavy pot over medium-high heat. Fry beignets until golden brown, about 2 to 3 minutes, turning as soon as they brown on one side. Remove with tongs and place on paper towels to drain.
Dust warm beignets with powdered sugar and serve immediately.
Information
Category

Desserts

Yield

10 large beignets or 24 small beignets