Is the New Dunkin' Donuts Avocado Toast Worth It? I Tried It to Find Out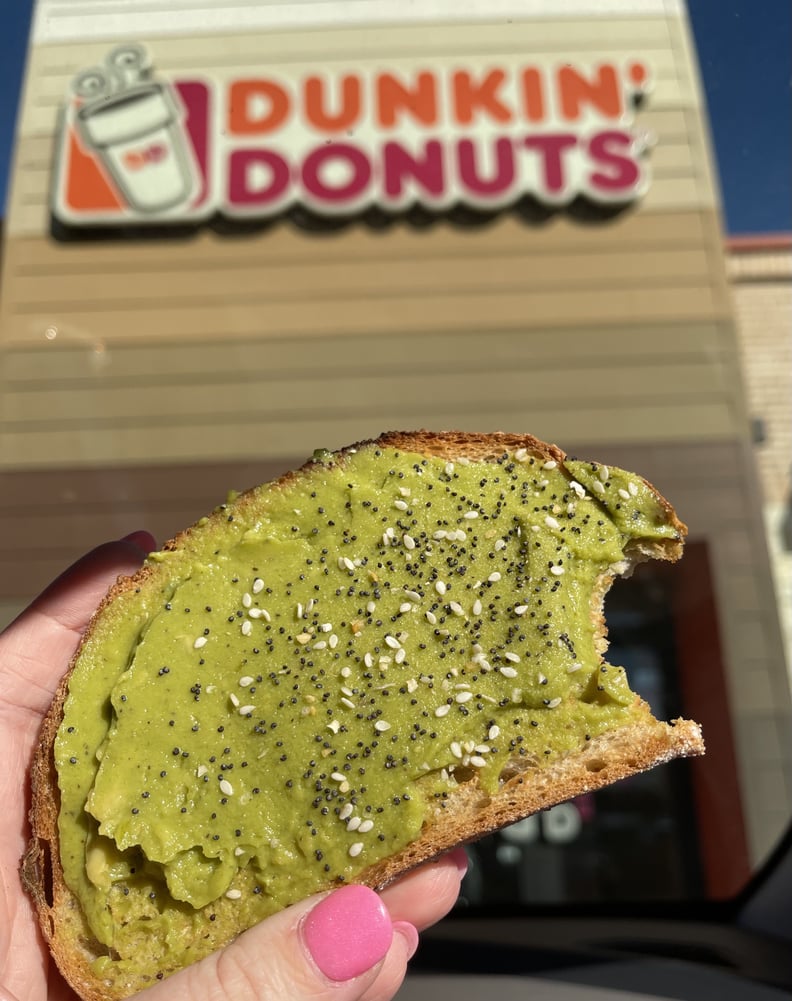 POPSUGAR Photography | Sydni Ellis
POPSUGAR Photography | Sydni Ellis
Dunkin' Donuts is (obviously) known for their sugary and delicious donuts, and in the past few years, their incredible coffee. But in a move to attract even more customers, Dunkin' recently got in on a trend that's been popular for a few years now: avocado toast! This snack item, which is served all day, costs $3 and is now available nationwide. But is it worth it? Compared to other, restaurant-level avocado toasts, Dunkin's looks pretty plain, so I tried it to decide once and for all if it's worth the hype.
What Does the Avocado Toast Come With?
At first, the avocado toast looks very simple — it's a piece of sourdough bread with avocado smeared on top. But it's actually a lot more than that. The avocado topping on the toast is made with sea salt, black pepper, lemon juice, and Everything Bagel Seasoning (which includes sesame seeds, poppy seeds, onion, and garlic). That mixture is spread evenly over a slice of toasted sourdough bread and is served in a handy to-go box.
What Does It Taste Like?
The creamy avocado mixed with the tough sourdough bread makes for a surprisingly delightful combination. Biting into it, you can immediately taste the spices and salt, and of course, the Everything Bagel Seasoning is delicious (as it is on pretty much anything it's added to). I ate this as an afternoon snack, but it would also make for a perfect and filling breakfast.
Is It Worth Ordering?
The spritz of lemon juice on top and the Everything Bagel seasoning make this a delicious snack that you'll definitely want to order when you need a boost of energy that's not a sugar rush. Can you easily replicate this at home? Yes. But for $3, it's definitely worth ordering if you're making a Dunkin' coffee run anyway.
As a millennial (aka someone who eats avocado toast more than the average person), I would say that this is definitely going to be a new go-to order for me. Its taste is deceptively complex, but with a simpleness that you can't deny. On your next breakfast or afternoon donut run, you should definitely add one of these to your order.