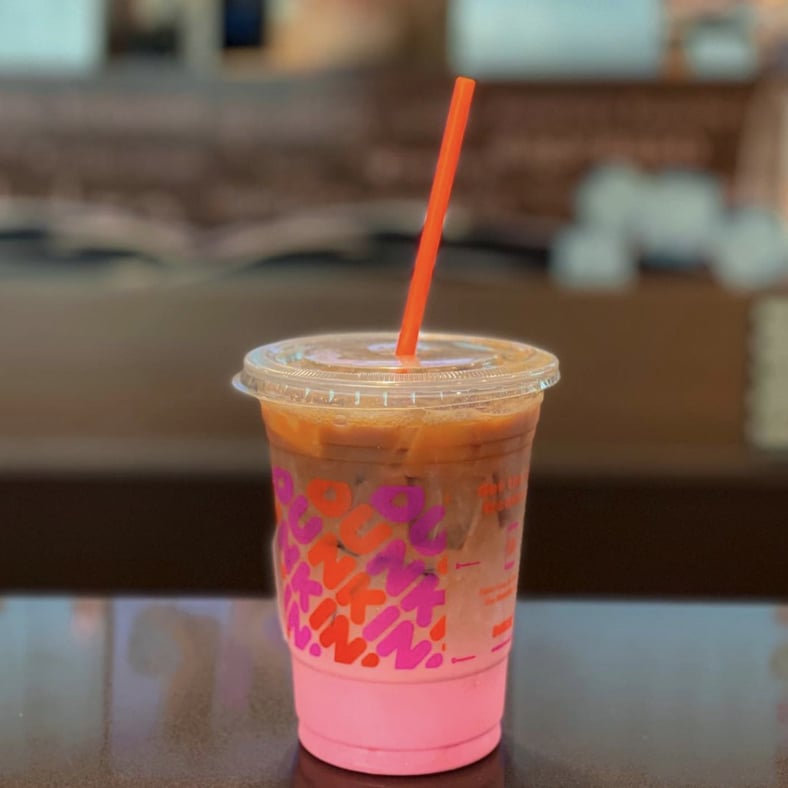 A huge part of celebrating Valentine's Day — no matter if it's with a significant other or solo! — is enjoying some of the festively themed food. Dunkin' Donuts is once again getting in on the loved-up fun by bringing back their popular pink velvet macchiato, which first debuted on their Valentine's Day menu in 2020. I decided to try it this year to see if it really lives up the hype, and I was pleasantly surprised by how much I enjoyed it.
According to Dunkin' Donuts' website, the pink velvet macchiato combines "rich espresso with red velvet cake flavor and hints of smooth cream cheese icing." Thanks to the pink color of the syrup, the drink is very aesthetically pleasing, but I also couldn't help but wonder if that would be a deal-breaker. Would it be too much?
At first glance, the drink lived up to its expectation. My pink velvet macchiato looked just like the pictures — pink, creamy syrup on the bottom, and espresso on top. You can get the drink hot, but I got an iced one because that's how you can see the pretty layering. After you finish admiring the colors, however, I highly recommend giving the drink a nice stir, otherwise your first sip will be all syrup. Once everything is mixed, it tastes pretty good! I could taste hints of cake and frosting, and overall, it's a unique flavor that I can't easily compare to others.
If there is one definite word to define the drink, however, it would be sweet. The sweetness does contrast nicely with the bitterness of the coffee, and altogether has a smooth, cohesive taste, but it is sugary, so make sure you have a sweet tooth before ordering one. I recommend giving the pink velvet macchiato a try, especially if you want a fun treat that looks as good as it tastes!