Everything Bagel Chocolate Chip Cookies Recipe
This Everything Bagel Cookie Recipe Is the Salty and Sweet Treat You Never Knew You Needed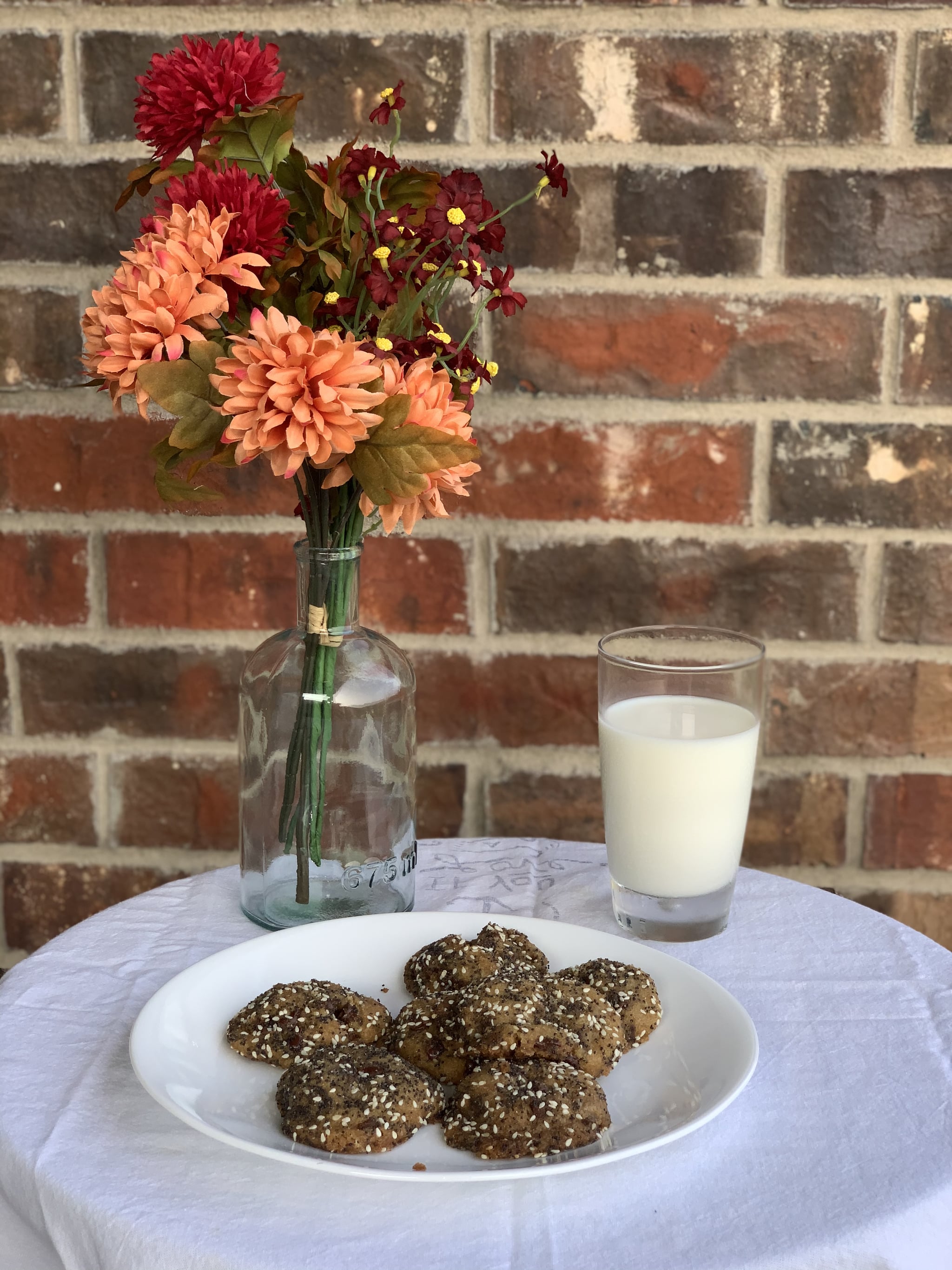 Everything but the Bagel seasoning is a beloved item at Trader Joe's. You can put it on everything (pun intended) from bagels to eggs to popcorn to pasta. But have you ever thought about putting it on something sweet? Minus the garlic and onion, of course, this recipe for Everything Bagel Cookies combines creamy dark chocolate, bitter salt, and crunchy seeds for one of the tastiest cookies I've had this year (truly).
When I first saw this recipe, I'll admit I was skeptical, but when I took a closer look at the actual ingredients, everything started to sound delicious. The seasoning on these cookies replaces the garlic and onion with brown sugar and chocolate, and then, of course, you have your sesame seeds.
One thing I will say is the prep time is a little long (they ask you to leave the cookie dough on a tray in the fridge overnight), but the wait is so, so worth it. If you like salted caramel mochas, popcorn and M&Ms, or any other combo of sweet and salty, these cookies are for you. Just pour a glass of milk (or a cup of coffee) and enjoy!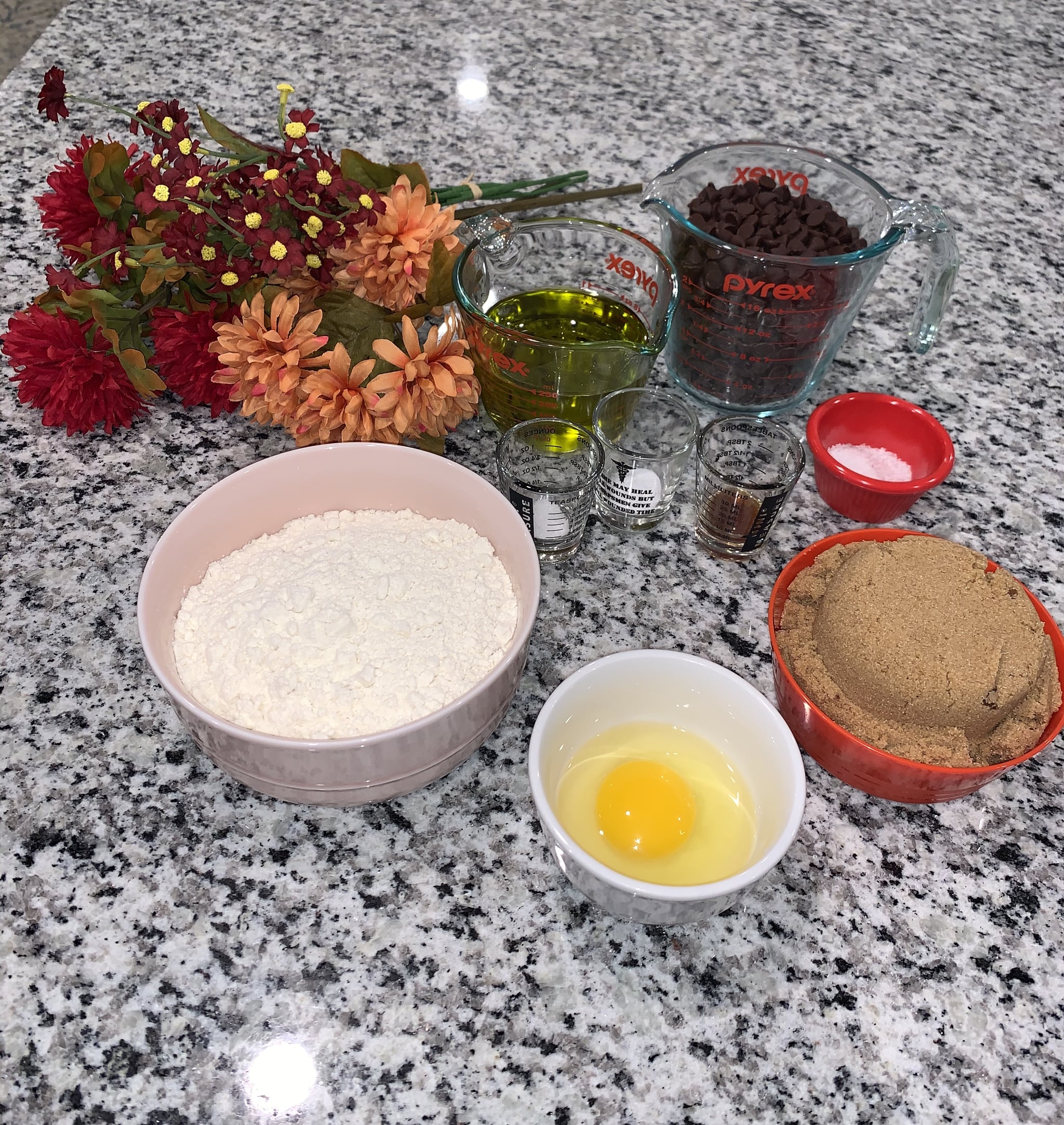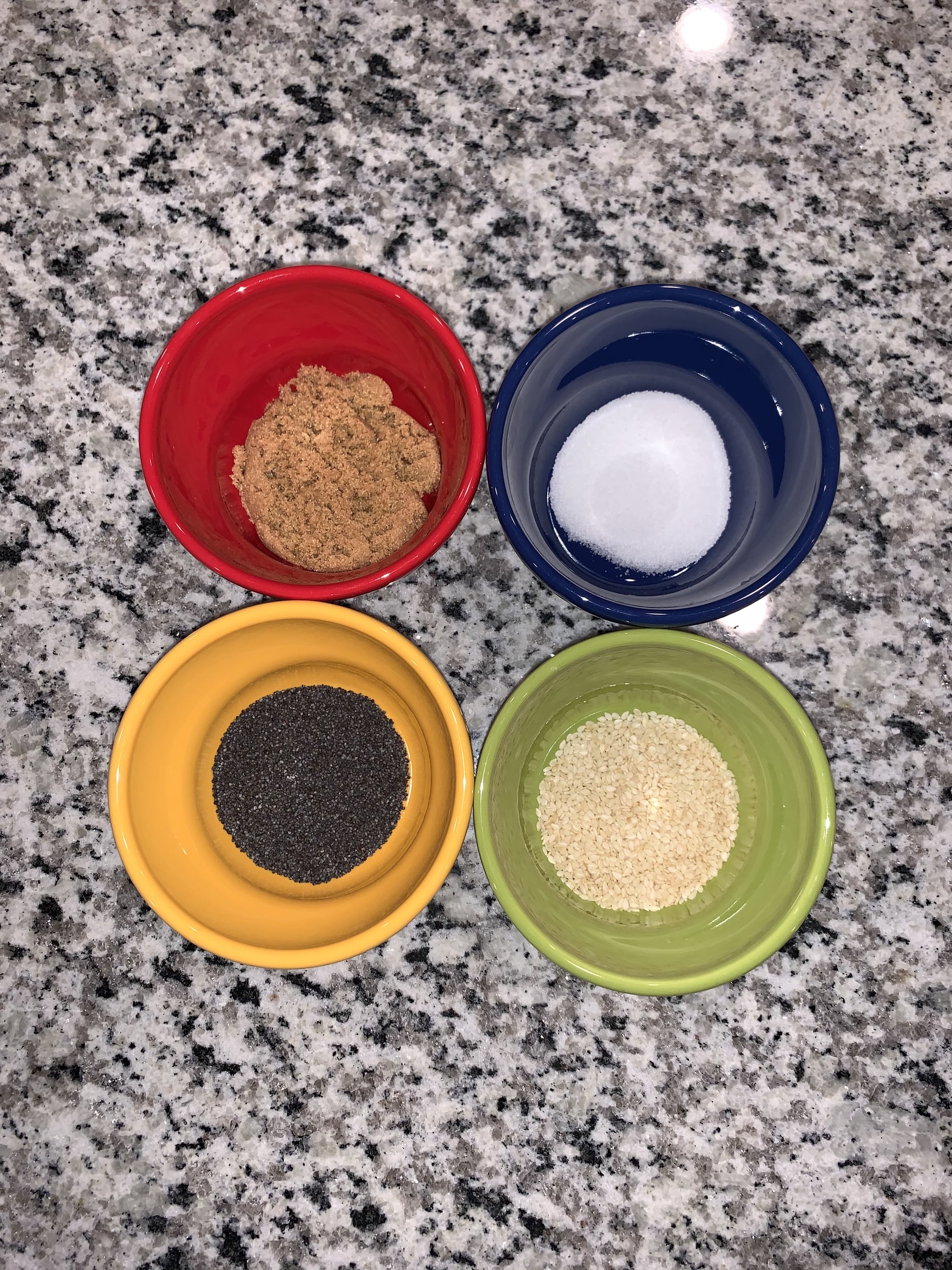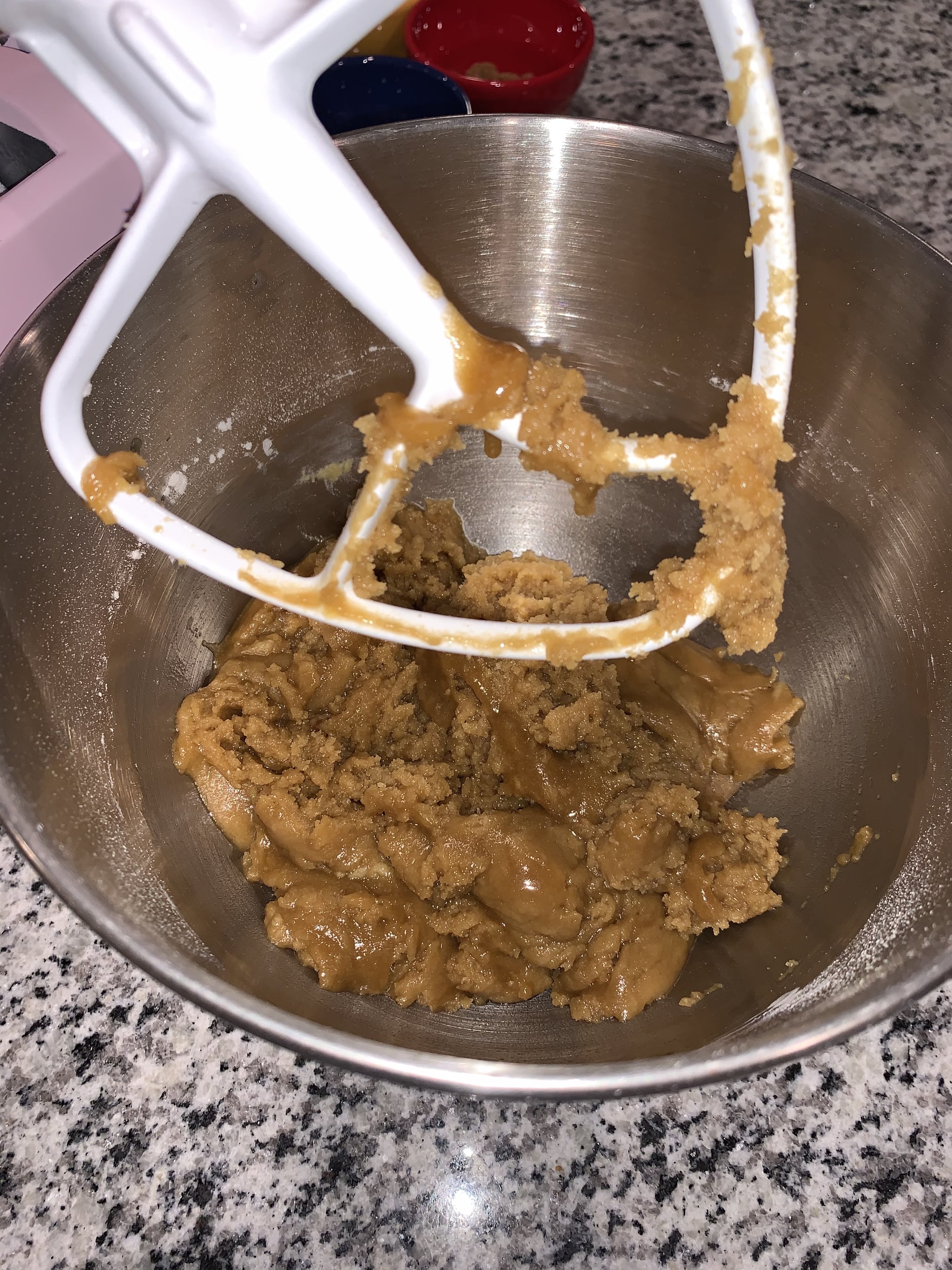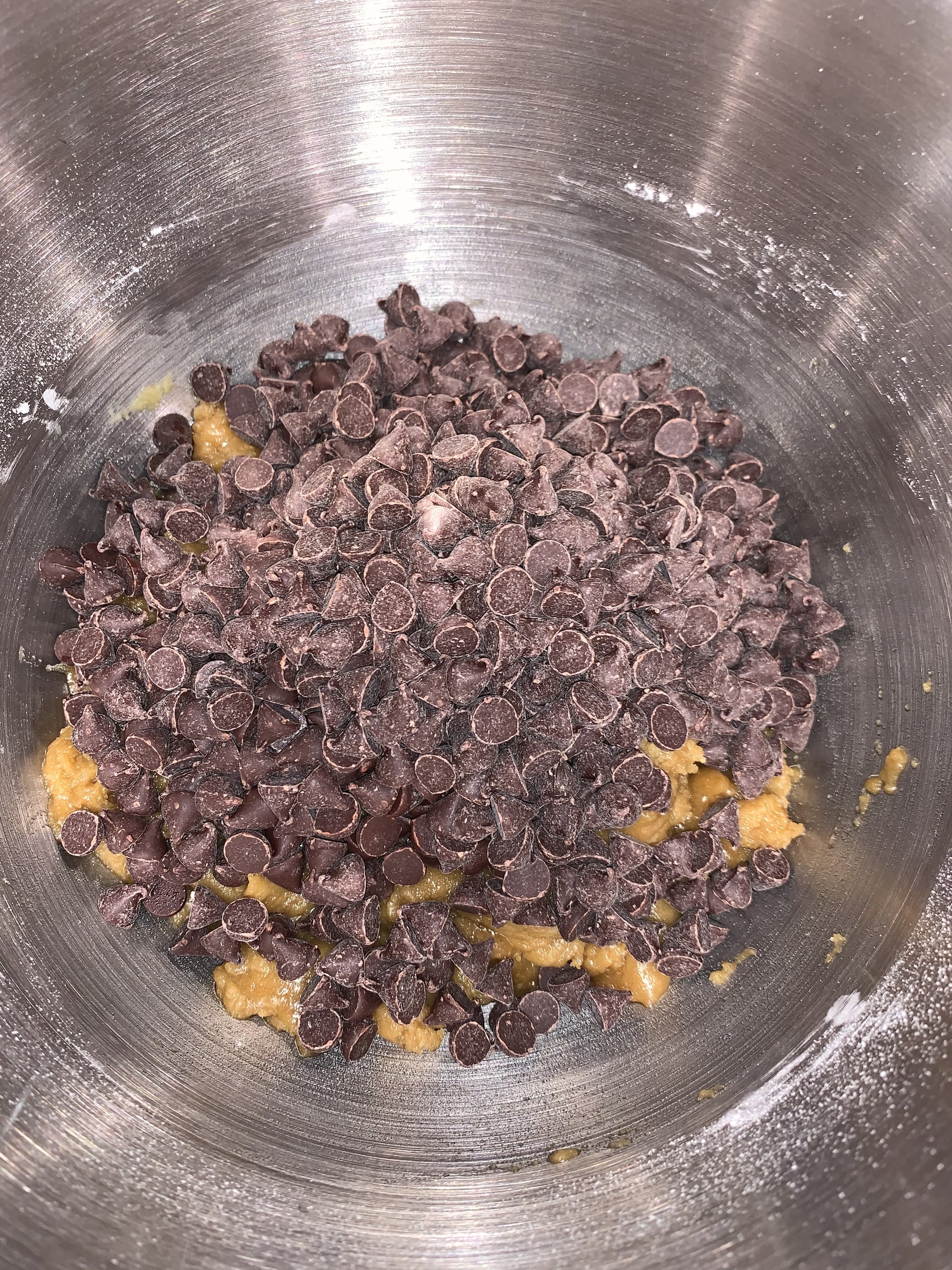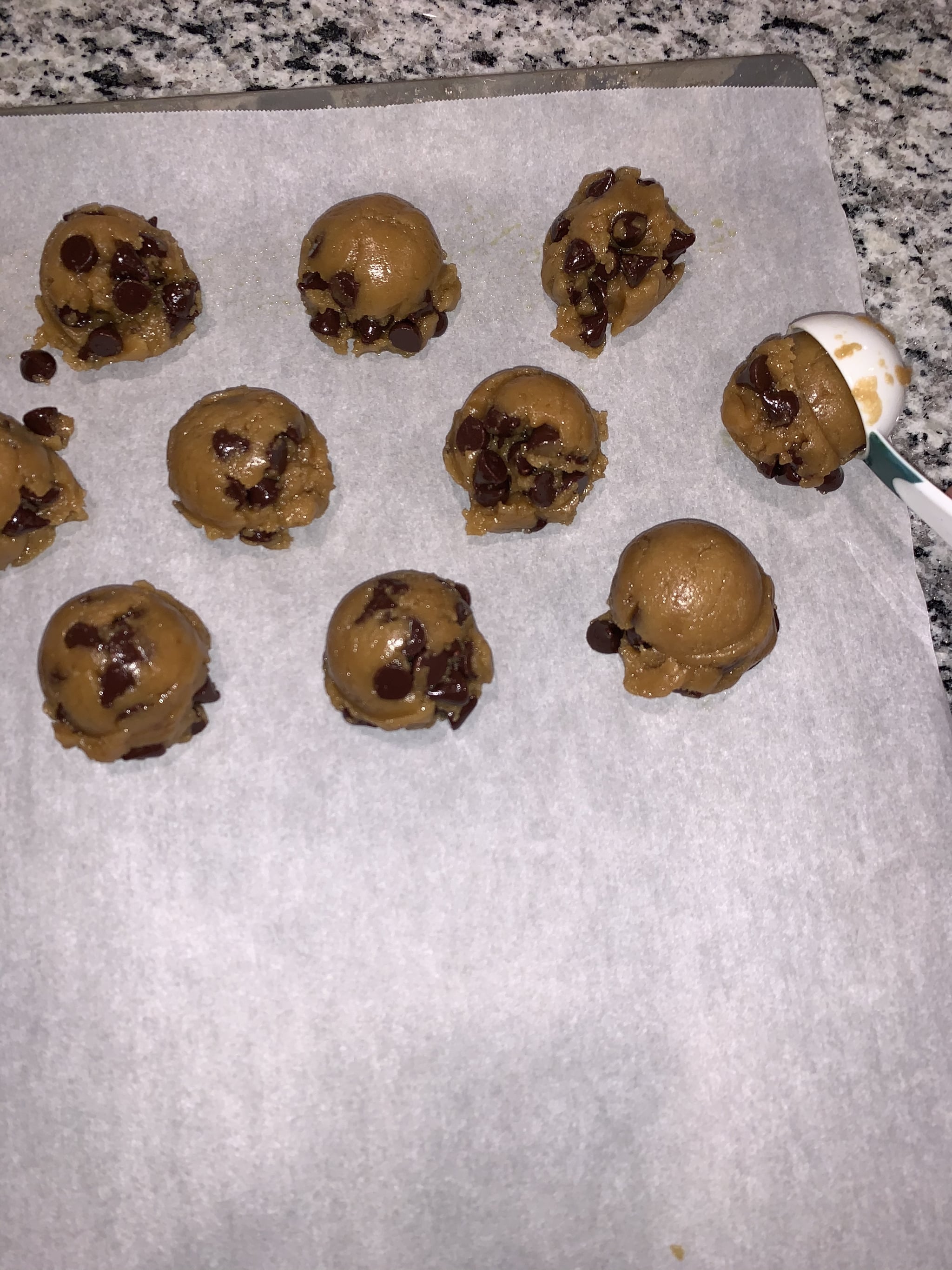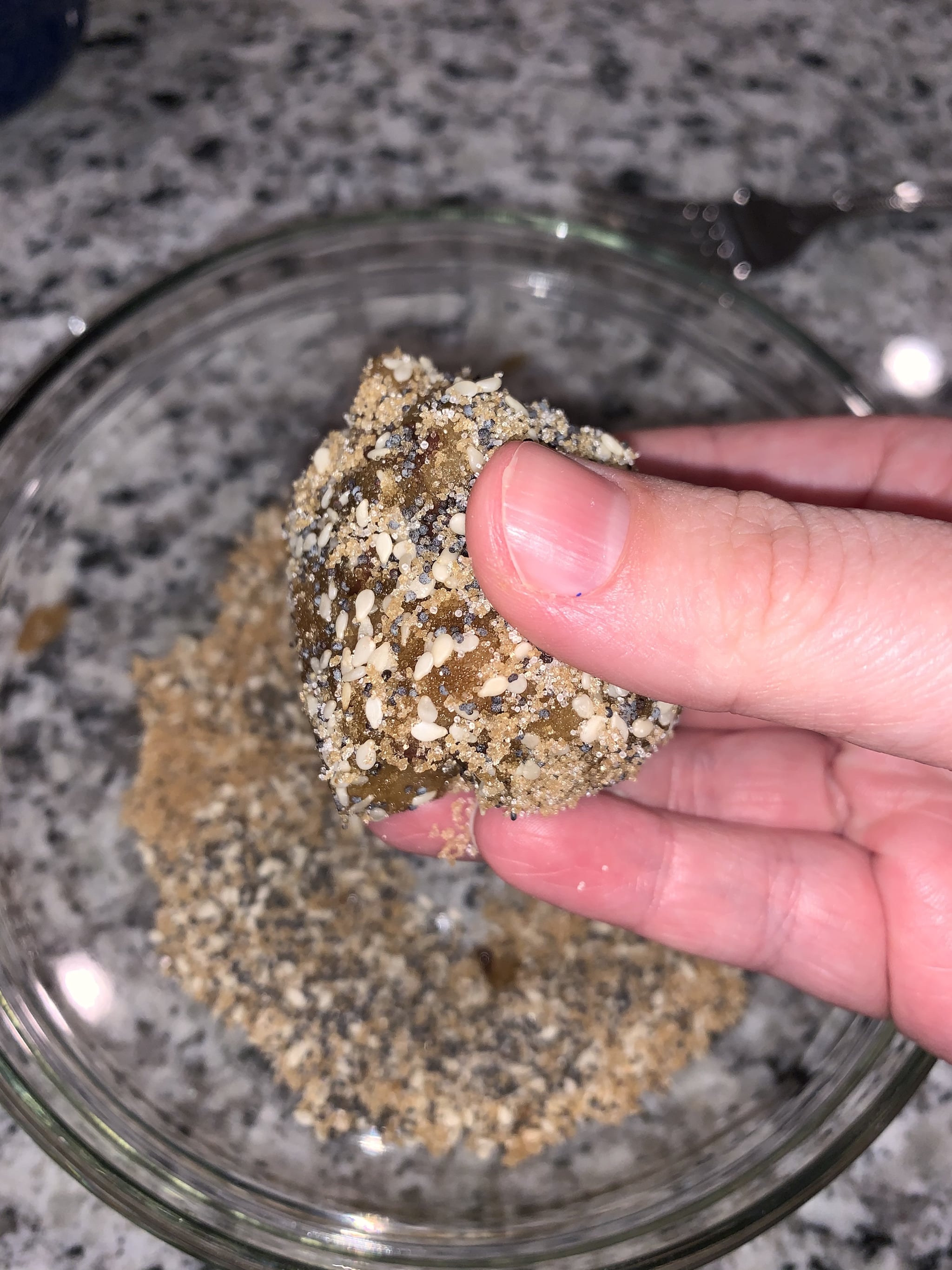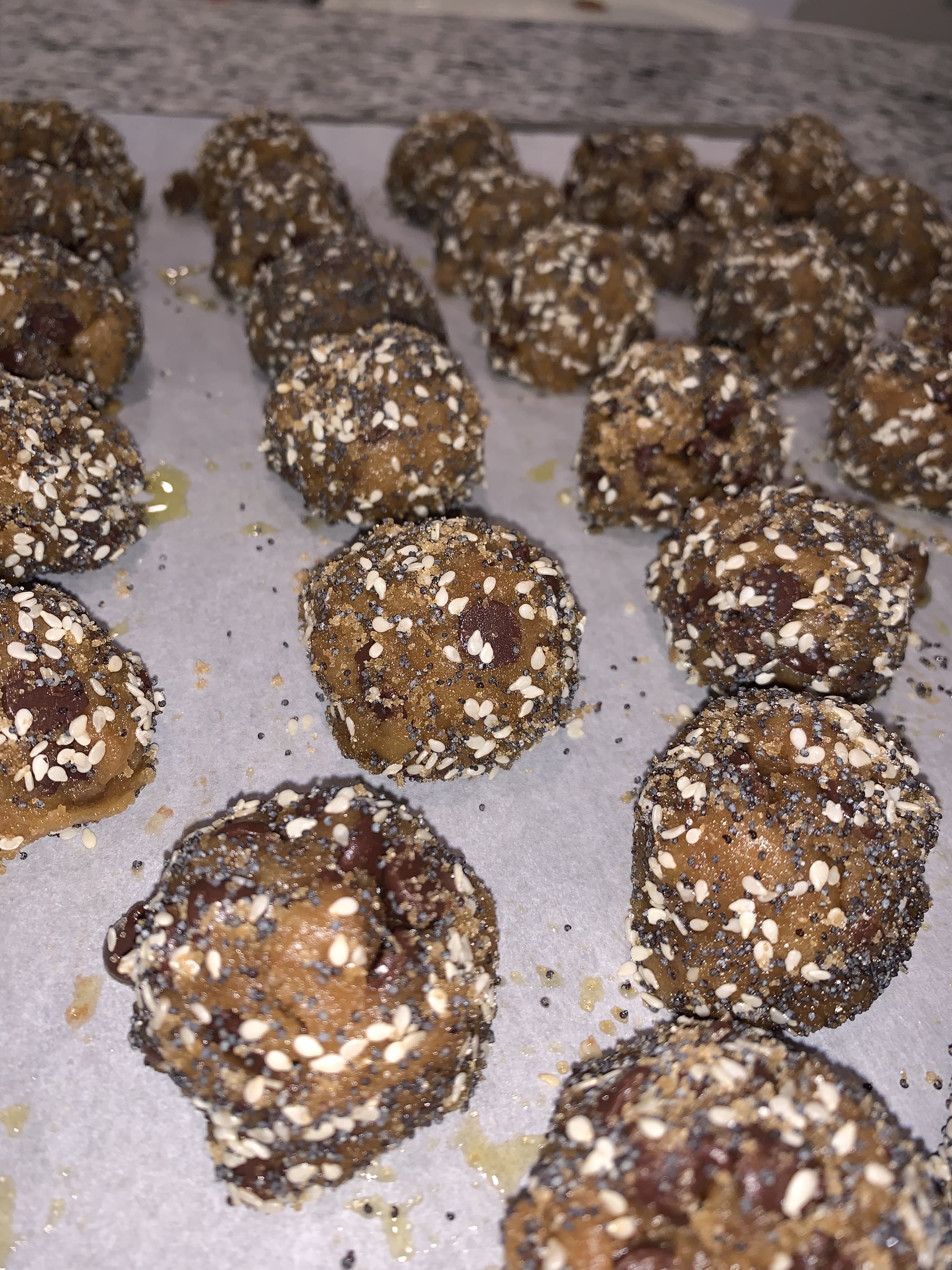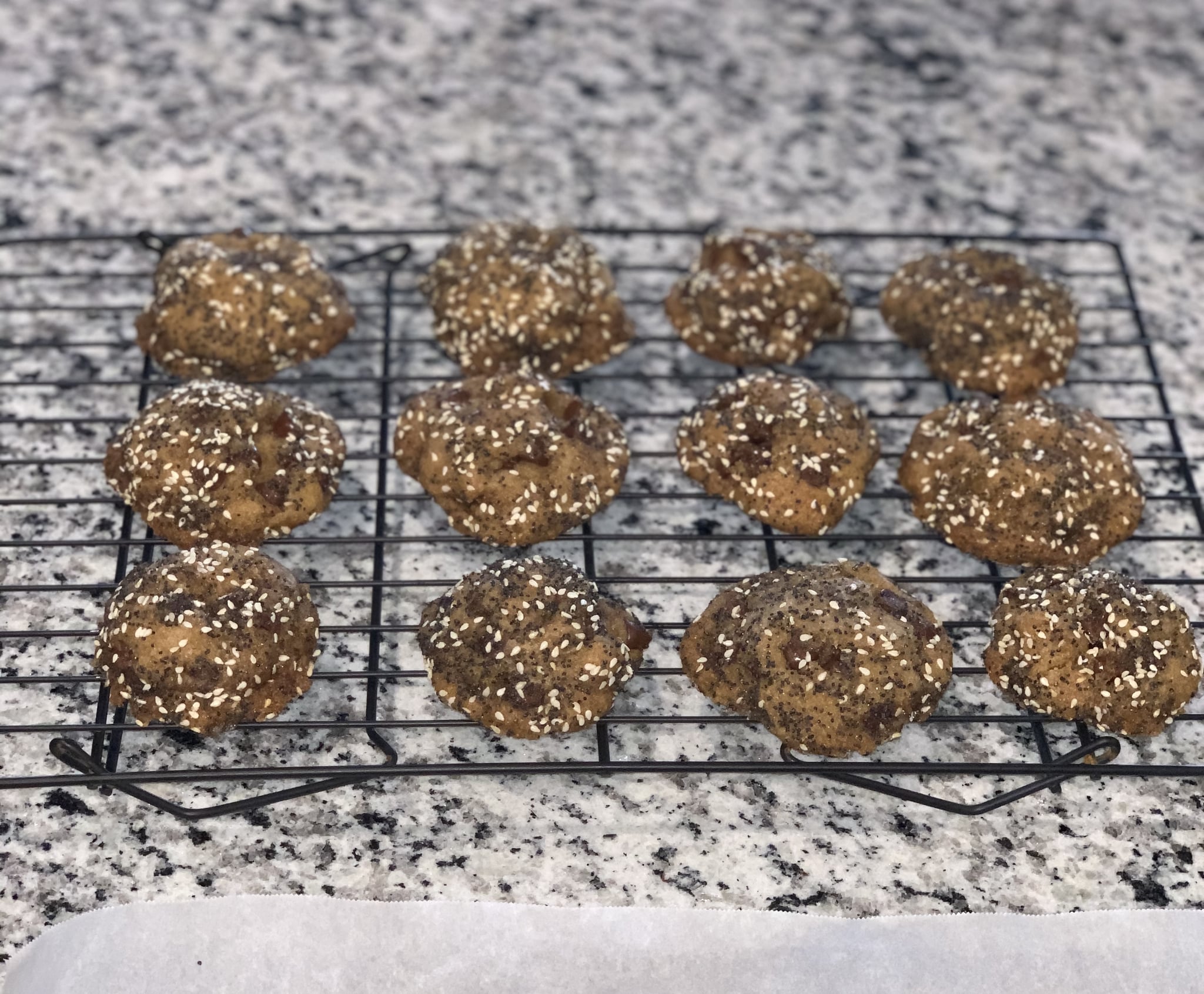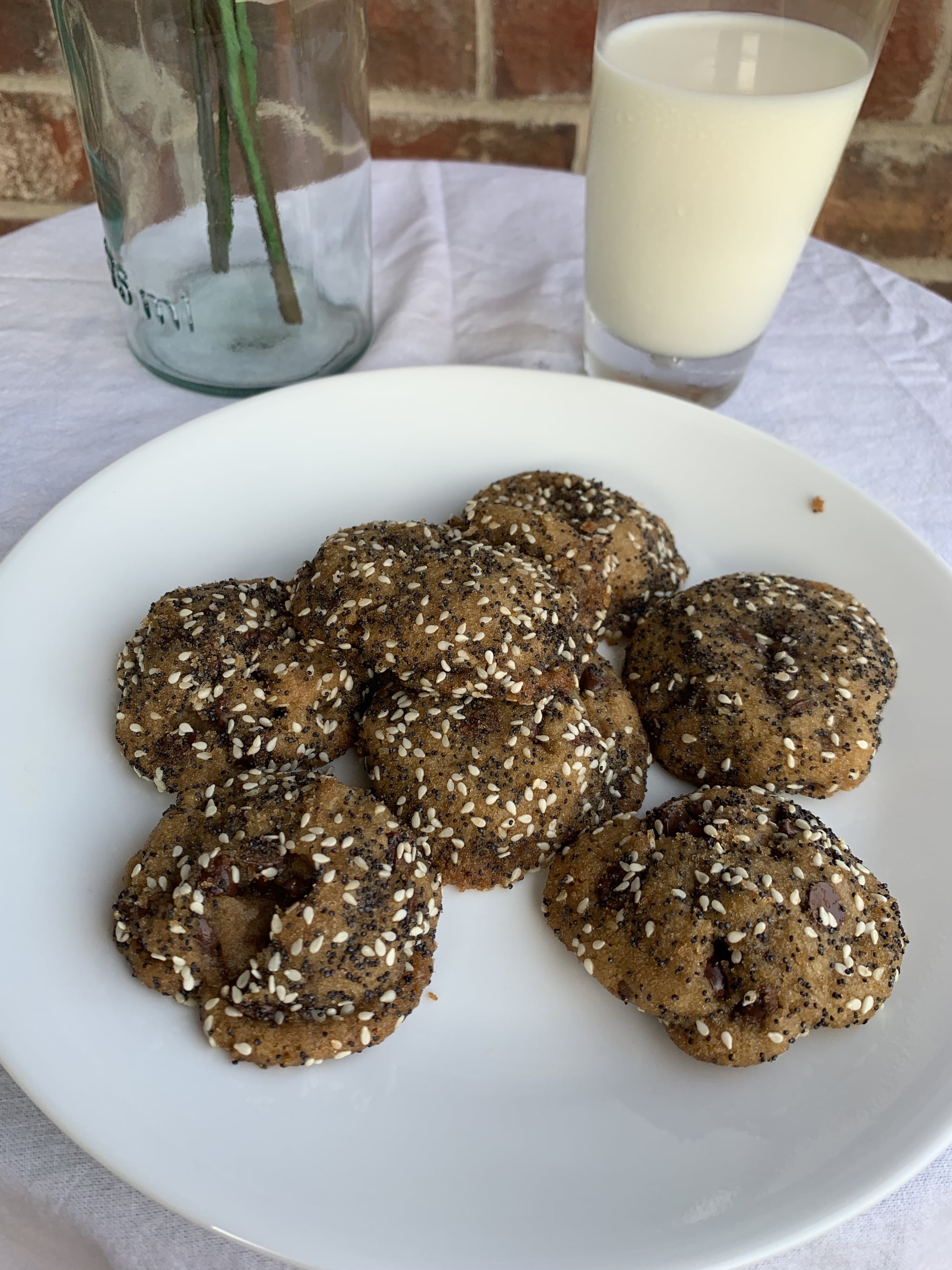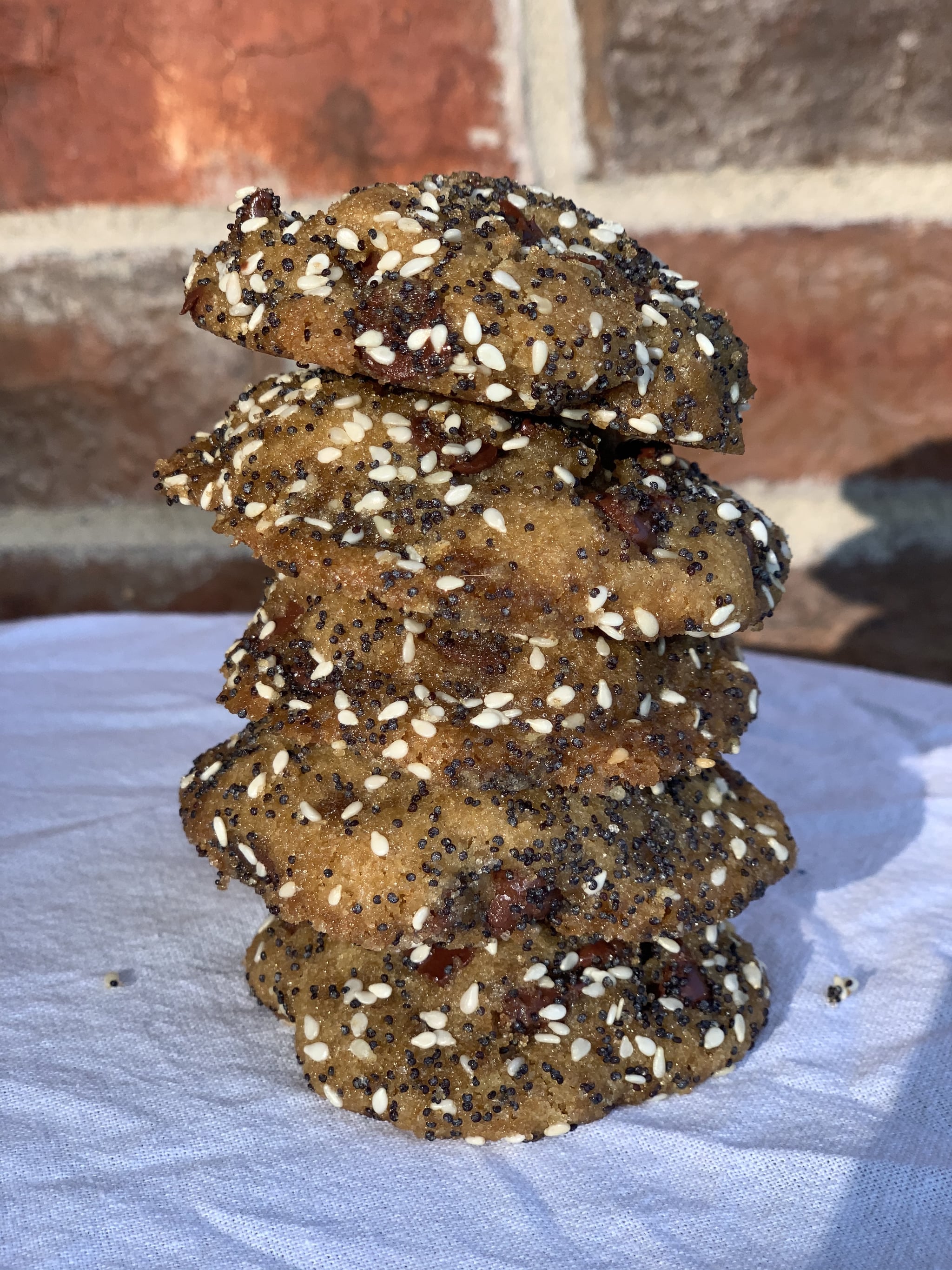 Everything Bagel Cookie Recipe
Cooking on the Weekends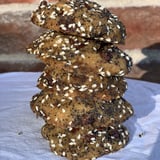 Ingredients
For the Cookies:
1 cup extra-virgin olive oil
1 1/2 cups golden brown sugar
1 tablespoon vanilla
1/2 teaspoon sea salt
1 large egg, lightly blended
2 cups all-purpose flour
1/2 teaspoon baking soda
2 cups semisweet chocolate chips
1/4 cup hazelnuts, toasted, peeled, finely chopped (optional)
For the Seasoning on Top:
2 1/2 tablespoons poppy seeds
2 1/2 tablespoons black or white sesame seeds
2 teaspoons Fleur de Sel (or other salt)
1 tablespoon plus 2 teaspoons golden brown sugar
Directions
Pour olive oil, sugar, vanilla, salt (I used sea salt), and the egg into a large mixing bowl. Mix everything together until it's smooth.
Slowly add flour and baking soda to the batter. Make sure you don't over mix; stop when dry spots disappear.
Add the chocolate chips and hazelnuts (I left the hazelnut out, as I don't eat nuts). Fold them into the batter by using a spatula to lightly blend it.
Line your baking sheet with parchment paper. Use a tablespoon to measure out the cookie dough into portions, then shape them into balls. Place them on the parchment paper as close as you can, as they aren't going in the oven yet.
In a small bowl, combine and mix the poppy seeds, sesame seeds, salt, and sugar.
Roll each ball of dough into the mixture with your hands, taking care to coat it on all sides. This can be a little tricky — all those chocolate chips make it hard for the dough to stay in neat little balls, but just do your best. Aim to cover as much as the cookie dough as you can, then place back on the parchment paper.
Once all the cookies are coated, wrap the entire cookie sheet in plastic wrap. Put in the fridge for at least six hours, or overnight if you can (that's what I did).
Preheat the oven to 350 degrees. Line another cookie sheet with parchment paper and spread the cookie dough balls evenly on both sheets. They should be about two inches apart.
Bake for 10-12 minutes, or until the edges start to turn golden brown.
Remove from oven and keep them on the cookie sheet for 1-2 minutes. Then, move them to a baking rack to cool for a few more minutes before eating.
Serve with a glass of milk or cup of coffee and enjoy!
Information
Category

Desserts

Yield

2 1/2 to 3 dozen cookies, depending on size

Prep Time

6 hours 30 mins

Cook Time

12 min

Total Time

6 hours, 41 minutes, 59 seconds
Image Source: POPSUGAR Photography / Sydni Ellis