I like to think of myself as a beer gal. I don't like wine (I know, I know), and whenever I'm out at a bar, a ball game, or a restaurant, I'll typically go for an an ice-cold glass of whatever beer I'm craving over anything else. I also love to try new flavors, especially in the summertime when light and refreshing ones seem to be everywhere (Love you, Leinenkugel's Summer Shandy!). But when I first heard about French's new mustard beer, I'll admit that my first thought was, "Hm, none for me, thanks." I mean, there's nothing like enjoying a beer while eating a soft pretzel with mustard, but actually making the beer taste like mustard? Nah.
While I initially rejected the idea of trying it, I'll also admit that I couldn't stop thinking about it. I was so curious, and honestly some of my favorite food and drinks have been things I wasn't expecting to like. So, after pretty much no deliberation, I decided to give it a chance. And you know what? I DON'T KNOW WHAT TO FEEL.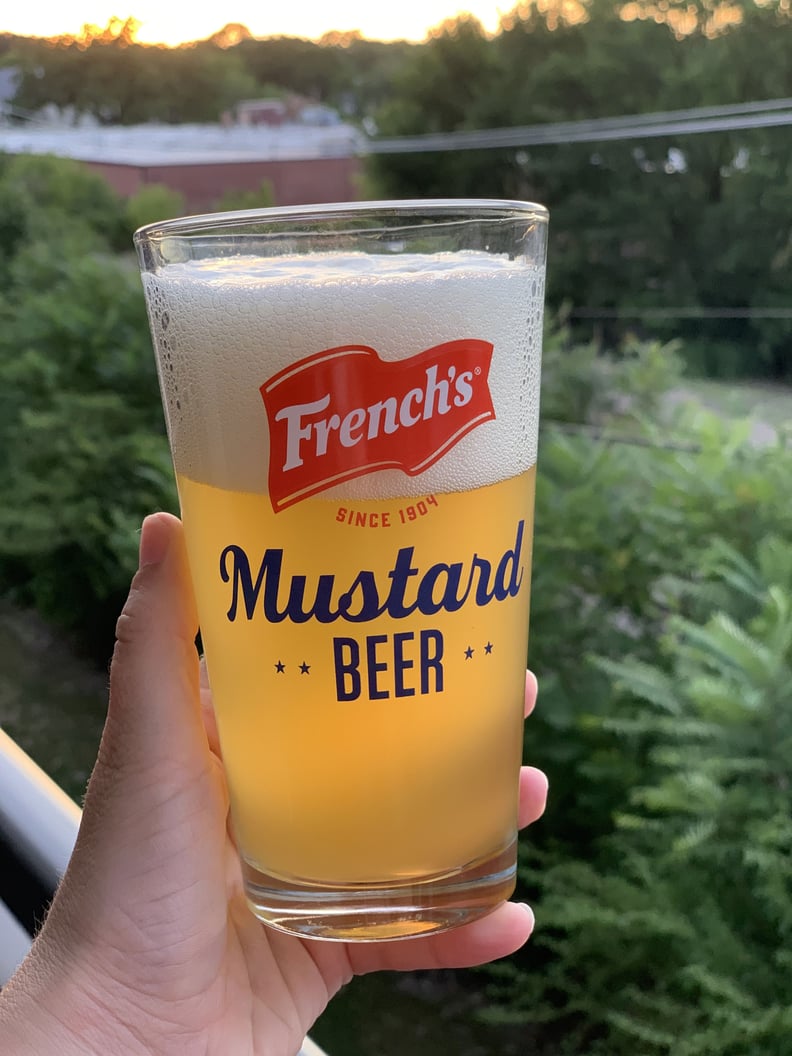 The beer, which was developed in partnership with Oskar Blues Brewery and brewed with French's Classic Yellow Mustard, truly isn't bad! It's infused with key lime, lemon, tangerine, and passion fruit flavors to match those of classic yellow mustard, and it really does just that. It's very tart and has a sharp mustard flavor that hits you right away and lingers after each sip — but that's the thing, it does taste like mustard so the entire experience is just . . . weird? I took a few sips and enjoyed it, but I definitely wouldn't be able to down a whole glass. I will say, though, that it was a lot more enjoyable when you sip on it while eating pretzels. The salty snack is the perfect thing to balance out the flavors.
As soon as I posted about trying the beer on Instagram, a ton of people sent me messages asking how it was and where they could buy it, proving the unique flavor combination is kind of genius. I also had my husband — who is from Ireland and very passionate about his beer — try it, and he had one thing to say: "I'm confused and I really don't know, Caitlin!" (while continuing to take sips).
While this wouldn't be my new go-to beer order, I do think it's a really fun drink to try. It's the perfect thing to sip while snacking on a hot summer day, and it will make you feel nostalgic, adult, confused, and happy all in one. And honestly, if a drink is interesting enough to start a conversation, it's one worth trying.
And if drinking it doesn't sound like your thing, you'll definitely want to cook with it! Try making bites like mustard beer basted sausages with onions, bacon honey mustard beer bread, scotch ale beer cheese, or pale ale and mustard bbq pulled chicken.
French's Mustard Beer is available online through national craft beer marketplace and platform, CraftShack, as well as select Oskar Blues Brewery taprooms in Boulder and Longmont, Colorado and Brevard, North Carolina while supplies last.