Fried Spaghetti Recipe with Photos
My Italian Nonna's Fried Spaghetti Recipe Is Easy Comfort-Food Perfection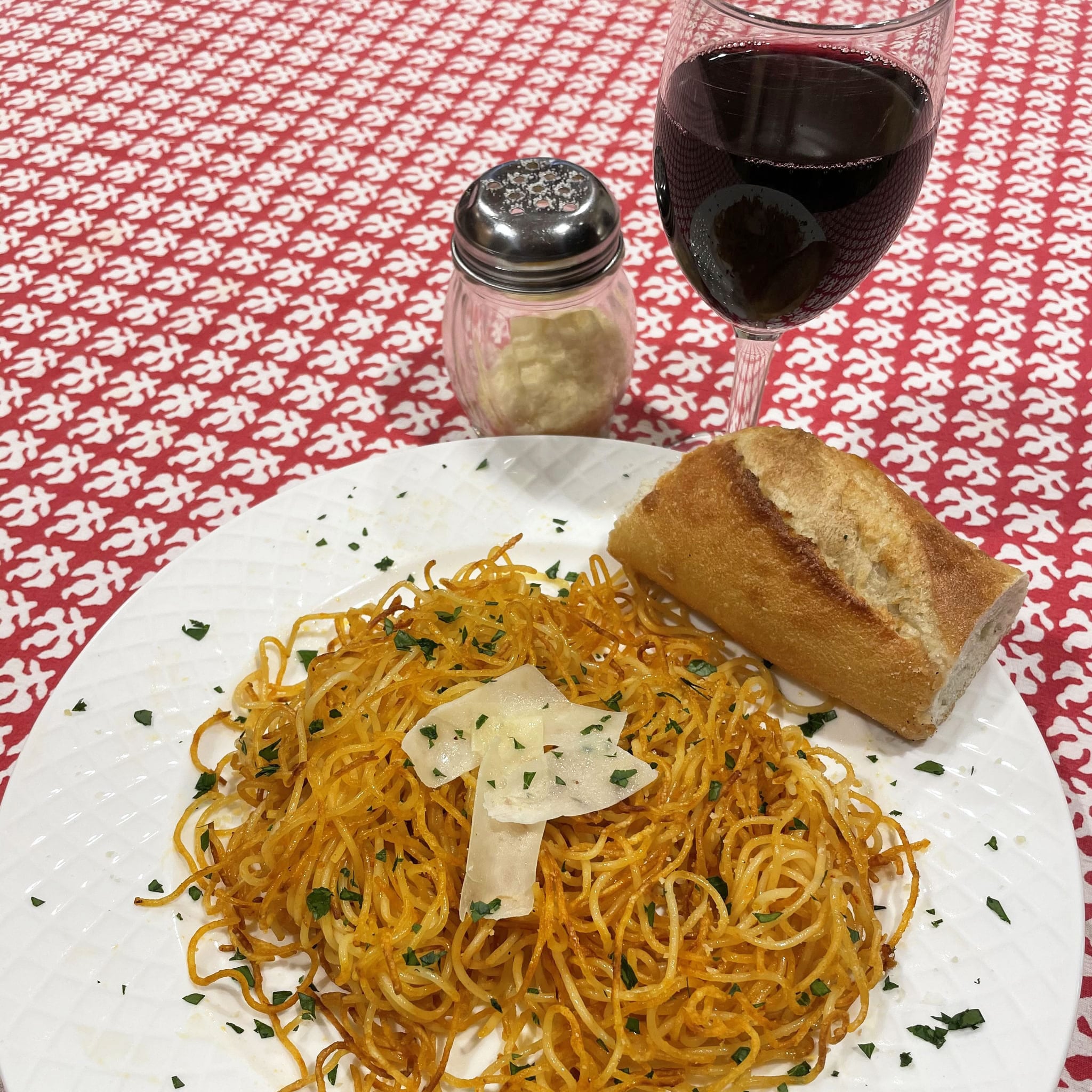 Call it what you want — macaroni, pasta, or noodles — but this comforting and versatile carb holds an esteemed place on the menu in many homes, including mine. There is one recipe, though, that shines above all others for its simplicity and ability to make good use of the leftovers from our Sunday dinners: Nonna's fried macaroni (or in this case, fried spaghetti). We call it "La Scorta" for scorched, which comes from the dialect my grandmother's family speaks in parts of Southern Italy. Although popular in Italian households, rarely will you find this recipe on the menu in a restaurant. Nonna's fried macaroni is our family's traditional comfort food that takes formerly silky, soft pasta and pan fries it to be light and crispy. We then dusts its ridges with high quality parmigiano reggiano or pecorino romano cheese, and the end result is one of the best things you'll ever eat.
The beauty of this dish is that it works best with leftovers and you can use any type of cooked pasta. It also doesn't matter the type of sauce, or what was mixed in with the pasta. Stray mushrooms and onions or bits of broccoli rabe are invited to join the party! Remnants of last night's meat sauce is welcome to cling to the macaroni, which ends up just contributing to a crispier, more flavorful final product. No fancy culinary skills are needed to make this either. If you can boil water and open a jar of sauce, you have the promise of a meal that goes beyond microwaving leftover soggy Sunday spaghetti.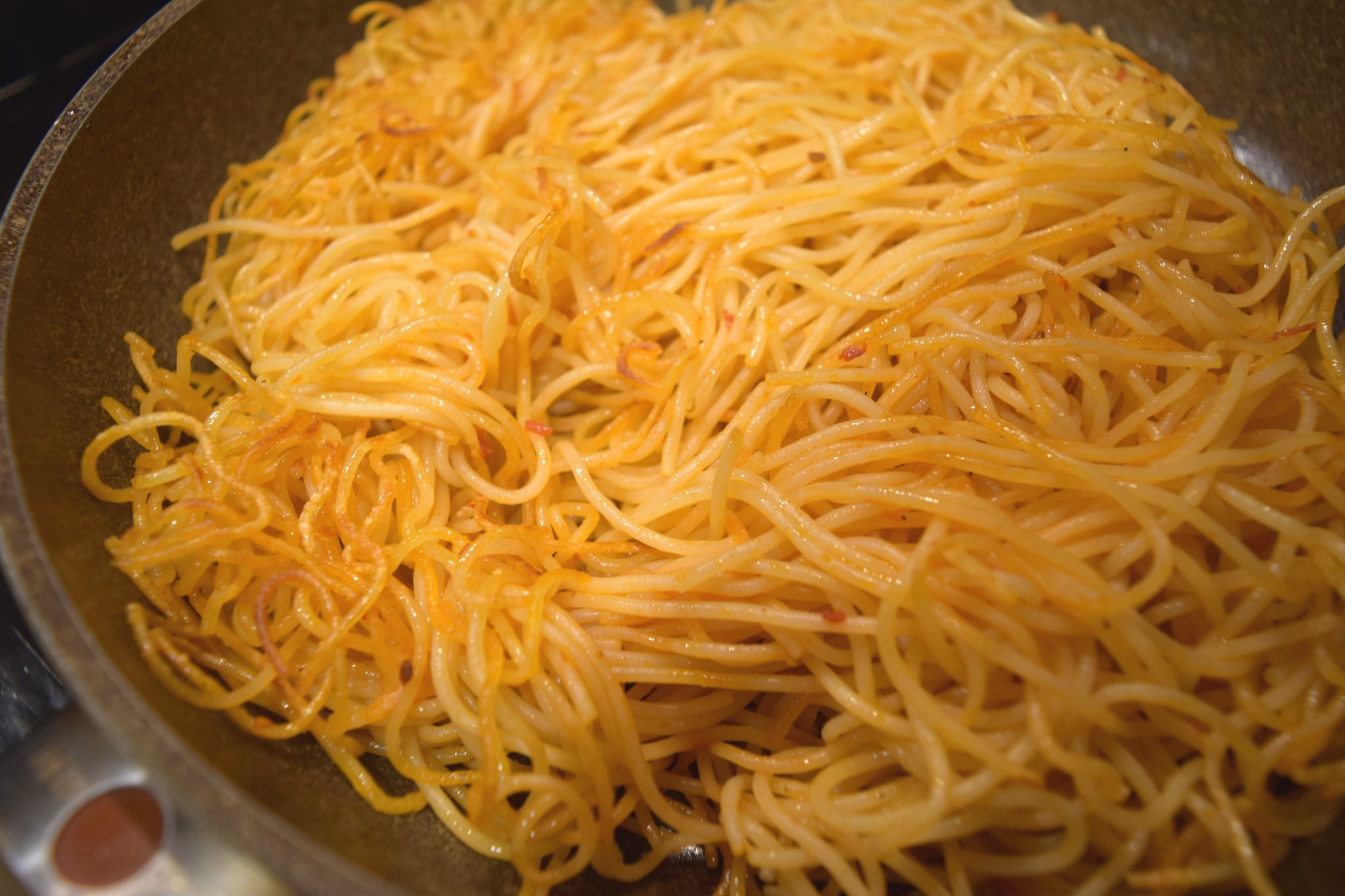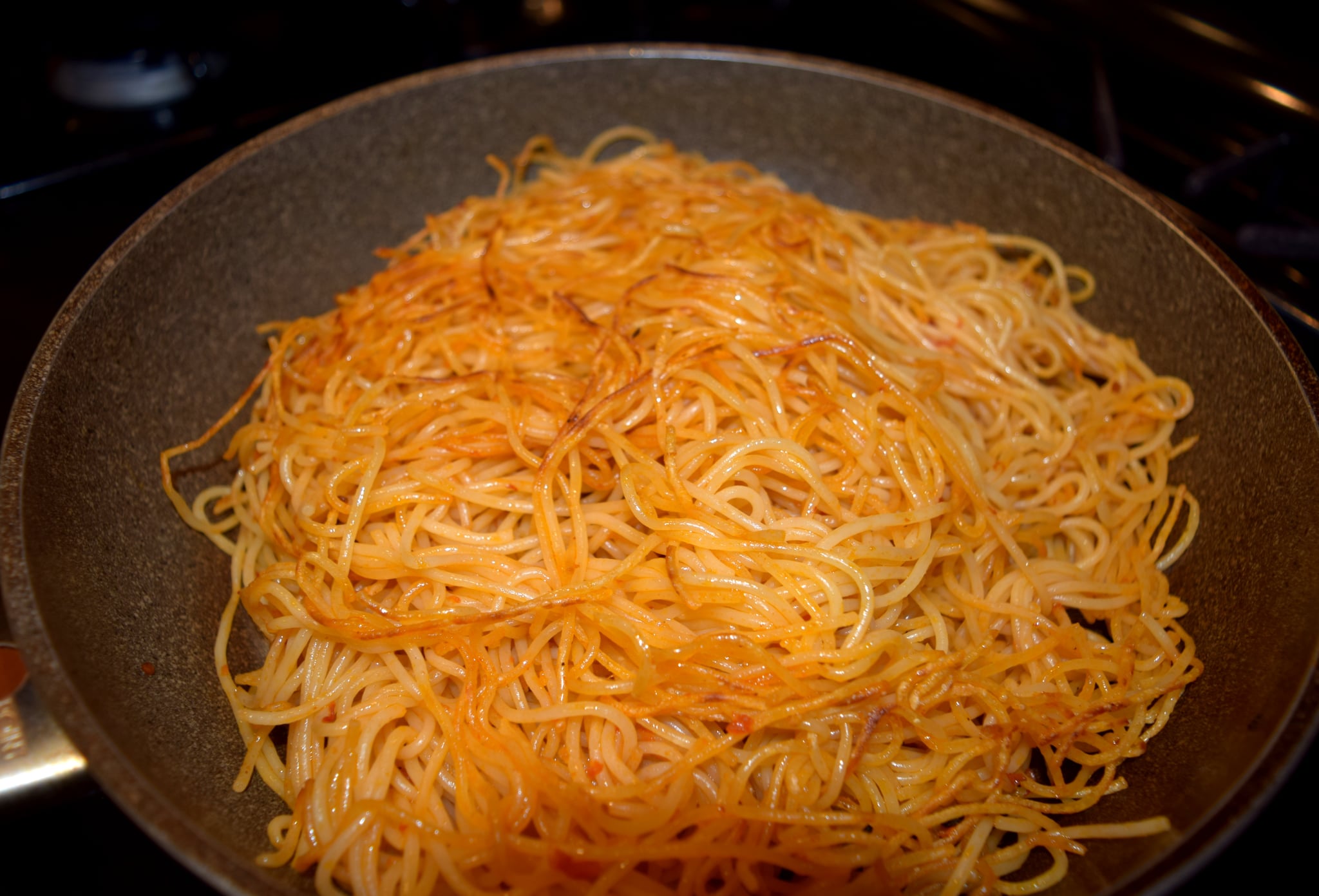 Nonna's Fried Macaroni
Original Recipe
Notes
The cooked pasta must not be fresh. This dish works best when the pasta has been cooked 12-24 hours prior to pan frying. Any type of cooked pasta will work, but we typically use penne or spaghetti. Some recipes call for butter, but our family uses extra virgin olive oil. If the leftover pasta is already sauced, that will add even more flavor to the dish. My son likes his pasta plain, so I add a little marina sauce to the leftover pasta as I fry it.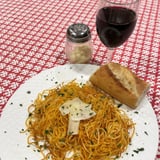 Ingredients
2-4 cups of leftover cooked pasta at room temperature
2 tablespoons of olive oil for the pan
2-3 tablespoons of red sauce
Parmigiano reggiano or pecorino romano cheese to taste
Dried or fresh parsley (optional)
Directions
Heat a nonstick frying pan over medium-high heat.
Add the olive oil to coat the pan.
Add the leftover cooked pasta to the pan.
Let the pasta sit and sizzle (about 3-5 minutes) without stirring to form a crispy base on the bottom of the pasta.
Begin to stir the pasta, adding a little more oil if needed to achieve desired crispiness.
Add the sauce slowly, beginning with increments of one tablespoon at a time. Be careful not to add too much, as the pasta will become soggy.
Once the sauce has been incorporated, continue to cook over medium-high heat until your personal desired level of crispiness forms on the pasta (I always leave mine a little longer).
Top with Parmesan or Pecorino Romano cheese to taste.
Garnish with dried or fresh parsley if desired.
Serve immediately.
Information
Category

Pasta, Main Dishes

Cuisine

Italian

Yield

2-4 servings

Prep Time

5 minutes

Cook Time

30 minutes

Total Time

34 minutes, 59 seconds
Image Source: POPSUGAR Photography / Margaux DelGuidice-Calemmo