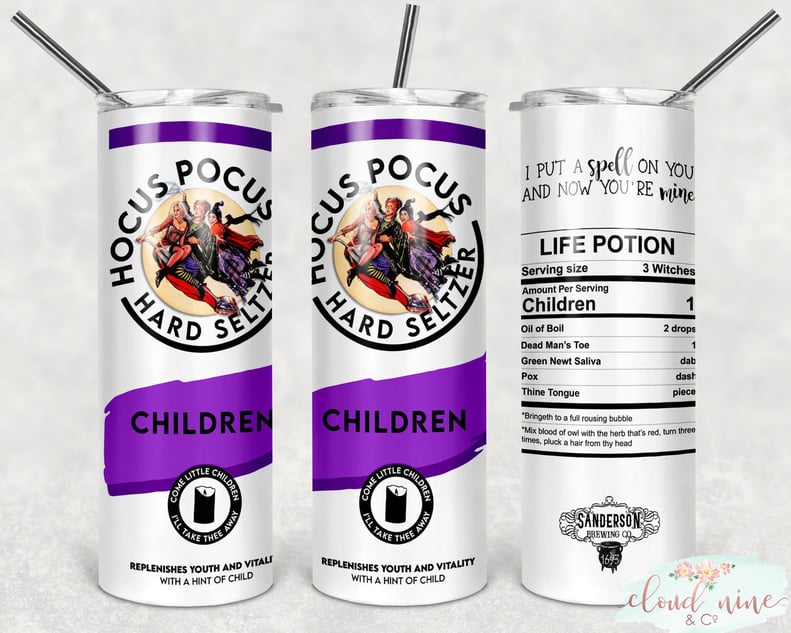 Etsy | CloudNineandCompany
As POPSUGAR editors, we independently select and write about stuff we love and think you'll like too. If you buy a product we have recommended, we may receive affiliate commission, which in turn supports our work.
Bubble, bubble, we're in shopping trouble after getting a look at these Sanderson Sisters White Claw Tumblers ($25), which will have you casting spells on passersby, concocting more potions, or maybe even dancing under the full moon, because after all, that's when all the weirdos are out (count me in!). Making the most out of the spellbinding Hocus Pocus theme, the spooky tumbler from Etsy looks like a "children-flavored" White Claw can (the Sanderson sisters love their children!) and features witchy ingredients on the back like oil of boil, dead man's toe, green newt saliva, pox, and thine tongue. Yum!
Whether you fill it with a refreshing Aperol spritz or a wicked flaming potion (aka a mouthwatering spicy margarita), this tumbler can accompany you for all kinds of unearthly Halloween celebrations as an eerie cauldron for all your elixirs and tinctures. Made from durable metal, it'll last for hundreds of years, plus, it's top-rack dishwasher safe (this witch might just begin to run amok because of that fact alone). Anyone want to form a calming circle? Because all this is a bit too much to take! And remember, just add a sprinkle of iodized salt to ward off witches, zombies, and old boyfriends.