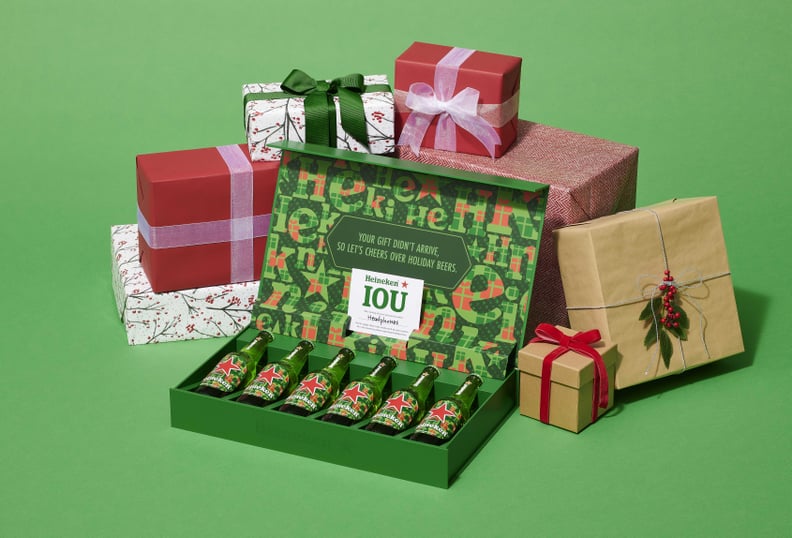 Courtesy of Heineken
Courtesy of Heineken
Never in my life did I think I would utter the words "supply-chain issues" as many times as I have in the last month, but here we are. Sadly, with demands on the global supply chain at a major high, shoppers attempting to ensure Christmas gifts get to their loved ones in time are feeling the sting. Try as you might, some things are beyond anyone's control, but a delayed Christmas gift isn't the end of the world. Heineken's latest release — the Heineken IOU box — is a funny consolation gift you can give your friends and family in place of their actual Christmas gift that's stuck in transit. Trust me, one look at it, and you'll want to know how to get a Heineken IOU box, stat. Who knows? It might even be better than your original Christmas gift.
The Heineken IOU box boasts a few key elements: a festive red and green design, an IOU note letting the recipient know their gift didn't arrive on time, and six bottle-shaped slots that'll perfectly fit a six-pack of Heineken. On the IOU slip, there's also a space to write what someone's original gift was supposed to be. It's hilarious, low-key genius, and sure to make your giftee smile.
Starting on Friday, Dec. 10, and continuing on Dec. 11, 12, 17, 18, and 19, consumers will have a chance to get one of Heineken's IOU boxes, which are only available in limited quantities each day, by following a few steps. First, you can request a Heineken IOU box on the Heineken IOU website by uploading a screenshot of your shipping-delay issue and sharing a brief explanation of your situation. If you're chosen to receive an IOU box, you'll be notified and receive the box via same-day delivery. Within the box, you should find a prepaid $16 debit card, which you can use to purchase a six-pack of Heineken to stick in the box.
Of course, you must be 21 or older to participate in Heineken's IOU initiative, which is, sadly, only available in the following cities: New York City, Philadelphia, Miami, Orlando, Tampa, Atlanta, Washington DC, Los Angeles, San Francisco, Chicago, Houston, and Phoenix. If you aren't able to score an IOU box on Dec. 10, keep trying on the following days. It may not be the expensive, personalized gift you'd originally planned, but it is a thoughtful cheers to the one you love.