Here's How to Make TikTok's Parmesan Garlic Pizza Rolls
These Parmesan Garlic Pizza Rolls From TikTok Are Almost Too Easy to Make — Here's How to Do It
It turns out that pizza rolls can actually taste better than they already do, and we have TikTok to thank for that. The social media platform is known for having some of the most viral and delicious recipes of all (hello, baked feta pasta), and leave it to fellow foodies to come up with another creation that's not only craveworthy, but also easy to make. Let us introduce you to your new favorite dinner, afternoon snack, late-night treat, and hangover cure: parmesan garlic pizza rolls. Yup, while you thought just warming up a bag of pizza rolls was enough, TikTok said, "No, sorry, sweetie — we have something better."
With just three added ingredients, this easy recipe will take pizza rolls from a 10 out of 10 to a 12 out of 10. I mean, it's practically common knowledge that butter and cheese make everything better, so you can't lose here. If you're ready to treat your taste buds, impress your favorite food-lovers, and make a snack that'll satisfy every craving you've ever had, please fire up your air fryers and/or ovens and get cookin'! Keep reading for the full recipe, and enjoy!
Parmesan Garlic Pizza Rolls
TikTok User Totino's Pizza Rolls
Notes
The more pizza rolls, the better! You can tweak this recipe depending on how much garlic, cheese, and butter you want, so feel free to adjust it to your liking.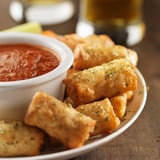 Ingredients
15 pizza rolls (one bag)
1/2 stick of butter
Garlic
Generous amount of parmesan cheese
Dash of parsley (optional)
Directions
Take the pizza rolls out of the bag, and cook them however you'd like. (If you do them in an air fryer, cook them at 380°F for eight minutes. If you choose the oven, heat the rolls for 10 minutes at 425°F. As for the microwave, heat them on high for two minutes.)
Microwave the butter until it's melted.
Add fresh garlic to the butter. Mix.
Put the pizza rolls and garlic butter into a bowl and mix.
Douse the pizza rolls in parmesan cheese.
Serve and enjoy.
Information
Category

Appetizers

Yield

15 pizza rolls