How to Make Puerto Rican Pasteles
My Favorite Christmas Tradition Is Making My Abuela's Puerto Rican Pasteles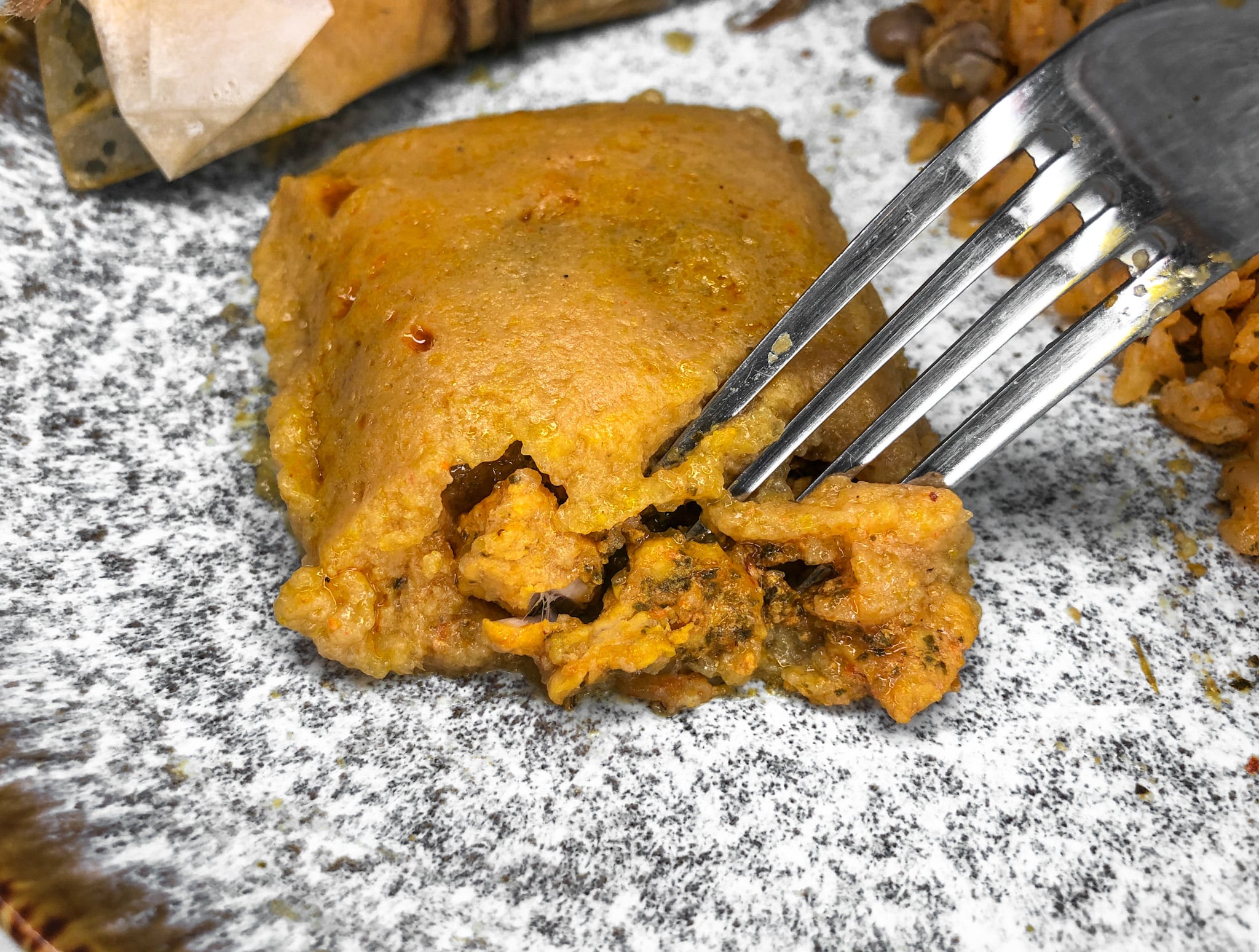 I thoroughly believe that the best Christmas traditions are those that combine delicious hometown flavors with family bonding time, and in my Abuela's Puerto Rican household, the epitome of such were her famous pasteles de guineo. These small meat pies — made with ingredients traditional to the Caribbean island such as green guineo (bananas) and a spice called annatto — are commonly made in bulk in the days before Christmas. At the end of the days-long cooking process, Puerto Rican pasteles are wrapped in banana leaves and secured with cooking twine in such a way that they resemble small, edible gifts. And as much as my cousins and I loved unraveling each individual "present" during and beyond December, the best part of our pasteles tradition was the actual act of coming together as a family to make them.
What Is The Difference Between Tamales And Pasteles?
If you're unfamiliar with Puerto Rican pasteles, you may have initially envisioned a sweet treat since the Spanish word "pastel" translates to "pie" in English, and is often used in reference to dessert by many Spanish-speaking cultures. In Puerto Rico, however, pasteles' are far from sweet. These individual pies are savory, filled with meat, and are meticulously spiced from the sofrito-marinated pork filling to the annatto oil-infused banana masa around it. Puerto Rican pasteles are best explained as cousins to Mexican tamales in that they are both meat-filled masa pies wrapped in natural leaves, but the ingredients and spices used in pasteles differ entirely from those used in tamales.

For one, the masa in Puerto Rican pasteles is made from mashed green bananas (known as guineos) and root vegetables, such as pumpkin and yautía, or taro root. The slightly sweet and starchy vegetables used in pasteles are traditionally grated and mashed by hand, then seasoned with homemade annatto oil, pork broth, and adobo before being layered with slow-cooked pork, all atop a sheet of natural plantain leaves.
Where Do Puerto Rican Pasteles Originate?
Puerto Rican pasteles originated from the island's enslaved African ancestors who transformed the limited supply of locally-grown vegetables and meat they were given into flavorful pockets of succulent pork and silky masa, all wrapped in local plantain leaves. This is just one of many dishes our African ancestors imparted on Puerto Rican culture and cuisine. Today, they are made in bulk over the holiday season, stored in freezers all over the world, and enjoyed year-round.

Why Do Puerto Ricans Eat Pasteles at Christmas?
Because they take a conservative 8-10 hours to make from start to finish, the pasteles-making process is usually reserved for Christmastime as a way to gift loved ones with delicious food, and (in my household, at least) to recruit the help of family to wrap pasteles in an assembly line fashion. When it came to making pasteles in my Abuela's house, everyone had a specific task. One of my cousins would be tasked with brushing annatto oil on each plantain leaf, who would then pass it to the cousin in charge of pouring exactly ¼ cup of masa onto the oiled section of the leaf. The assembly line would eventually end with my Abuela as the official "Pastel Wrapper" and quality control manager. She would tie each pastel perfectly with twine, secure two in a pack, then stack them up until the ingredients ran out.

This year was my first year making them on my own, and while my wrapping skills still have a long way to go, it was so wonderful to take a bite of a freshly-boiled pastel and instantly be transported back to my Abuela's kitchen during Christmas.
Originally published 12/02/2022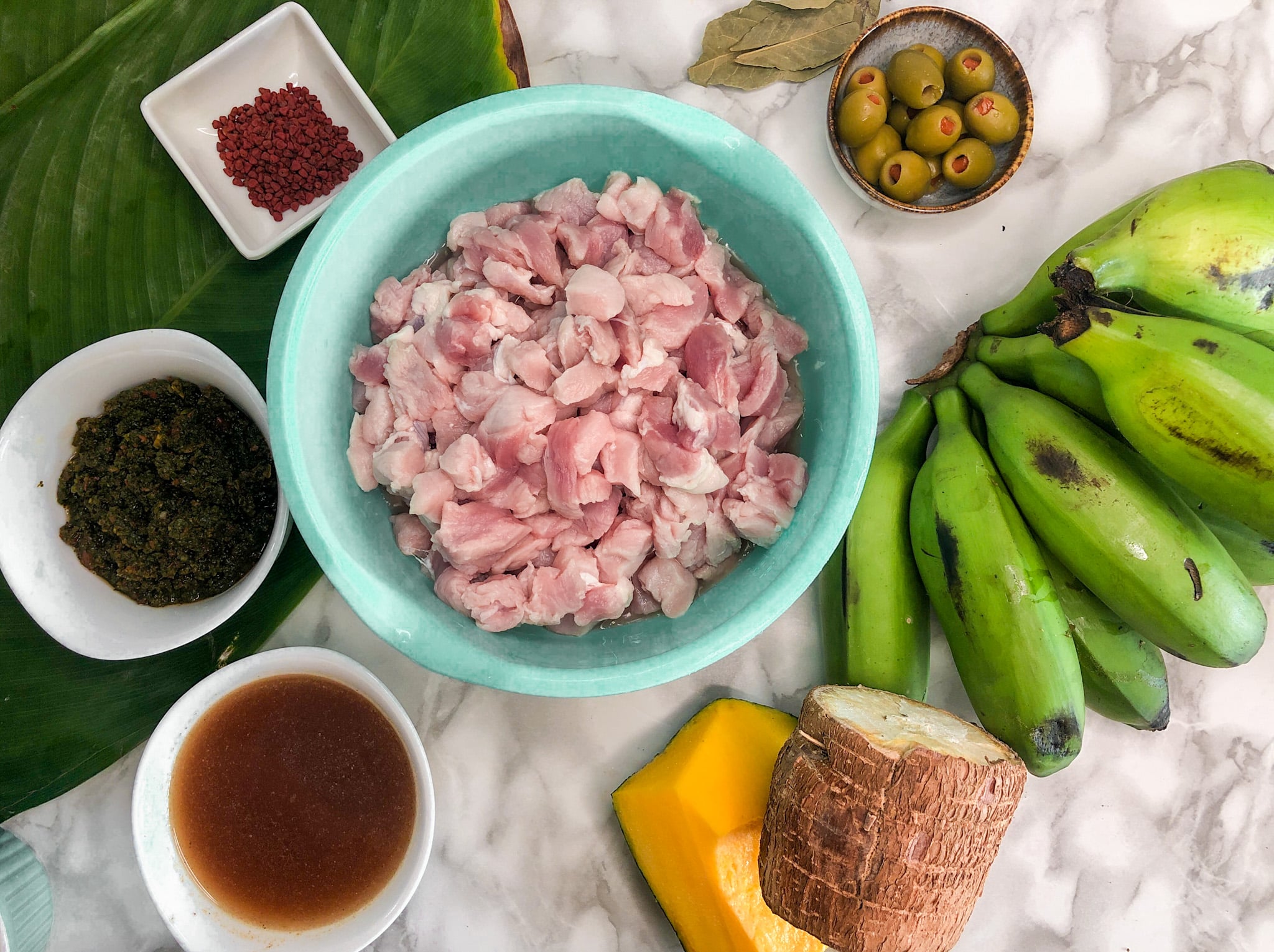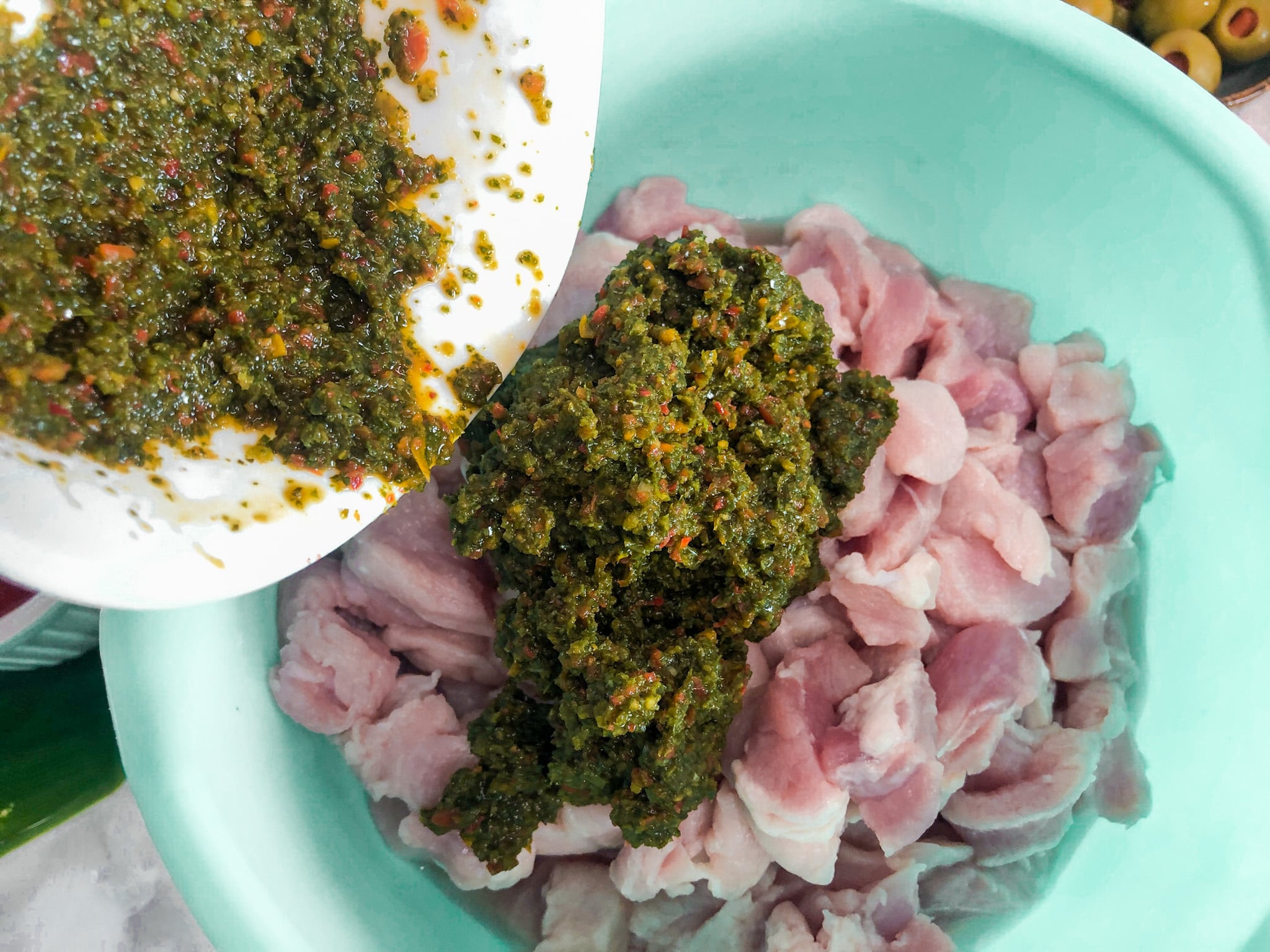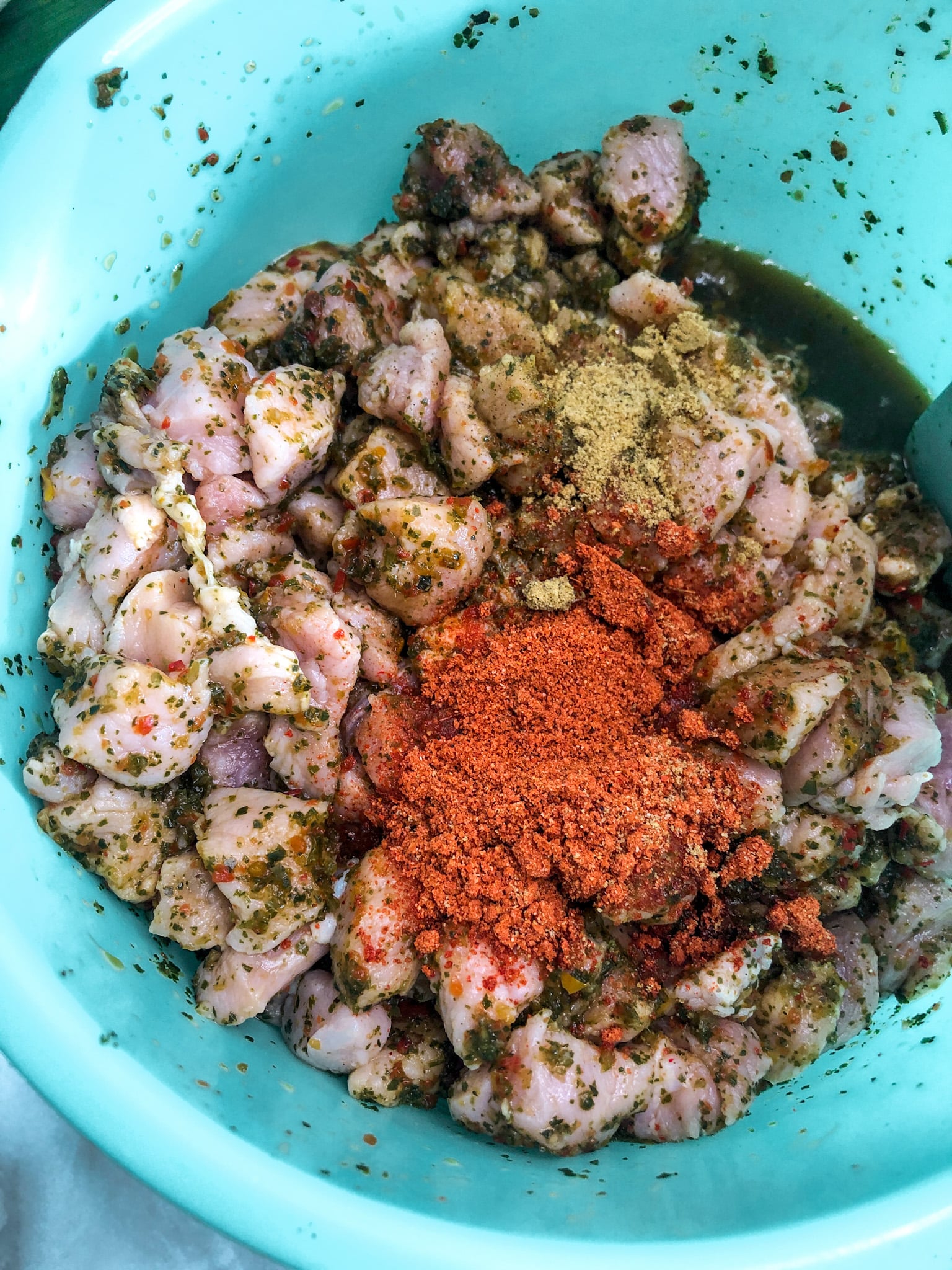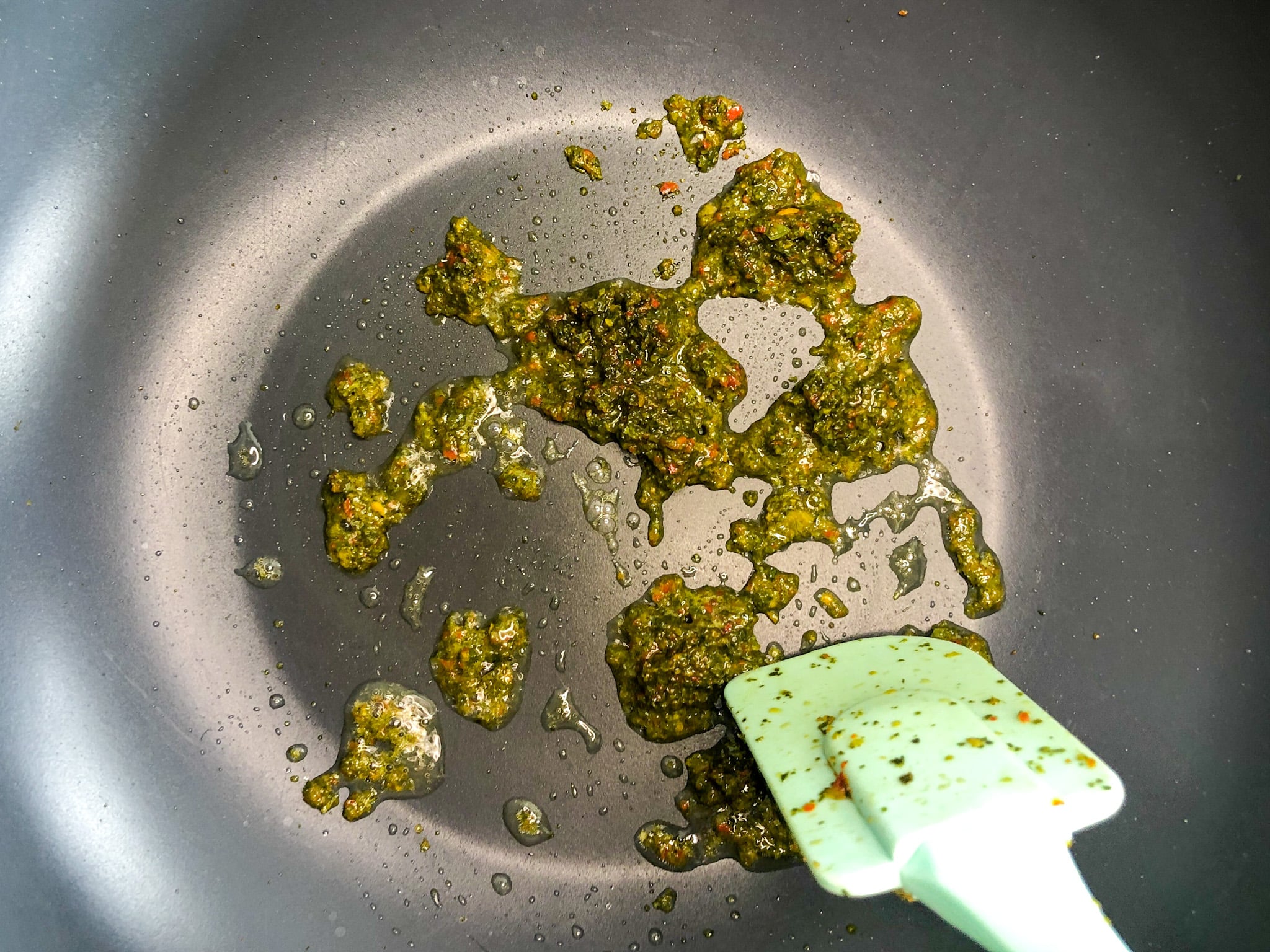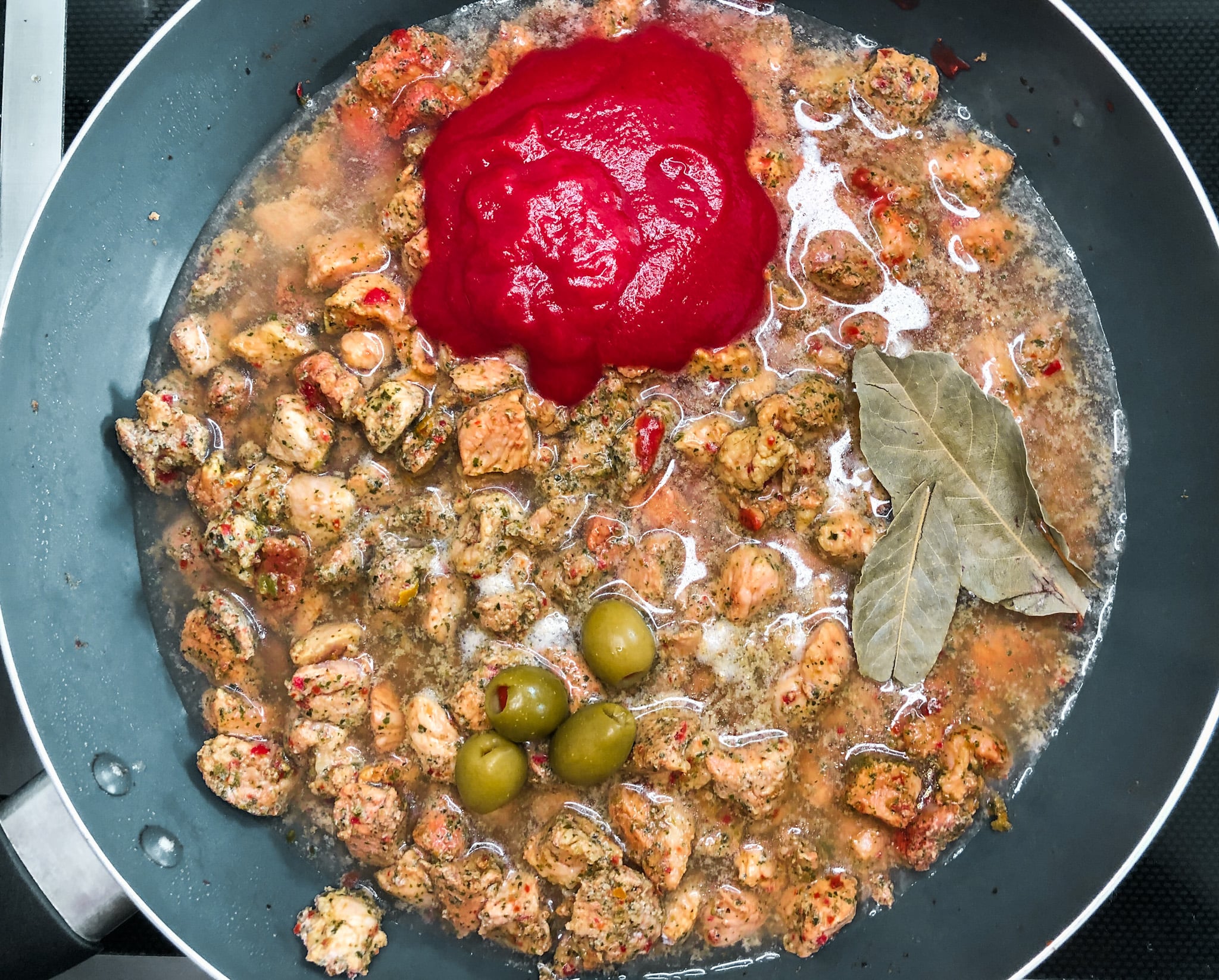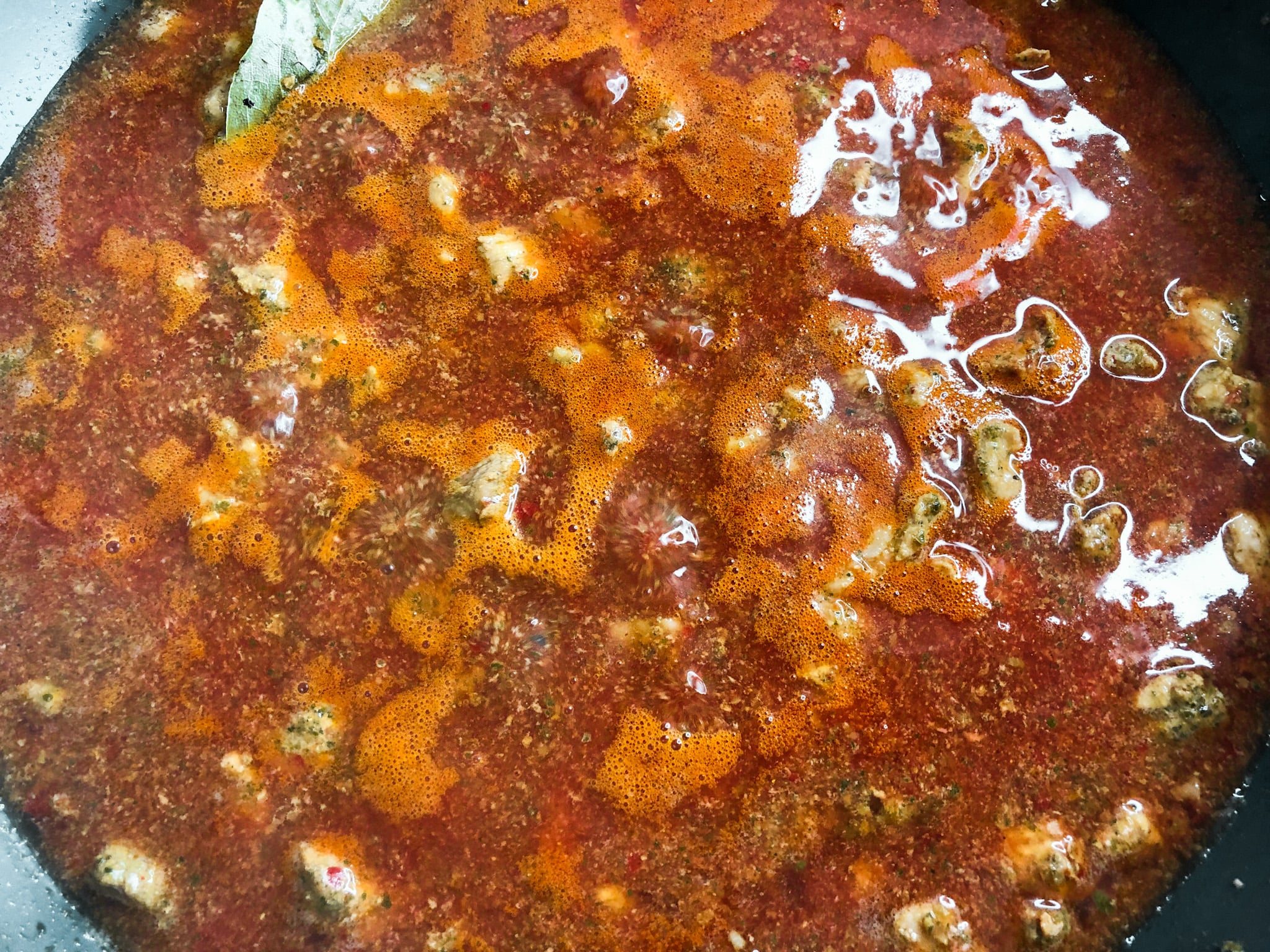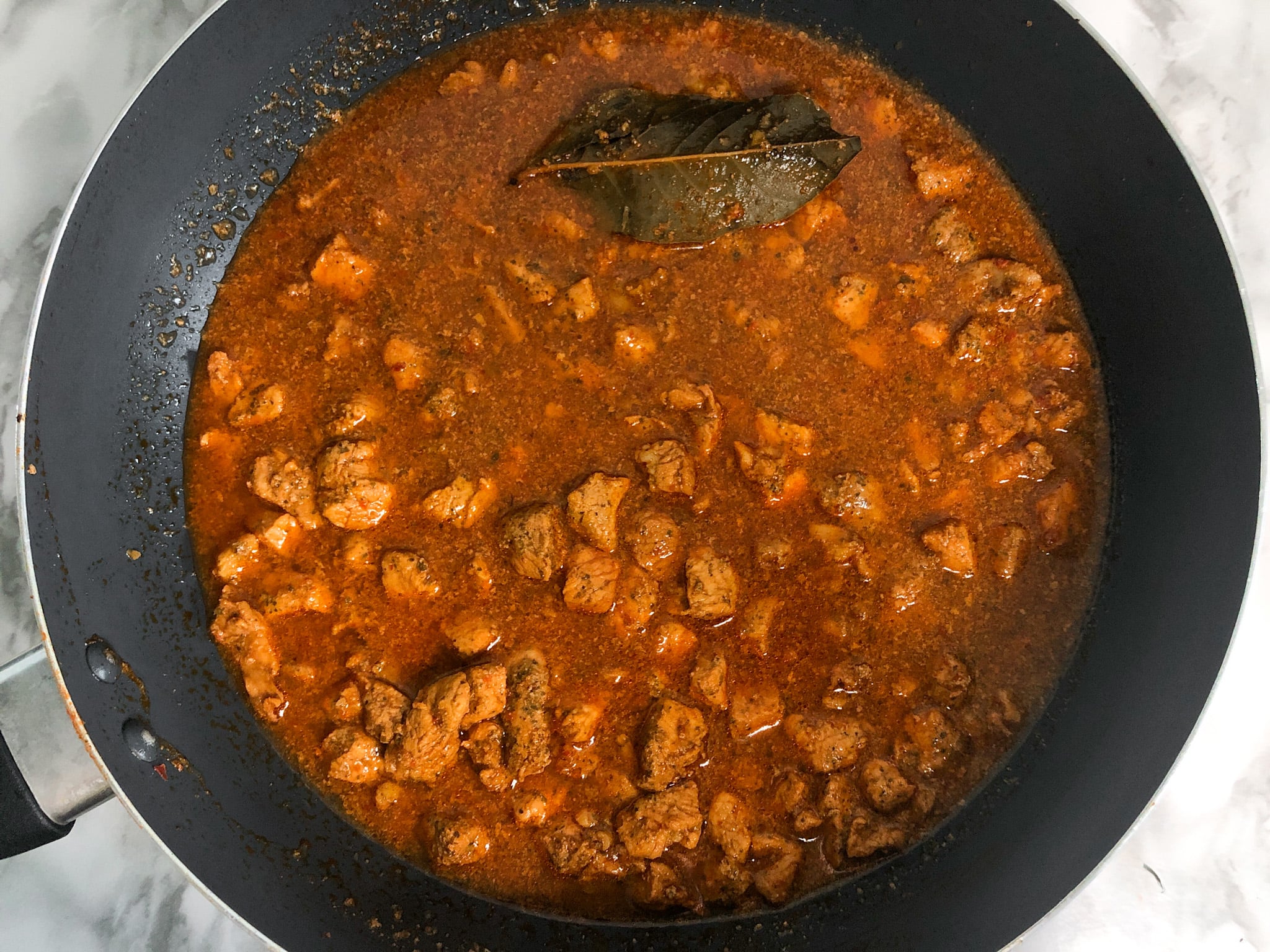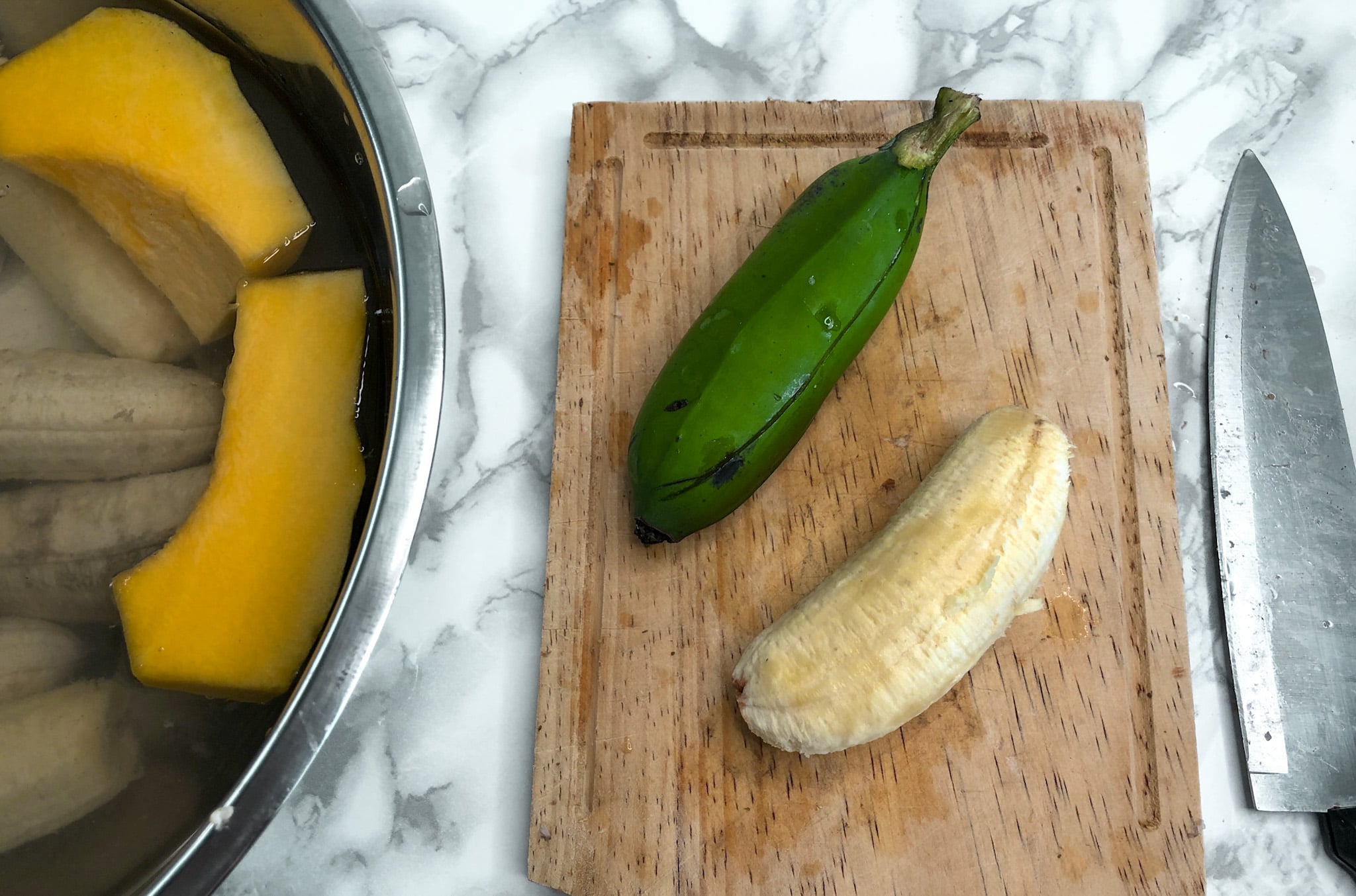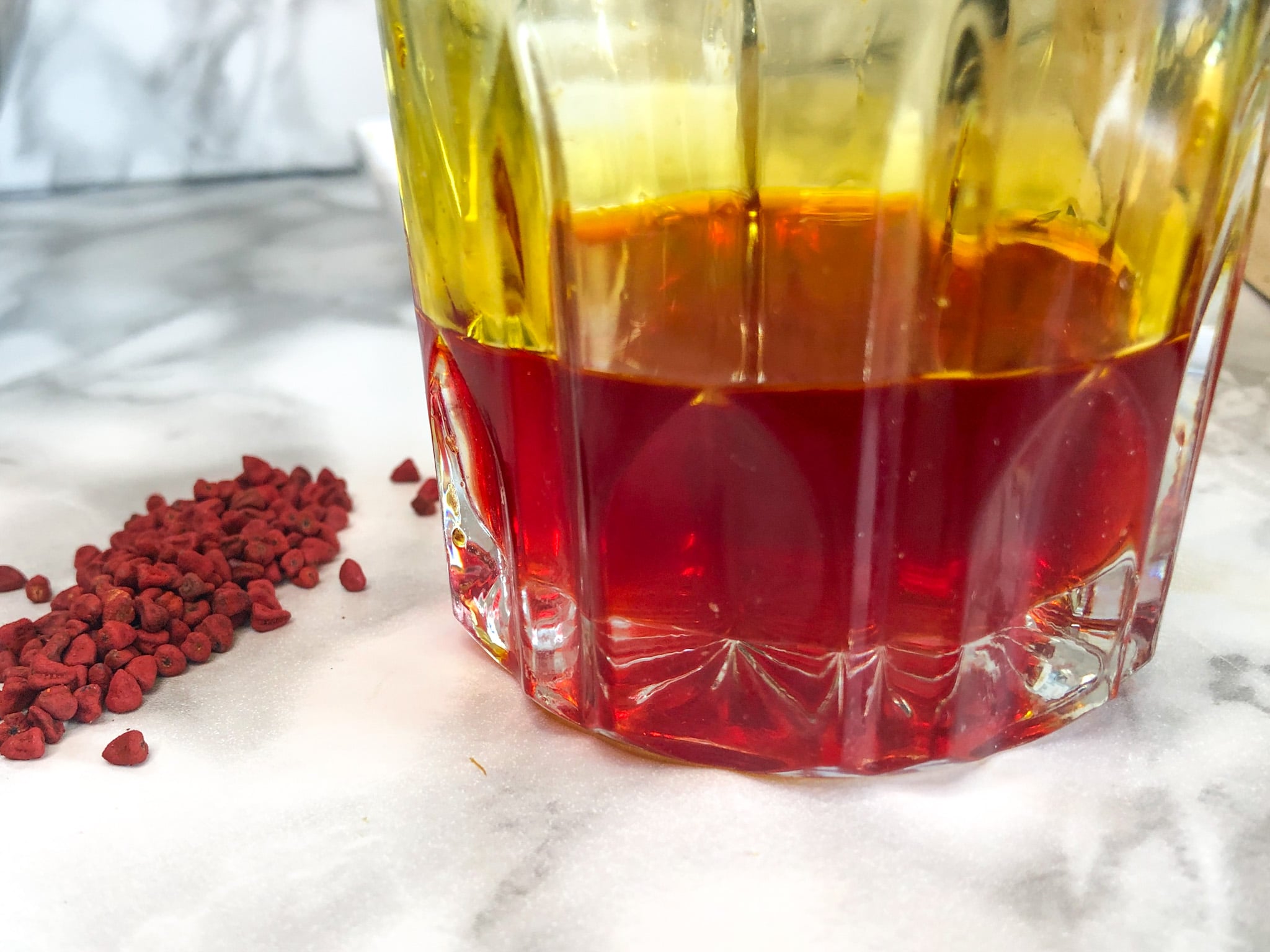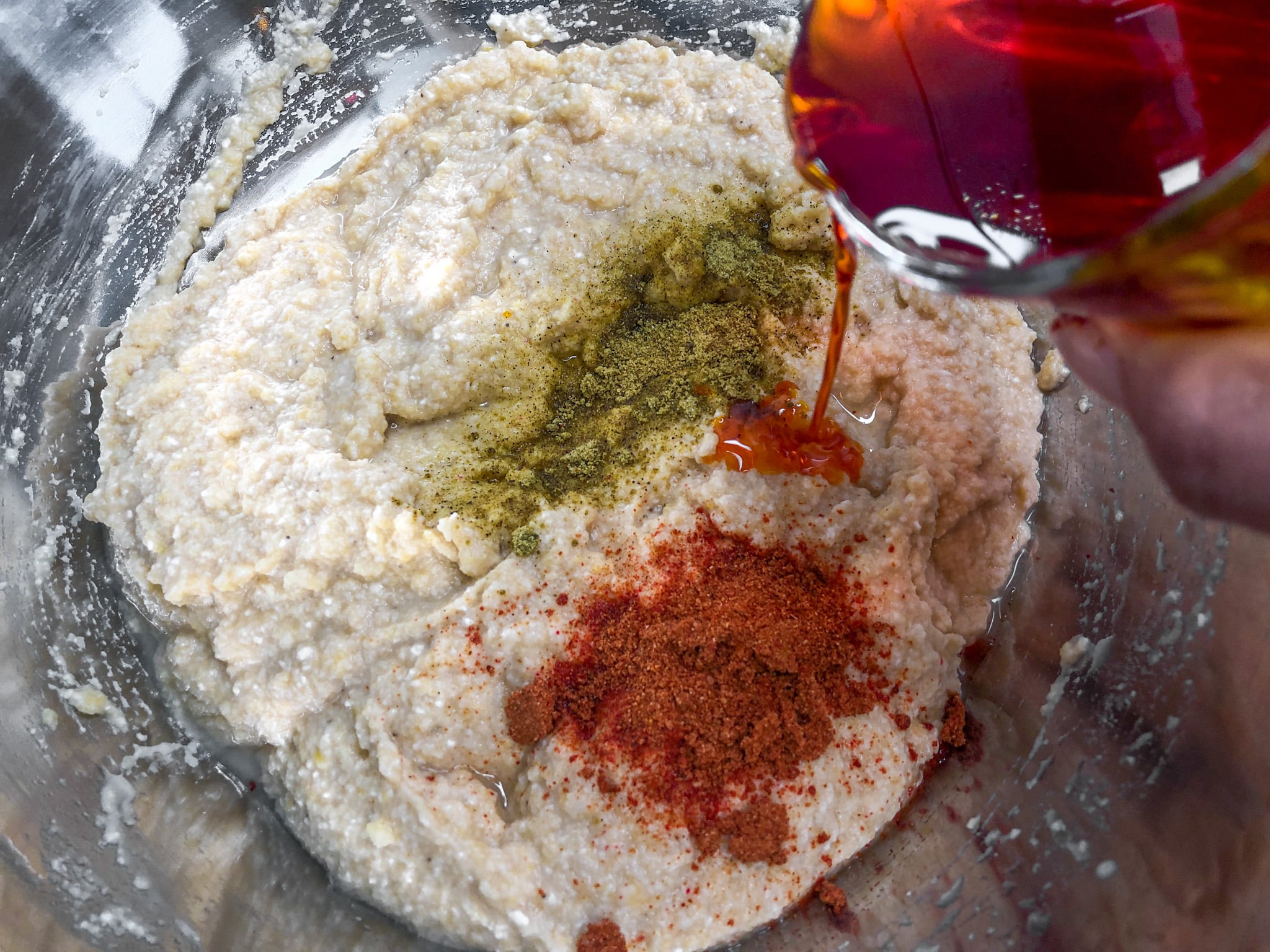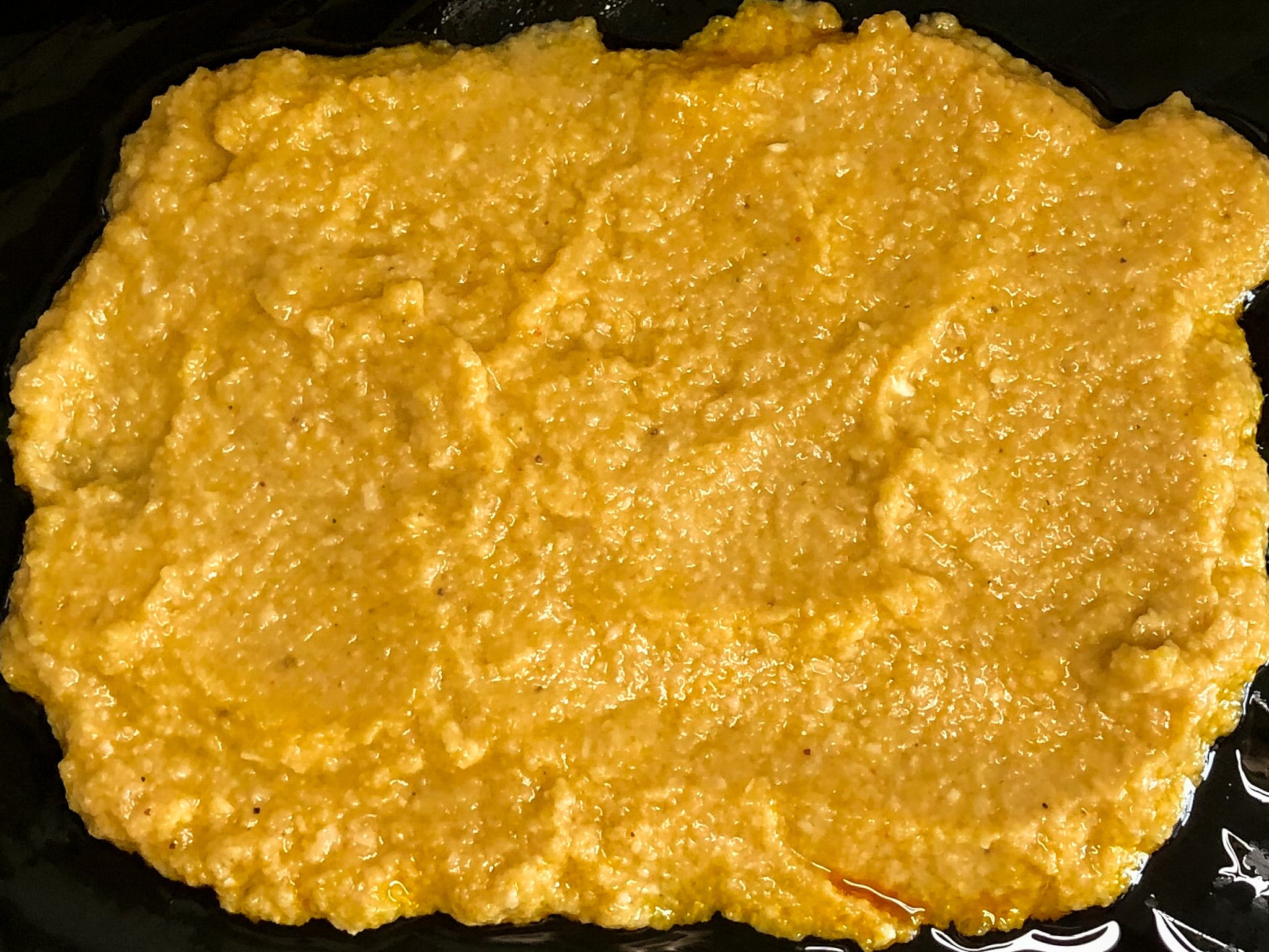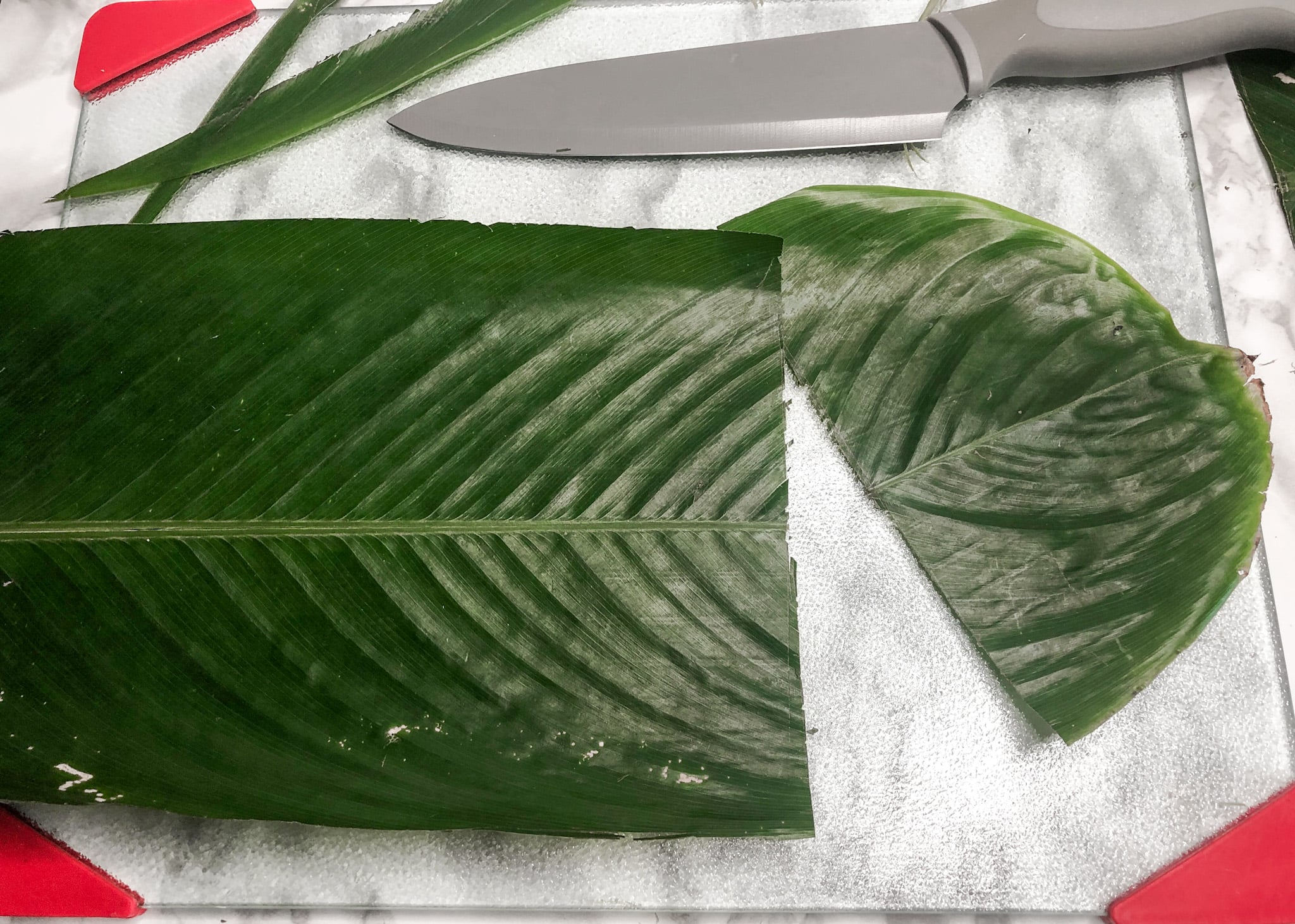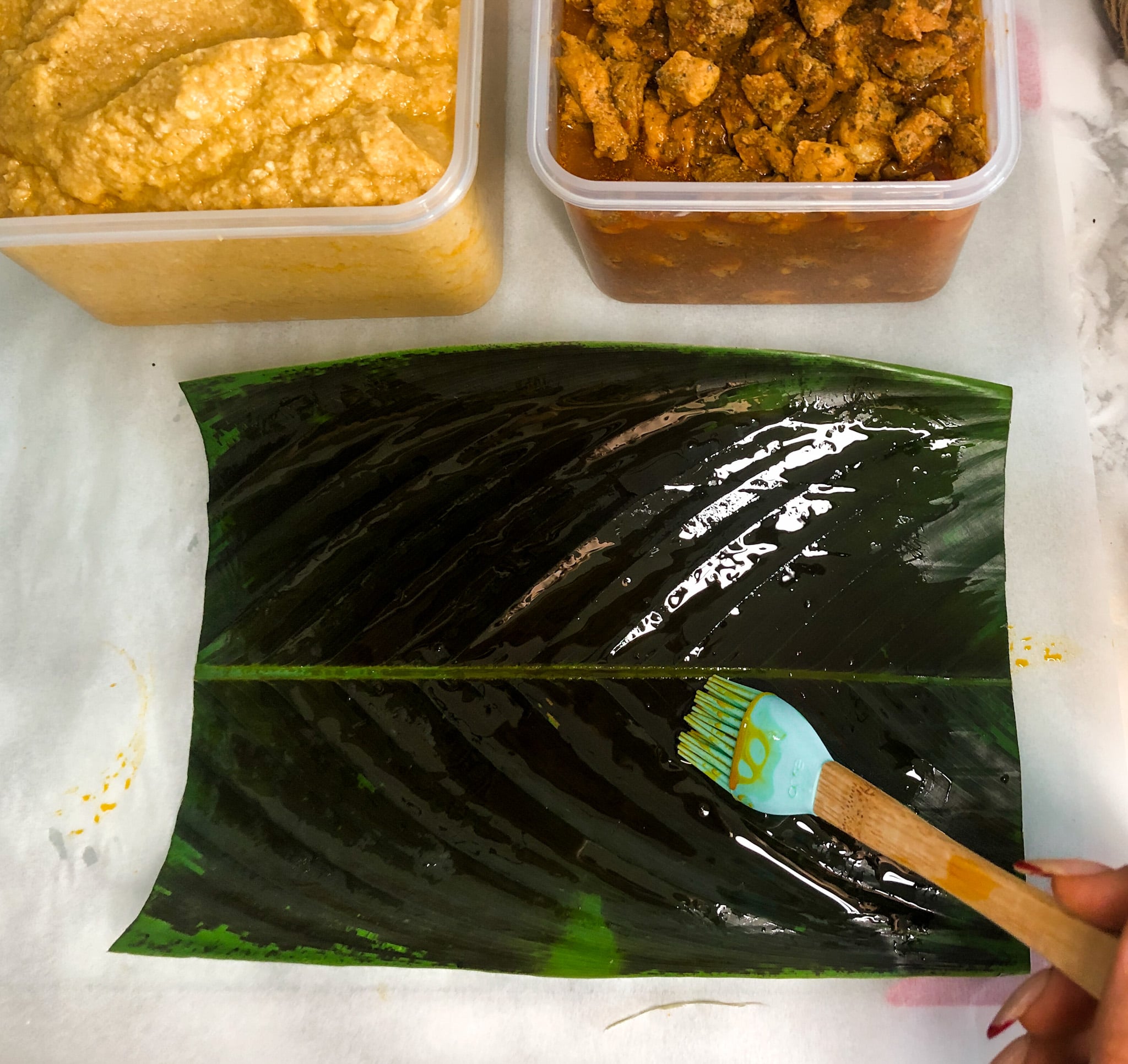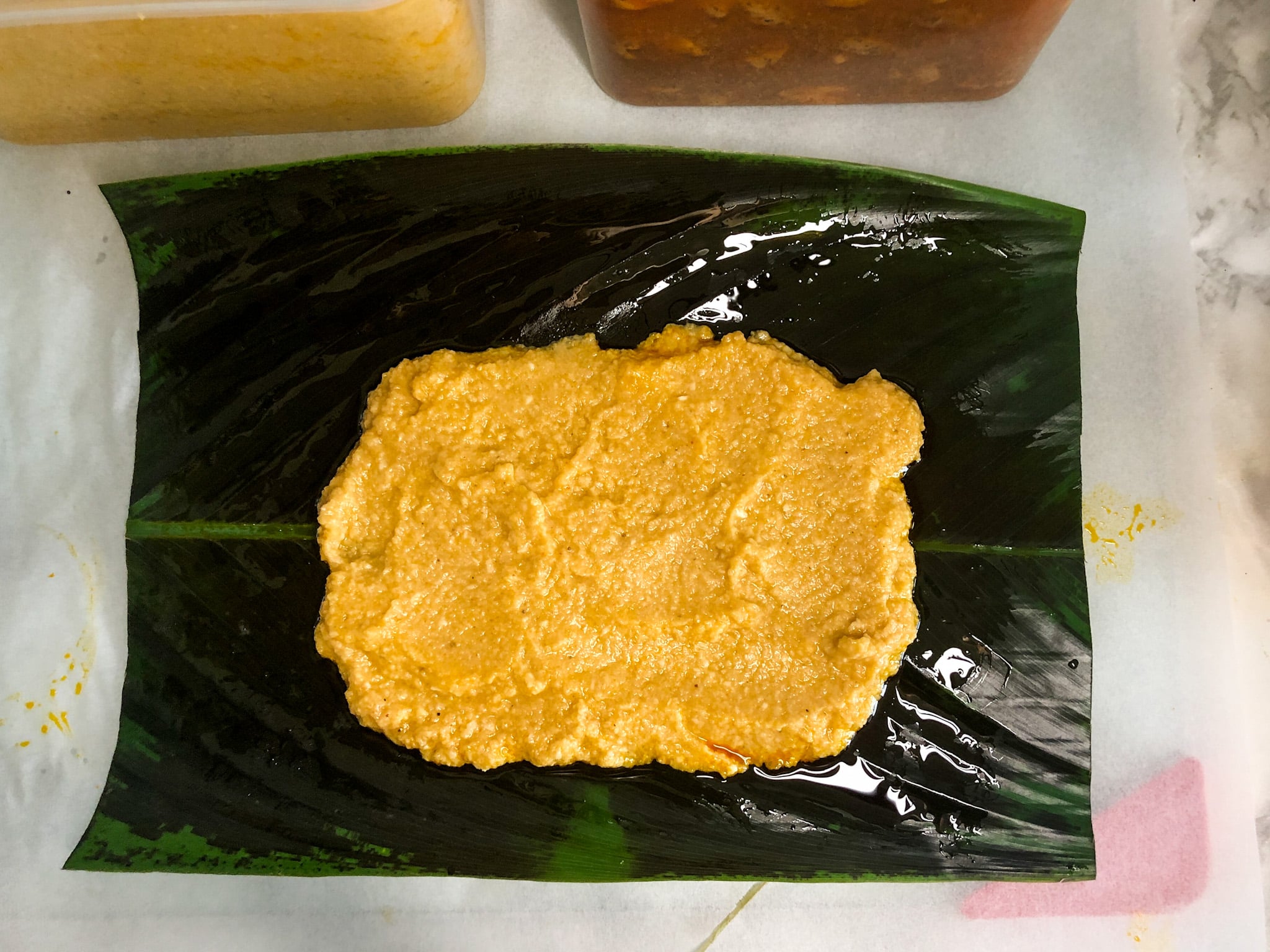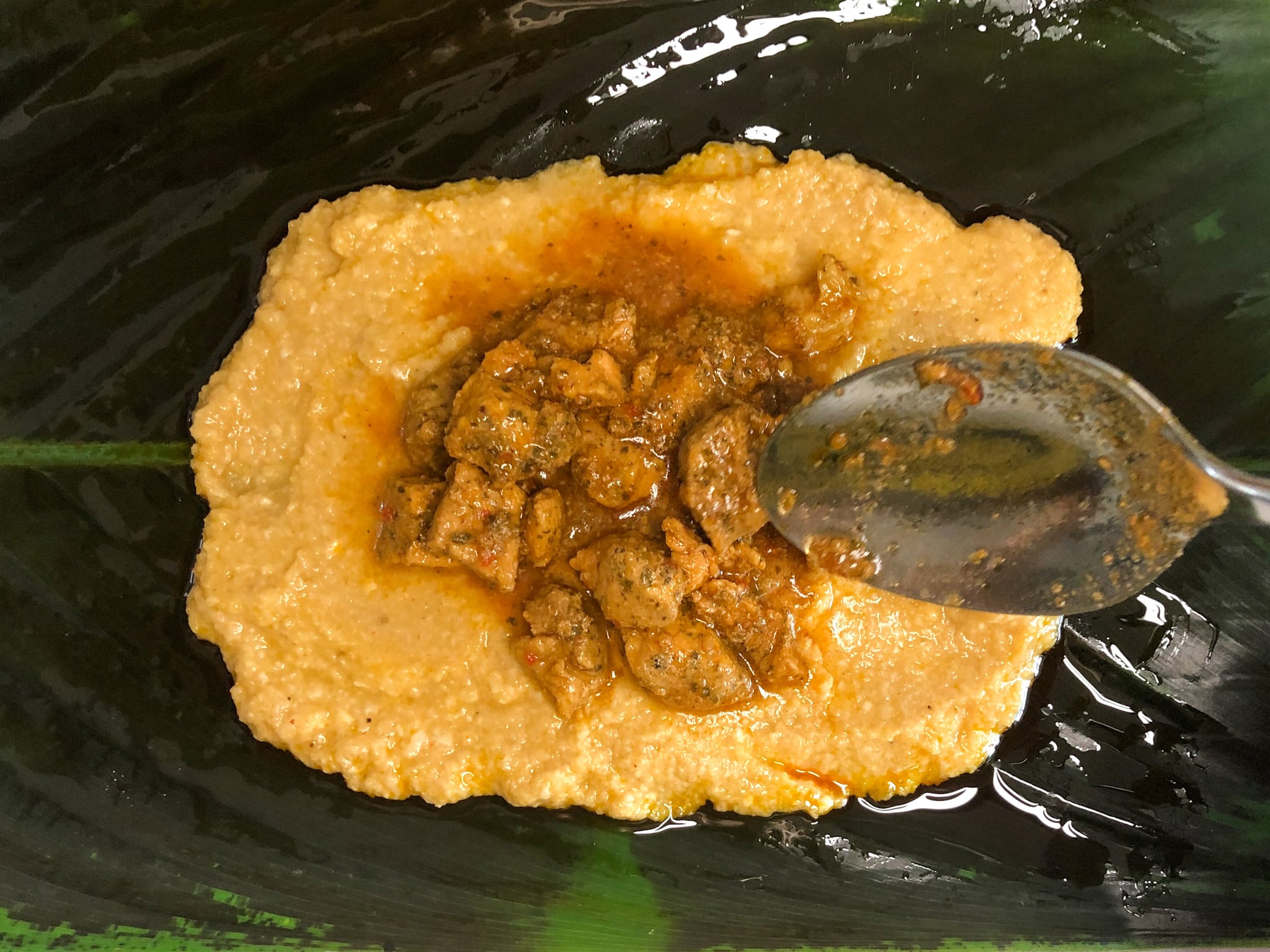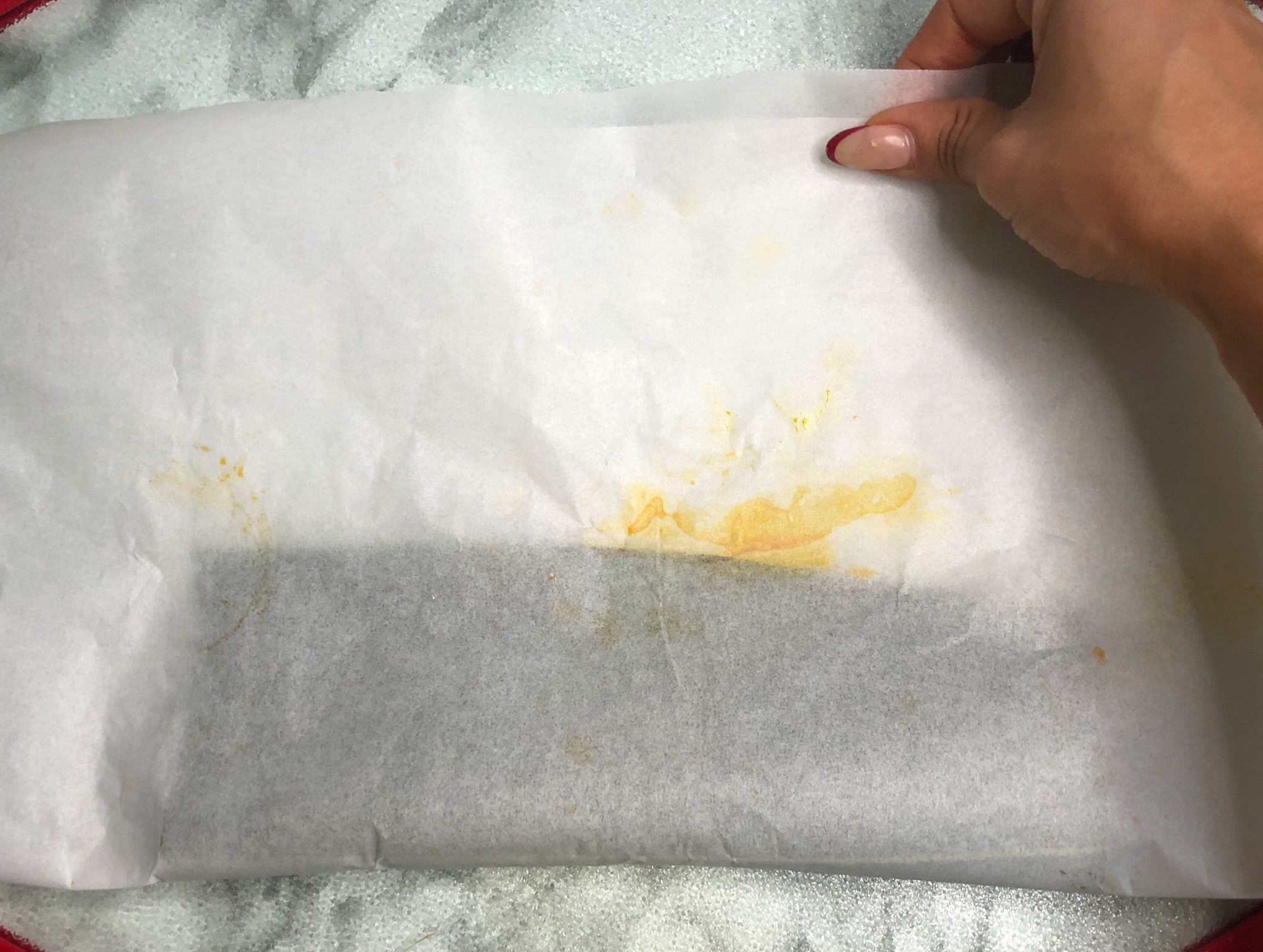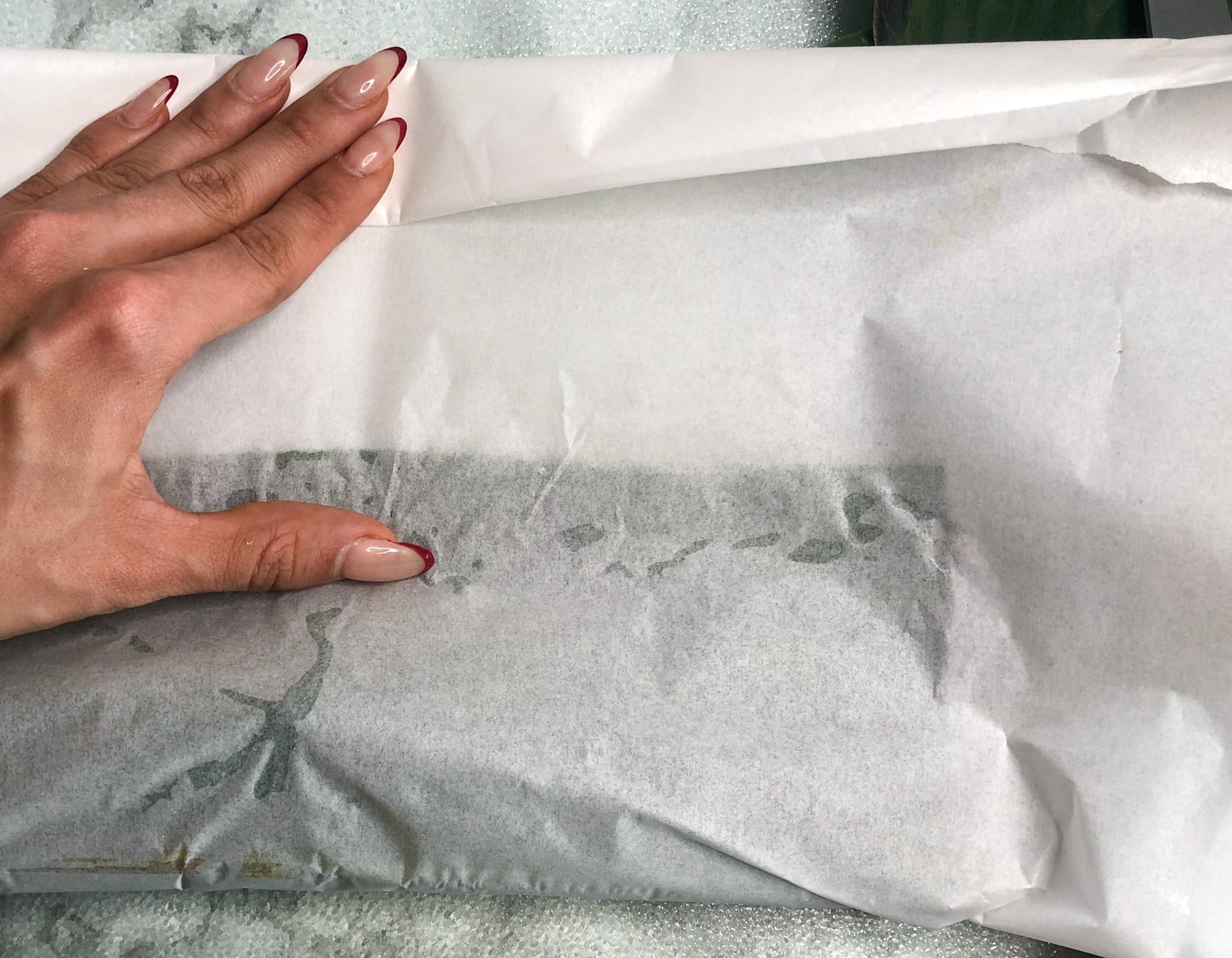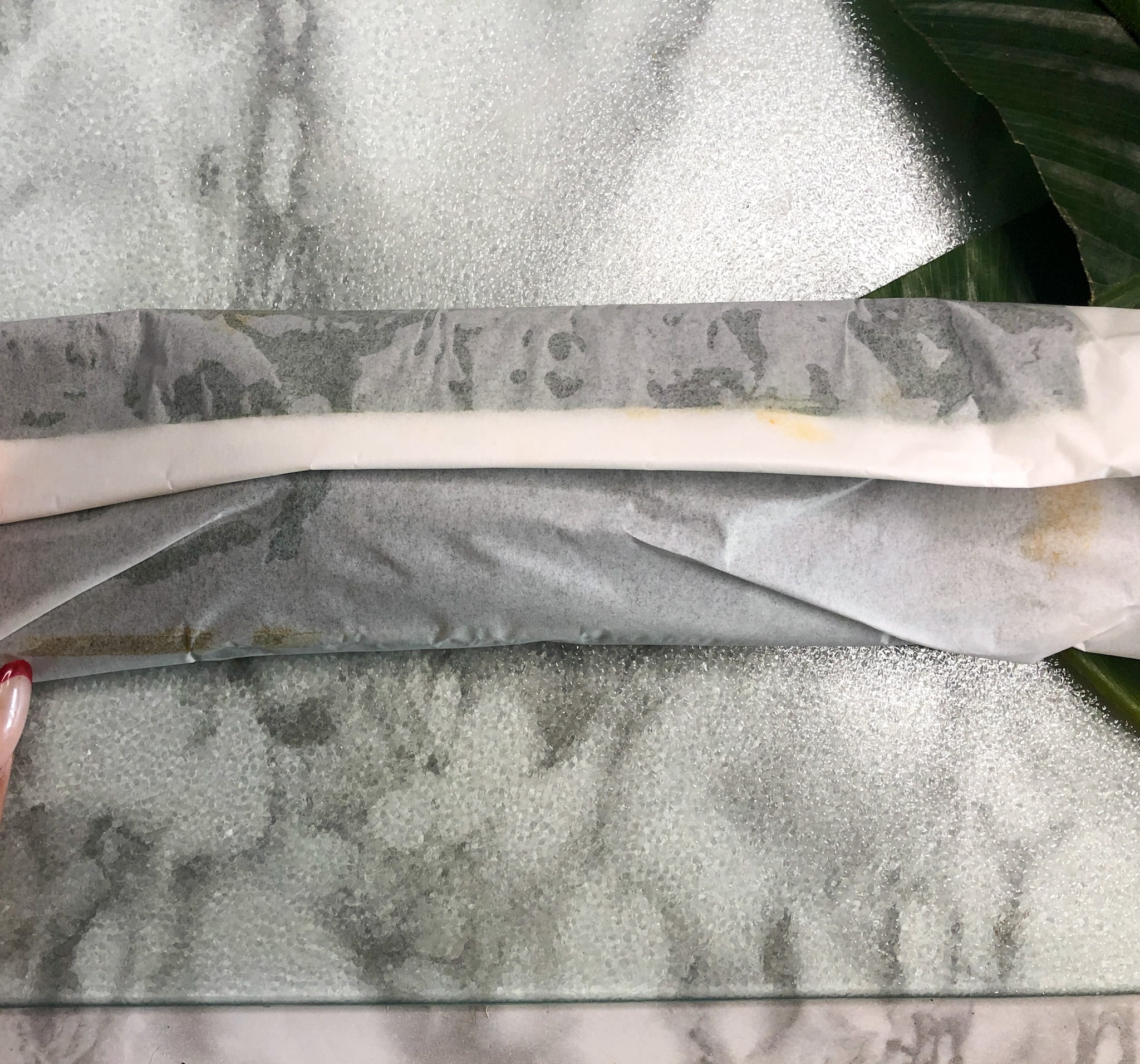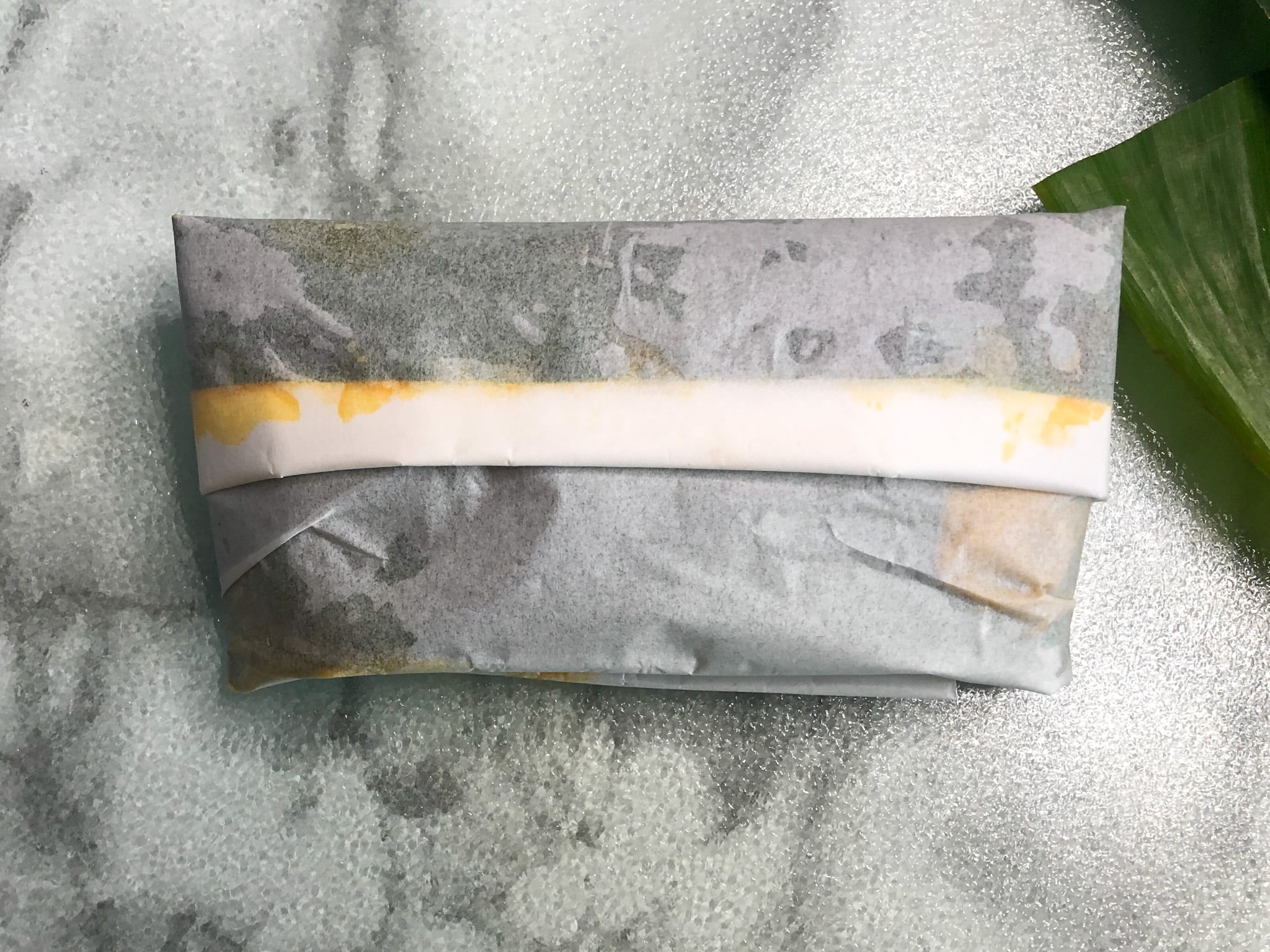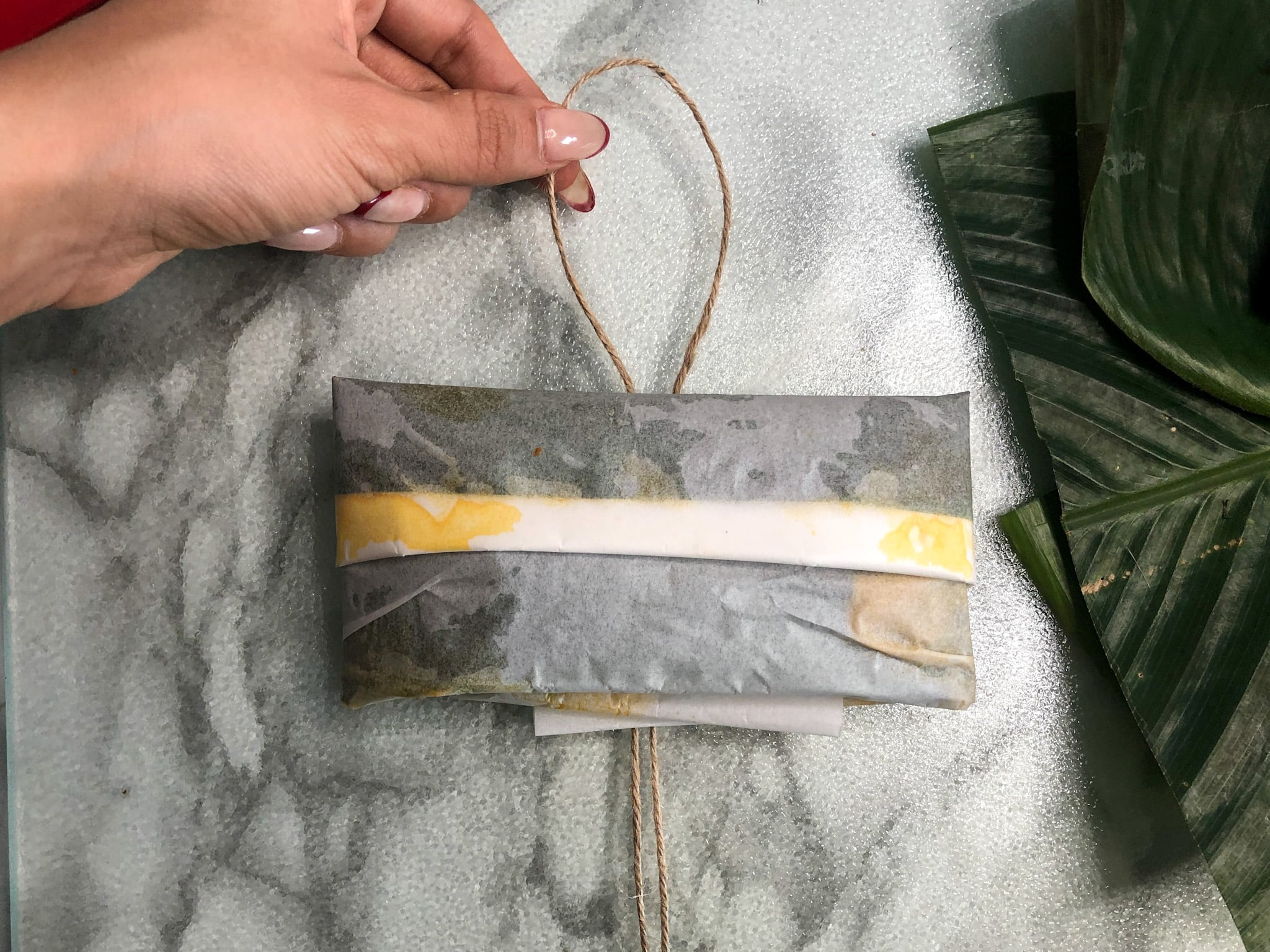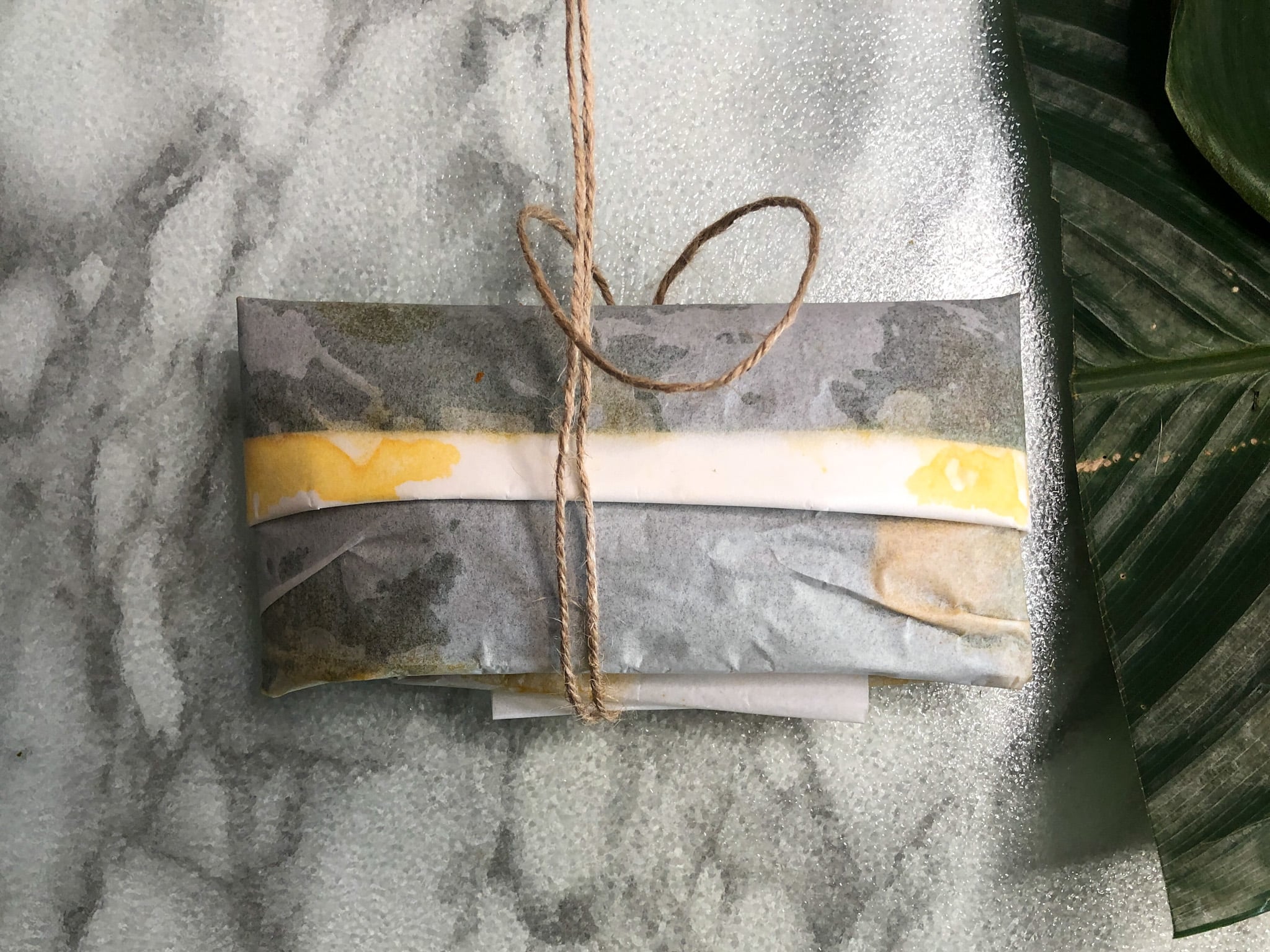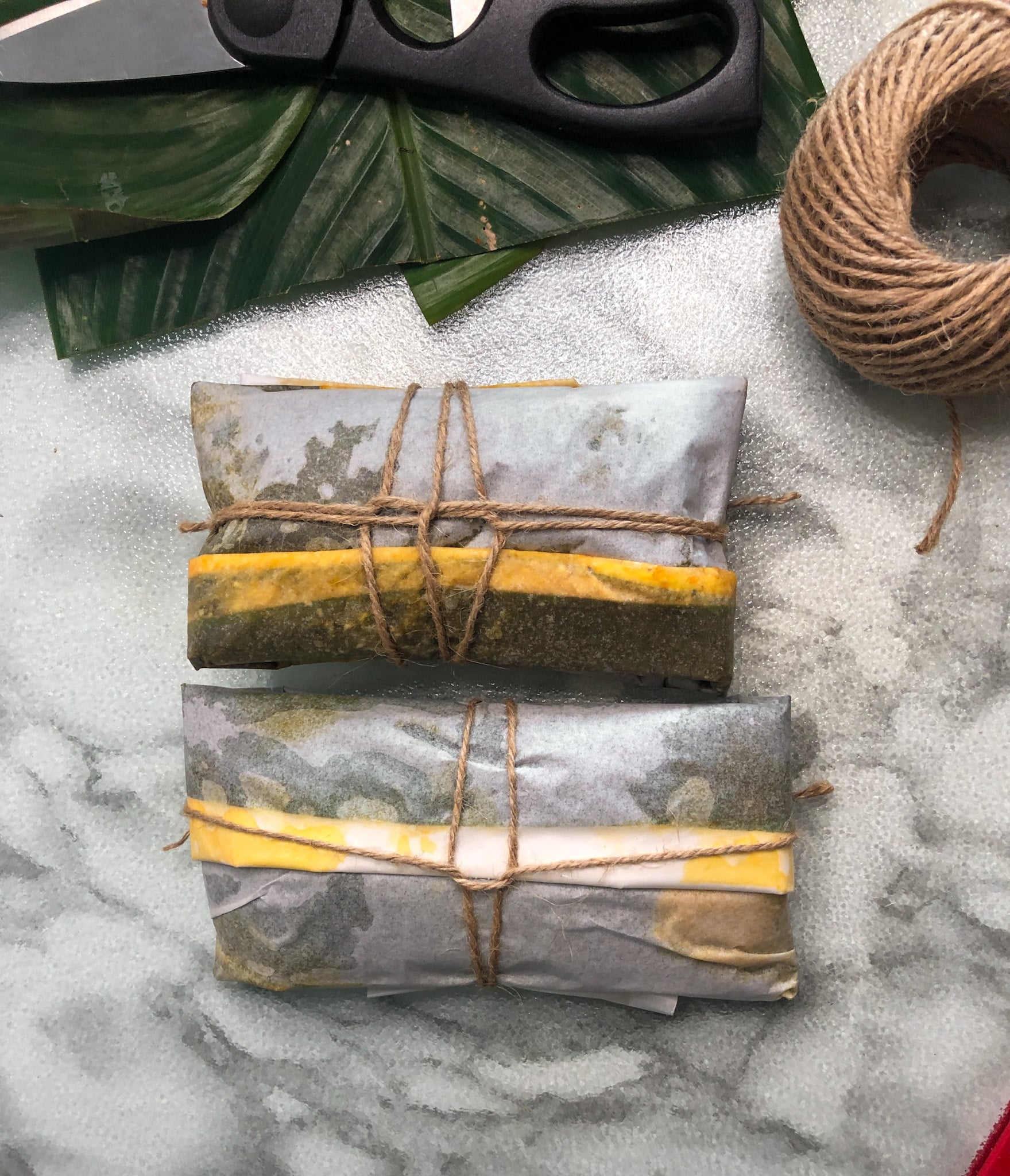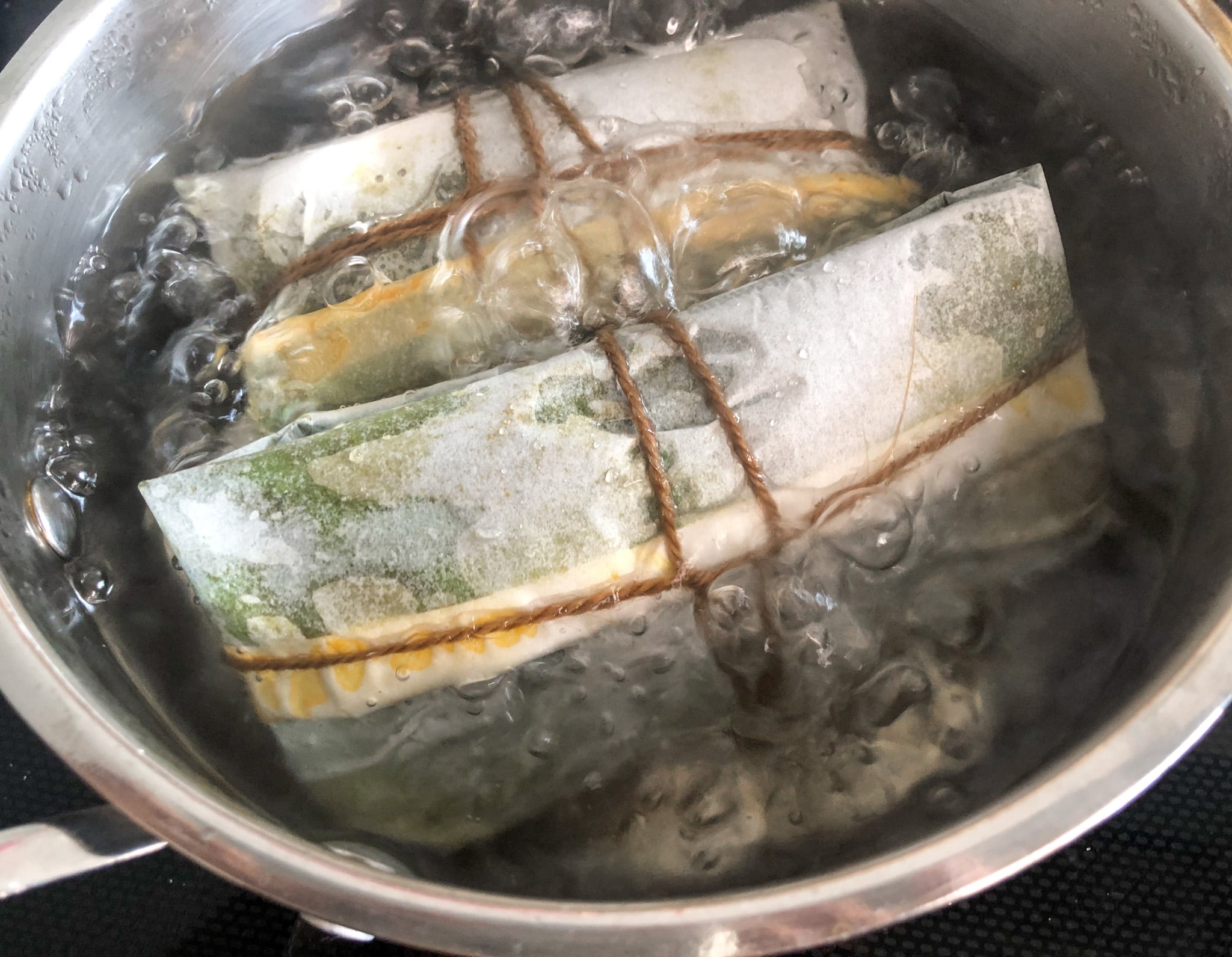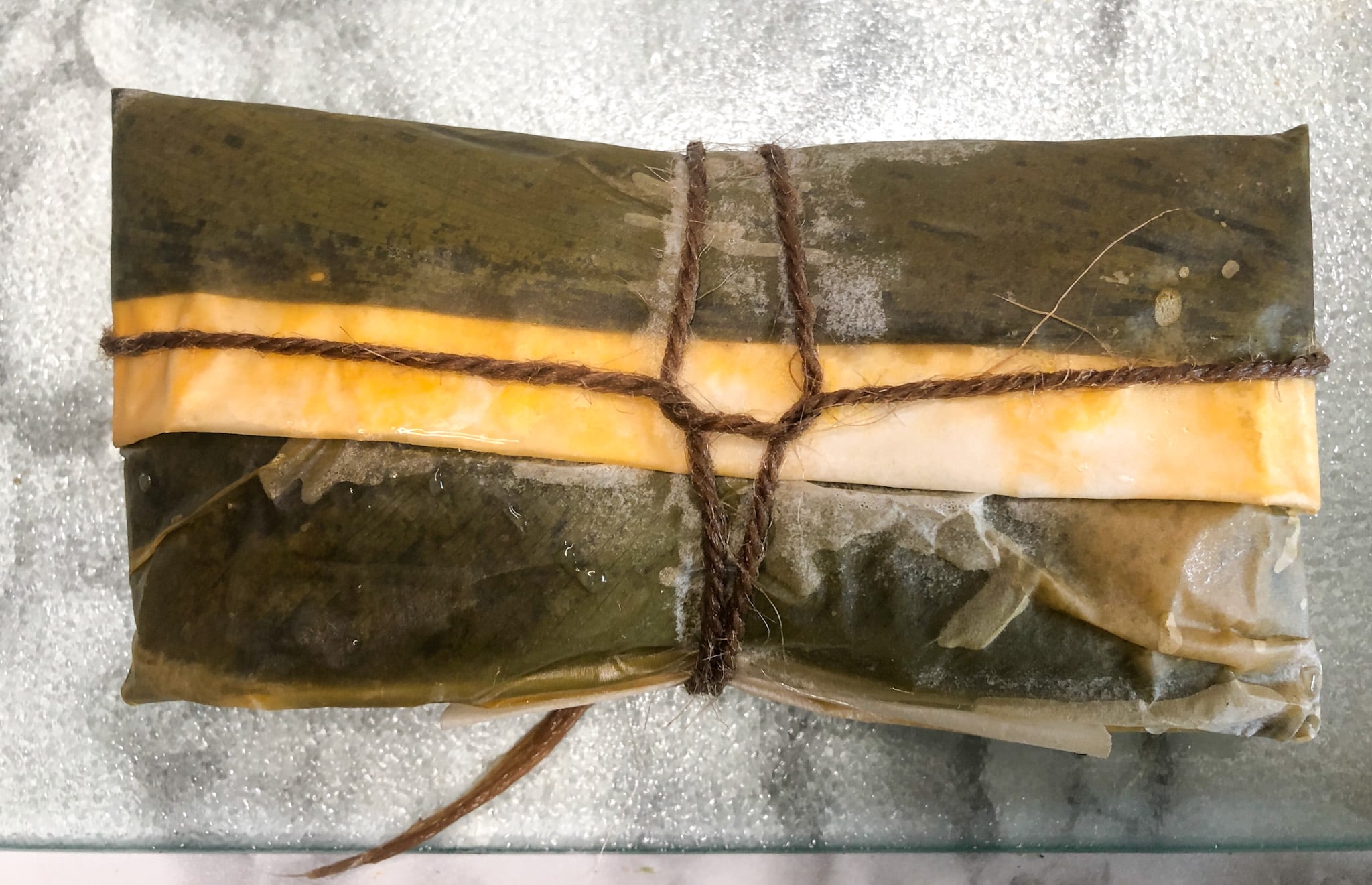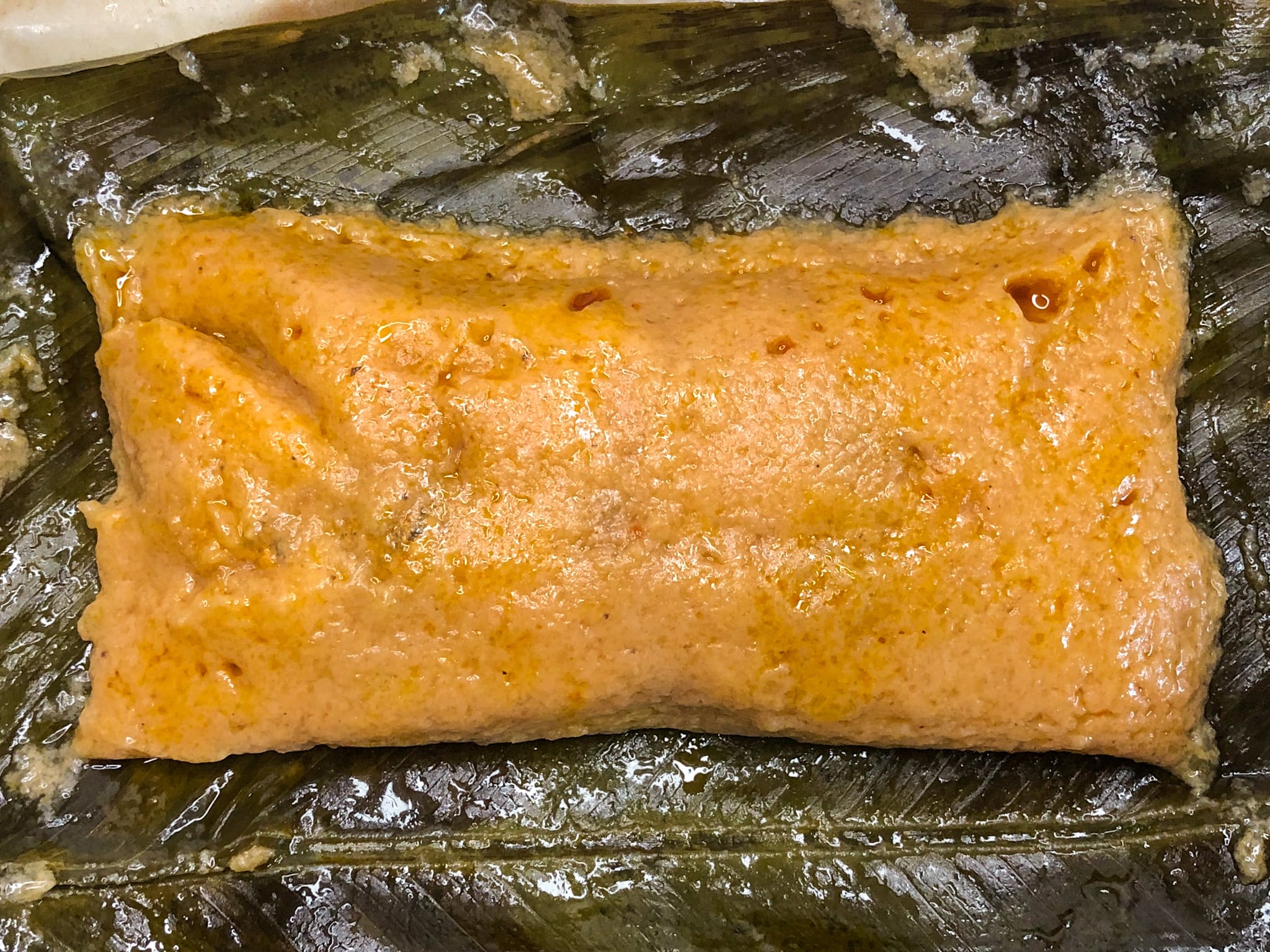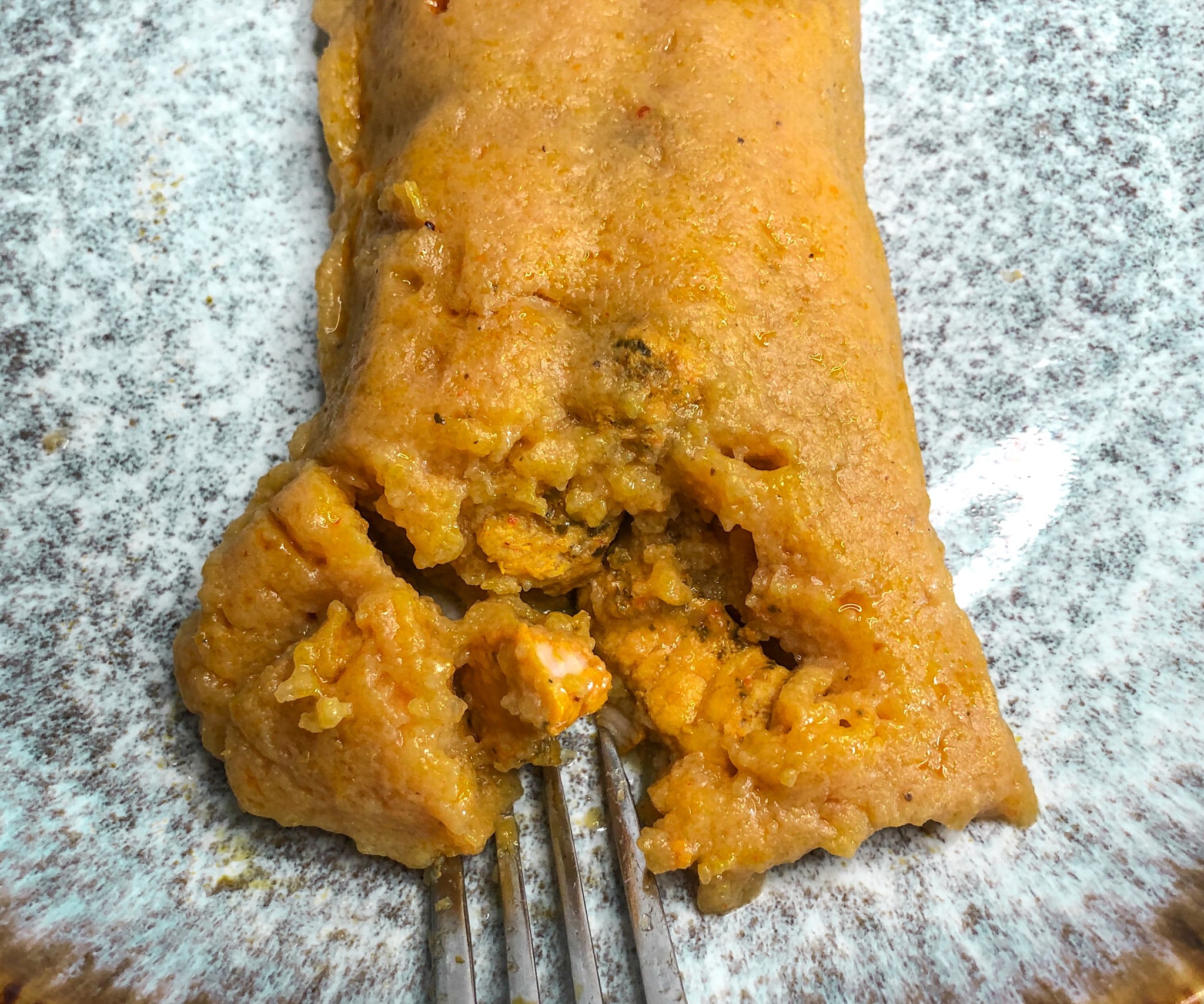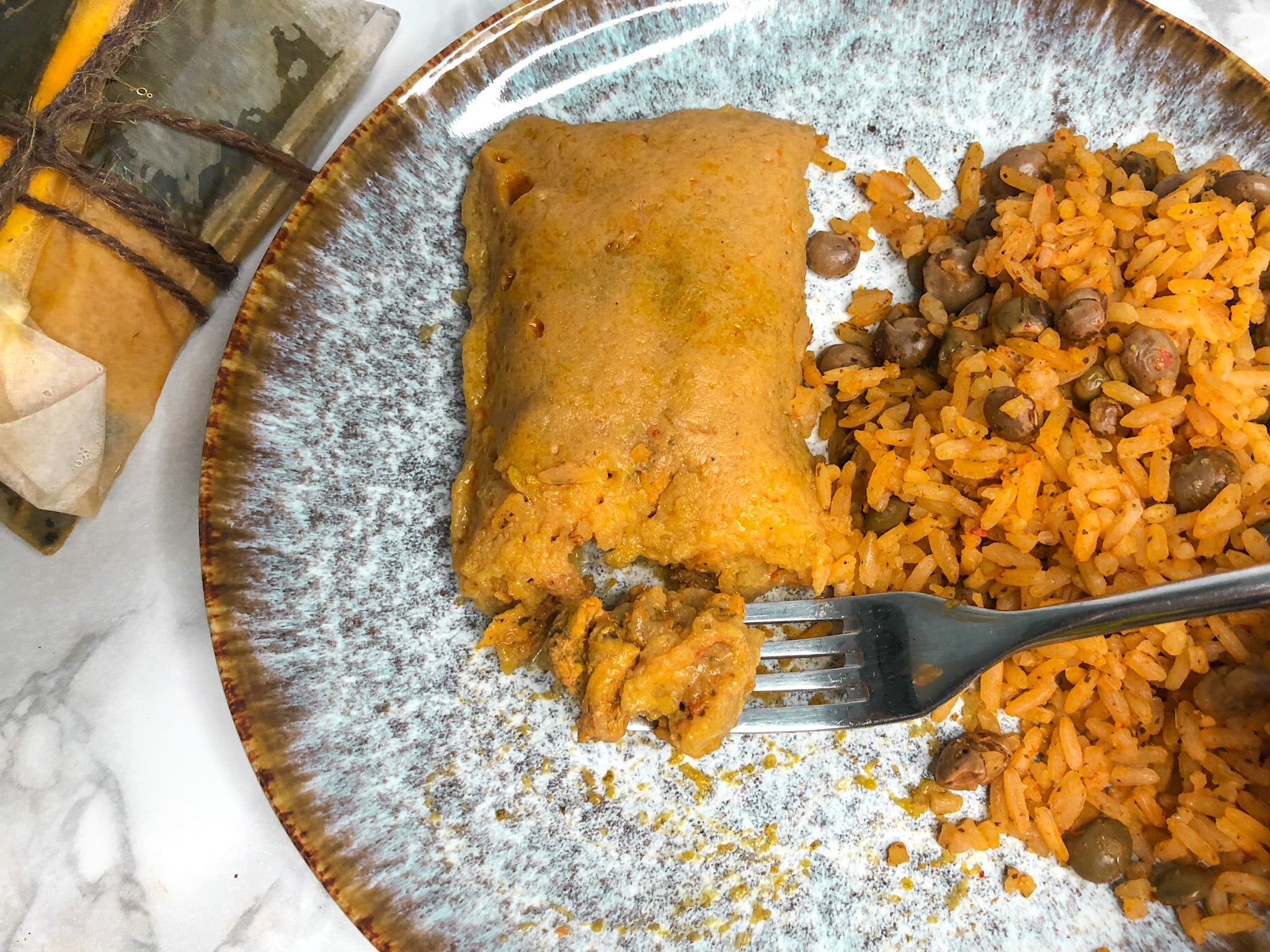 Puerto Rican Pasteles
Original Recipe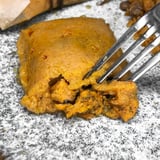 Ingredients
For the filling
2 lbs pork shoulder, cubed
½ cup fresh sofrito, divided
2 tablespoons lime juice
1 tablespoon (2 packets) sazón
1 teaspoon adobo
½ cup tomato sauce
2 cups water
1-2 dried bay leaves
1/4 cup sliced green olives (optional)
For annatto oil
½ cup vegetable or sunflower oil
2 tablespoons whole annatto seeds
For the masa
10-12 very green bananas
1 cup fresh pumpkin, cubed
1 cup fresh yuca or taro root, cubed
¼ cup annatto oil
1 cup pork broth
1 tablespoon sazón
½ tablespoon adobo
For shaping
24 12 in x 6 in sheets of parchment paper
24 6 in x 3 in sheets of banana leaves
Cooking twine
Scissors
Directions
Gather ingredients for the filling.
Clean the pork shoulder with vinegar and water, making sure to rinse the pork well. Cut the pork into small cubes, then place in a large bowl.
Add ¼ cup sofrito, lime juice, sazón, and adobo to the bowl. Mix well, then store in a plastic bag and refrigerate for at least 4 hours.
To cook the filling, place a deep skillet over medium-high heat, then add 1-2 tablespoons of any mild cooking oil (vegetable or sunflower) and the remaining ¼ cup of sofrito. Sauté for a few minutes before adding the marinated pork.
After a few minutes of sautéing the cubed pork, or when the pork is about 70% cooked, add the tomato sauce, water, olives, and dried bay leaves. Bring the mixture to a boil, then cover the pot and simmer for 20-25 minutes.
While the pork is simmering, prepare the annatto oil by boiling the vegetable oil and annatto seeds for 20 minutes, or until the oil is tinted red.
Once the pork has simmered and cooked all the way through, remove from the heat and reserve one cup of the liquid, and strain over a sieve to use in the masa.
To make the masa, clean and peel the bananas, pumpkin, and taro root. Cut the raw vegetables into large chunks and place the pieces in a bowl of salted water until you are ready to grate them. Grate the vegetables either by hand or using the grater attachment in an electric mixer, then add the shredded vegetables to a food processor bowl and blend until you have a smooth paste.
Add the blended vegetable masa to a large bowl, then mix in ¼ cup of annatto oil, sazón, adobo, and pork broth. Make sure the masa is well-combined, then set aside to prepare the wrapping tools. At this point, you can store the masa and pork filling in the fridge for up to 24 hours and wrap the pasteles the following day.
Before wrapping the pasteles, cut the sheets of parchment paper and banana leaves into the appropriate sizes.
To wrap the pasteles, start with a single sheet of parchment paper, then add a sheet of banana leaf on top. Brush the center of the banana leaf with annatto oil, then add ¼ cup of masa to the oiled section. Scoop 2 tablespoons of filling onto the center of the masa, then fold the banana leaf in half.
With the banana leaf still folded in half, fold the parchment paper in half as well so that the pastel is perfectly centered on the crease. Fold the kissing ends of the parchment paper down length-wise until they've reached the pastel. Fold the ends of the parchment paper around the back of the pastel, then secure the folded parchment paper with cooking twine. At this point, you can either freeze the pasteles or prepare them.
To prepare, bring a pot of salted water to boil, then add the pasteles and reduce to a simmer for about an hour. After an hour, carefully remove the pasteles from the hot water using tongs and place them in a colander for a few minutes to remove any excess water from within the folds.
Place the cooked pastel on a plate, still secured, then cut the twine and unwrap the parchment paper and banana leaf. Serve with white rice or arroz con gandules and enjoy!
Information
Yield

24 pasteles

Prep Time

4 hours

Cook Time

1 hour

Total Time

4 hours, 59 minutes, 59 seconds
Image Source: Ashley Ortiz