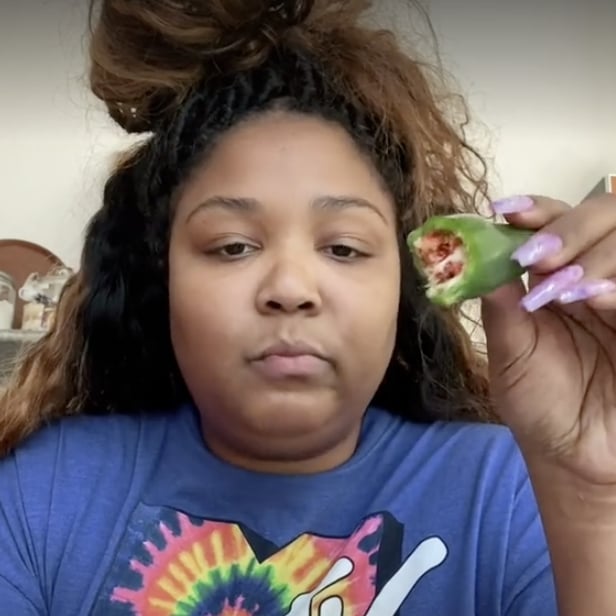 Not only can Lizzo sing her heart out, play the flute, dance, and be a body-positive influencer who transparently and generously shares her journey of self-love to inspire others, but she's also a skilled plant-based home cook! Most recently, Lizzo brought viral awareness to the plant-based phenomenon known as "nature's cereal," but she actually began sharing her enticing vegan meals on TikTok after adopting a fully plant-based lifestyle in April 2020. Her meals not only caused her fans' mouths to salivate, but each one has challenged everything naysayers (myself included) have had to say against a vegan diet.
With each mouth-watering plate, Lizzo's TikTok meals have further reinforced the notion that eating plant-based does not mean having to avoid your favorite nonvegan meals. The flavor profiles of the meals she shares are not diminished as a result of being vegan — instead, one could argue that they are elevated because they are vegan. From her Southern fried chicken and gravy to her cheddar-jalapeño pigs in a blanket, Lizzo's creative and delicious dishes show her audience how to still choose the foods that make them feel good while substituting classic nonvegan ingredients with plant-based options to feel even better.
Here are 24 vegan TikTok recipes and food videos shared by Lizzo that have changed everything I thought I knew about what it means to eat plant-based.
Collard Green Turkey Wraps
These crunchy wraps are made by stuffing crispy collard greens with vegan cream cheese, pickles, vegan turkey slices, hummus, salt, pepper, and oil. Rolled into small "wrapsss," as ASMR Lizzo says, and enjoyed with any additional hummus that drips out in the rolling process, these wraps seem crisp and refreshing.
Rice Cakes With Mushroom and Carrot Sauce
This dish combines Korean rice cakes soaked in cold water, then lightly fried, with a generously seasoned bolognese made from a blend of ground mushrooms and carrots mixed with tomato sauce and chili paste. Add some cream cheese made from sunflower seeds and vegan mozzarella cheese for ooey-gooey results.
Vegan Feta Pasta
Lizzo takes the viral TikTok feta pasta recipe to the next level by using vegan goat cream cheese as the base to her creamy sauce. Paired with chickpea pasta, this dish is both nutrient-dense and decadent in all the best ways.
Vegan "What I Eat in a Day"
Breakfast: creamy congee topped with vegan egg, enjoyed alongside golden, flaky lentil patties.
Lunch: Southwest kale salad.
Dinner: rice cakes with mushroom carrot sauce.
Hydrate: four liters of water.
Cheezy "Chicken" Arugula Vegan Pizza
This dish features a premade pizza base topped with tomato sauce, vegan chicken, arugula, handfuls of shredded vegan cheese, and dollops of vegan cream cheese, all drizzled generously with olive oil. It is quick to put together and requires quite possibly the fewest dishes ever used for making a pizza.
Spicy Cashew Vegan Chicken in Cabbage Wraps
These spicy cabbage wraps are made by blending together pickled chili oil cashews, oat milk, sesame oil, spicy chili paste, ginger, and lime to form the base sauce. Add parboiled asparagus and vegan chicken, season with soy sauce and garlic pepper, and serve atop raw cabbage leaves for a tasty and well-balanced meal.
Cheesy Vegan Enchiladas, Alex Mayo-Style
First, make a homemade enchilada sauce out of tomatoes, garlic, onions, peppers, and a vegan bechamel. Prep and begin to layer tortillas, ground "meat," vegan bechamel, spinach, vegan cheddar cheese, and enchilada sauce until you've reached the top of the baking dish. Bake until the cheese is melty, and serve with an arugula side salad.
Plant-Based Thanksgiving Spread
All of the Thanksgiving classics — including mashed potatoes, candied sweet potatoes, macaroni and cheese, roasted brussels sprouts, greens, stuffing, turkey, and cranberry sauce — all veganized and cooked to perfection. The adorable cover to her song "Truth Hurts" used in this video only adds to the level of serotonin released while watching.
Enjoying Vegan Birria Tacos
This is not a recipe but instead an "eat with me" as Lizzo enjoys the most delectable-looking vegan birria tacos. Watching her dip the tacos in the consomé and top them with a squirt of lime and a dollop of guacamole before taking a satisfying bite is truly an experience every time.
Southern Fried Chicken
This dish calls for homemade biscuits and spicy sausage gravy topped with vegan fried chicken. Finished off with a drizzle of honey lime sriracha sauce and served alongside a green salad, this comfort meal truly is not one to be missed.
Soul-Food Cupcakes
This soul-food cupcake is homemade and veganized. The cornbread muffin base is baked until golden and fluffy, the mashed potatoes are piped to perfection on top, and the chicken nugget adds a crunchy peak. But the last step of pouring gravy down the side is quite literally the "vegan icing" on top.
Jalapeño Cream Cheese Takis
This snack recipe calls for jalapeño peppers stuffed with vegan cream cheese, Takis, and everything-bagel seasoning. Snack away, plant-based friends.
Green Chile Enchiladas With Jackfruit
This recipe is another take on vegan enchiladas, but this time it's loaded with shredded jackfruit and accompanied by a jackfruit margarita. Serve on a bed of white rice (or your rice of choice).
Fried Taki and Cream Cheese Jalapeños
These jalapeños are hollowed out, stuffed with vegan cream cheese, battered, and fried. Serve with ranch, mayo, and sriracha sauce. Lizzo says she can only eat this once a year, but plant-based Taki-lovers might feel differently.
How to Prep and Make Jackfruit Meat
To prepare your fresh jackfruit, boil for 45 minutes and drain. Shred cooked jackfruit as you would chicken. Season generously, adding vinegar, oil, and pickle juice, then store in the fridge and use as shredded meat in your preferred dishes.
What I Eat in a Day
Breakfast: green juice and coconut yogurt.
Lunch: collard raw taco and raw tomato dish.
Coffee break.
Dinner: vegan hotdog in a pretzel bun.
What I Eat in a Day
Breakfast: green smoothie made with coconut water, kale, spinach, and fruit.
Lunch: kale and cabbage salad with broccoli, carrots, and avocado.
Snack: vegan cheese puffs dipped in hummus.
Dinner: truffle chickpea vegan mushroom blend, served with quinoa and kale salad from lunch.
Dessert: vegan peanut butter and jelly smoothie (peanut butter, frozen strawberries, oats, oat milk, and "love from Jesus").
Hungover "Cheesy Eggs"
This recipe calls for just eggs sautéed with vegan carne asada and a black bean and corn mixture. Make sure to season generously, adding spinach and vegan pepper jack cheese. Serve alongside vegan bacon cooked in maple syrup.
Vegan Carne Asada Flatbread
To make this dish, first sautée vegan meat, then add onions, vegan queso, vegan shredded pepper jack, and spinach. In a separate pan, toss together corn, black beans, lime, cilantro seasoning, and vegan butter. Serve atop a homemade tortilla or vegan flatbread.
Vegan Frank and Beans
Not only am I going to need the full recipe ASAP, but I'm also requesting the a cappella "I Made Vegan Frank 'n' Beans" be made available on all streaming platforms immediately. The dish calls for vegan beans and hotdog slices, topped with vegan bacon and served with a strawberry-walnut side salad and a fresh grapefruit mint drink.
Vegan Ice Cream Bread
Using Ben & Jerry's nondairy ice cream, Lizzo mixed together a quick bread dough and baked until fluffy. She mentioned that while it tasted good on its own, she planned to use it to make into french toast the next day, to which we say: ice cream bread french toast? Count us in.
Cheddar-Jalapeño Vegan Pigs in a Blanket
To make this dish, combine two-ingredient vegan biscuit dough with vegan shredded cheese and jalapeños. Wrap mini veggie sausages in the cheddar biscuit dough, and bake until golden. Lizzo enjoyed hers with fried oyster mushroom "chicken strips" and a strawberry and spinach salad. Crunchy and comforting for when the world "continues to let you down," as Lizzo mentioned she was feeling at the time of filming this. We can all relate to needing a little food pick-me-up!
Vegan Jamaican Spicy Beef Patty
To enjoy vegan Jamaican spicy beef patties, first mix the dry ingredients and water to make the dough. Season vegan ground beef, then make sauce from avocado and vegan cream cheese. Cut the dough and flatten, fill with ground beef, seal, and bake. They are ready to be enjoyed after 20 minutes in the oven.
Vegetable and Brown Rice Noodle Soup
This recipe is simple yet layered with flavors, making it seem like the perfect dish to make on days when you feel like you could use a hug in the form of a warm meal. Cook a homemade vegetable soup with whatever veggies you have on hand, season, blend, and add brown rice noodles and Chinese cabbage for an added crunch.