Loaded Cuban-Style Chicken Protein Nachos Recipe and Photos
These Loaded Cuban-Style Nachos Are a Must-Make Super Bowl Snack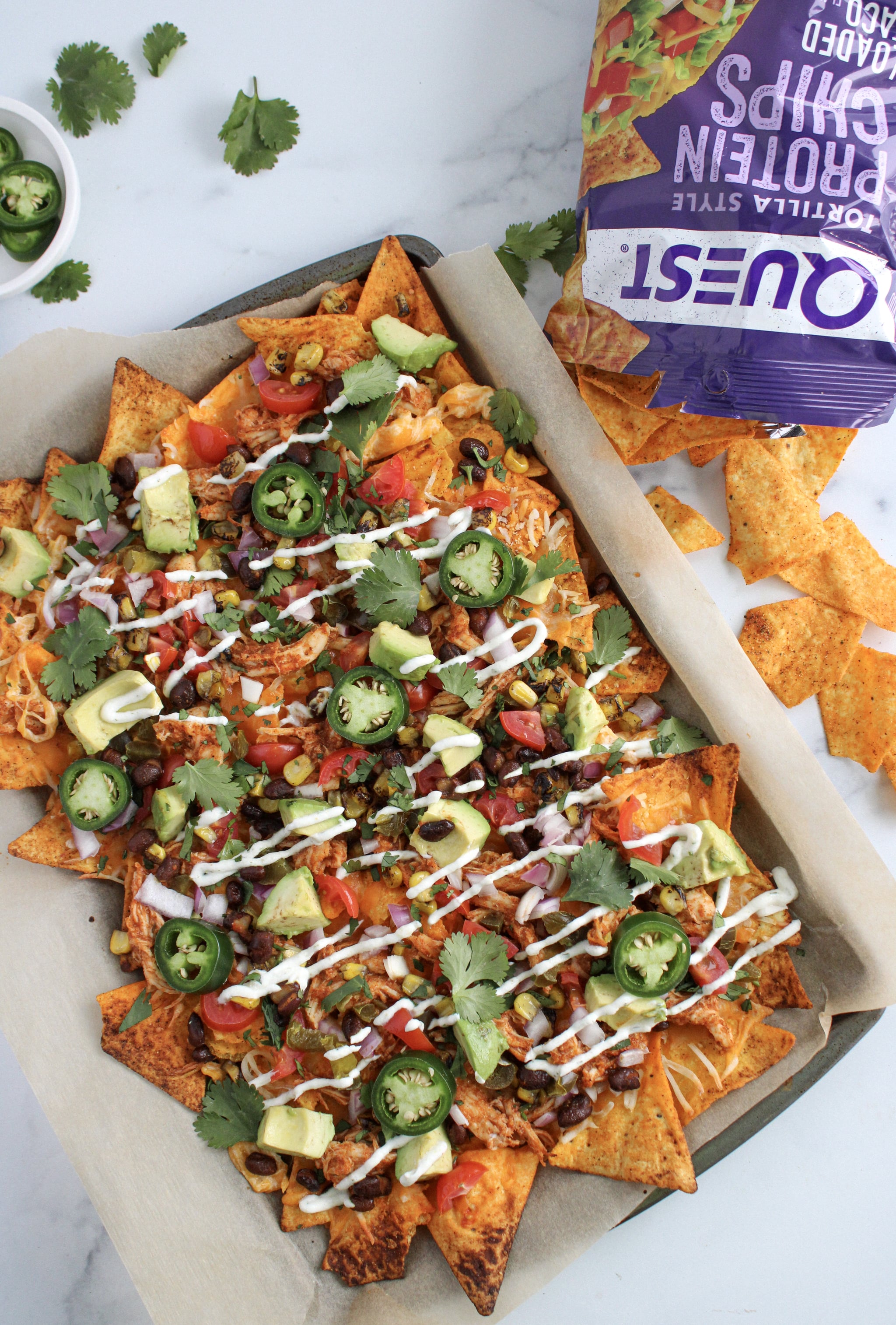 Whether you're gearing up to veg out on the couch and watch the Super Bowl or looking to make a shareable snack appropriate for any occasion, these loaded nachos are the way to go. This recipe yields a hefty four to five servings, which makes it perfect to share with friends. Make this for your next game night or roommate dinner, and I promise it'll be a crowd pleaser.
The layers of flavor are unreal, and every bite will be filled to the brim with equal parts gooey cheese and tortilla crunch. I used Quest protein chips as the base for these nachos, and let me tell you, they did not disappoint. They held up to the layers of cheese, toppings, and chicken perfectly while still maintaining their texture even after being baked. Quest protein chips come in a variety of delicious flavors, and they're packed with 19 grams of protein in each bag, so you're basically gifting your body with nutrition (at least that's what we're telling ourselves to justify eating an entire sheet!). I loved the bold flavors of the chili-lime chips mixed with the loaded-taco-flavor protein chips, but any tortilla chip would work great with this recipe.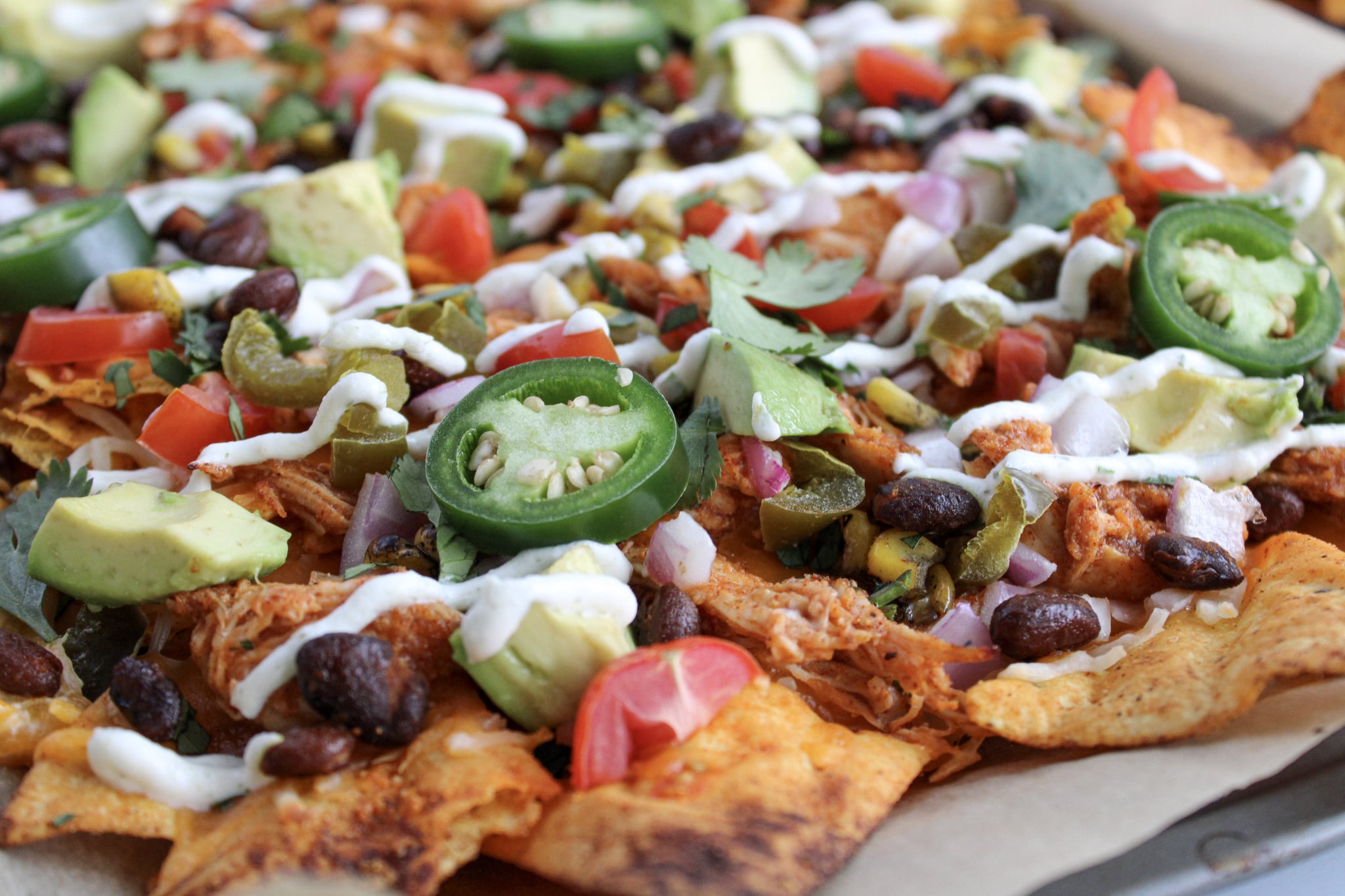 I particularly love to cook my chicken in an Instant Pot because pressure cooking in sauce and seasonings makes your chicken breasts so easy to pull apart and shred for the top of your nachos. If you don't have an Instant Pot, you can just cook your chicken breasts in the same liquids and seasonings in a conventional oven preheated to 400 for 20-25 minutes.
Keep reading for the full recipe for your new go-to game-day snack.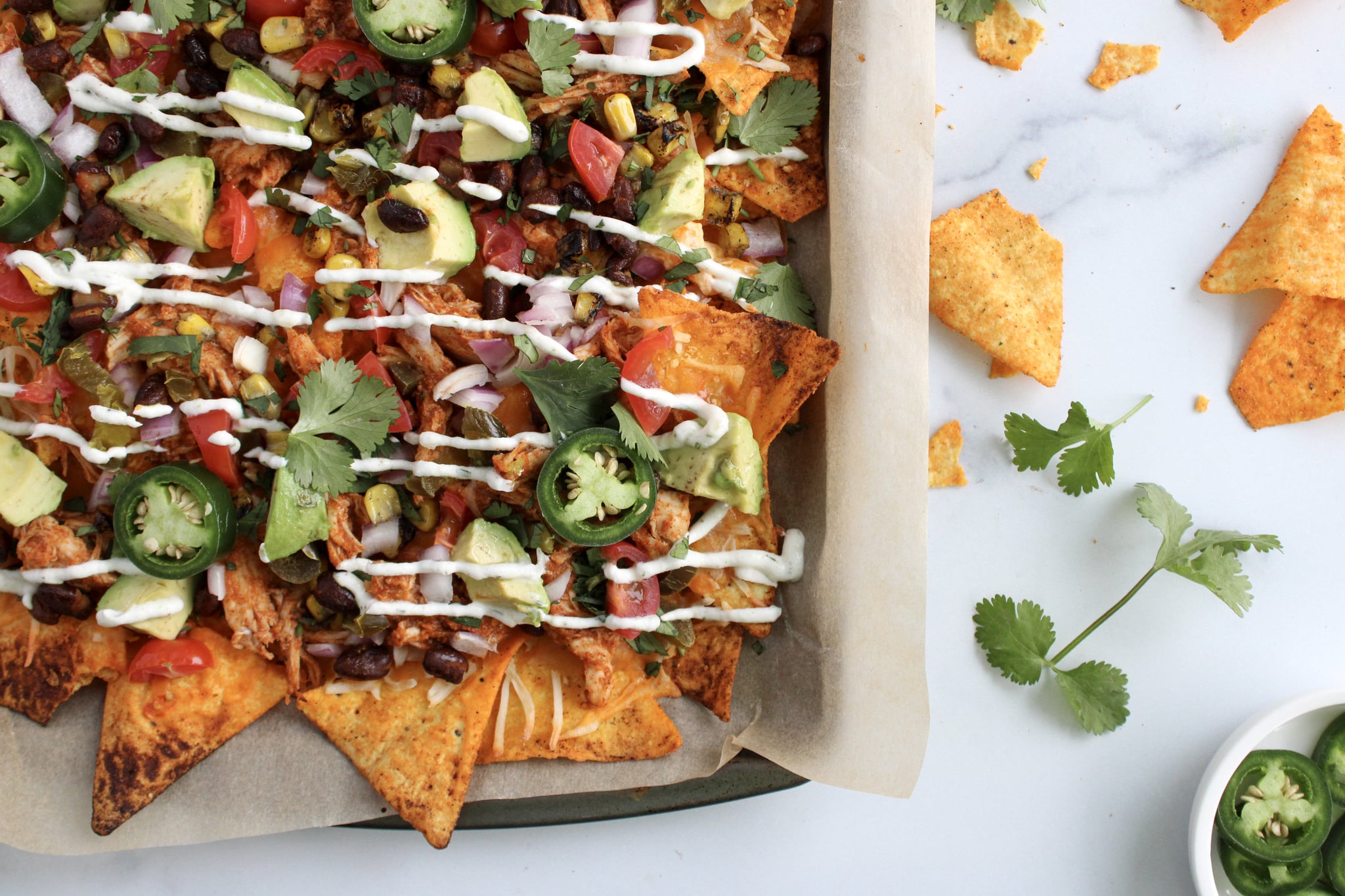 Loaded Cuban Style Chicken Nachos
Original Recipe by Taylor Celentano
Notes
I used an Instant Pot to cook the chicken, but feel free to cook yours in the oven at 400 degrees for 20-25 minutes if you don't have an Instant Pot.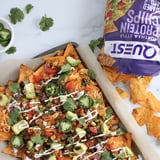 Ingredients
3 bags Quest Chili-Lime Protein Chips
3 bags Quest Loaded-Taco Protein Chips
For the Loaded Chicken
2 organic chicken breasts
1/2 cup chicken broth
1/2 cup Trader Joe's spicy taco sauce (or enchilada sauce)
1 tablespoon Trader Joe's Cuban-style seasoning
For the Toppings
1 cup Mexican-blend shredded cheese
1/2 cup chopped grape tomatoes
1/4 cup chopped red onion
1/2 cup canned corn
1/8 cup chopped jalapeños
2 small avocados
1/4-1/2 cup cooked black beans
Fresh cilantro
For the "Sour Cream"
1 cup greek yogurt
1 tablespoon onion salt
1/2 lemon (squeezed)
Drizzle of olive oil
Directions
Add the chicken broth, chicken breast, taco sauce, and seasonings to your Instant Pot. Seal and set it to pressure cook for eight minutes.
Cover your baking sheet with parchment paper, and evenly lay out your chips. Cut up all your toppings and set aside.
Preheat your oven to 350 degrees. Cover your chips evenly with your shredded cheese.
Once the chicken is done, pressure release your Instant Pot, and then shred your chicken on a cutting board carefully using two forks. Put the chicken back into the sauce it cooked in, mix it around to recoat it, and evenly place it on top of your chips.
Sprinkle all of your toppings — except for your avocado — evenly across your chips. Bake for 10 minutes or until your cheese is nice and melted.
Mix together your "sour cream."
Once you remove the nachos from the over, evenly distribute your avocado chunks, sprinkle on a little more cilantro, drizzle your "sour cream" mixture across the entire tray, and serve.
Information
Category

Poultry, Appetizers

Yield

4 Servings

Prep Time

10 minutes

Cook Time

10 minutes

Total Time

19 minutes, 59 seconds