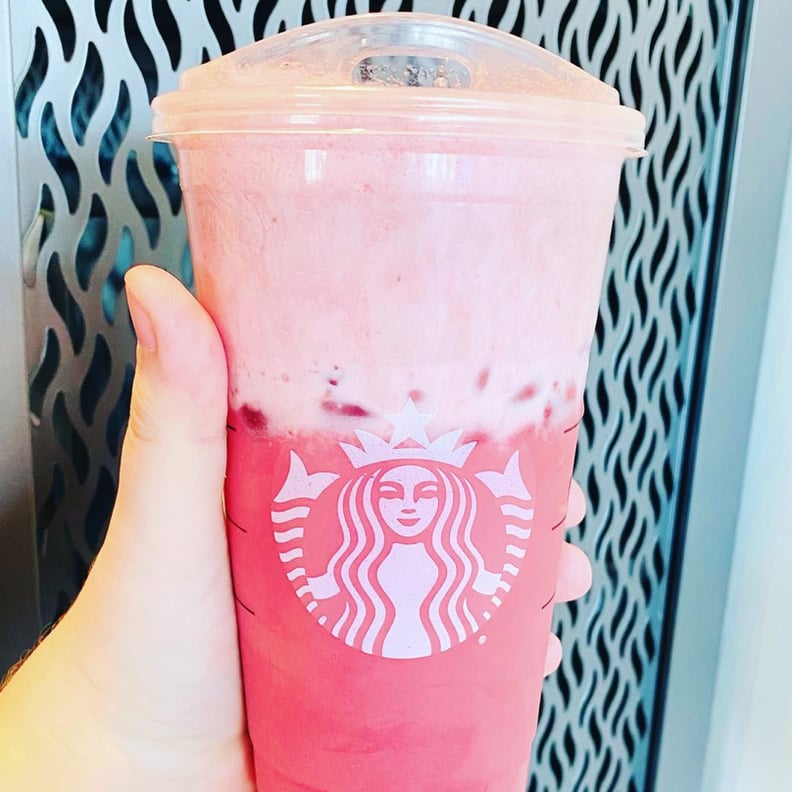 Valentine's Day is one of the best holidays for dessert-lovers. Between the chocolate-covered strawberries, heart-shaped cookies, and chocolate kisses, Feb. 14 might as well be declared national sugar high day. And if you're anything like us, you want to know about every new treat you can get your hands on — including ones you can drink! Thankfully, Starbucks is comin' through with its Love on the Rocks iced tea from its secret menu.
Totallythebomb.com first reported on the Valentine's Day concoction that not only sounds delicious but is so pretty, too. Here's how to order it:
Ask for a venti passion tea sans the water and sweetener.
Add four pumps of raspberry.
Ask for light coconut milk and light strawberry puree.
Ask that your iced drink be topped with cold foam with strawberry puree blended in.
The strawberry-infused cold foam is really what makes this pink drink extraspecial, since it's typically reserved for cold-brew beverages. But feel free to skip the last step if cold foam isn't your thing. There are no set rules when it comes to Starbucks's secret menu, and essentially, any precustomized drink order can be altered to fit your cravings. Keep scrolling to see how others are personalizing their Love on the Rocks iced teas, including the original recipe.