Pepper Teigen's Spicy Thai Chicken Wings Recipe and Photos
Chrissy Teigen Learned From the Best, Because Her Mom's Crispy Chicken Wings Are Divine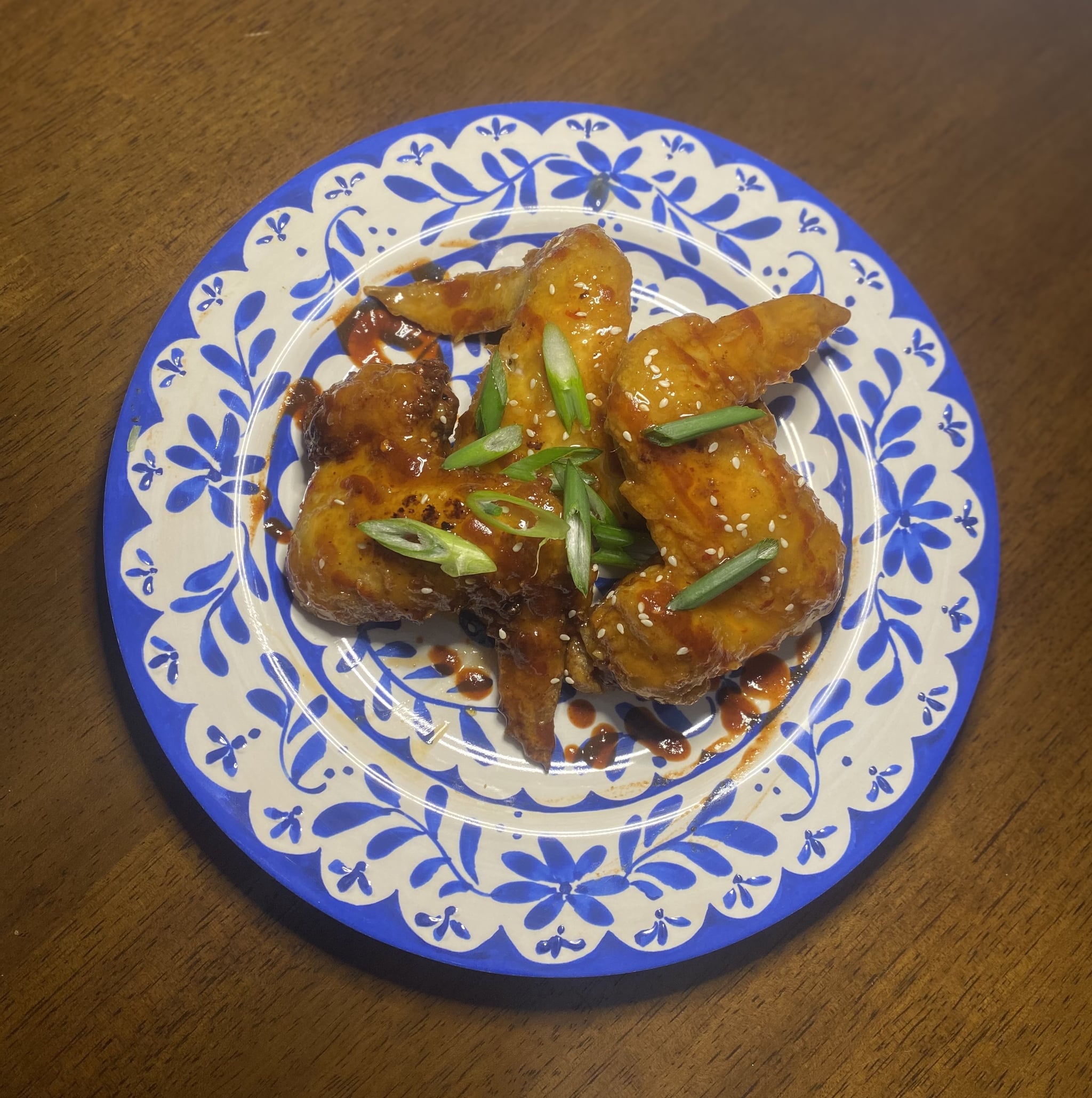 When it comes to the Super Bowl, chicken wings are a forever favorite. While big game-day parties may not happen this year, that doesn't mean you can't enjoy delicious snacks on a smaller scale. BABE Wines recently teamed up with cookbook author Pepper Teigen (aka Chrissy Teigen's mom!) to reveal the recipe for her crispy chicken wings from her highly anticipated cookbook, The Pepper Thai Cookbook, which will be released on April 13. Seeing as Pepper is everyone's "favorite Thai mom," it's safe to say she knows how to make some tasty Thai chicken wings. Pepper even told BABE that when it comes to these wings, Chrissy and John Legend's kids, Miles and Luna, ask for seconds; John craves them when he's watching football; and Chrissy burns her fingers because she can't wait long enough for them to cool. In other words, you know they're good!
Because I couldn't wait until Super Bowl Sunday to make this recipe, I whipped it up right when I got my hands on it. It's the perfect thing to make if you love crispy, crunchy chicken, which, who doesn't? By frying the wings, you get a crispy skin with soft, tender chicken inside. And once you add the Thai sweet chili sauce, you may never go back to plain BBQ ever again. The ingredient list might look a little overwhelming at first glance, but once you have everything laid out and ready to go, it's really easy to put together. The only thing to note is to be extra careful with the hot oil while frying your wings so you don't burn yourself!
If you're still looking for a go-to game-day recipe, look no further than this sweet and spicy spin on the classic chicken wing. It'll be the real winner of the day.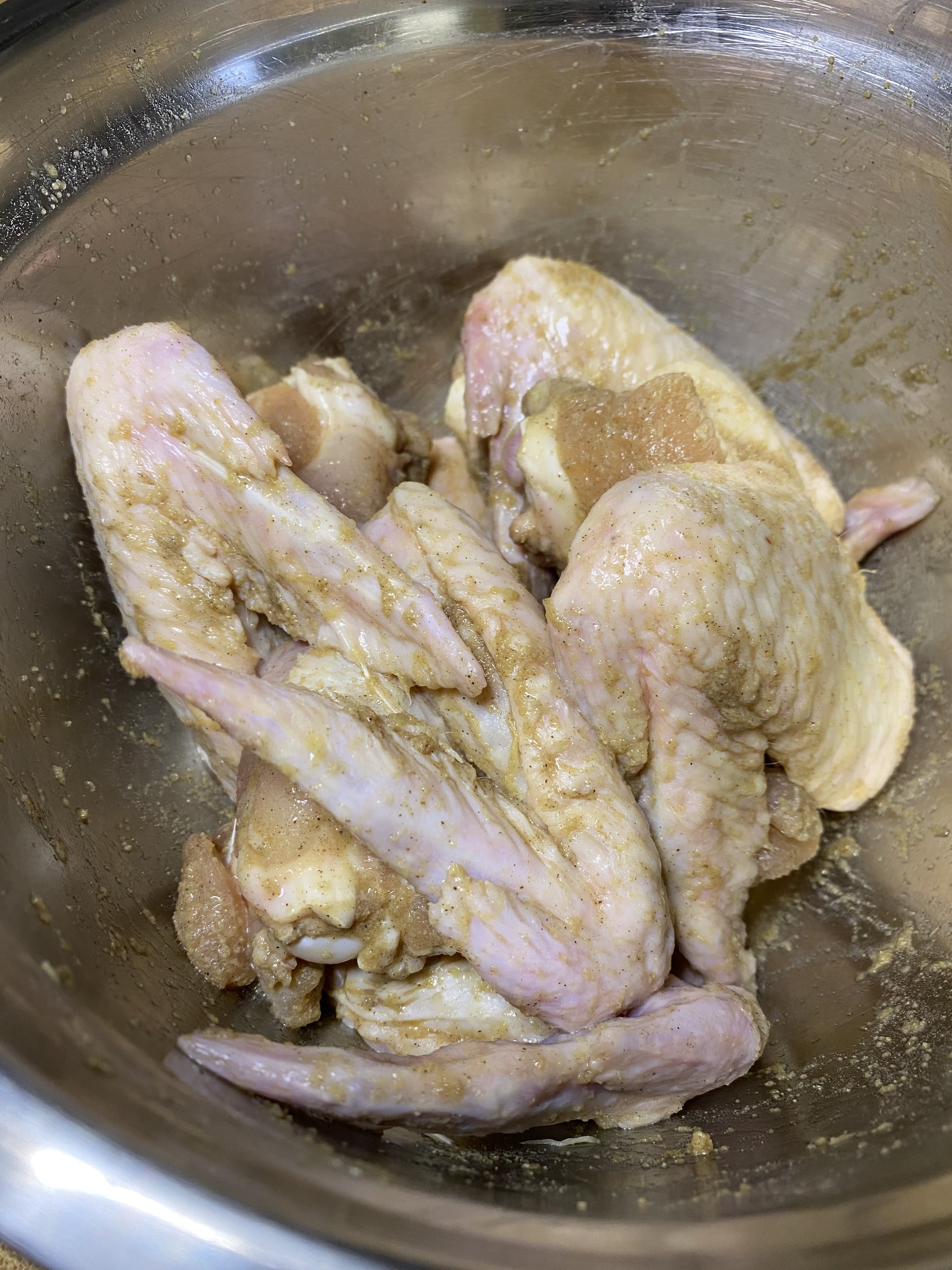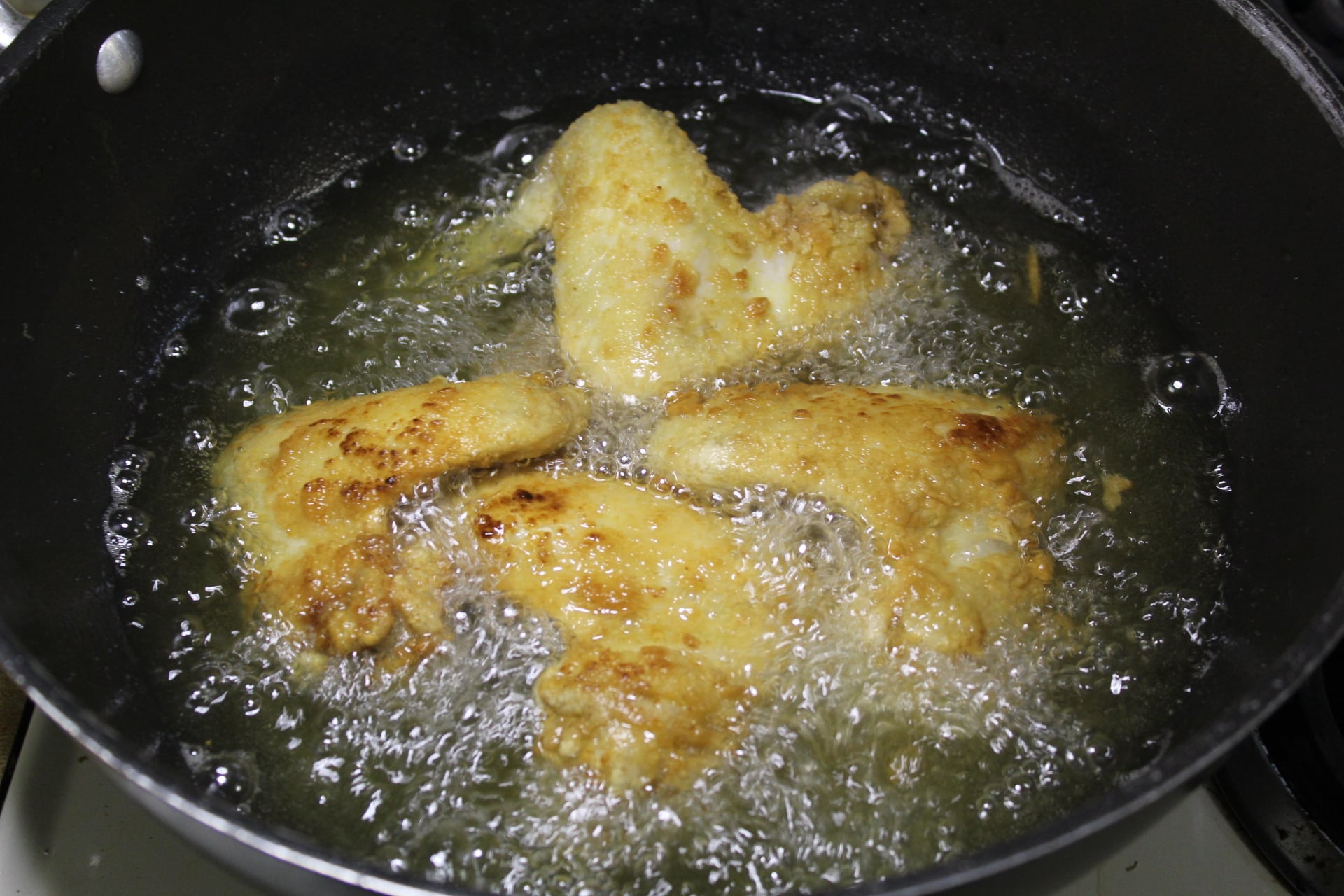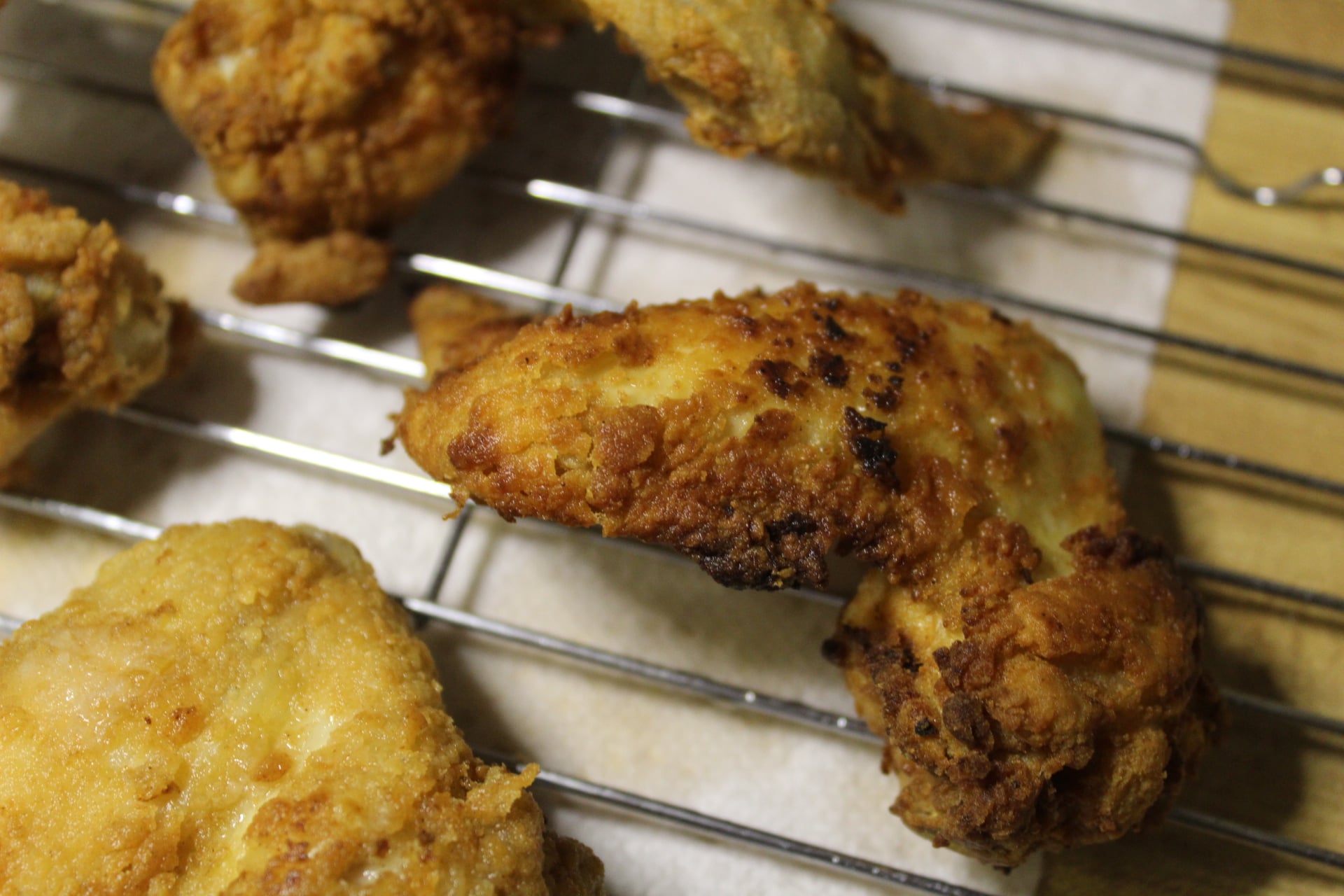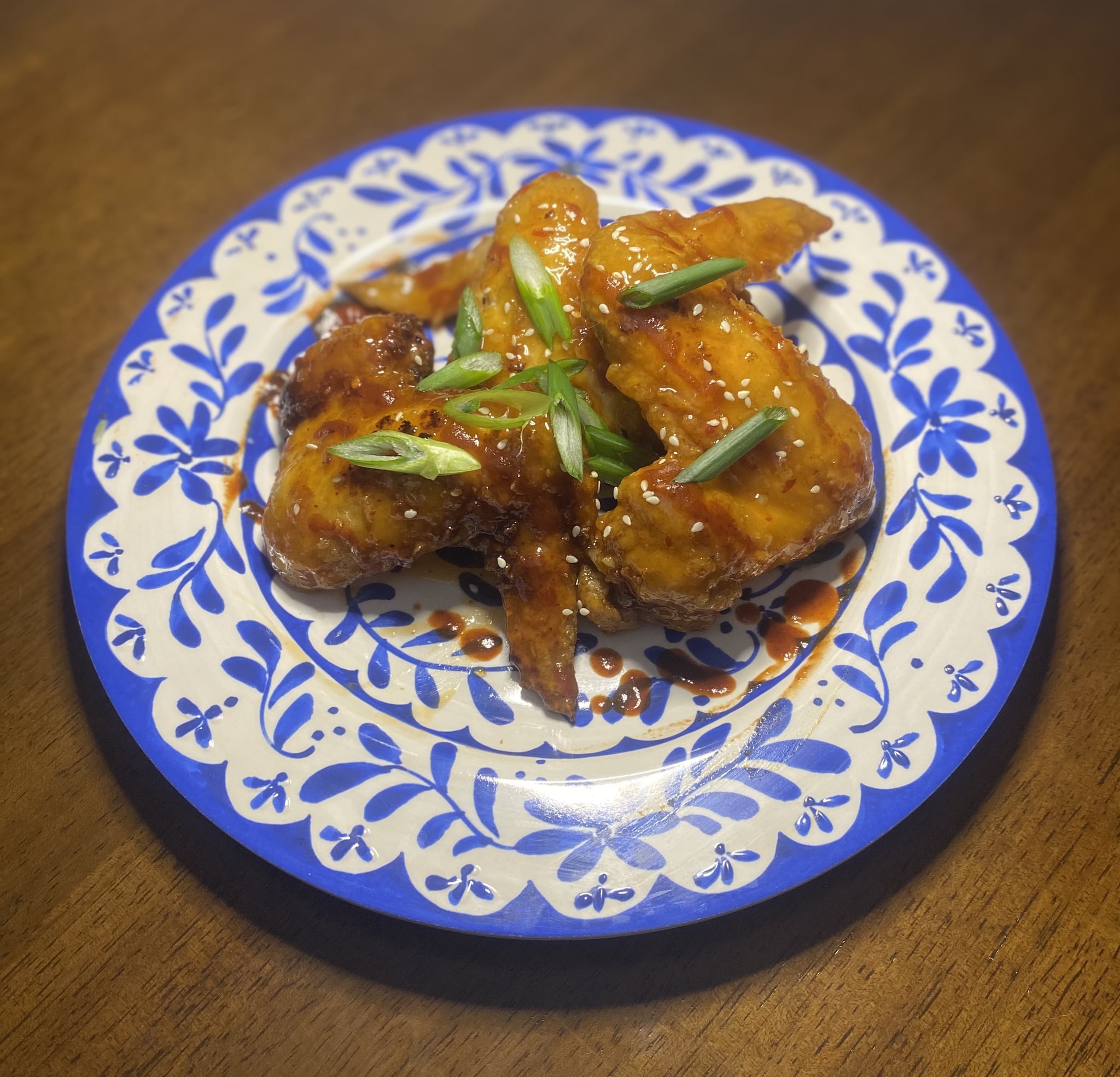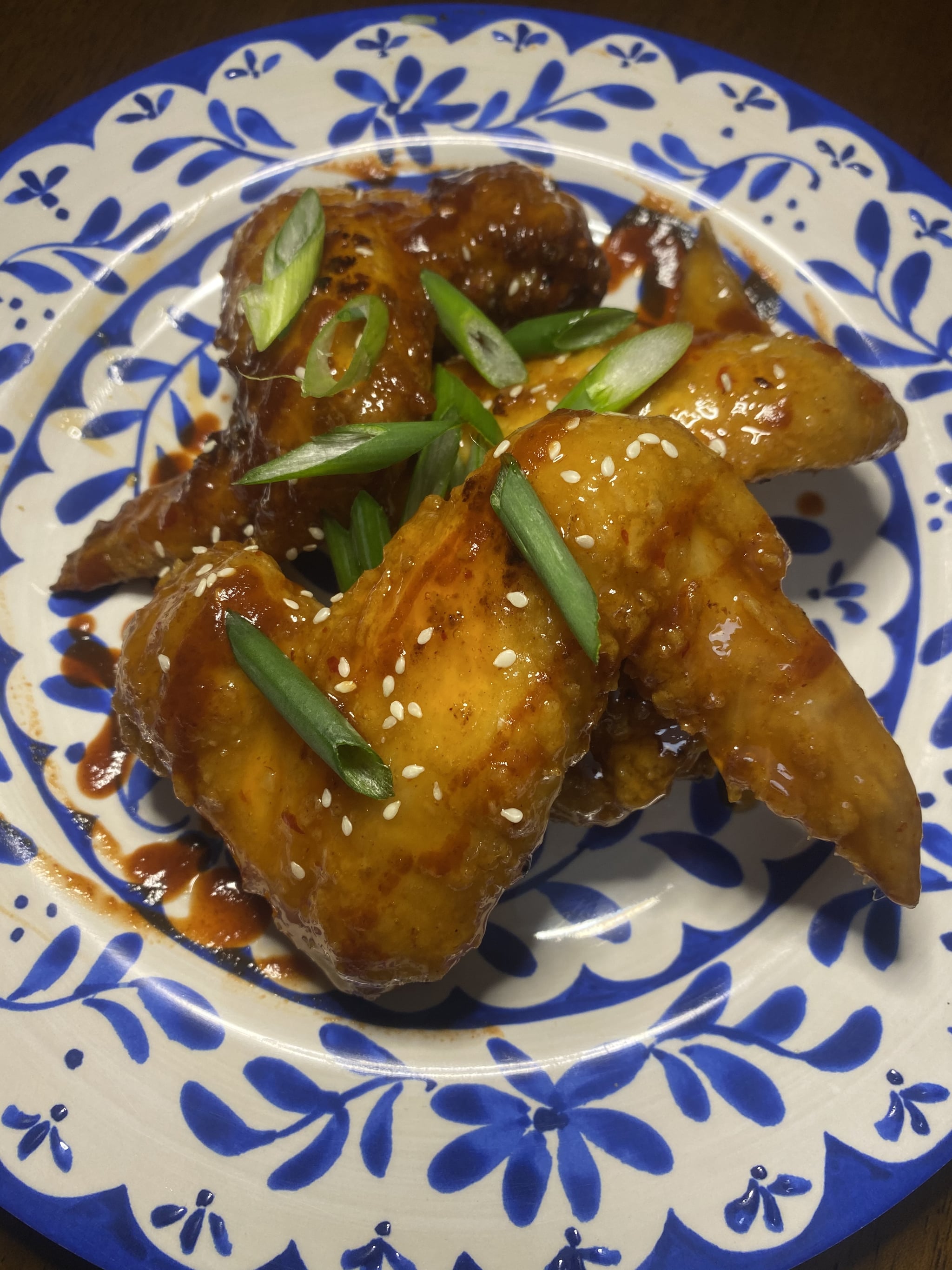 Pepper Teigen's Crispy Chicken Wings
Pepper Teigen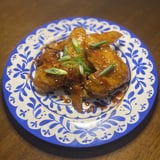 Ingredients
3 pounds chicken wings, patted dry
1/4 cup plus 3 tablespoons fish sauce
1/2 tablespoon garlic powder
1/2 tablespoon ground white pepper
1/2 teaspoon kosher salt
Vegetable oil, for deep-fry (about 1-2 cups)
3/4 cup all-purpose flour
2 tablespoons cornstarch or tapioca flour
2 teaspoons baking powder
Thai sweet chili sauce or Spicy Garlic-Lime Fish
Directions
Pat your chicken dry and then put the wings in a bowl. Add your garlic powder, fish sauce, white pepper, and salt, and then toss to ensure that all of the chicken is evenly coated. Set aside for 15 minutes or refrigerate for 30 minutes.
Fill a wok, large pot, or deep skillet with about two inches of oil, being sure to leave several inches of clearance at the top. Heat the oil on medium heat to 370 degrees. Set up a wire cooling rack with paper towels underneath nearby.
As the oil heats up, put your flour, baking powder, and cornstarch into a small bowl and whisk. Sprinkle the mixture all over your chicken wings, until a paste-like coating forms. Be sure to coat each wing evenly.
When your oil is at 370 degrees, add a couple of your wings to the pan until they're golden brown, about 3-4 minutes. Keep an eye on the crust, and flip or adjust the wings in the oil as necessary. Once the wings are a deep golden color, pull them out of the oil and place them on your wire cooling rack.
After your wings drain for a few minutes, toss them with the sweet chili Thai sauce, and enjoy!
Information
Category

Appetizers

Yield

4-6 servings

Prep Time

20 minutes

Cook Time

5 minutes

Total Time

24 minutes, 59 seconds
Image Source: POPSUGAR Photography / Julia Duda