Sakara Life Holiday Popcorn Trio Review
All I Want For Christmas Is Sakara Life's Popcorn Trio Tin
As POPSUGAR editors, we independently select and write about stuff we love and think you'll like too. If you buy a product we have recommended, we may receive affiliate commission, which in turn supports our work.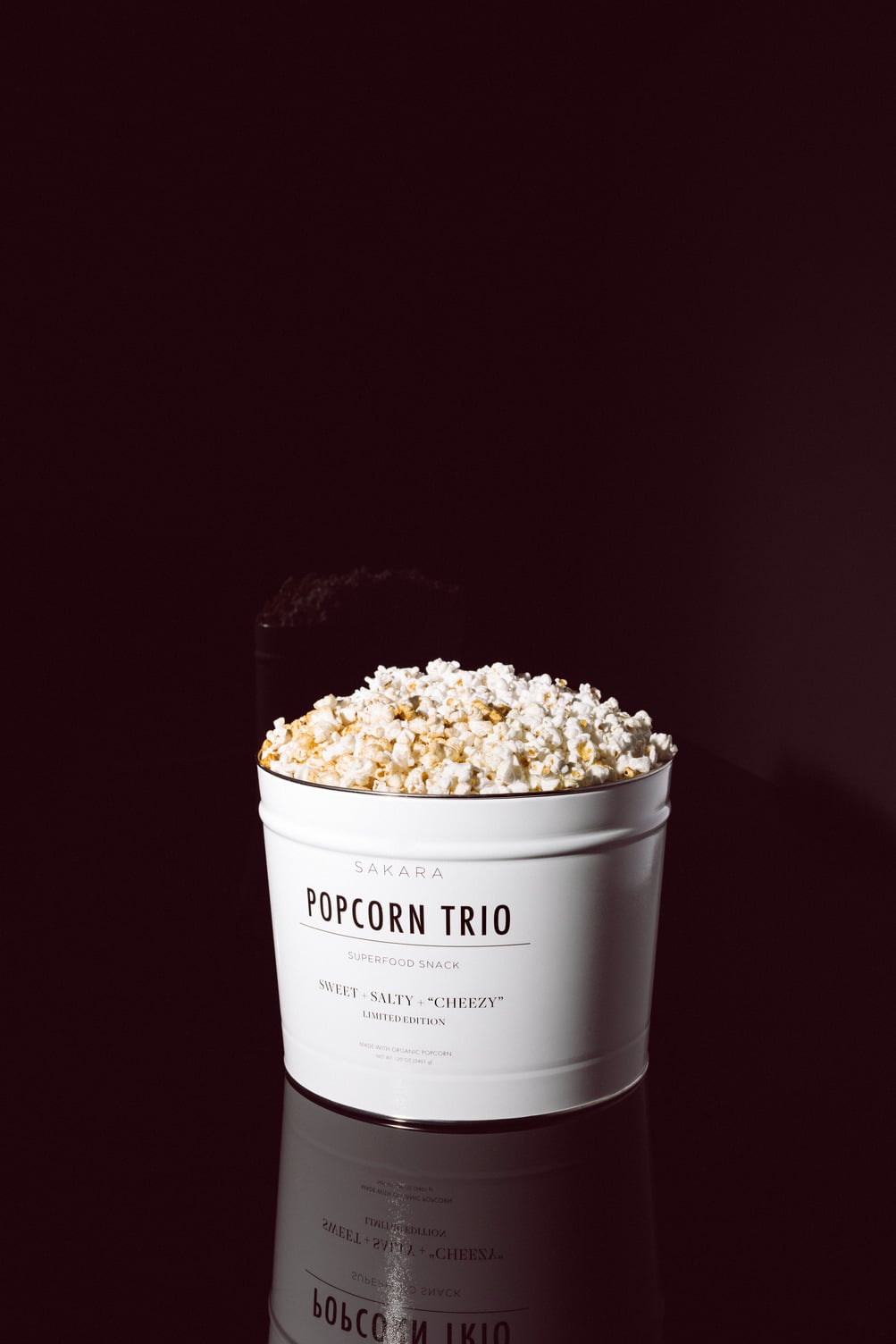 Growing up, I always snubbed popcorn trios for a plate of Christmas cookies instead. Now, don't get me wrong — I love Cheetos — but popcorn covered with dusty orange cheese just isn't my thing.
Leave it to Sakara Life, though, to turn me into a holiday popcorn person with their delicious take on the iconic snack.
I first tried the Sakara Popcorn Trio ($45) — which is historically only available for a limited time during the holiday season — a few years ago and have been obsessed with it since. The Sakara version of the classic is made with organic, nonGMO white popcorn in a sweet, salty, and "cheezy" version. The tin holds approximately 32 cups of popcorn, and I could eat it all in just a few sittings. It's that good.
Let's start with my favorite flavor: the "cheezy" popcorn, which is actually a dairy-free seasoning mix of organic, nonGMO white corn, nutritional yeast, pink himalayan salt, and organic coconut oil.
It's that type of snack where you can't just have one handful. When I open up that tin, I know I'll be dipping into it at least 15 times. What blows my mind is just how much nutritional yeast really captures that delectable cheesy flavor.
After I finish off the "cheezy" version, I reach for the salty stash. It's got just the right amount of salt and doesn't leave me totally parched, though I do love pairing it with a chilled can of seltzer.
Traditional kettle corn doesn't do much for me, but I don't mind the sweet popcorn in the Sakara tin. While it's definitely my least favorite flavor out of the three, it does the trick when I'm in the mood for dessert. It's not overly sugary or sticky.
So far, I only have one third left, and I'm so sad to be reaching the bottom of the barrel. So, I'll be letting my partner know that all I want for Christmas is a refill.
Click here for more health and wellness stories, tips, and news.
Image Source: Sakara Life