These Schitt's Creek-Inspired Hard Seltzers Pay Homage to Each Member of the Rose Family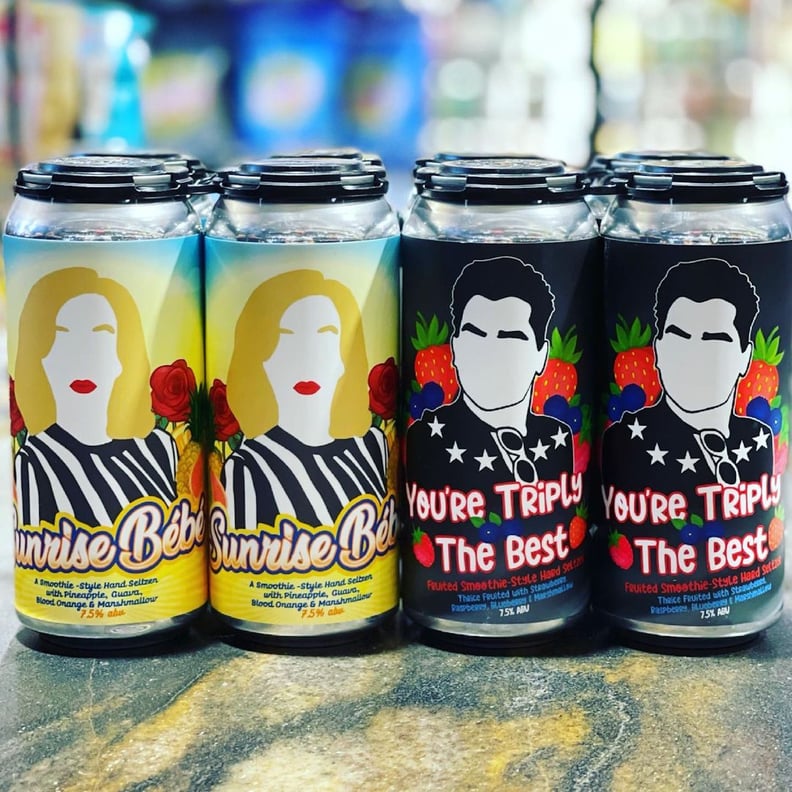 Hold the Zhampagne and Herb Ertlinger fruit wine, 'cause the only alcoholic beverages we want to be sipping all summer are these new Schitt's Creek-themed hard seltzers. In honor of Pride Month, a Washington-based brewery called Hop Capital Brewing released two spiked seltzers inspired by David and Moira Rose, and the team just rounded out the selection by debuting additional Alexis- and Johnny-themed flavors. As the "Oh my god" king himself once said, we feel like that needs to be celebrated — even if they aren't technically associated with the beloved Pop TV sitcom in an official capacity.
The boozy drinks are "smoothie-style hard seltzers," which means they're made with fruit puree and not clear like White Claw or Truly. Hop Capital Brewing came up with four different mouthwatering flavor options: Sunrise Bébé is a combination of pineapple, guava, blood orange, and marshmallow, and You're Triply the Best is "thrice fruited" with strawberry, raspberry, blueberry, and marshmallow. Meanwhile, A Little Bit Alexis blends pineapple with coconut and marshmallow creme, and This Is a Fine Muffin brings together tangerine, blueberry, and vanilla bean. The only things more iconic than those flavor names are the can labels, which feature illustrations of the Roses rocking their signature outfits.
So, how can dedicated Schittheads get their hands on a limited-release can, you ask? Well, Hop Capital Brewing is currently offering four-packs for doorstep delivery preorder in the following states: Alaska, California, Colorado, Connecticut, Florida, Hawaii, Iowa, Idaho, Illinois, Indiana, Kentucky, Massachusetts, Missouri, Montana, North Dakota, Nebraska, New Jersey, Nevada, New York, Ohio, Oregon, Pennsylvania, Texas, Washington, and Wyoming, plus Washington DC. If you don't reside in one of those states, you can check out Craft Beer Kings or Craft Shack's websites in the coming week for additional ordering options, and any Washington residents are welcome to drop by the brewery in person to scoop up some cans as well. Read ahead to take a closer look at the not-so-nonchalant seltzers in all their glory.
More Photos of the Cans in Real Life