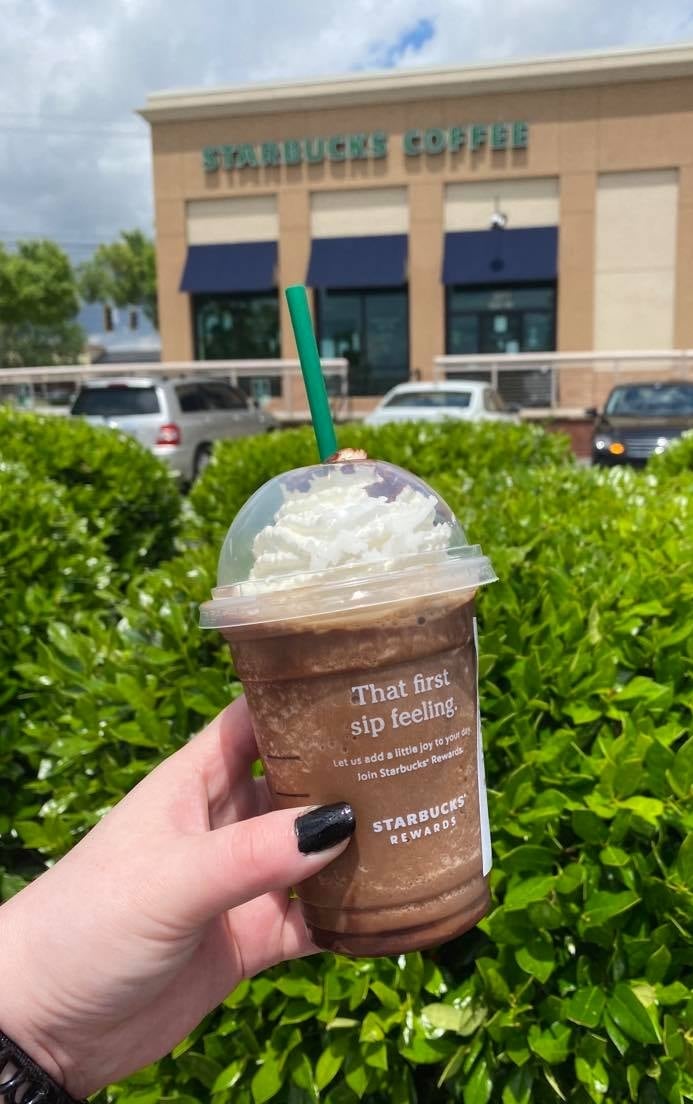 POPSUGAR Photography | Ashley Broadwater
POPSUGAR Photography | Ashley Broadwater
It's a well-known fact that chocolate and peanut butter are one of the best food combinations. Whether they're mixed up for candy, a drink, or even a sweet-and-salty snack, I'll always say yes to eating it, and I'll always be hooked. That's why I was so excited when I saw a Peanut Butter Cup Frappuccino on Starbucks's secret menu. It's basically just a Mocha Frappuccino with toffee nut syrup (Starbucks doesn't carry peanut butter, so the toffee nut is used as an alternative), but the slight spin on the drink gives it a whole new lane of flavor.
How to Order Starbucks's Secret Peanut Butter Cup Frappuccino
Barista Aubrey S. created this drink on starbuckssecretmenu.net. Here's how to order it:
Ask for a Mocha Frappuccino (whatever size you're in the mood for).
Ask for toffee nut syrup (2 pumps for a tall, 3 pumps for a grande, and 4 pumps for a venti).
Ask for it to be made with soy milk instead of whole milk.
Ask for whipped cream and a mocha drizzle on top.
Don't forget to thank your barista!
What Does It Taste Like?
While this drink unfortunately didn't taste quite like a Reese's Peanut Butter Cup (which is what I was hoping for), it was still super delicious. The taste was heavy on the mocha flavor and was quite similar to what I imagine a Nutella Frappuccino (which you can also order!) tastes like. As someone who usually gets two percent milk in coffee, the soy milk actually didn't taste all that different to me, so I wouldn't worry too much about noting that step when you order the drink unless you have a dietary restriction. Regardless, this drink recipe is a fun way to spice up a regular Mocha Frappuccino — my usual go-to — if you want something new.
How Much Does It Cost?
Fair warning, this drink is on the pricier side since it has some additions. With tax, a tall is a little over $6, a grande is almost $7, and a venti is a little over $7. But if your paycheck just came in or you're in the mood to splurge or treat yourself (you deserve it), the Peanut Butter Cup Frappuccino is definitely the way to go.
Is It Worth Ordering?
While I don't suggest ordering this daily or even every other day if you're trying to save money (a painfully relatable goal, I know), I absolutely believe it's worth ordering otherwise. This drink is great because it's basically my morning caffeine, a dessert, and a breakfast drink all in one. I may even make it my usual order since it has additional yummy flavors and is more fun since it's a "secret." All in all, a super-delicious choice.