How Does Starbucks's Deliver It Forward Program Work?
Send Holiday Cheer (and Treats) Near and Far With Starbucks's Deliver It Forward Program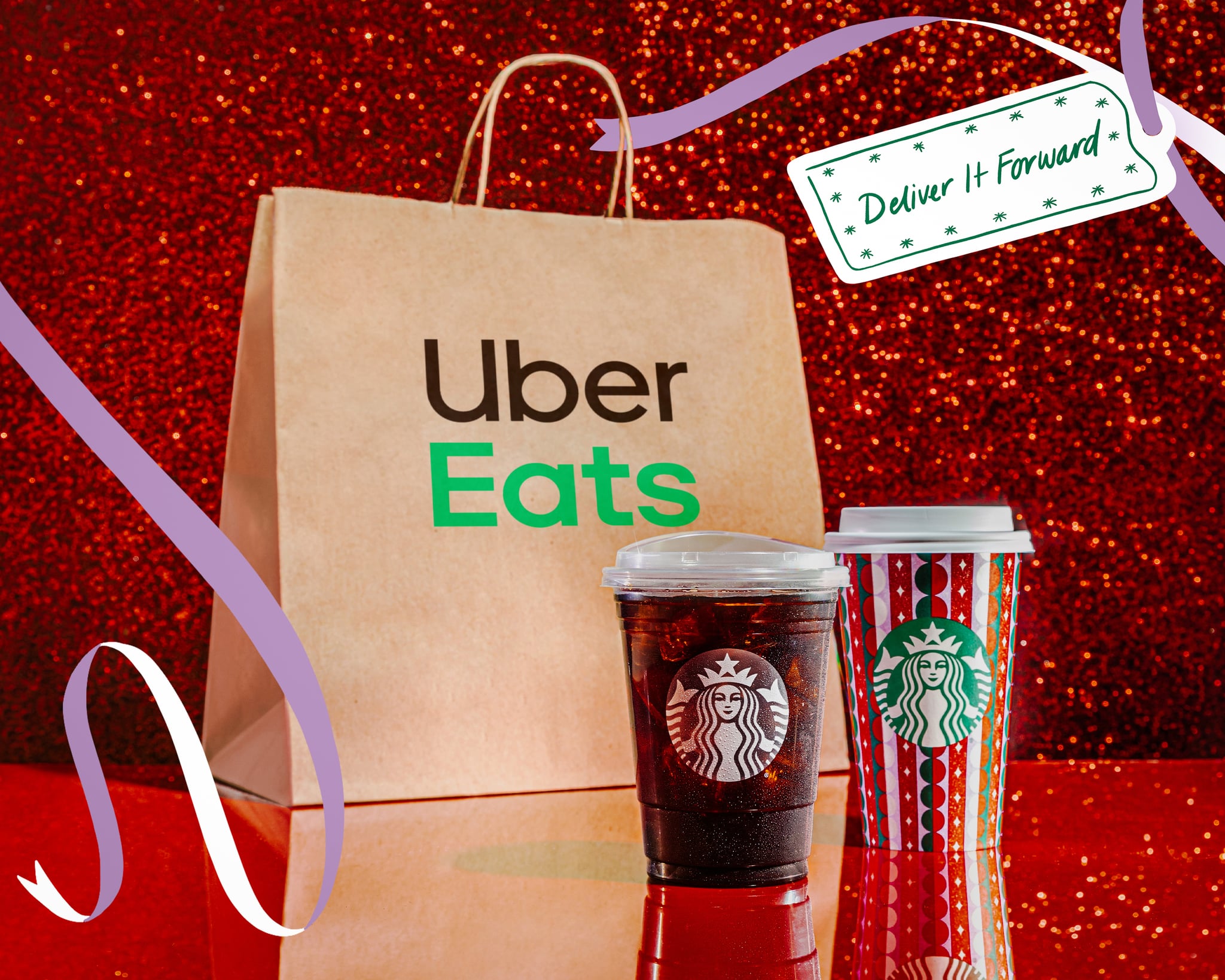 In the midst of holiday chaos, you might rightfully decide you need a coffee break. If you're a Starbucks fan, we've got generous news — they're paying it forward this holiday season. For the second year in a row, Starbucks is teaming up with Uber Eats for its Deliver It Forward program, which gives customers who place a Starbucks order through Uber Eats a special email code for $10 off that can be shared with friends and family. So whether you order a Starbucks Peppermint Mocha or Iced Sugar Cookie Almond Milk Latte through Uber Eats, you'll receive a discount code that you can send to loved ones both near and far (which makes your coffee break feel well deserved, am I right?). To top it off, none other than Joe Jonas is sweetening the pot by giving away 25,000 $10 off Deliver It Forward codes to his followers on social media — so keep an eye out on Monday, Dec. 13.
Even more, Joe and the brands will be paying it forward to Atlanta's frontline workers by surprising them with fan-favorite Starbucks holiday drinks and treats. "The holidays are my favorite time of the year — that's why I'm so excited to team up with Uber Eats and Starbucks to help deliver joy," he said in a press release shared with POPSUGAR. "Starbucks customers have been paying it forward by treating others for years, and I'm so glad Uber Eats is helping folks continue the tradition of gifting sweet Starbucks treats this holiday season."
How to Participate in the Starbucks Delivers Uber Eats Deliver It Forward Program
Open the Uber Eats app and add your Starbucks order to your cart.
Once you place your order, you'll receive an email with your $10 off Deliver it Forward code for friends and family to use on their next Starbucks delivery order via Uber Eats. The offer is valid while supplies last.
To check Starbucks Delivers availability, customers can visit the delivery locator in the Uber Eats app to see if delivery is available in their area.
How Many People Can You Share the Deliver It Forward Code With?
The code is available for up to $10 off one order only, so choose wisely when it comes to the person in your life who could really use a holiday pick-me-up! You only get one code during this promotional period — which begins Dec. 13 — so you can expect your first Starbucks order (after the start date) to come attached with a code in your email.
Image Source: Courtesy of Starbucks