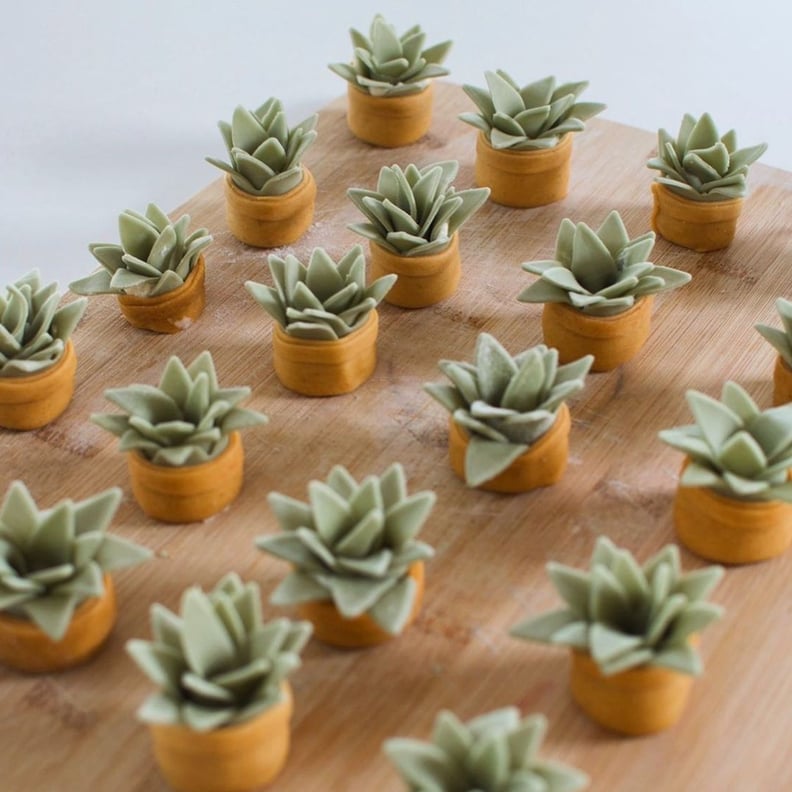 Viral TikTok food trends tend to err on the side of absurd (see: cotton-candy-wrapped pickles, Hot Cheetos salad, and mustard-covered watermelon, to name a few). But Dan Freeman just introduced a wholesome addition to the mix with his succulent-shaped ravioli. A lawyer and dad from New York City, Dan has been charming TikTokers with one-of-a-kind pasta creations since early 2021, and his latest masterpiece officially earned him #FYP all-star status. Made to look exactly like teeny-tiny succulents planted in terracotta pots, the ravioli is almost too adorable to devour — until you remember that it's filled with cheese and doused in a buttery sage sauce, that is.
Dan's first stab at succulent ravioli earned a solid amount of buzz on TikTok, but the real magic came when he revisited the project a month later with suggestions from his followers and husband, who proposed adding the mini orange pots. He shared his newly redesigned attempt on social media, and — boom! — the internet was instantly enamored, with 16 million people watching the video and thousands flooding the comments section. "The response really blew me away!" Dan told POPSUGAR. "I'm happy that it was able to make so many people smile."
Dan also graciously shared his succulent-shaped ravioli recipe with us in case other adventurous PastaTok regulars wish to re-create it at home, which some have already done.
How to Make Succulent-Shaped Ravioli
To make the green pasta dough, combine 3 eggs, 300 grams of flour, and a spoonful of butterfly pea flower powder for color. (A basic pasta dough calls for 1 egg per 100 grams of flour, so you can adjust each amount depending on how much you wish to make.) Mix and knead until a dough ball forms.
To make the orange pasta dough, combine 2 eggs, 200 grams of flour, and a spoonful of paprika for color. Mix and knead until a dough ball forms.
To make the cheese filling, mix together 1 cup ricotta cheese and 1/4 cup parmesan cheese.
Roll out both doughs separately. Use a succulent fondant cutter (here is the one Dan uses) or knife on the green dough to create those leafy, zigzagged shapes. Squeeze a line of the cheese filling in the center of the dough, and fold up the bottom half. Press down on the dough to adhere both sides, and roll the dough until your succulent is formed.
For the pots, roll out your orange dough into a rectangle, and wrap it around the base of your succulent, adding an extra strip on top to create the upper band.
To cook, place the ravioli in a shallow pan of boiling water so only the pots are submerged. Cook for roughly 8 minutes, carefully remove, top with a butter sage sauce or sauce of your choosing, and enjoy!
With so much expertise and creativity, you'd likely assume Dan is a professional chef, but he's actually a full-time tenants-rights lawyer for a nonprofit organization, helping people avoid losing their homes. He squeezes in pasta-making experiments during his 1-year-old daughter's nap time or in the evenings. Why pasta, in particular? Well, besides the fact that it makes the world go 'round, pasta helps Dan feel connected to his Italian-American grandmother, who passed away late last year and often made fresh pasta by hand for family gatherings. "I'm very sad that my grandmother is not here to see all the pasta I'm creating, because I'm sure that all the fun designs would really make her smile," Dan said.
Read ahead to fully admire Dan's adorable plant-themed ravioli, and be sure to follow him on Instagram (@dannylovespasta) and TikTok (@dannylovespasta) to keep up with his future foodie creations.
Dan's First Attempt at Succulent Ravioli
Dan's Second Attempt at Succulent Ravioli, Featuring Pots
Other People's Attempts at Re-Creating Dan's Succulent Ravioli
See More of Dan's One-of-a-Kind Pasta Creations