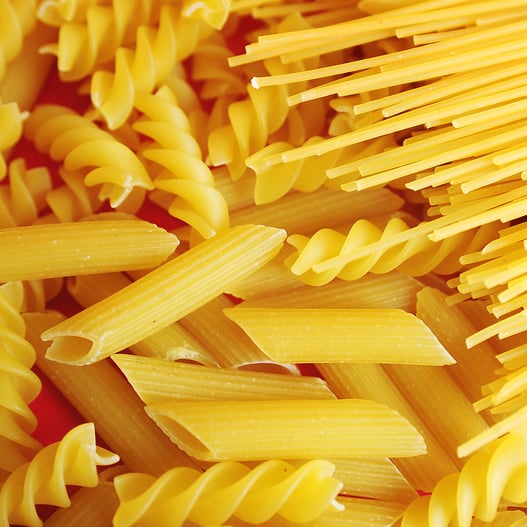 Today is an important day in history, folks. Today is the day we got one step closer to being able to eat pasta for every meal of the day, thanks to TikTok's new favorite recipe. Meet pasta chips: the crunchy, dippable, saucy snack of our dreams. It's perfect for pasta-lovers, chip-lovers, and truly anyone who appreciates a good carbohydrate. It's no secret that TikTok has opened our eyes to some seriously game-changing dishes over the last year — from baked feta pasta to Oreo sushi rolls, the social media app has changed our meal prep for the better, and this latest recipe is a great addition.
It's a pretty easy recipe, since all you need is pasta, olive oil, grated parmesan cheese, and some Italian seasoning before baking. We really never thought we'd be using an air fryer to make pasta in snack form, but the second we heard the crunch in @bostonfoodgram's video we were sold. Here's how to make the pasta chips taking over TikTok:
After boiling pasta, add olive oil, parmesan cheese, and seasoning.
Bake in the air fryer at 400 degrees for about 10 minutes.
Dip into your favorite pasta sauce and enjoy!
While most of the TikTok videos have used marinara sauce for dipping, vodka sauce or pesto work just as well! One brilliant user even made the pasta chips "buffalo style" and dipped them into ranch dressing. Mind = blown. Check out videos of some of the best-looking pasta chips out there, and try them out for yourself the next time you get a craving.