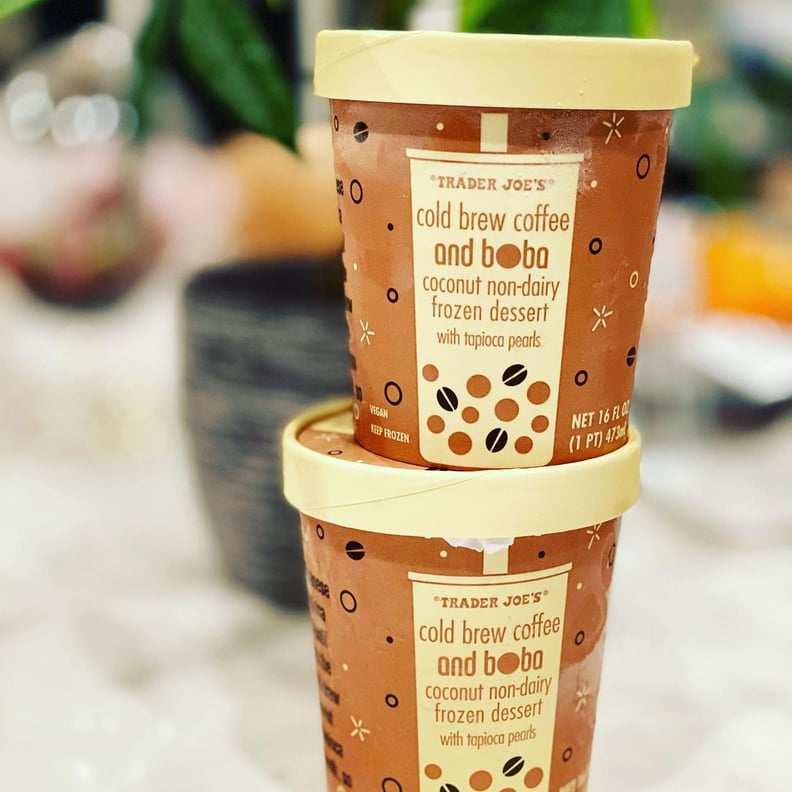 If you can't decide between grabbing a sweet-cream cold brew from Starbucks or a brown-sugar boba from Gong Cha, this Trader Joe's ice cream is the best of both worlds. In fact, people are so into the frozen treat that it's been flying off shelves ever since its release!
While the ice cream is dairy-free and vegan, you probably won't even know the difference, because if anyone knows how to do nondairy, vegan ice cream, it's TJ's. The coffee flavor is bold (though not overwhelmingly so, according to those who've been raving about it), and it's perfectly counterbalanced by the coconut-milk base, which makes for an extrasmooth and creamy texture. In my experience, coffee ice creams and gelatos tend to taste like lattes, but this one nails that rich cold-brew taste.
But the best part about this ice cream is that it's packed full of boba, and unlike the classic drink, the boba doesn't just sit at the bottom. Instead, it's generously dispersed throughout, much like the cookie dough in cookie-dough ice cream, so you can enjoy boba in every single bite. There's nothing worse than taking a bite of frozen boba or soggy boba, but this ice cream manages to maintain its chewy integrity.
It's not very often you can get two of your favorite drinks in a single scoop of ice cream, so make sure you get your hands on a tub at your local Trader Joe's (if it has it in stock!) for $4.