Trader Joe's Grilled Cheese Recipe and Photos
This Grilled Cheese Is So Amazing, and All the Ingredients Can Be Found at Trader Joe's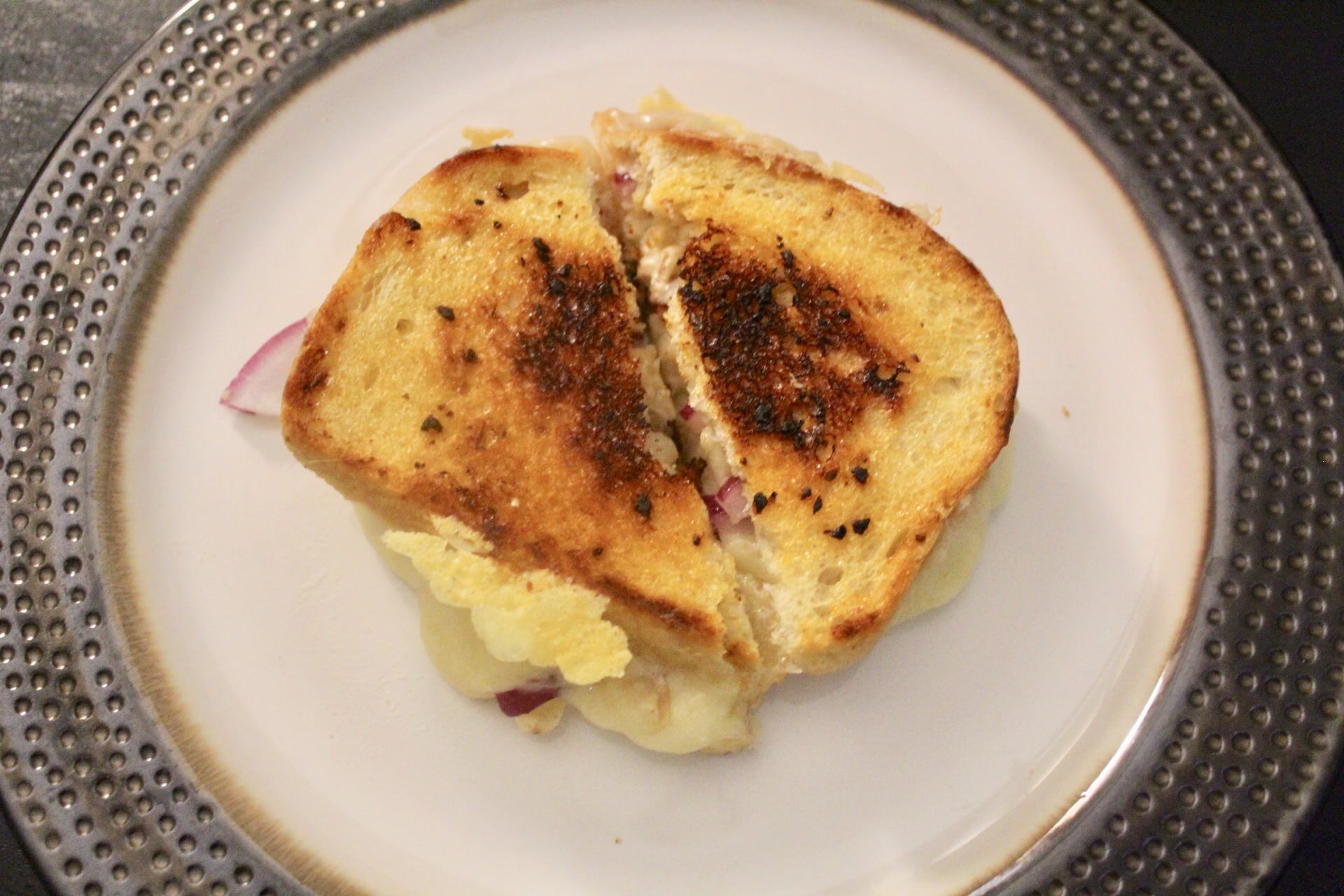 Of all the comfort foods, grilled cheese is definitely my favorite. It's crispy, gooey, melty, and savory — a perfect combination, if you ask me. As an avid grilled cheese fan, I've experimented with various ways to make it. I've added tomato, bacon, and tater tots — all of which are great on a grilled cheese — but I finally found one ingredient that stands above the rest: onion.
Onion can be a pretty polarizing food. I didn't like it when I was younger, but now I try to incorporate it into just about everything. After months of making toast with Trader Joe's caramelized onion dip, I wondered how I could take it up a notch. And, naturally, a grilled cheese came to mind. This grilled cheese really isn't much more difficult to make than a classic one, it just takes a few more steps. And everything can easily be found in a quick haul at Trader Joe's!
This recipe is great because it can also be adjusted to your personal taste. If the red onion is a little too much onion for you, you can simply omit it completely. You can also choose how much or little caramelized onion spread or cheese you put on the sandwich. One thing that I do recommend sticking with is the garlic aioli. It takes a little extra time to make the aioli, but using it instead of butter makes such a difference in flavor. And mayonnaise is so good on a grilled cheese because it helps make the bread super crispy and flavorful. So if you love grilled cheese as much as I do, definitely give this Trader Joe's one a try — you won't be disappointed!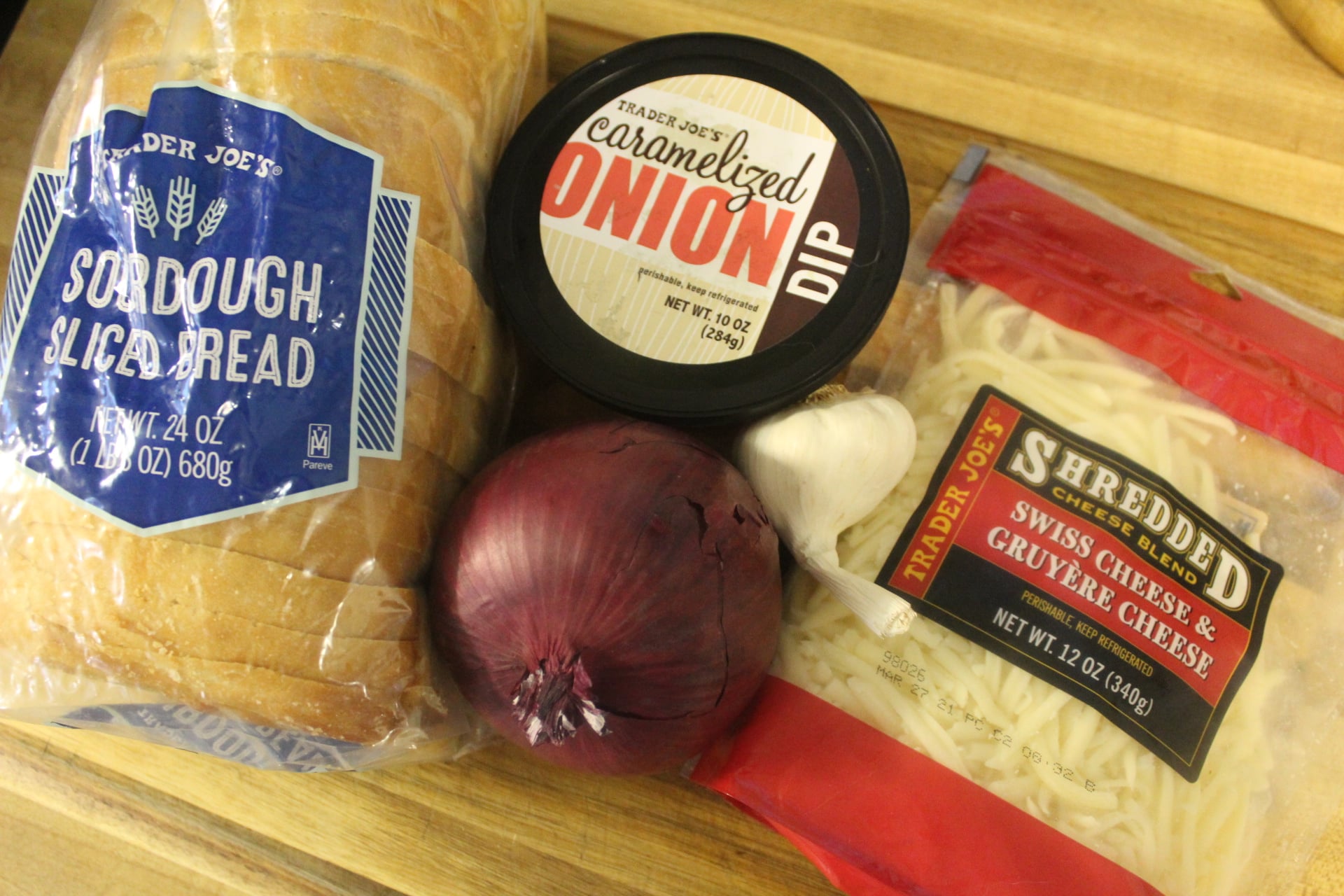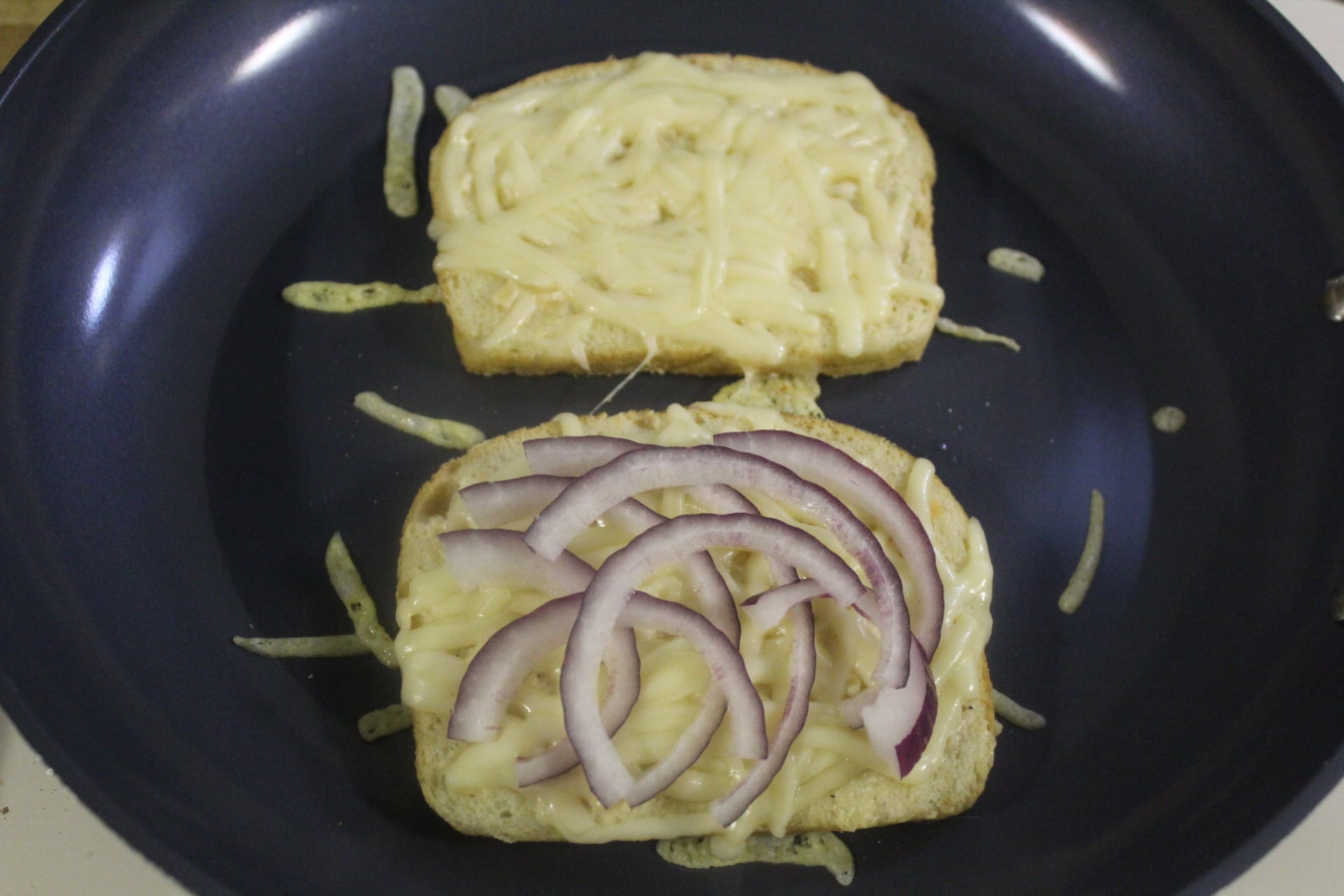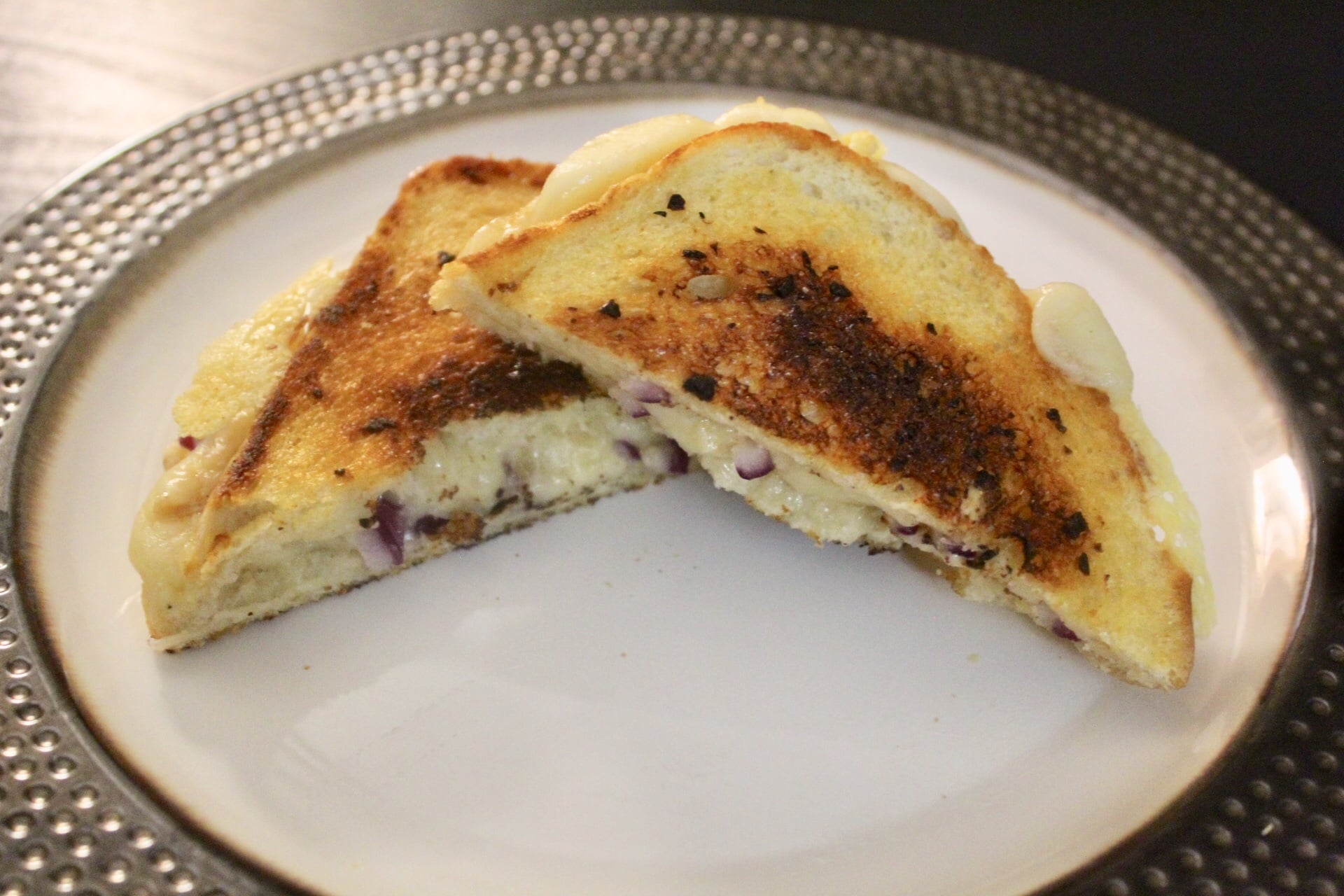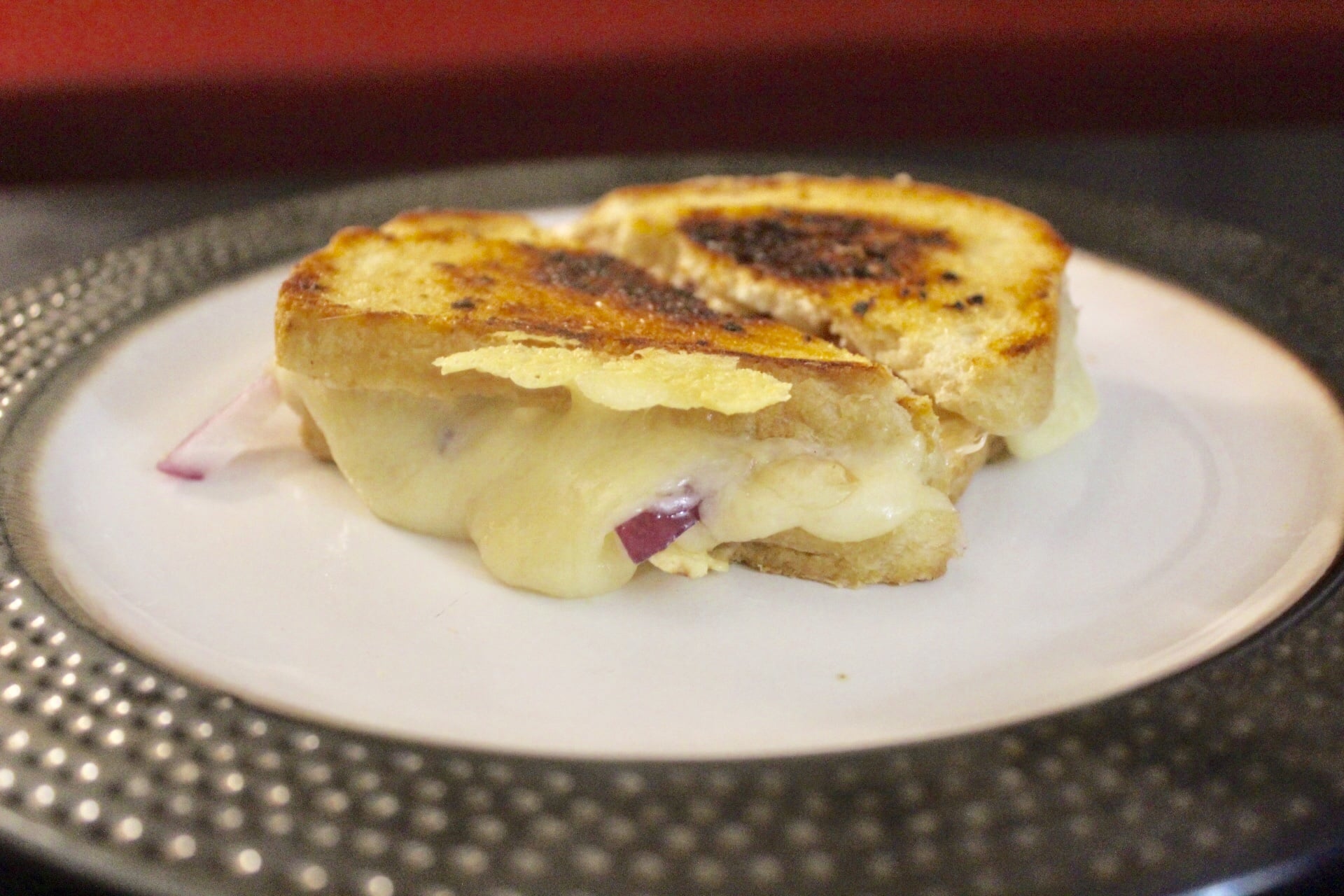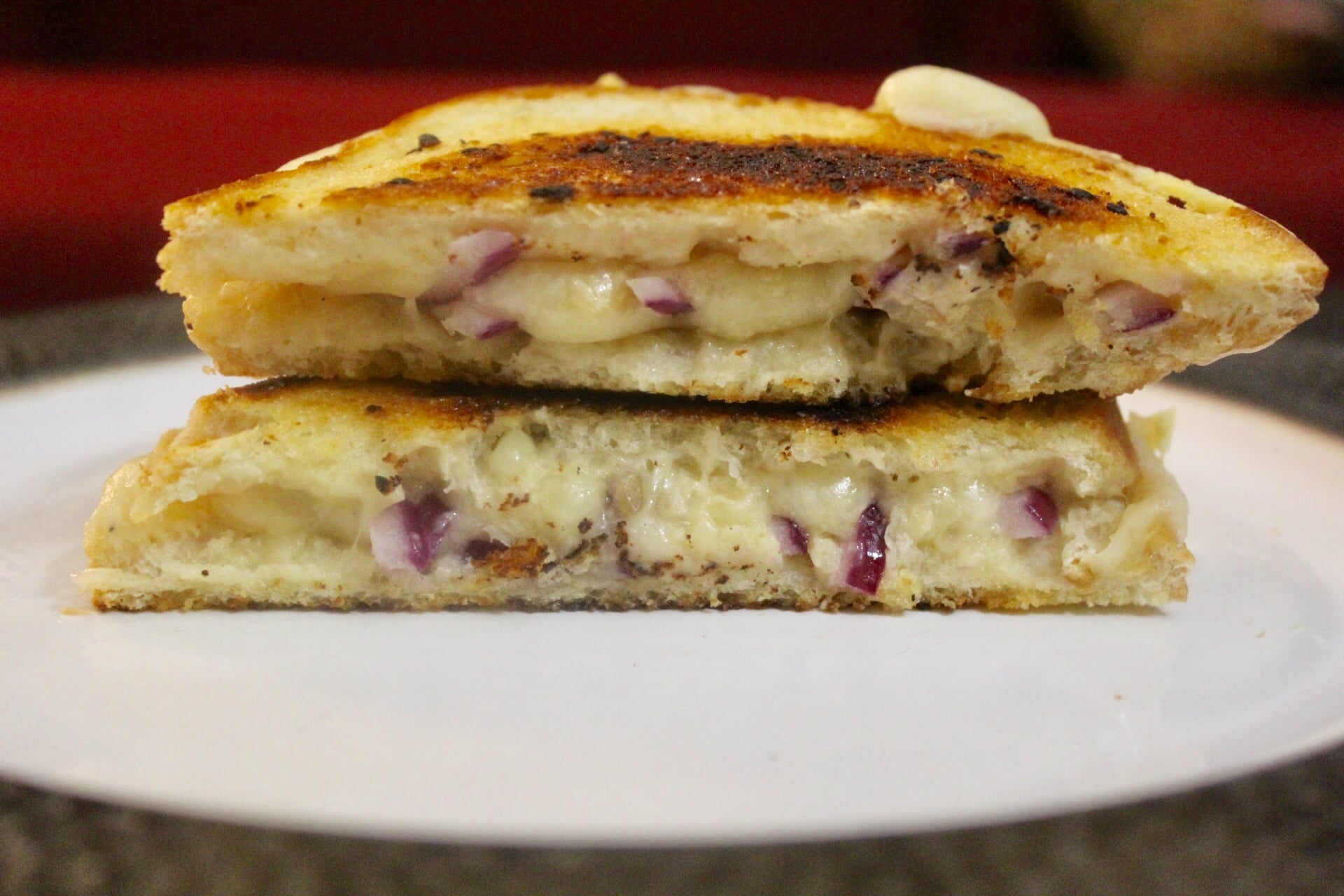 Ultimate Trader Joe's Grilled Cheese
Original Recipe by Julia Duda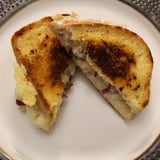 Ingredients
2 slices of TJ's sourdough bread
TJ's red onion
TJ's caramelized onion dip
TJ's shredded Swiss and gruyere cheese (about 1/4 cup)
For the Garlic Aioli:
1/2 cup TJ's mayonnaise
1 tablespoon lemon juice
3 cloves garlic, minced finely
1 teaspoon black pepper
1 teaspoon salt
1 teaspoon paprika
Directions
Start by making your garlic aioli. In a small bowl, combine your mayo with the minced garlic. Add in your lemon juice, salt, pepper, and paprika, and then stir until fully combined. Put your aioli in the fridge and let it sit for at least 30 minutes before using.
Once your aioli is ready to go, grab two slices of sourdough bread. On one side of each slice, spread TJ's caramelized onion dip (use as much or as little as you like). On the other side of each slice, spread a thin, even layer of your aioli.
Heat a large (preferably nonstick) pan on low-medium heat. Once your pan starts heating up, place both slices of bread aioli-side down on the pan.
Grab your shredded Swiss and gruyere cheese and place an even amount on both slices of bread that are face-up (both sides should have the caramelized onion dip on them).
Once you have your cheese on the bread, cover your pan and let the cheese melt for about 3-4 minutes.
While you wait for your cheese to melt, you can chop a few thin slices of red onion.
After 3-4 minutes, remove the lid. Your cheese should be getting melty, and the underside of your bread slices should be developing a brown, crispy texture. Add your red onion slices to one slice of bread, and optionally add a little more cheese to both. Put the lid back on and cook for about 1 more minute.
Remove the lid and flip one slice of bread onto the other, forming a sandwich. You can continue cooking the grilled cheese for another minute or two on both sides, until your bread is toasty and your cheese is thoroughly melted.
Turn off your stove and remove the sandwich. Slice the grilled cheese diagonally, and enjoy! Optionally, you can enjoy your grilled cheese with TJ's tomato soup or ketchup, but it's just as good on its own.
Information
Category

Main Dishes

Yield

1 sandwich

Prep Time

10 minutes

Cook Time

15 minutes

Total Time

24 minutes, 59 seconds
Image Source: POPSUGAR Photography / Julia Duda