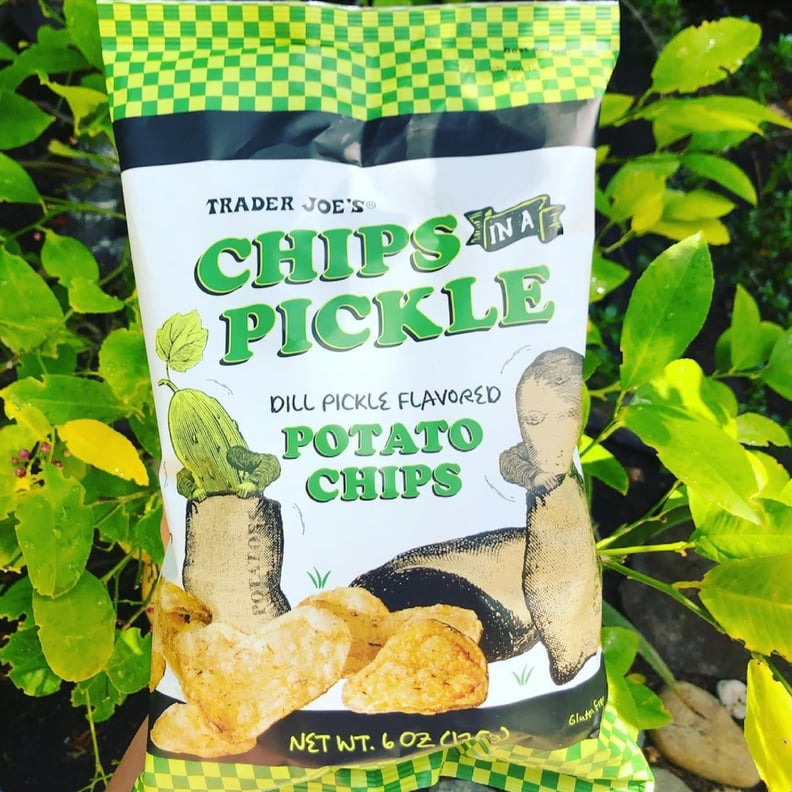 Any real Trader Joe's fan knows that the beloved grocer would never stop at just pickle-flavored hummus and popcorn. Nope, the retailer has gone further, and this time it's added dill-dusted chips to its drool-worthy collection of pickle products. These effortlessly delicious crisps feature a salty base, light vinegar notes, and a mouthwatering display of dill flavors. Made with vinegar and onion powder and a dash of dill weed, these potato chips go hand-in-hand with dips, sandwiches, and snacking of all kinds.
Instagrammer @traderjoeslist, a Trader Joe's enthusiast who tried the crisps, described them as perfectly crunchy, adding that they are "coated in so much dill." She also noted that if they take these away, she's "going to be very, very upset." A relatable statement, to say the least. Another fan of the chips had this rave review to share: "They are perfectly seasoned for a tangy, dilly, and crave-able chip. It's bold. It's crisp. It's pickle-y." What more convincing could you need?
With pickle-lovers repeatedly swarming to the other dill-flavored products, it was only a matter of time before the grocery chain officially sprinkled the flavor onto kettle-cooked potato chips. And for only $2 per bag, it's no wonder Instagramer @traderjoes_foodlover said they were going to pick up three bags next time! Take a closer look at the new chips ahead, and make sure you keep an eye out for them on your next grocery trip.