What Thanksgiving Dinner Is Like in My Korean American Home
Please Pass the Kimchi! Here's How My Korean American Family Celebrates Thanksgiving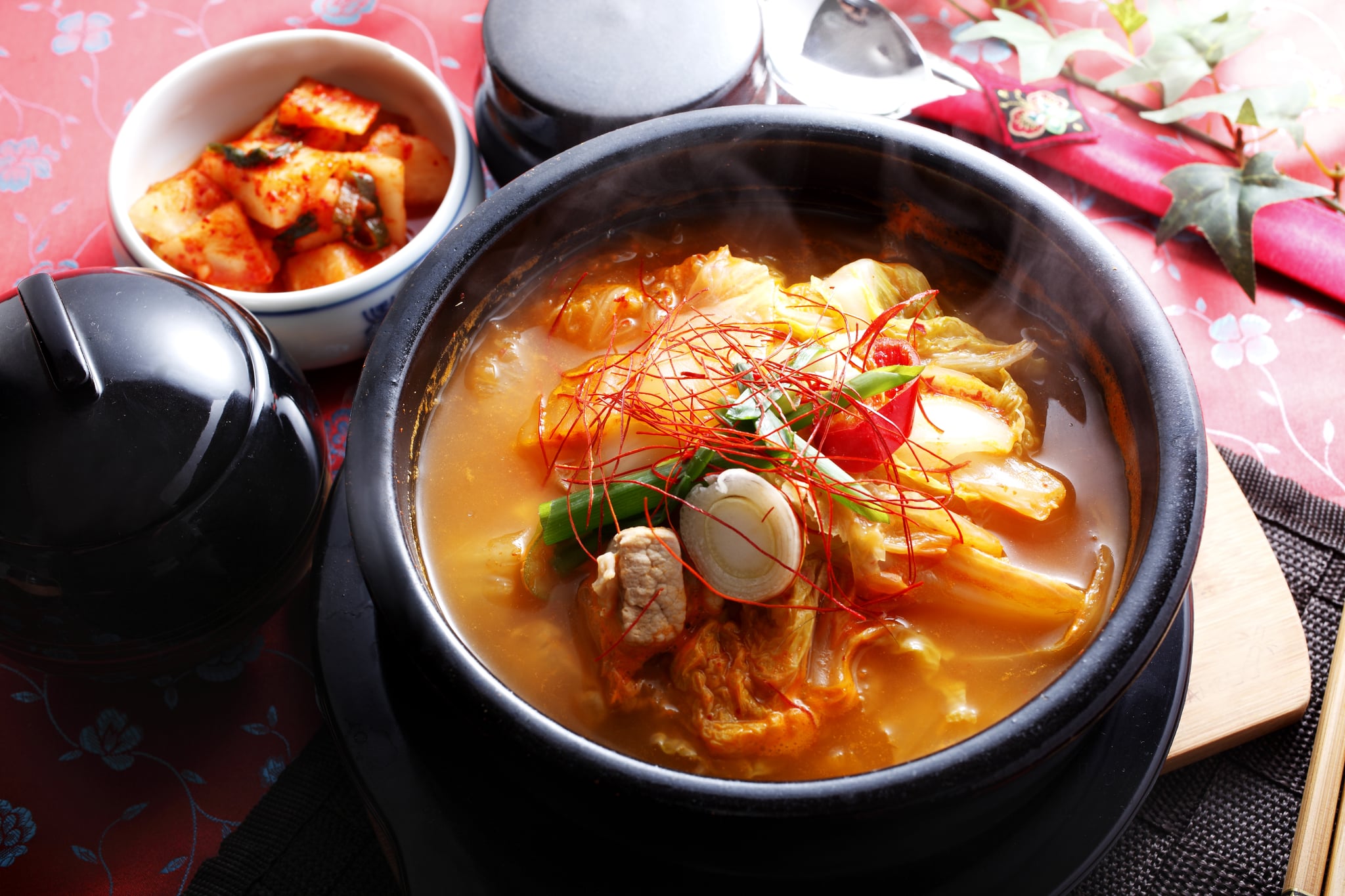 My parents are first-generation immigrants, so there were many aspects of American culture that they simply did not get. From not sweeping away the reindeer food I bought in second grade off the porch to ignoring the Fourth of July altogether, it was always an interesting time celebrating the classic American hits at home. So when it comes to Thanksgiving, my parents always approach the holiday with their own Korean twist.
While we did concoct Thanksgiving classics like instant mashed potatoes, gravy, and whatever leftover turkey was packed away from church lunch, these weren't the only we dishes we had. Alongside these traditional Thanksgiving foods were not stuffing or cranberry sauce, but my mom's kimchi, Korean glass noodles, and of course rice.
Kimchi is sour and spicy, so my parents would often eat it to cut through the heavier gravy and mashed potatoes that they weren't used to. Korean glass noodles are sweet, salty, and contain a mix of crunchy sautéed bell peppers and carrots. Fragrant sesame oil hugs each slippery, chewy noodle, giving it a nutty yet savory taste. As for the rice, it just made the plate of food feel balanced. We ate every meal with rice, so why should Thanksgiving dinner be any different?
This spread of Korean food was something that awaited my family and I every Thanksgiving at home. However, if we decided to have Thanksgiving at my aunt's house, there was usually a buffet of crab omelettes, fried shrimp, and Korean barbecue waiting to be eaten. A Korean church elder also used to invite us over to his home for the holiday. It's here where we'd go through platters full of sashimi.
None of this was abnormal to me — it's simply what I grew up with. We never attempted to replicate the archetypal American Thanksgiving dinner. In fact, our Thanksgiving meal was defined by its multicultural dishes. It was a celebration of our identities as Korean Americans — a delicious blend of both worlds.
In a country so diverse, my parents are constantly adding to the ever-growing definition of what it means to be an American, all through food.
I think that's what makes food so special. My parents are so far from the land they grew up in. Yet, everyday, even when it isn't an American holiday, they find ways to celebrate their culture and the memories of Korea. It's not a matter of rejecting their new home but rather incorporating it into their lives. In a country so diverse, my parents are constantly adding to the ever-growing definition of what it means to be an American, all through food.
Since I'm currently in graduate school, this year will be the first time I won't celebrate Thanksgiving with my family. Will it be hard? Of course. I miss my family so much. But that doesn't mean I will eat a sad meal of leftovers, or non-Thanksgiving food. I'll celebrate this year with new friends and cook more than we could ever eat.
Our menu includes gooey macaroni and cheese, buttery green beans, Syracuse-style salt potatoes, boatloads of gravy, and boxed stuffing. My roommate is in charge of dessert, so we'll be feasting on creamy cheesecake, nutty sweet potato casserole, and the best pecan pie grocery stores have to offer. However, I'm definitely adding something Korean to the mix — perhaps homemade dumplings and kimchi. After all, what is Thanksgiving if I don't celebrate every aspect of my life that I am thankful for?